Do you ever think that software developers would ever stop at this level? Well, if you think so, I'm sorry to burst your bubbles by telling you the truth – they ain't going to stop. Not now, not ever!
We no longer live in the millennial or baby boomers' times, this is the 21st century and we live in a world where everything is fast-paced.
Having known this, you would understand why several apps have gone into extinction and others are rarely used.
Remember the days of post offices? Where a postman travels around to deliver your mail? Well, it's safe to say those days are over and thankfully the electronic mail (email) has come to stay.
Since the advent of electronic mail, life has been pretty much easier except for the numerous spam. Luckily, there are software tools to help detect this.
By this standard, software developers cannot afford to be sluggish in their works. They need to be on their toes almost always.
Let's say the advent of email is good and not so good. And I will tell you why; the good part is that there will be easy dissipation of information but the downside is that many software developers tend to develop their email app which may not turn out fine.
So, if you've ever been stuck thinking of the type of email app to install on your iPhone device, here are the 10 best email apps you can choose from.
Trust me to do the background job for you. You would find the best answers in this article.
Let's ride,
Gmail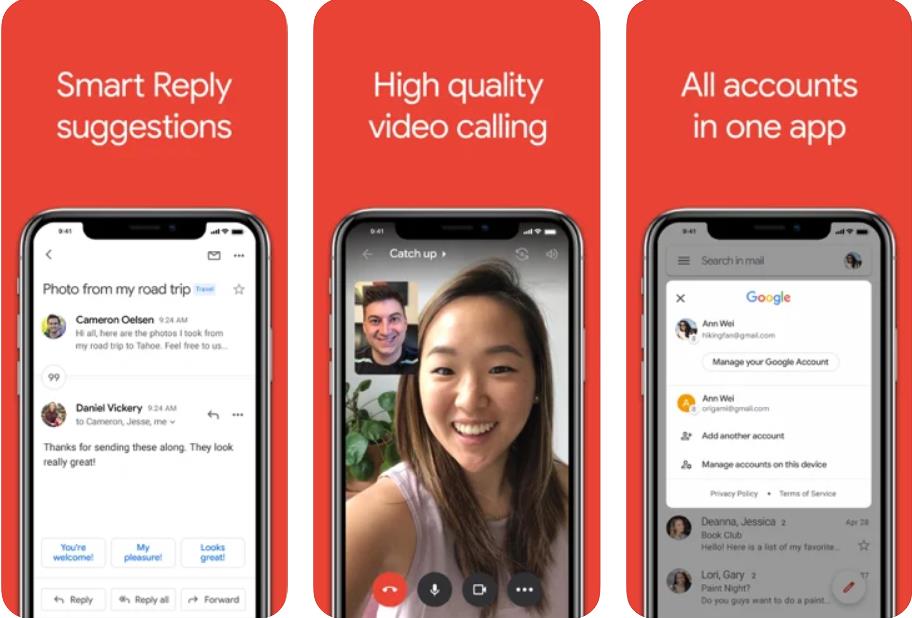 You sure did expect this to be the first on the list yeah? Well, I'm glad I didn't disappoint you on that.
While this app is quite common on iPhone and Android devices, the Gmail app allows and supports different Gmail electronic mails, pop-up notifications, and general search that works on all accounts.
Mistakes are inevitable, even in writing or drafting a mail. So, on those days when we make erroneous mistakes, Gmail offers a special feature to undo those mistakes.
Also, if you wish to tidy up your inbox perhaps, to free up space, Gmail proffers a swipe gesture to help you do so.
One big plus of using this app is that you can arrange your messages using the Gmail labels. Also, you can reply directly to any invite you have from google calendar.
If you prefer to use this app or your email account turns out to be a Gmail, you would surely love the awesome features of this app.
Outlook
The outlook app is one of the most powerful, efficient, and professional email apps that work for many email services like your Gmail, yahoo mail, IMAP and iCloud, Hotmail and MSN, and also outlook accounts.
If you love to have your schedule with your email and contacts, then look to create an account on outlook. There is a complete alliance with cloud storage services for you to access files in OneDrive, google drive and dropbox, etc.
Newton mail
Although this app comes with a $49.99 annual subscription payment it holds extra features to make your work easier. It permits you to include different accounts and also allows you to see all messages in just one inbox.
The newton mail has a read receipt feature to let you know when your messages have been read and a daily reminder on messages that have not been read.
With just one click, you can draft a mail and send it later, or undo send and also unsubscribe to emails. Also, third-party apps like Instapaper, Dropbox, Trello, and Evernote are available too.
It comes with a 14 days free trial to preview its features.
Yahoo mail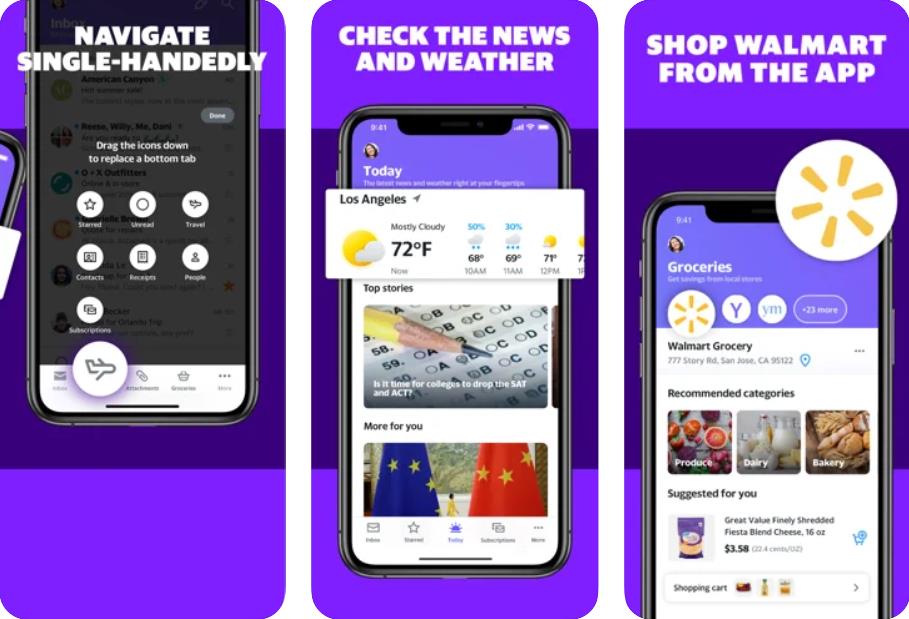 Does it matter if you have an account on the yahoo mail app or not? Worry less as the yahoo mail works with non-yahoo accounts too.
The yahoo mail design is enough to swing you into creating an account almost immediately because of its simplistic appearance.
The ease in using this app is something to commend the developers for – Easy exploration! It grants you permission to send GIFs directly in your messages and also choose a custom theme and color that suits you. Also, with the intuitive swipe gesture, you can work on personal messages.
You do not have to bother about unnecessary and unrequested messages and newsletters from unknown sources because you would always be notified from yahoo mail when you get emails from people.
It works on any email account and you also get to enjoy 1000GB of space of cloud storage plus it has a 3rd party cloud storage solution.
Edison mail
This app supports various email accounts like yahoo, Gmail, Outlook, IMAP, Hotmail, iCloud, AOL, and exchange, etc.
Great for travel experience because it will help find and organize your travel details on a single screen. With just one click, you can unsubscribe from frivolous emails.
Some other features like quick replies, thread views, snooze, and mass delete are also present in this app.
Spark
The Spark app is a great email app whose feature helps arrange incoming emails into different categories.
Also, it sorts newsletters into one category making the deletion process easy and swift. It supports various email accounts and allows you receive smart notifications for high-priority messages while it mutes unfamiliar and auto-emails.
There is a smart network for quick replies. Plus, you can snooze or pin emails for a later read. Further, spark supports incorporation with third-party apps.
Apple mail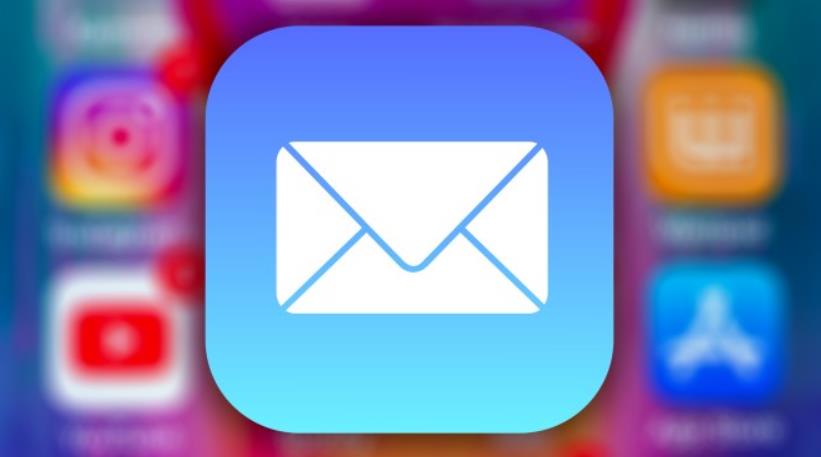 This is perhaps the widely used email apps on iPhone and that's because it comes with every iPhone device plus, it supports all other types of email account too.
You can easily start chats and also perform quick tasks like delete,  and move to a folder with just one tap. Also, attachments of files and photos to email are pretty simple.
But one downside to this feature is its inability to send quick replies, snooze and show high priority messages as notifications.
On the flip side, other apps have turned this disadvantage into an advantage by including the unavailable features in apple mail into their email apps.
So, there you have it. Be sure to download any email app that catches your fancy!
Airmail
Although the Airmail isn't a newly invented app, it is one very familiar third-party mail apps known today. This app supports all major app like Google, iCloud, Yahoo, Exchange, IMAP, and outlook.
Airmail works with a host of other apps like OneDrive, Google Drive, Evernote, Asana, deliveries, Dropbox, Google Task, Trello, Omni-focus, and Drafts, etc.
In terms of snoozing emails till a later time or date, the airmail is quite similar to outlook. Also, airmail allows you to form a to-do list, mute or block senders, and create pdfs from emails.
Hey
Launched a few months back, Hey is one of the coolest email apps you can find. It has a lot of nice and sophisticated features.
New features like blocking off your read receipt, reply later reminders and email screening and an imbox which contains only the necessary items and takes out other unnecessary things, are what you will get if you use this app and it comes at a price – $99 per year.
It is suitable for use as a personal email.
Two birds
This email app is quite new but it has a lot of novel features (not yet seen in other email apps) to unwrap. It has an action similar to the spike email app as it helps take off introductions and signatures from emails to enable you to concentrate on reading the content of the mail quickly and also give your reply.
Also, you can get this app for free from the apple store plus, it comes with notes and reminder in your inbox
However, the downside to this app is that it works only with Gmail thus, you can't include iCloud, IMAP, or outlook account in this app.