The 10.5-inch iPad Pro was announced back in 2017, but it is still a great product. It is the beauty and the beast of iPad tablets – not too large, not too small. It incorporates all the fantastic usability and performance features available in its larger 12.9-inch counterpart while still maintaining the portability of the regular 9.7 iPad.
You will want one of the better cases for your 10.5-inch iPad Pro. However, you do require a keyboard case for the full usability experience on an iPad Pro. An iPad can do about all a laptop can, but you need an excellent physical keyboard to replace a computer fully.
So, here are the best six iPad Pro 10.5-inch keyboard cases that you can purchase. Note that keyboards made for iPad devices of the 7th and 8th generation would suit your 10.5-inch iPad Pro as well.
Quick Links
 iPad 8thGeneration Case with Keyboard – $41.99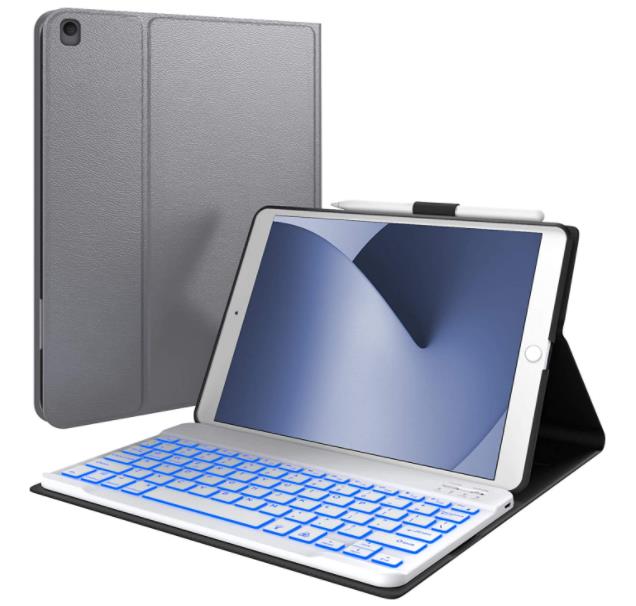 This ultrathin, slim, and lightweight iPad Pro 10 case is the first on our list. It is a product of years of R&D. The premium casing and caring nature makes it a match for your iPad, whether you port it along with your Apple Pencil or rock it as a cute complement to your favourite ensemble. It comes with a bright backlit keyboard with three brightness levels and seven pulsating colours that make typing fun. The keyboard keys are quiet and comfortable. Premium composition leather case protects your tablet from accidental dropping and bumps; Soft anti-slip interior protects your tablet from being scratched. The Folio keyboard comes in black, grey, and rose gold colours; multiple choices give you the freedom to choose what you like.
The modular interface features a reversible keyboard that can turn your iPad in less than a second into a notebook or your favourite book. The careful style conveniently adjusts in notebook mode to whatever relaxed angle suits you best. Perfect at work, school, ride, and home for working, blogging, or viewing videos. Your iPad needs are protected by a soft and durable plastic shell and a fake leather exterior. When you need it, the LED-lit keyboard and the supplied external USB charger cable ensure that you can have a safe WIFI connection. Free technical support for life and a 12-month warranty from the retailer will give you peace of mind over your order and confidence that a beautiful team is ready to assist every step of the way.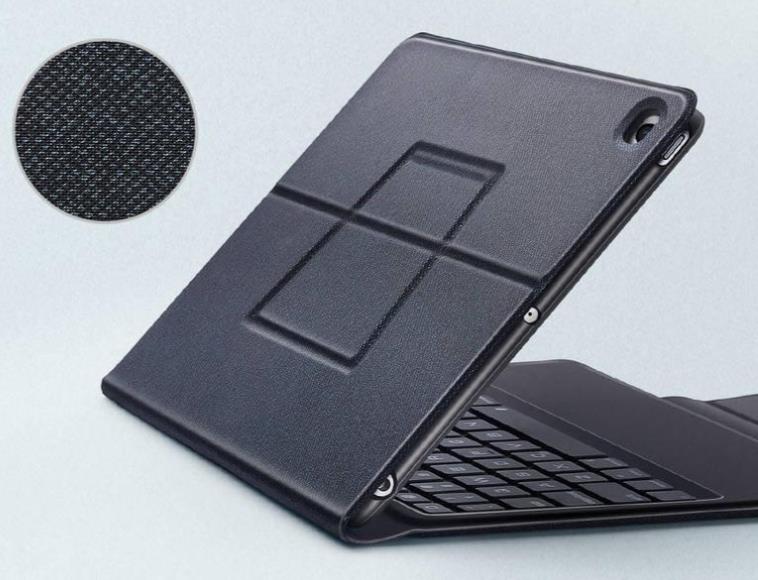 This sleek design is compatible with all 10.5-inch iPads, and that includes the iPad Air 3. It is lightweight and slim, with the keyboard having a 0.4 thickness and 0.1 cm thickness for the case. It also comes with an optimized air-cooling system. With a Broadcom Bluetooth chip, it is stable and responsive. The Broadcom Bluetooth chip is faster, and it is present in all Apple devices.
It has an auto sleep and wakes feature responsive to the opening and closing of the case. The keyboard battery lasts 2 hours to charge while working time is about 30 days. The back cover is made of a flexible polymer – and it entirely fits, offering protection inside and out.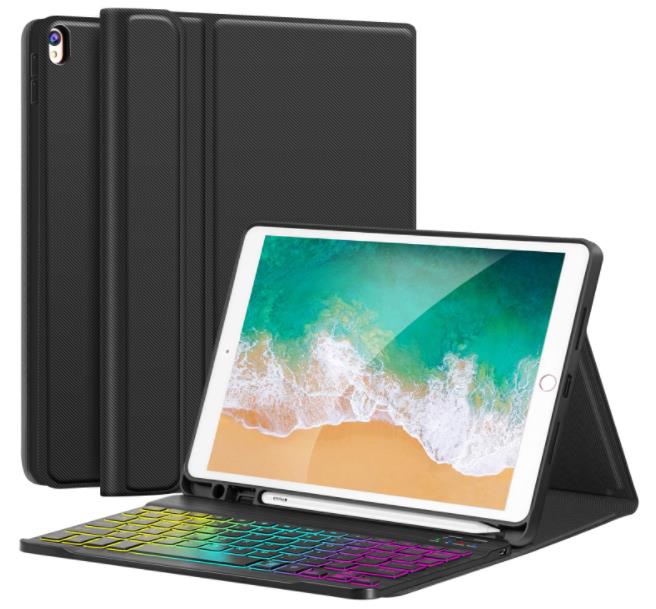 iPad pro 10.5/air three keyboard case is designed for iPad Pro 10.5 2017, new iPad Air 3rd Gen 10.5 2019. It does not fit other iPad models. It comes with three levels of brightness and three different areas of the backlight. The backlight comes in 7 different colours – blue, yellow, green, red, white, purple, and cyan. The backlight colour makes it easy to use in a dark environment. Choose the colour that suits you.
The concept of three anti-slip stand angles adapts effortlessly to any relaxed position and media viewing that suits you best. Perfect at work, school, ride, and home for working, blogging, or viewing videos. The exact cutout requires all ports to have complete access. Built-in Apple Pencil tray, slots for cap & adapter, simple to bear and use to select your Apple Pencil. Built-in Rechargeable Keyboard Battery. The keyboard case of the iPad Pro 10.5 does not have an automatic sleep feature. To sleep immediately, you have to set up your tablet.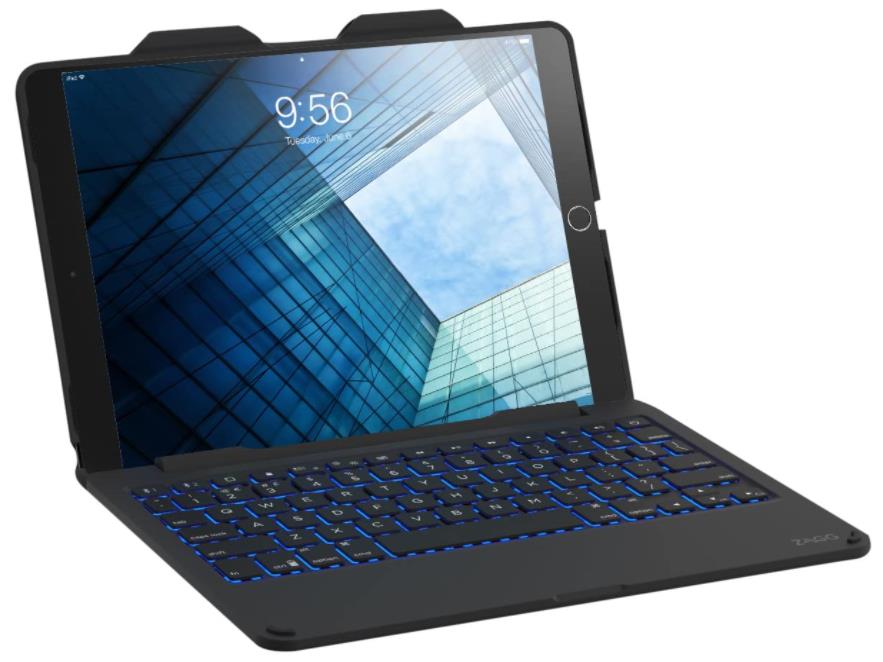 The Pro Keys provides some advantages most keyboard cases do not offer and has a better typing experience. Its keys are backlit and allow you to loop between colours and levels of brightness. You can remove the case itself from the keyboard layout, but you can only use the protector if you do not wish to write.
In any case, two viewing angles mean you don't have to settle for a fixed location. And you can combine it with two devices that move between them as desired, such as the iPad and your phone. Dedicated iPad OS function keys offer easy access to widely used functions, and you can take the stylus around comfortably with an Apple Pencil holder. While the Pro Keys are larger and heavier than certain rivals, extra bulk is not serious, and it offers additional features.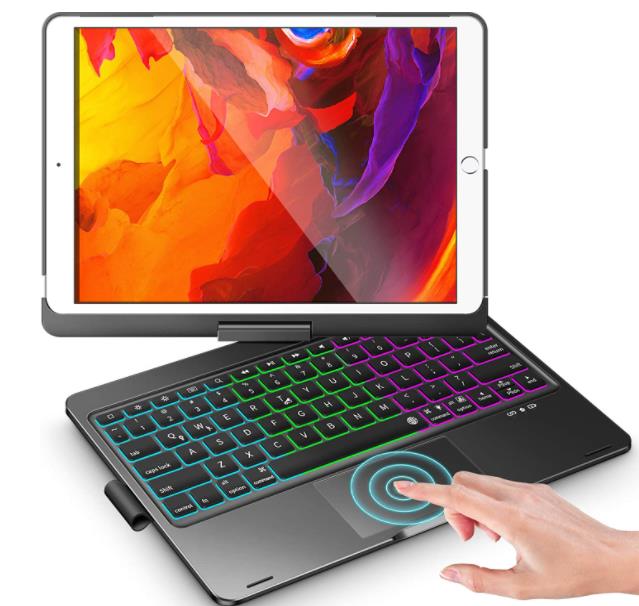 Transform iPad into a notebook with built-in touchpad and keyboard; many consumers purchase it to manage their small business, homework, or job, like a desktop or Mac. You can have it anywhere you want, on a drive, house, school, or on your way, with a smart touch and comfortable typing. A pencil holder is present to keep your Apple Pencil and ready to use. Choose the best iPad type – Be sure not to choose the wrong keyboard size for your iPad. For the 10.2-inch iPad 8th Gen 2020 iPad 7th Gen 2019, 10.5-inch iPad Air 3rd 2019& iPad Pro 10.5 2017, this 10.2&10.5-inch iPad keyboard is special. NOT ideal with 9.7/11/12.9-inch iPads for only three iPad models above.
In low-lit settings, colourful backlight, the rainbow backlight makes typing more comfortable. By changing the brightness and shades, the backlight can be different.   The keyboard has a huge battery life, which will allow you to use it frequently while the backlight is off for 180 days. It can be used as a laptop to type, a notebook to read and write, an iPad stand to watch a movie or TV show, a perfect work buddy to share your work presentation, with multiple viewing angles for using this keyboard. The built-in hinge allows the keyboard to tilt up to 360 degrees and flip 180 degrees.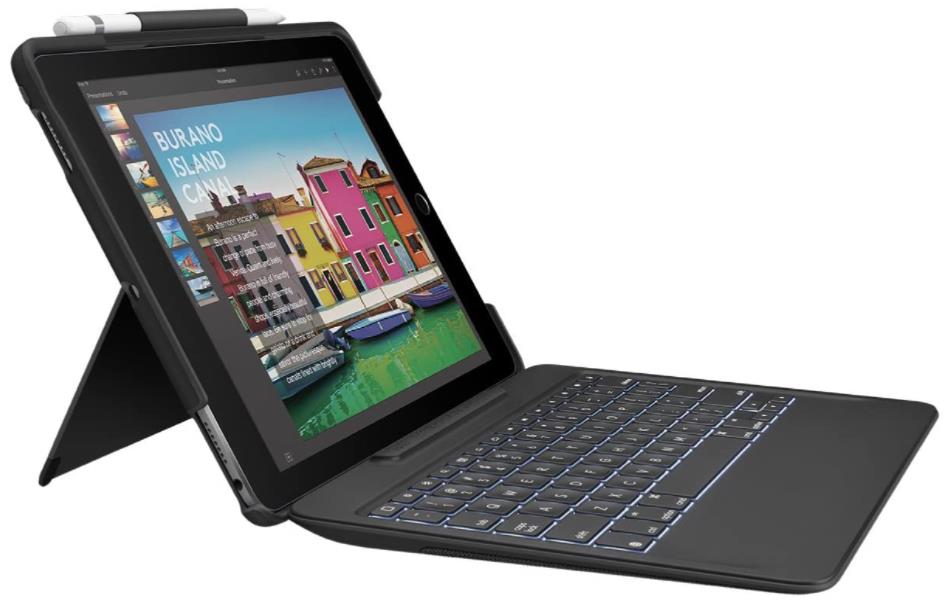 Designed exclusively for iPad Pro 10.5 inches with Apple, it comes with four use modes – type, landscape, portrait, and read. iPad-enabled via Apple Smart Connector, and it connects instantly with one click. It does not have batteries or Bluetooth, and the keyboard is detachable. For low-light typing, the keys have a backlight. The case is also spill-resistant.
Conclusion
Those are the best iPad 10.5 keyboard cases available. They are all worth their price. However, the Wireless Bluetooth Keyboard for iPad 10.5-Inch is our recommendation. It is cheap, comes with a wireless Bluetooth keyboard, and faster in performance. You will get a good keyboard case which has the features of more costly ones. Whichever case you choose, rest assured that it is one of the best and will serve? e its function effortlessly.