Apple's latest release, iPad 8, surpasses all of its predecessors when it comes to performance and resourcefulness. Packed with the A12 Bionic processor with Neural Engine, this 8th-generation iPad is the most affordable, and versatile tablet to own in this 'new normal'. For enhanced performance, it is integral that you invest in the best 8th-generation accessories for your iPad 8.
Here are 10 MUST-HAVE iPad 8 accessories available in 2020:
Price: $11.99 – $16.99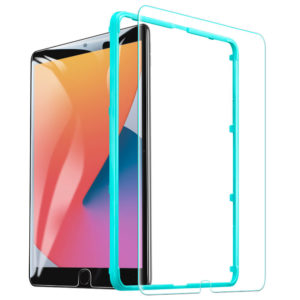 The first thing you need to do when you buy an iPad 8 is to protect its giant, fragile screen. ESR's Tempered-Glass Screen Protector is an ideal choice if you want quality on a budget. With its alignment frame, it is quite easy to install. It is effectively anti-scratch and doesn't affect the high touch sensitivity of your iPad 8 at all. You get to experience the full visual prowess of its display without a worry in the world. Moreover, it comes with a cleaning kit that enables you to apply the screen protector without worrying about bubbles or dust.
Price: $24.99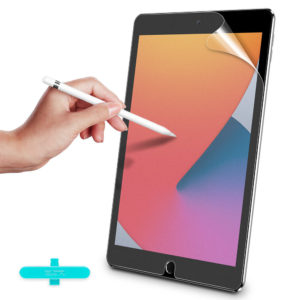 As the name suggests, this ESR screen protector enables you to use your Apple Pencil like you use a pen on paper. The surface of this screen protector is specially-designed to enable the user to have a seamless writing and drawing experience. It comes with installation instructions and an installation kit, thus, ensuring an easy application. It is only 0.13 mm thick, thus, it doesn't hinder the iPad 8's touch sensitivity. It also comes with an exact cutout for the microphone and front camera, thus, preserving their functionality.
Price: $10.99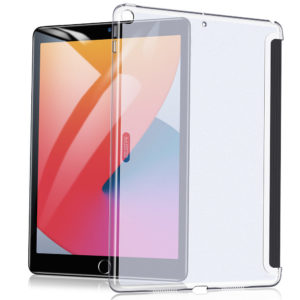 Specially designed for iPad 8, ESR's Ascend Hard Shell fits perfectly with Apple Smart Cover and protects the back without adding any weight. Its minimalistic, light-weight design comes with exact cut-outs for all ports and cameras, thus, enhancing the iPad 8's elegance without affecting any functions. It offers a comfortable grip to the user and enables a hassle-free Smart Keyboard attachment.
Price: $18.99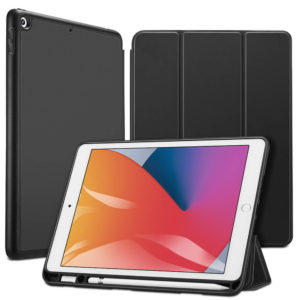 The best thing about ESR's Rebound Pencil Smart Case is that it comes with a built-in Apple Pencil Holder. Equipped with inter-locking magnets, the tri-fold stand feature of this smart case enables the user to utilize both the typing and viewing mode of iPad 8 seamlessly. The TPU composition of the cover feels extremely soft on your hands and keeps the iPad 8 back effectively scratch-free. Furthermore, it offers enhanced drop protection and ultra-comfortable front-cover grip. The front cover is equipped with an auto sleep/wake feature, thus, making things even more convenient for the users.
Price: $35.99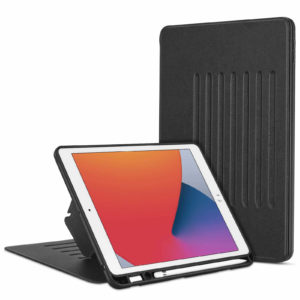 This is the most stable and resourceful protective ESR case that enables you to place your iPad 8 in 7 different positions. It is effectively shock-resistant due to its flexible TPU composition, thus, offering enhanced protection against all kinds of bumps and falls. It has a built-in Apple Pencil holder, which makes it quite convenient to manage things on-the-go. Moreover, it comes with a hanging slot, supported by powerful magnets that enables you to hang your iPad 8 on a sturdy surface. Lastly, the Sentry Protective Case is equipped with tear-resistant grooves and auto sleep/wake feature for the user's ease.
Price: $15.99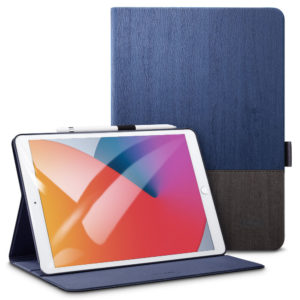 ESR's Urban Premium Folio Case is available in 4 different colors: blue-gray, black, gray, and sky blue. Loaded with style and elegance, this protective cover comes with precise cut-outs for all ports and controls of iPad 8. Its light-weight, polycarbonate composition makes it quite reliable and has a large cutout that allows your iPad 8 to stay cool. It is equipped with two non-slip grooves that enable you to view things on your iPad 8 seamlessly. Powerful magnets on the front cover of this folio case ensure that the auto sleep/wake feature works effortlessly.
Price: $39.99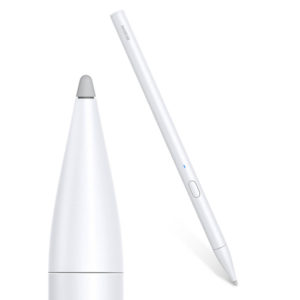 What's an iPad 8 without an equally powerful, and brilliant pencil/stylus to accompany it for enhanced user experience? ESR's Digital Pencil is a highly responsive and accurate technology that leaves no room for error. Available in two colors, this pencil has been specially designed to enable the user to experience pixel-perfect precision. It is quite easy to hold and there's no pairing hassle involved either. All you have got to do is turn it on and start creating like you are holding your average pen. It comes with a USB-chargeable battery, and you can use it for straight 12 hours on a full charge.
Price: $22.99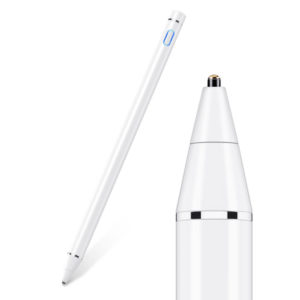 Equipped with a 1.4 mm precision tip, this striking ESR stylus is another great option to accessorize your iPad 8 with. It enables you to draw broader strokes with extreme detailing like that of a pen on a paper. There is absolutely no delay or hang-up while creating content, as this stylus is highly responsive. There is no pairing prerequisite, and you can use it for over 10 hours on a full charge.
Price: $11.99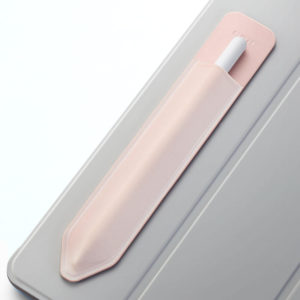 If you have an iPad cover that doesn't have a built-in pencil holder, then you need to buy ESR's Apple Pencil Holder. It comes in 3 colors: rose gold, gray and black. The design of the holder is simple yet eye-catching. It is made of PU Leather and soft Lycra that protects your Apple Pencil against scratches from sharp objects. It is equipped with an adhesive backing to ensure sturdy placement. You can place the holder anywhere on the case, according to your ease. The elastic pouch that holds the pencil makes it quite convenient to take it out and put it back in.
Price: $36.99

Lastly, if you intend to use your iPad 8 a lot, it is essential that you invest in a fast charger. ESR's 36W PD Wall Charger is 3 times faster than Apple's original 5V/1A power adapter. It can charge your device up to 50 percent in just half an hour. This extremely durable charger has been effectively tested to tolerate over 10,000 uses and can charge up to 10,000 hours. Also, it is protected against all potential electrical hazards like overheating, overcharging, and short-circuiting. Other than a Type-C PD Port, it is also equipped with a USB Port. Most importantly, it has Smart IC Chip that is able to detect and deliver the ideal charging power for the connected device. Its compact design makes it easy to carry around and travel with.
Final Thoughts
IPad 8, on its own, is a powerhouse of a device that enables you to have the most advanced tablet experience currently being offered. Therefore, it is important to invest in the right iPad 8 accessories and get the most out of it. These are our most favorite iPad 8 accessories currently available. We guarantee that you will like them as much as we do.