While you are excited about your latest iPad 8 (2020) purchase, I would say you should tone down your excitement.
I am no kill-joy but trust me when I say you would soon organize a pity-party if you do not get a screen protector for your new purchase.
Well, sorry I ain't sorry but I do not glory in such gathering so, I would rather stand aloof and watch from a distance while you party with tears topping your buffet menu.
When I made my iPad 8th gen (2020) purchase, I had the phrase 'purchase a screen protector now' deeply inscribed on the tablet of my heart because I do not want to ever regret my purchase.
Laugh all you can if you find that funny (It cracked me up real hard too, and it still does) but that was exactly what I did.
However, if you feel you would not adhere to buying a screen protector as soon as you are done reading this, you can as well excuse yourself at this point but read on just for the sake of your buddies, who knows; you may be lending a helping hand someday.
When it comes to the best, there is no other name to give to it asides that and as you know if it is not the best then it is not worth writing about neither is it worth your time reading it.
Just as you like it, after extensively combing the internet and successfully sifting through, I have been able to come up with 3 of the best of paper-like screen protectors that you can purchase.
So, why don't you hop in as I take you on this exciting journey about the best paper-like screen protectors for iPad 8th gen (2020)?
Oh yeah! feel free to grab some crispy chips and juice.
Enjoy!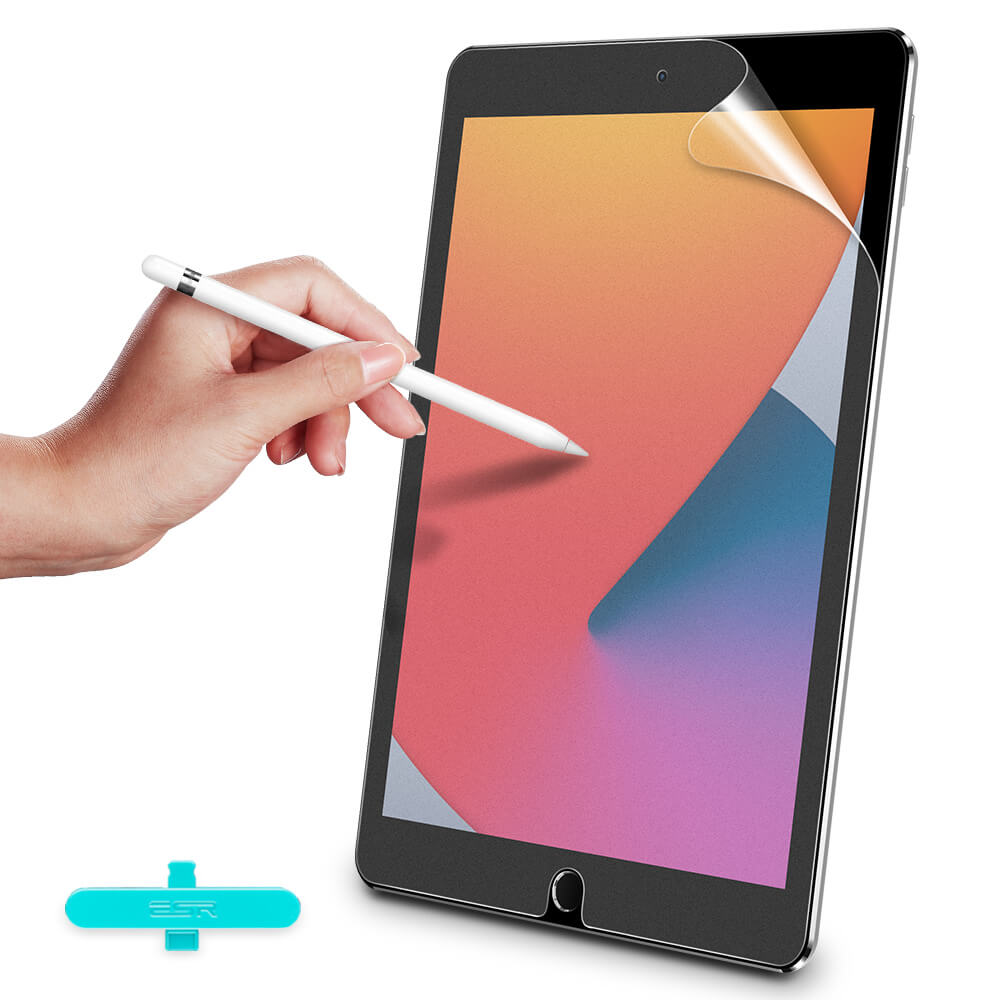 Key features
Compatible with apple pencil & face ID
Pen to paper simulation
Fingerprint-resistant & anti-glare
Effortless simple installation
Topping the list is the paper-feel screen protector. Apparently, this will only work for the iPad 8 (2020) so, if you are trying to force installation on some other iPad model, sorry ain't sorry it won't work.
So much for the 0.13mm thickness, this screen protector supports the use of face ID as well as supporting the use of apple pencil. If you ask, it feels so cool using the apple pencil on this screen protector.
You know exactly how it feels to use a pen on paper either to write or draw, yeah the same is replicated here. No difference whatsoever in the 'feel'.

For you my buddy who cannot resist the urge to have some bites from that yummy chicken while you work on your device, this paper-feel screen protector helps resist those oily prints from your sticky fingers. I know it is super cool, I see you nodding right there.
Also, the anti-glare feature helps decrease the external lights hitting your screen. This will be very well appreciated by those who use glasses-less radiation.
When it comes to its installation, this is second to none. It comes with free installation kits and an instructional manual. Make good use of it and enjoy the ease of installation.
Key features
Ultra-slim & airy
Auto sleep/wake
Pen to paper simulation
Easy installation
Up next on the list is the notebook protection bundle and it is specifically designed for the 10.2-inch iPad 8th gen (2020) and also for the 7th gen (2019) and It would be a mismatch if paired with any other device.
Little nudge for you – it is pertinent to note that this does not include the apple pencil.
With the unique ultra-slim feature of this protection bundle, you can engage your iPad for hours without having to worry about it heating up on the outside as this feature helps keep your iPad cool.

Now, this particular feature I'm about to tell you may sound like magic. Maybe (and just maybe) it does sound like it, sure it will worth your while to try it out.
Attached to its cover is a strong magnet that immediately turns on your device when you open it and also locks it (sleep mode) when you close it.
The same way you write or draw with your pen on paper, so it is with this product. The screen protector has been designed in a way that it successfully simulates this effect.
Follow the instruction that comes with this screen protection bundle for an easy and bubble-free installation. Plus, you get free installation kits on purchase.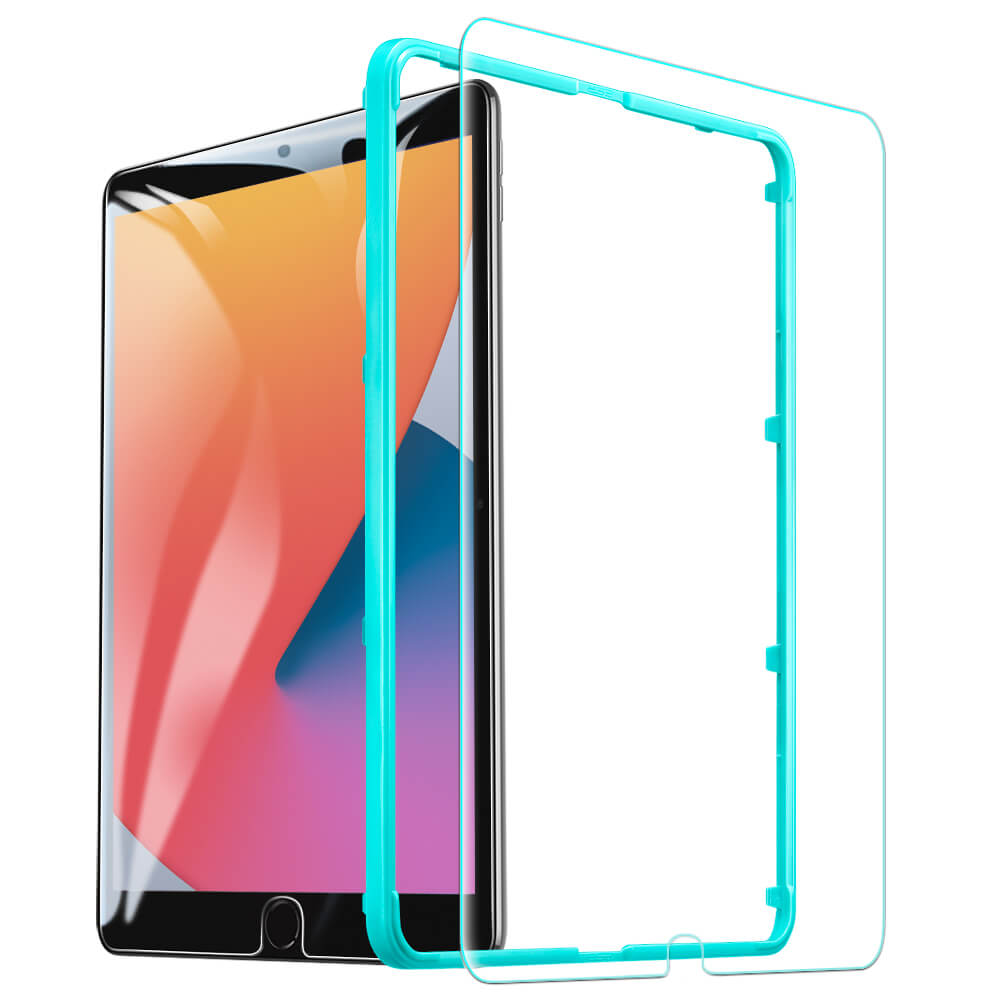 Key features
HD protection
Anti-scratch
Ultra-sensitive to touch
Simple installation
Last but definitely not the least of the three best screen protector is the iPad 8th gen (2020) tempered glass screen protector.
In terms of compatibility, it is specifically designed for the iPad 8th gen (2020) and no other model.
The HD protection is top-notch as it helps protect your screen and deliver a crystal-clear effect on your camera and screen as well.

Sometimes, when you move around with your iPad, you place it in the same carriage bag with some other hard objects like your keys, cable plugs, chargers, etc.
Any contact between your iPad and any of these hard objects will lead to scratches which when ignored overtime, will disfigure and cause damage to your iPad screen but with the anti-scratch feature of this screen protector, be sure to enjoy maximum protection from every form of scratch.
If you think your iPad will no longer respond to quick touch as before, this tempered glass screen protector will prove you wrong as it helps retain the touch sensitivity of your device just as it is before installation.
To enjoy a bubble and dust free application, the tempered glass screen protector comes with a full installation and cleaning kits. Also, the calibration casing (alignment frame) allows for a simple installation.
So, all things considered, I really want to know why you would not purchase any of the above listed best screen protectors.
Let it not be heard that you would go-ahead to purchase your iPad 8 (2020) without purchasing one of these screen protectors.
Go make a purchase now!