Accessories are like the 'icing on the cake' and by cake you know what I mean, yeah? But just in case you don't, I'll help you out on that; The cake is your Galaxy S21 Ultra device.
Now, to make things easier, think of accessories like ornaments being used for the sole aim of beautification.
If by anything at all, we all know variety is the spice of life and with that in mind, I bring to you 10 must-have Galaxy S21 Ultra Accessories you can purchase to spice things up for Your device.
No long talks, let's dive right in!
Protective Case
Key features
Lightweight & ultrathin
Shock-proof case
Raised bezels
Built-in microdots
Sorry to disappoint but if you are looking to pair this case with any other Samsung device model apart from the Samsung Galaxy S21 Ultra, then you possibly won't be making any headway as this case is only compatible with the Samsung Galaxy S21 ultra (2021).
The project zero cases is super thin and light in weight, adding little to no bulk to your device hence the name 'slim'. Plus, this case is crystal clear and would display the natural look of your phone.
This case is resistant to shock in order to deliver maximum protection to your device. also, this case spots raised bezels which helps protect your device screen and camera from drops and scratches.
Seated gallantly on the inner layer of the back of this case are tiny dots (microdots) which prevent the softness of this case from clinging to your phone hence preserving it great look.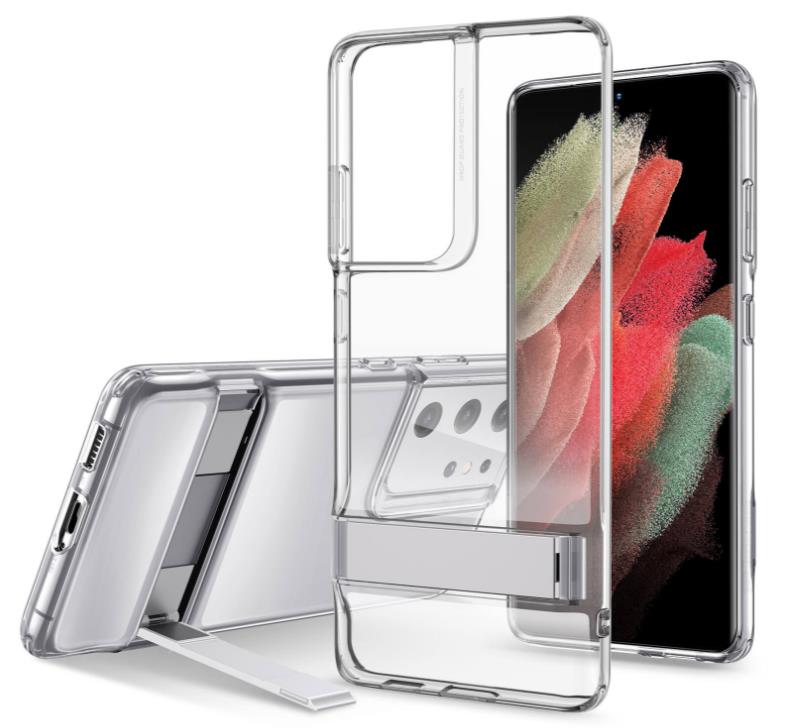 Key features
Strong flexible polymer
Two-way stand
Adjustable kickstand
Elevated bezels
In terms of compatibility, the metal kickstand phone case is designed specifically for the S21 ultra 2021 (6.8-inches). It would be a waste of precious time to force pairing with other Samsung models.
With its strong flexible polymer, be sure to enjoy maximum impact protection than that offered by its counterpart, hard plastic.
What does it matter if you choose to make that video call in the portrait mode or binge-watch your favorite movies or TV shows in the landscape mode? This case supports dual-mode so feel free to use any.
In addition, the distinct kickstand for this metal case is freely adjustable up to 60 degrees to enable viewing at any angle.
Also, this metal case has elevated bezels to help protect your screen and camera from dings, scratches, falls or drops.
PD & Wireless Chargers
Key features
Mini rapid charging
Secure and powerful
Firm & sturdy
Smart charging
Say no to slow charge as this mini PD charger is two times faster than the common chargers. Also, it is 20% smaller in size when compared to the iPhone PD charger.
It is FCC, CE and RoHS certified safe. Also, it has safe spikes that help keep your chargers from disconnecting from its socket.
This PD charger has a flame retardant that endures 5,000 plug-ins and withstands deep corrosion. Its smart charging feature automatically identifies and delivers maximum charge to your phone.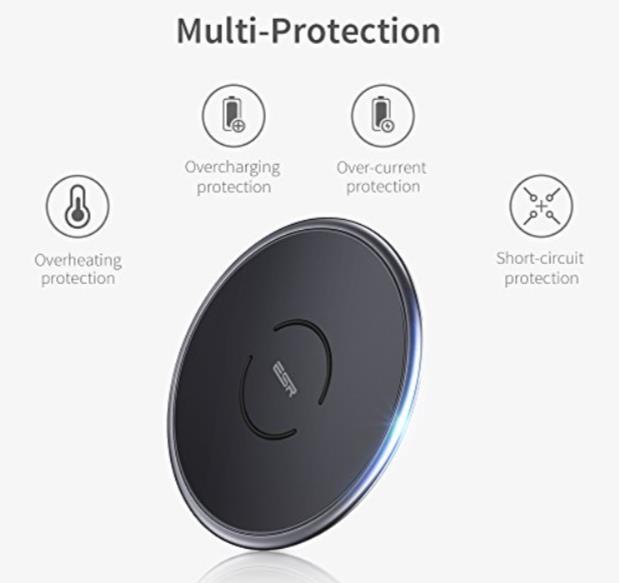 Key features
Swift charging
Constant charging & cooling system
Simple & sleep-friendly
For its compatibility, the tidal wireless charger is compatible with any Qi-enabled device, iPhone and Samsung.
It has an excellent and top-notch built-in cooling system and metal frame which has a preferable heat dispersion. Foreign object recognition automatically detects your wireless chargeable device and closes up when a strange metal is noticed.
You can place your phone on this wireless device to commence charging. The LED light disappears after a minute of being on to allow you to sleep well.
Key features
Easy to use
Dual-mode supported
Firm & case-friendly
Travel friendly
To use, just plug in to commence charge. You can charge in both portrait and landscape mode as the charger is optimized for two-way charging.
It is compatible in both erect and pad mode and it is compatible with almost all phone cases except cases that come with a metal attachment and are thicker than 5mm.
It has a standard charger that is foldable to enable your safe space for light travel.
Screen Protector
Key features
Highly responsive
Full-screen protection
Self-healing screen
This screen protector is only compatible with the galaxy S21 ultra and no other device will fit. Its screen is highly responsive having a fingerprint reader and at the same time, its flexible polymer delivers full-body protection to your phone screen.
The liquid skin of this skin protector enables it to self-heal from tiny scratches over a period of time but it can't heal from heavy scratches.
It comes with an installation kit to allow for a smooth installation. To do this, watch the installation video.
Camera Protector
Key features
Crystal clear
Anti-scratch glass
Smooth installation
This camera lens protector is only compatible with the Samsung Galaxy S21 and no other device. so, do not waste time trying to pair with other devices.
This lens protector is crystal clear and it helps protect your videos and picture pixels. It has an anti-scratch glass to help protect your lens from culpable metal destroying objects.
With its installation kits, installation is super easy provided you follow the instructions given. For a bonus, it comes with two phone lens protectors.
Other Accessories
Key features
Adjustable clamp
Wide range compatibility
Firm and safe
This flexible phone stand has a wide range of compatibility that enables it holds most devices iPad included.
It acts as an arm to help hold your device firmly. It has a neck that is completely adjustable and supports an all-around rotation.
This flexible stand is firm and it is made using sturdy and suitable aluminum to help hold weighty devices.
Also, it has an adjustable clamp that can be joined to edges that are almost 3 inches thick. It also has a rubber pad that enables the clamp to glue to surfaces rigidly without a scratch.
Key features
Secure and durable
Multi-function
Strong and reliable
Radiant design
This ring stand can be washed and is re-usable over time. It's firm to the grip making it easier to hold.
Also, this stand supports rotation in two dimensions; both in 180 degrees and 360 degrees. It is made with materials that are eco-friendly and it has an advanced adhesive is used.
It has about 15 different crystals that make your phone glitter and thus make it fashionable and sophisticated.
Key features
Safe attachment
Adjustable clamp
Easy set-up
Non-abrasive
Feel free to hold your device to your car using the air vents. It has an adjustable clamp which allows for positioning in both portrait and landscape mode.
The set-up is quite easy, with a broad phone holder, an instant release button and an all-round rotation angle, makes placement, adjustment and removal easily done.
The inner layer of this holder is padded with soft silicone that is not abrasive to help protect your devices from scratches and tiny marks.
Remind me again, why you wouldn't purchase these accessories listed above? I really want to know.
So, there it is, 10 dope accessories to brighten up your Samsung Galaxy S21. Don't miss out on any of these lovely accessories, go make a purchase as soon as possible and you would be glad you did.