Samsung Galaxy S21 Series just got released into the world. And, it is rocking awesome features that beat every expectation we had while looking forward to the 2021 Unpacked event. However, while the features are all exciting, there is one thing that cannot be, and shouldn't be looked over. And, that is the screen of the Galaxy S21. The screen sure is awesome. But, like all screens, it is bound to crack at one point in its lifetime.
So, how do you prolong the life of your Galaxy S21 screen? Well, I'm here to tell you that it's much easier than you think. All you need to do is to invest in a good screen protector for your Galaxy S21. These can be pricier depending on the quality. However, all screen protectors are much cheaper compared to fully replacing the original screen of your phone. So, it is much better to do yourself (and your phone) a favor by buying a good screen protector.
We know choosing one screen protector out of the thousands available in the market is hard. So, we scoured around and narrowed the choices down to 4 screen protectors. These are the best screen protectors for Samsung Galaxy S21 Series. So, pick one and your screen will last much longer.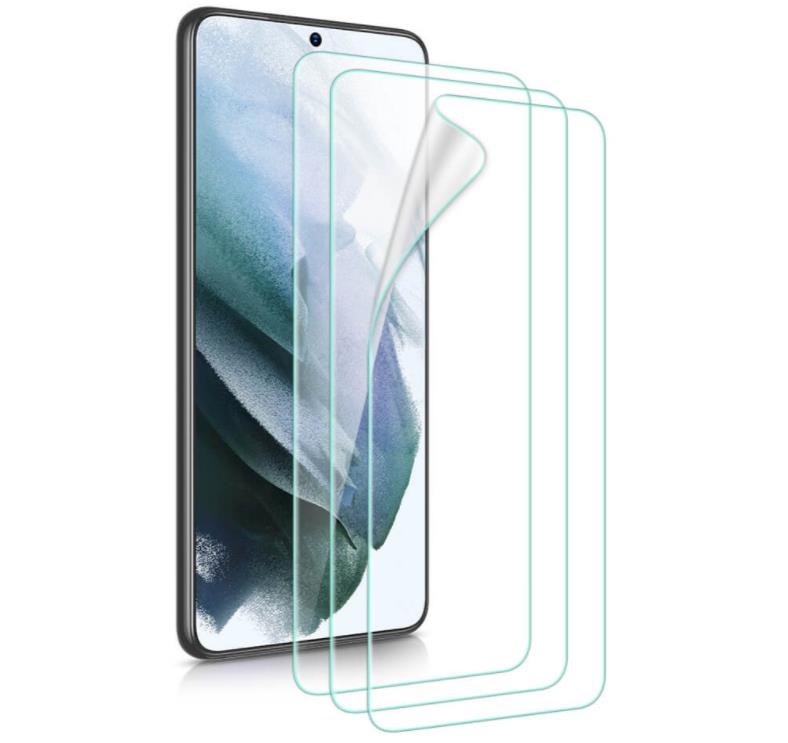 Key features
Seamless application
Preserves clarity of the original screen
Can heal minor scratches over time
Ultra-responsive
This liquid screen protector is one of the best screen protectors and will especially appeal to someone who wants a seamless screen protector that blends right into the phone. It is highly compatible with any phone cover. And, it does not leave a glaring space around the edge like most tempered glass screen protectors. So, with this, you won't have to deal with the dust that usually gets stuck around the edge of a tempered glass screen protector.
This protector is a liquid glass polymer that is applied to the screen. As it is a liquid, it heals minor scratches when applying. And, you would not even feel as if there is a protector among you and your phone's original screen. This protector retains the awesome HD clarity of the original screen while providing impact protection as well.
Another feature to love about this liquid skin protector is that it is ultra-responsive along with on-screen fingerprint unlock support. If, for some reason you feel as if the screen sensitivity is not desirable, simply go to your phone settings and enable touch sensitivity for faster response.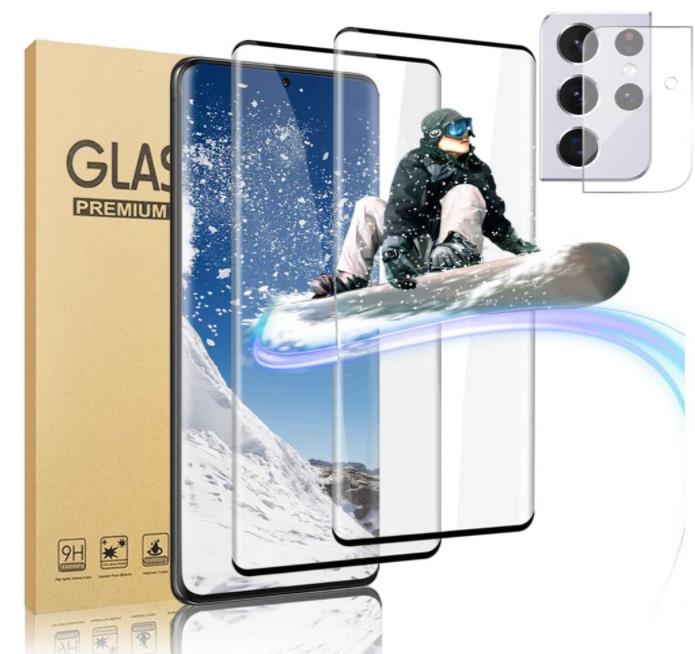 Key features
9H hardness and 0.15mm thickness
Tailor-made to the Galaxy S21
Anti-fingerprint coating
Easy installation
This tempered glass screen protector has a 9H hardness and is 0.15mm in thickness. The slim, transparent quality of this protector is coupled with a 99.98% light penetration ratio allowing the original screen quality to shine through.
This screen protector has gone through a nano-level cutting process that makes it look tailor-made on the Galaxy S21. It also supports fingerprint unlocking and overall has high touch sensitivity. The top layer of the glass has been touched up with an anti-fingerprint coating which keeps smudges away.
The hardest part about glass screen protectors is the installation. However, with this screen protector, you can easily get a perfect bubble-free installation even if you are an amateur. It also comes with a camera lens protector to protect the back cameras from scratches. All in all, this screen protector is one of our favorite tempered glass protectors in the market.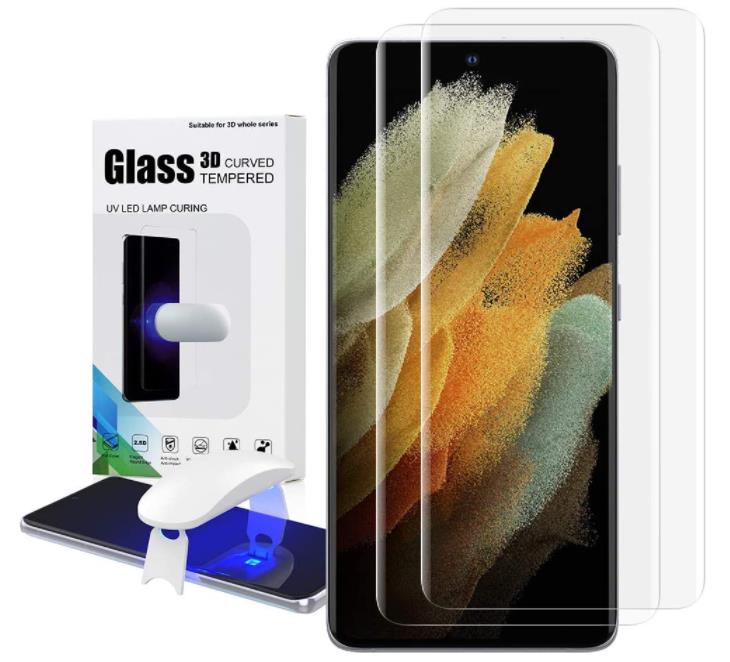 Key features
9H hardness
Smooth to touch
Easy to install
Anti-scratch, anti-shatter, and anti-fingerprint surface
The Feitenn screen protector is another great tempered glass protector with a 9H hardness. It gives full coverage to the screen including the rounded edges. The tailor-cut glass makes sure that the entire screen is safe from cracks and scratches. The screen protector also has anti-fingerprint qualities to keep the screen looking clean and crisp. Feitenn screen protector is smooth to touch and supports on-screen fingerprint unlocking. So, you would not be missing the texture or the high responsiveness of the original screen.
We love the Feitenn tempered glass screen protector because it is very easy to install. It is air bubble-free and comes with a kit that includes everything you will need during the installation. The kit includes two Samsung Galaxy S21 screen protectors, wet/ dry wipes, a dust removal sticker, and a UV curing light. This screen protector is a great choice to keep your screen free of cracks while enjoying the HD quality of the original screen.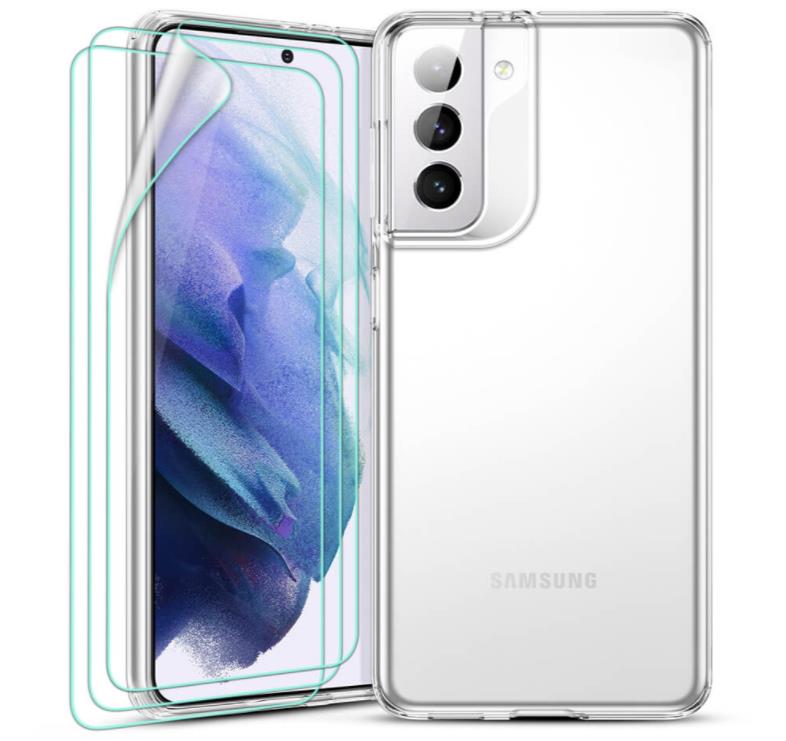 Key features
All-in-one protection
Can heal minor scratches over time
Responsive and smooth screen protector
Comes with a full installation guide
The only thing better than buying a single screen protector for your phone is buying a complete protection bundle. With this S21 Crystal-clear protection bundle, you get a 3-pack liquid skin screen protector, a 2-pack camera lens protector, and a clear back case. The coolest thing about this bundle is that all products are designed to retain the original design of the S21. And, at the same time, they provide the best protection for your phone.
The clear case is best at averting impacts during drops. And, the screen protector and the camera lens protector will keep the surfaces from scratches and cracks. Because these are liquid skin protectors, they can heal minor scratches over time. Another plus is that this screen protector would be fully responsive and will support fingerprint unlocking as well. And, it will provide a smooth, seamless finish to the Samsung S21 screen. This protection bundle comes with a full installation kit and is really easy to install by yourself.
Final words
These 4 products are the best screen protectors for Samsung Galaxy S21. So, we highly recommend picking one of these as your new screen protector.