Brands like Samsung are rapidly understanding the diverse roles smartphones play in all human endeavors. As such, they keep redefining their products to provide consumers with solutions beyond the traditional sending of texts and making phone calls. That has led to the releases of varying smartphones that provide quality for money and satisfy the various market segments.
The latest Samsung smartphone is the just-released Galaxy s21 ultra. The 6.8 inches display smartphone comes with 12/16GB RAM and has a battery capacity of 5,000mAh. This flagship smartphone also runs on Android version 11, has an internal memory capacity of up to 512GB, supports 5G networks, and has a camera quality of up to 108MP, making it a true wonder of the 21st century.
With ownership of a high-end smartphone like the Galaxy s21 ultra also comes the need for extra care. Flagship smartphones are not easily affordable, and therefore, owning one also comes with greater responsibility for proper maintenance. That calls for the increasing demand for screen guards and protectors to prevent the device from defects and damages caused by accidents.
A new evolving trend springing up with an increase in devices with high-quality cameras like the Galaxy s21 ultra is the increased need to protect the cameras. There's a growing need to protect the phone camera lenses from dirt and, most importantly, Scratches. That accounts for the increasing demand for camera protectors. They help in ensuring one retains an excellent camera quality irrespective of the lifespan of the phone.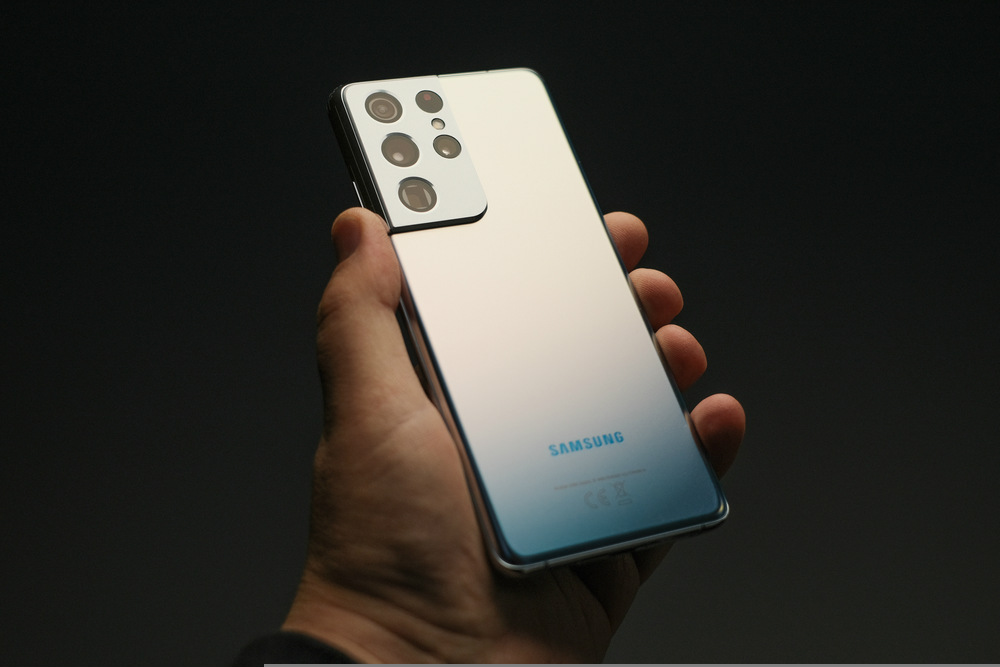 What to Consider When Planning to Buy a Screen Protector
You have plenty of options when it comes to protecting your Samsung s21 ultra camera lenses from dirt and scratch. However, only quality protectors get recommended. To ascertain a quality protective cover, the following are basic requirements worthy of consideration.
Design
Camera protectors come in various shapes and designs based on the preference of the manufacturers. Still, when planning on selecting a camera protector, one should consider going for the ones whose designs fit well with one's phone. It would be a disaster to buy a protector that does not give room for punch holes nor matches one's phone camera's dimensions. There's a need to take care when selecting to avoid wasting hard-earned money on wrong selections.
Size 
Phone models of a single brand are known to get rolled out with different variants, and this also applies to the Samsung Galaxy s21. There's the availability of Samsung Galaxy s21 ultra, s21, and s21+. Knowledge of one's device's specific variants is necessary, but selecting protectors peculiar to one's phone variant is more critical for a perfect fit.
Quality
It is not just a new fashion trend for an individual to install camera protectors; they should also provide a good cover against damages. Selecting a perfect camera protector should mean considering the quality specifications before making a purchase.
Material type
Like every screen protector available in stores, camera protectors also come with different material types. There are the availability of thin plastic glass, tempered glass, and even hard plastic glass materials. These various material types are based on the varying degree of needs of individuals. Some only want a thin plastic glass capable of providing a guard against dust and scratches. Simultaneously, individuals prone to dropping their phones quite often are more susceptible to enjoy the tempered or hardened plastic glass.
Reviews
Many people are beginning to see how necessary it is to read reviews before purchasing anything online. If you believe any product based on adverts or descriptions on the purchase page alone, you might commit a big blunder. However, if many previous buyers testify to a product's quality, it is most likely reliable. As such, reviews can be a useful tool for identifying an excellent camera lens protector for your new flagship device.
Best Camera Lens Protectors for Galaxy S21 Ultra (2021)
With the varying types of camera protectors available, some stand out from the next. The following are quality screen protectors worth considering.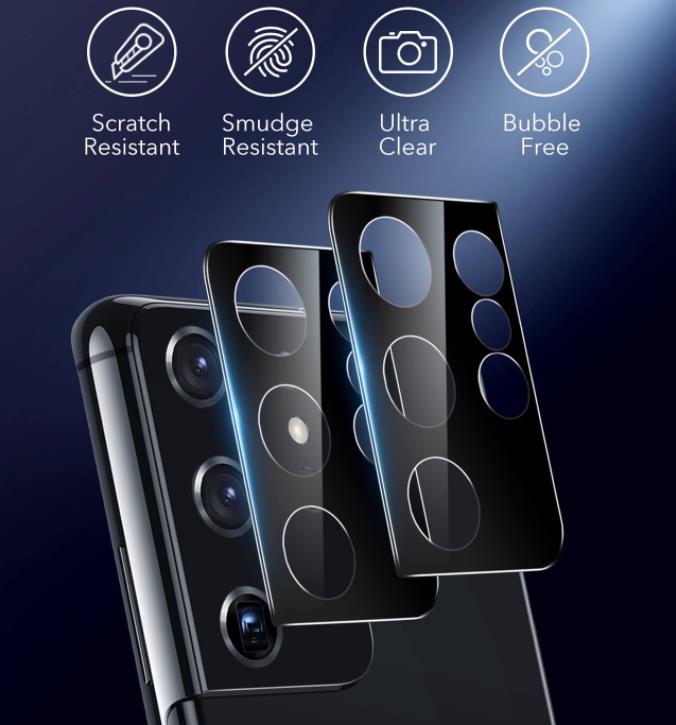 A recommended rear camera lens guard is the Samsung Galaxy s21 screen protector from ESR Gear. The lens protector is made from powerful, flexible polymer providing more excellent protection from impact than hard plastic. It also includes a two-way stand that can support both portrait and landscape positions. This superb addition to one's camera lenses has a unique kickstand, which can be freely adjusted up to 60 degrees, giving perfect angles for any situation. It's raised edges with a stand also help protect the screen and camera from drops and scratches.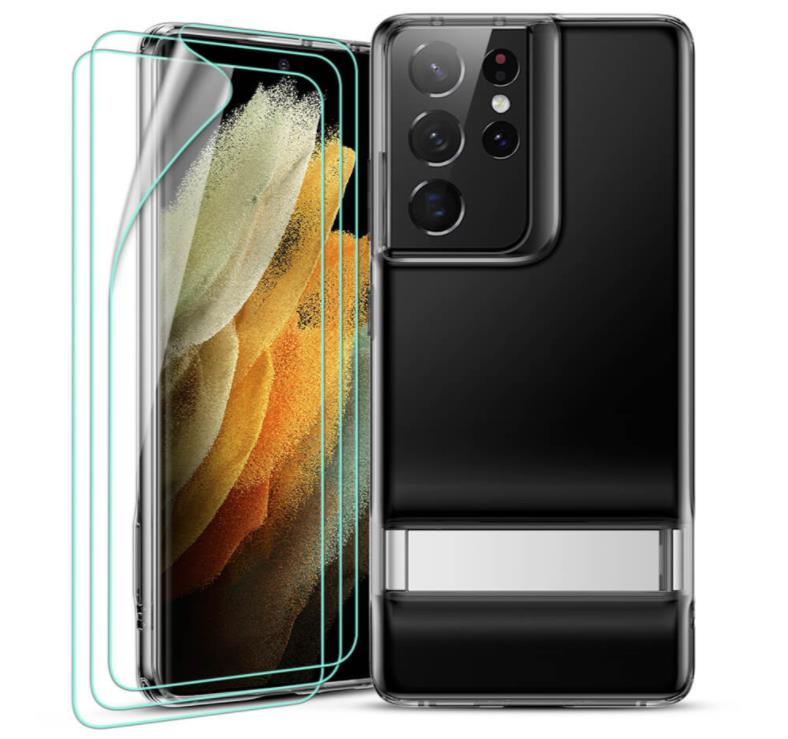 Another variant of the recommended camera lens protector is the Ultra Home theater Protection Bundle from ESR Gear. This fantastic masterpiece, unlike its other contemporary, has provisions for one's screen inclusive. This reliable phone accessory comes with two screen protectors, a strong metal smartphone case with a support that can incline one's smartphone to up to 60 degrees, and two rear-camera lens protectors.
The ultra-home theatre protection bundle fits perfectly with the Samsung Galaxy s21 ultra curved designs, supports HD clarity, and is also three times more protective than regular hard glass. This robust, flexible polymer and tempered glass provide enhanced impact protection for the phone, screen, and camera while also supporting the in-screen fingerprint sensor.
Conclusion
Screen protectors are recommended additions for any device. It helps prevent any possible severe damages caused by accidents while also forestalling deterioration as much as possible. Individuals can decide to protect just basically their camera lenses or could prefer full-body protection. Irrespective of the choice, the recommendations above are worthy of consideration.