The release of the Samsung Galaxy s21 ultra has created a buzz around. The acceptability of this device is beginning to gain momentum with customers' demands going to the roof. Tech lovers and device enthusiasts can't have enough of this flagship device and are continually creating trending topics around it. This Samsung masterpiece technology helps create a new frontier for how people view and use their mobile devices.
Devices are growing more and more intelligent and advancing all the time. With phones becoming more highly intelligent, they are, nonetheless, also becoming more expensive to buy. That accounts for the increased desire by smartphone owners to take quality care of their devices. Keeping your phone safe is not as difficult as it seems. An investment in quality case covers can be a sure bet against damages caused by accidents.
The following are some recommended quality cases one can decide to choose.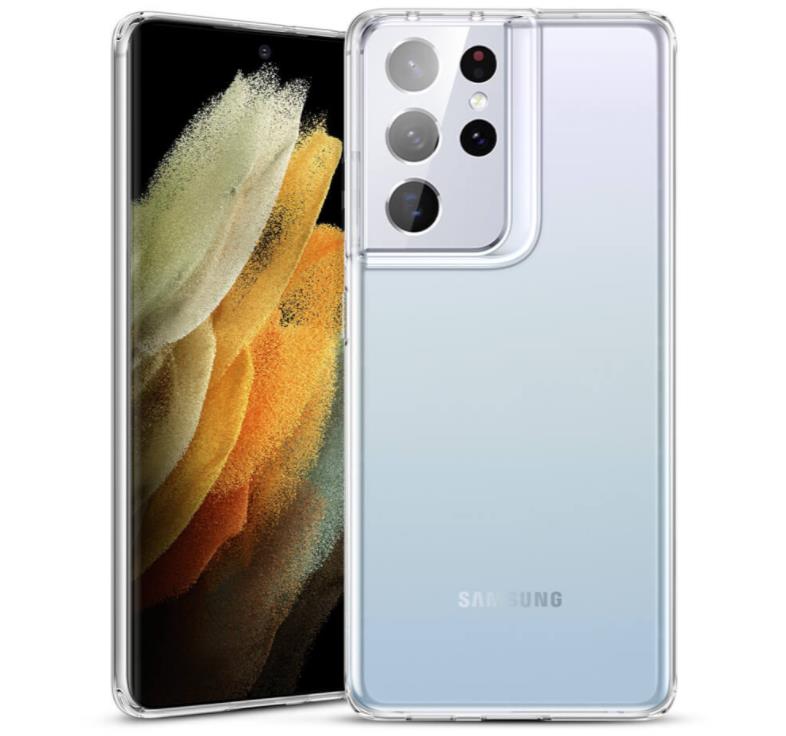 Key Features
Crystal Clear
Watermark free
Slim and lightweight
Durable and Flexible
A recommended phone case cover for your Samsung Galaxy s21 ultra is the project Zero Clear-view slim case from ESR. This soft and flexible TPU phone case offers a comfortable grip for your Samsung Galaxy s21 ultra while also providing full protection against scratches and dirt. Get to stay original with this slim, light, and crystal-clear TPU case as it shows off your phone's authentic look. You can eliminate the constant worry about scratches and drops as the case has raised edges, protecting your phone.
This creative accessory recommended for Samsung Galaxy s21 ultra also has built-in microdots that prevent the soft-touch cover from clinging to your smartphone, keeping it looking exquisite all the time. This zero Clear-view slim case makes your phone look sleek and protected and also supports wireless charging.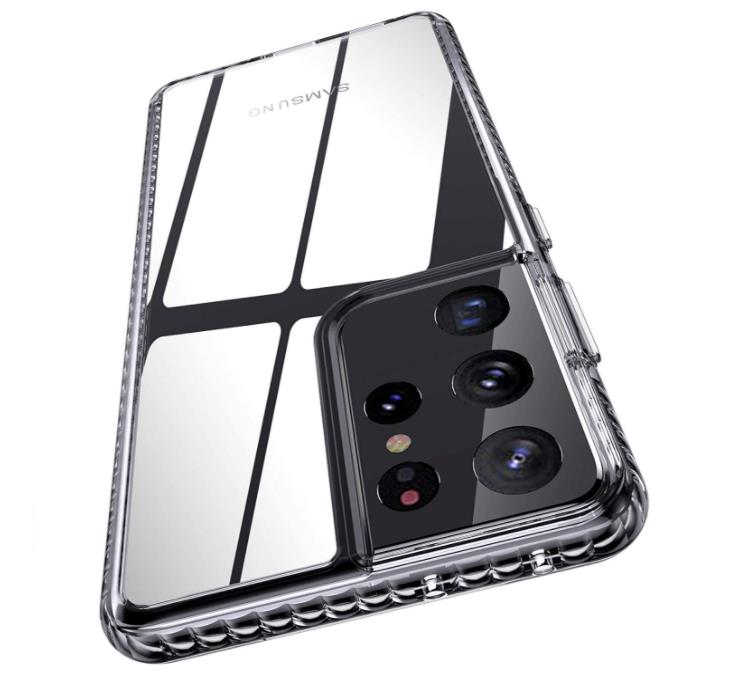 Key Features
Anti-Yellowing material
Three-layer protection
Crystal clear
Another recommended beautiful additions for Samsung Galaxy s21 ultra is the crystal clear case by AINOYA. This anti-Yellowing crystal clear case provides military-grade protection for your phone against drops and scratches. Its flexible soft TPU bumper helps to provide an excellent grip functionality for smartphone owners.
AINOYA crystal-clear Case comes in three-layer protection for your Galaxy s21 ultra. Its raised edges serve as a sufficient guard for your camera and screen against drops. This piece's benefits are numerous, and it also retains the crystal-clear design showcasing your phone beauty.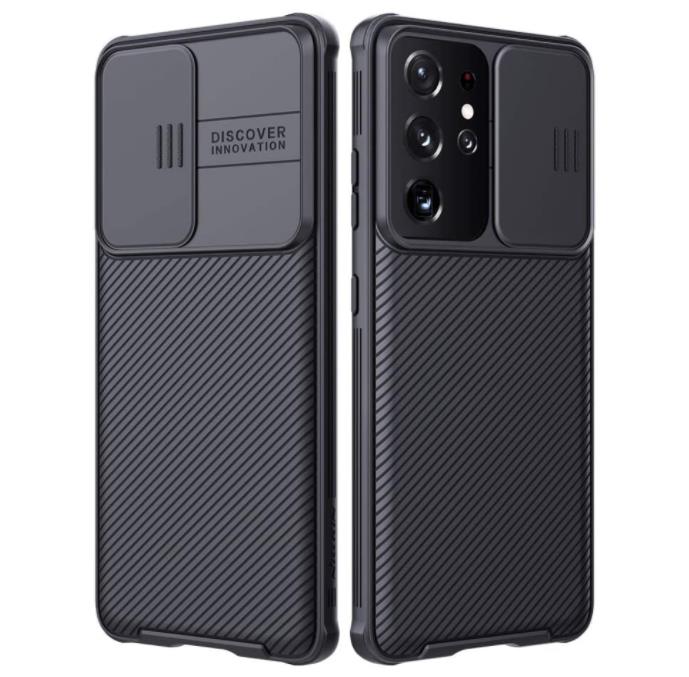 Key Features
Lens cover slide design
Dual protection
Impact-resistant corners
Ultra-thin
Next off on the list is the CamShield Pro case from Nillkin. This black 6.8″ case offers a comfortable non-slip grip for your Samsung smartphone. As its name implies, this excellent phone accessory provides an ideal shield for the phone's camera. Another captivating feature is its lens cover slide design, providing a varied look to the smartphone.
This Samsung galaxy s21 ultra case offers dual protection for the device as it comprises integrating a soft TPU frame and hard PC back cover. Its added impact-resistant on four corners helps to absorb and disperse shock in the event of a drop.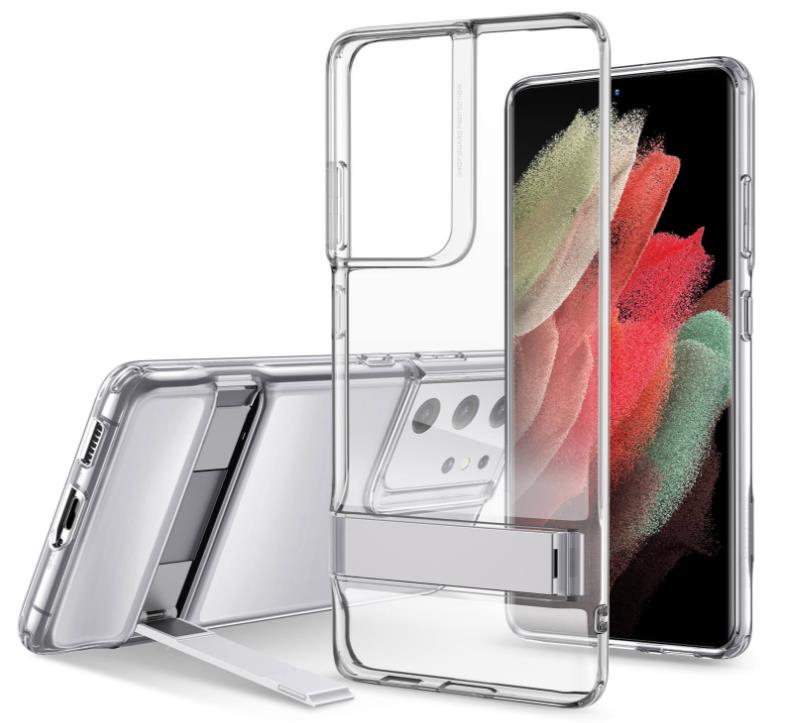 Key Features
ESR Patented Kicktand
Powerful Polymer
Smooth Matte Finish
Raised edges
This elegant piece from ESR Gear is another beautiful phone case that must get mentioned. The Galaxy S21 Ultra Metal Kickstand Phone Case comes with a flexible but powerful flexible polymer that provides better impact protection than hard plastic. It's raised bezels at the edges help ensure that the phone's camera and screen are free from drops and surface scratches as much as possible. The rigid but elegant back of this phone case ensures that your smartphone is scratch-resistant while retaining its sleek look.
This phone case type's cutting edge features are its patented durable metal kickstand adjusting freely from 30-60 degrees. Other similar competitors might boast of the availability of kickstands in their phone case. The ESR Galaxy S21 Ultra Metal Kickstand Phone Case supports both horizontal and vertical stands making it a first. This fantastic phone case offers defenses against screen and camera damages with its raised edges.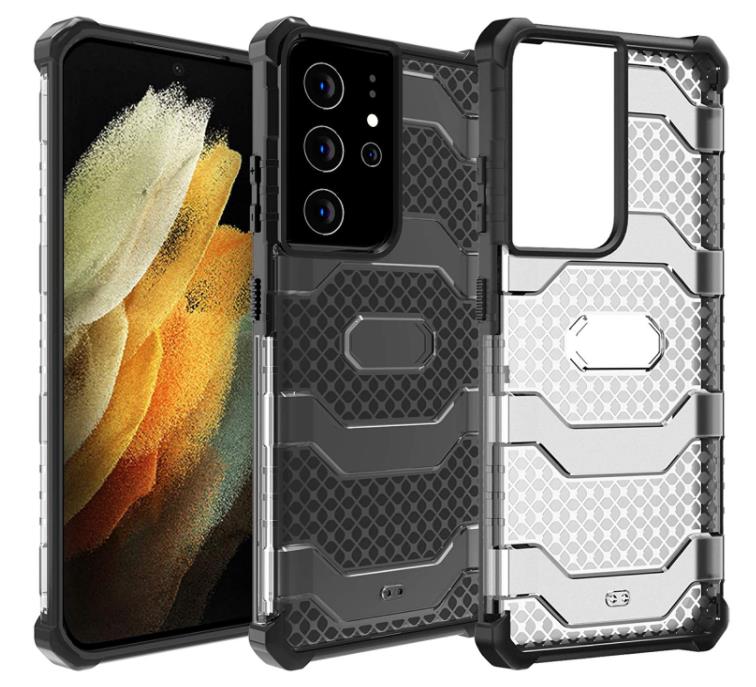 Key Features
Heavy-duty Protection
Precise cutouts
Anti-slip
Shockproof Cover
The last on this list is the Galaxy s21 ultra Hard Armor case from Restore. With a clean design, this elegant armor protective case provides full protection for your smartphone while also offering a comfortable grip. It's 360-degree maximum protection, and shock absorption technology protects the device efficiently against drops.
With precise cutouts by its sides, access to all ports and button functions are made easy even with full cover protection. Although having a unique but rigid design, this piece from Restoo also supports wireless charging without removing the case.
Tips to Further Protect Your Samsung Flagship from Damage
Getting a Screen Protector
Most smartphones currently rolled out typically include scratch and impact-resistant screens made from Gorilla Glass or similar technology. However, these screens cannot be considered indestructible. Getting a screen protector can go a long way in protecting the screens. It is much more comfortable and convenient for you to continually replace screen protectors in the event of scratch or cracks than the built-in phone's screen. Many of the screen protectors available for sale also have oil-resistant coatings that help reduce smudges and fingerprints.
Avoiding Extreme Temperatures
Extreme temperatures, either cold or hot, can damage a smartphone. Leaving a phone in extreme heat or cold for a long time can affect the internal components or battery, leading to the possibility of data loss or shortened battery life. Smartphone exposed to a frigid temperature is more susceptible to damage from impacts as the cold can cause parts to become more rigid.
Keeping the smartphone dry
Smartphone manufacturers continuously claim that their products are water-resistant. Although these claims are not untrue, this doesn't mean that the phones are completely waterproof. When in possession of a not water-resistant smartphone, the smart thing to do is to protect the device from any chances of it getting wet.
Conclusion: 
Smartphones are now a significant addition to individuals' life and their benefits remaining numerous. As a smartphone owner, taking complete care of the device should be a priority. It would be unfortunate to have to miss specific opportunities because of a damaged or defective device. Taking every condition of care into consideration can be a sure bet to prevent unexpected disappointments.