You've invested in the most beautiful screen available on a mobile device, and you want to keep it in mint condition. You may require the use of a screen protector at this instance. We offer tempered glass, plastic, and even liquid. The 11-inch and 12.9-inch iPad Pro 2021 is one of the best iPads available today. That's because it features a more compact Liquid Retina Display than the other models.
However, with such a stunning display, you'll want to protect it with one of the best iPad Pro 2021 screen protectors. Fortunately for you, there are several different options available on the market at various price points, allowing you to find one that fits your budget the best.
Why Is It Necessary to Use a Screen Protector?
These are luxurious and expensive phones, and the screen is in desperate need of protection. While the market is full of different options, you should choose one that meets the actual requirements of your smartphone. Many of us invest significant sums of money in such protectors.
Modern devices include sophisticated built-in screen protectors. However, some materials can scratch advanced glass or coatings, necessitating using a screen protector to protect your expensive smartphone. There are some advantages and disadvantages to using this protector, which you should be aware of.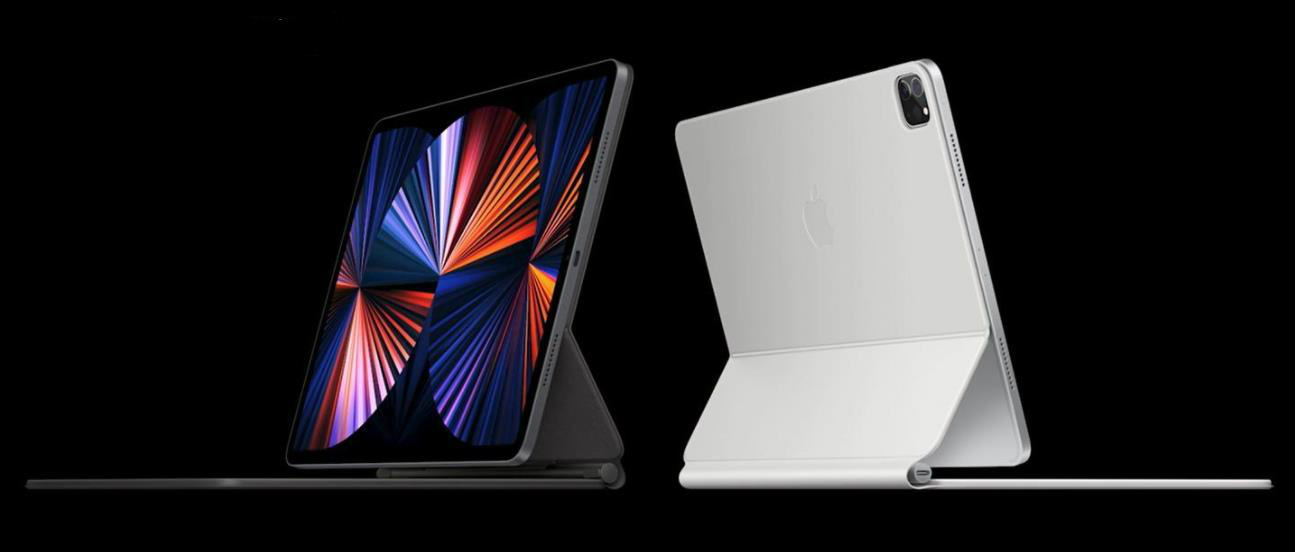 Pros
It protects the screen
It also protects your phone from dust, debris, and scratches.
It repels dirt and fingerprints
Resistant to heat
It enhances the aesthetics of the screen
Reduced glare
Improved feel
Cons
It may alter the appearance of the screen
It may impair the experience of using your phone's touch screen
A screen protector has a higher probability of changing color over time
If you do not apply it evenly across the screen, bubbles may appear.
A screen protector is susceptible to developing some unsightly scratches.
How to Select the Best Screen Protector for iPad Pro 2021?
Now that you understand the value of using these screen protectors, you should follow the tips below when purchasing one.
An oleophobic coating: This is an oil repellent coating that contributes to the fingerprint resistance of the screen by repelling the oil produced by the skin. You should choose a screen protector that features an oleophobic coating.
The material's thickness: Most time, the 0.2mm, 0.3mm, and 0.4mm grades are in high demand, as many believe that a thinner screen protector ensures a higher transmittance quality. You can opt for a tempered glass screen made by MPG and a 0.33 mm tempered glass protector.
It would be best if you chose a screen protector with a thicker AB glue layer.
Apart from that, there are various other factors to consider, such as the degree of wear resistance, the membrane of smartphones, glass material, hardness, and transparency. You should choose one that meets both your requirements and your budget.
Top 3 Screen Protectors for iPad Pro 2021
Deal #1: iPad Pro 2021 Paper-Like Screen Protector
Compatible with the iPad Pro (2021/2020/2018), it does not include a tempered-glass screen protector. With the matte surface feature, it aids in the simulation of the sensation of writing with a pen on paper. Application is simplified by detailed instructions and a complete installation kit. Precise cutout ensures proper operation of the Face ID and front camera. The matte texture repels fingerprints and glare, ensuring that your screen maintains its pristine appearance.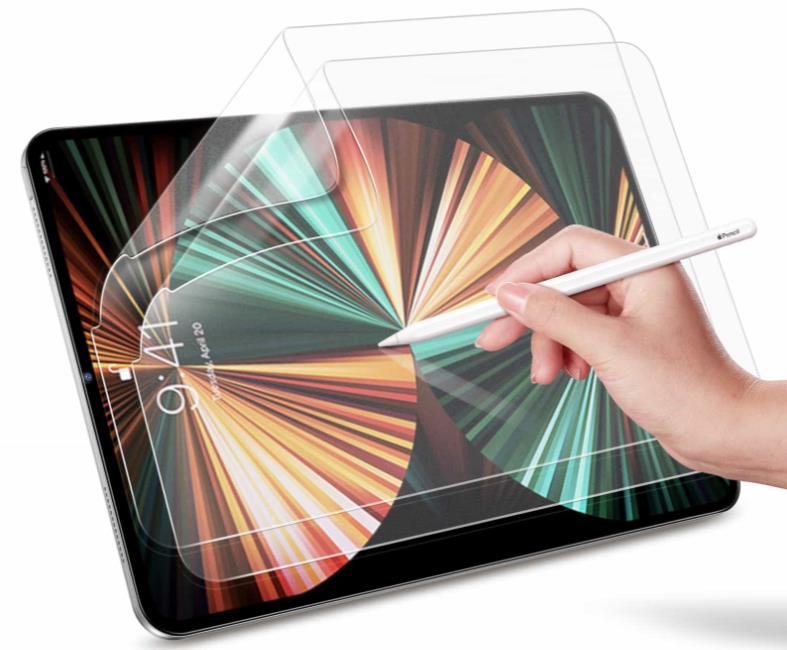 Features
Supports The Pencil & Face Identification
Easy Installation
Reduces Glare and Fingerprints
Benefits
A specially treated surface replicates the sensation of writing and drawing on paper.
Includes detailed instructions and a complete installation kit, making installation a breeze.
It is only 0.13 mm thick, which allows for fluid sensitivity when using your Pencil 1/2.
A precise camera/microphone cutout ensures that audio quality and Face ID are unaffected.
Matte finish repels fingerprints and reduces glare caused by both artificial and natural light.
iPad Pro 11: https://www.esrgear.com/products/ipad-pro-11-2021-paper-feel-screen-protector/
iPad Pro 12.9: https://www.esrgear.com/products/ipad-pro-12-9-2021-paper-feel-screen-protector/
Deal 2: Tempered-Glass Screen Protector
Compatible only with the iPad Pro 11 (2021/2020/2018). This screen protector has a feature of crystal-clear tempered glass. With this tempered glass, your screen is free from scratches. It also allows you to view your HD media in perfect detail. Another exciting spec about this protector is the precise camera cutout and an ultra-thin design that facilitate the use of your Pencil and Face ID. It includes two tempered glass screen protectors, two cleaning kits, a frame for alignment, and instructions. Likewise, it contains an easy-to-use alignment frame that facilitates bubble-free installation. Due to the rounded design of the iPhone XR and iPhone 11 and to ensure compatibility with most cases, the Tempered glass does not completely cover the screen.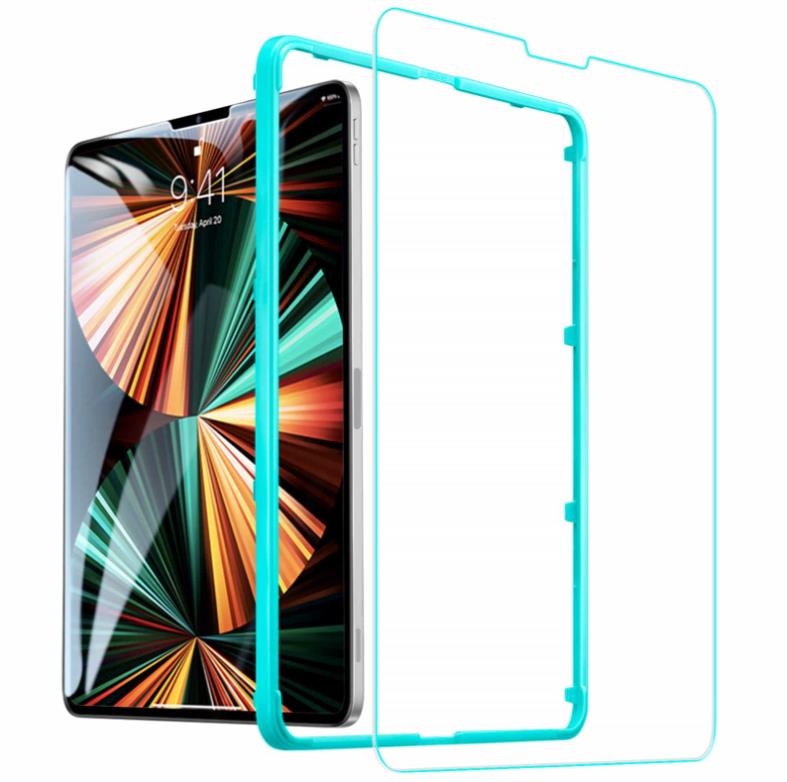 Features
Protect against defects and damage
Simple installation
High-definition of Glass Screen Protector
Open edge design
Benefits
The Screen Protector protects your 6.1-inch display
It is case-friendly.
It protects against sweat and oil residue left by fingerprints with a high-definition clear hydrophobic and oleophobic screen coating.
It comes with a guidance list for installation to assist with the application process.
The iPad Pro 2021 high-definition ultra-clear round glass is 99.99 percent touch-screen accurate.
iPad Pro 11: https://www.esrgear.com/products/ipad-pro-11-2021-tempered-glass-screen-protector/
iPad Pro 12.9: https://www.esrgear.com/products/ipad-pro-12-9-2021-tempered-glass-screen-protector/
Deal #3: iPad Pro 2021 Stylus Protection Bundle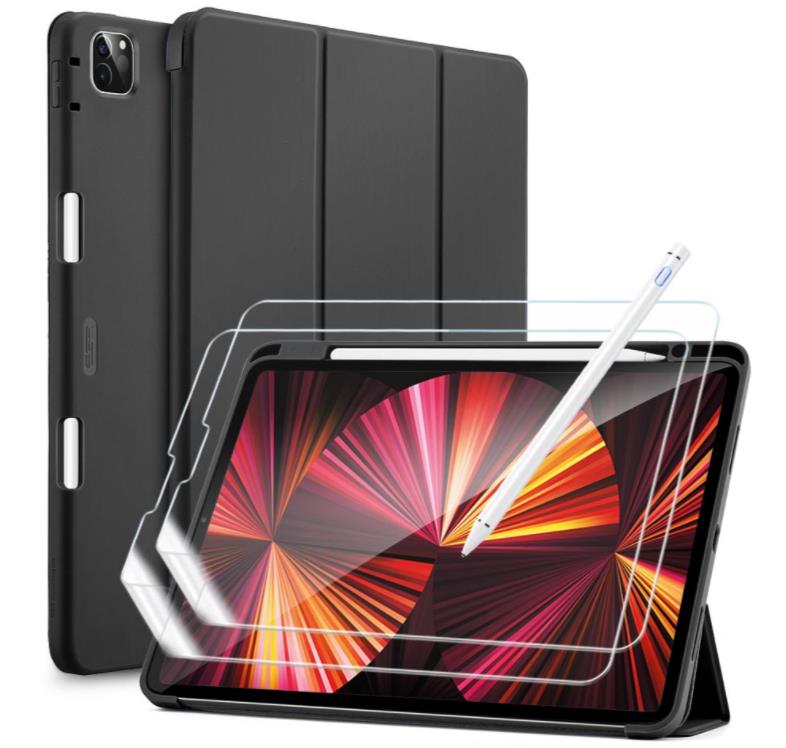 The integrated Apple Pencil slot provides a convenient location to store your Pencil 2. You can use the magnetic trifold stand in either viewing or writing mode. With a 1.4 mm precision stylus tip and a specially treated screen protector, it's as if you're putting pen to paper. Ultra-thin screen protector ensures responsive Apple Pencil control; precise cutout keeps the front camera and Face ID functioning flawlessly.
Features
Ultra-thin screen protector
Face ID
Precise cutout
Benefits
Convenient to use
Easy installation
iPad Pro 11: https://www.esrgear.com/products/ipad-pro-11-2021-stylus-protection-bundle/
iPad Pro 12.9: https://www.esrgear.com/products/ipad-pro-12-9-2021-stylus-protection-bundle/
Conclusion
While we are not always fans of screen protectors on smaller devices such as the best iPhone, our feelings are different when it comes to iPads. With something like the Apple Pencil, the screen on your iPad Pro may see a lot more use, so it's critical to have a good screen protector to protect it from scratches, fingerprints, and other mishaps.
Screen protectors continue to improve with each passing year, and the current lineup includes some of the best iPad Pro (2021) screen protectors we've seen. Whether you purchase one of the protectors mentioned above or another on the market, screen protectors will ensure that you get years of use out of your iPad Pro.