The 12.9-inch iPad Pro 4th generation is a relatively new model in the market. And with its price, you want to keep your screen well-protected from everyday wear and tear. One way to go around it is to purchase a screen protector.
ESR has valuable screen protectors that will undoubtedly protect your screen from scratches and accidental drops.  And the best part? They are pocket-friendly, easy to install, and highly flexible. Let's have a look at them.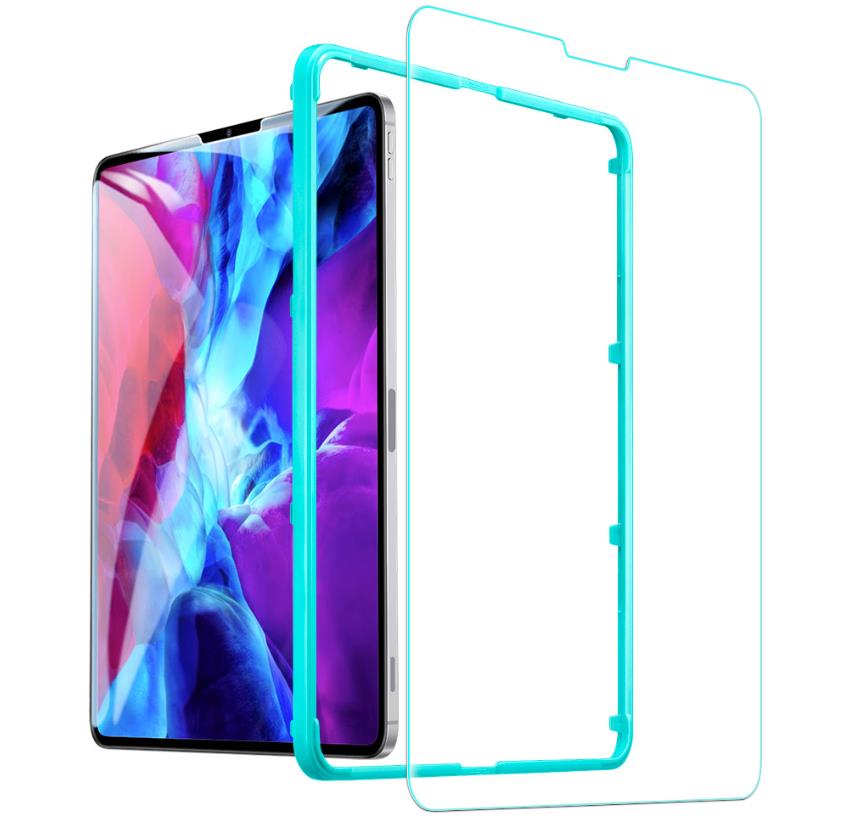 Easy installation kit.
Extremely thin.
99% transparency.
First off, we have the tempered glass screen protector that is exclusively designed for the iPad Pro 12.9 2020. Featuring a 0.3mm thickness it offers unparalleled touch sensitivity even when using an Apple pencil. The large precise cutouts provide uninterrupted access to the camera and microphone.

This allows for seamless facial recognition, clear sound quality, and of course crystal clear photos. And when it comes to installation? Just attach the installation frame to your phone and place the protector over it, and you are done. Ensure that there is no dust, air or liquids. Built with reinforced glass, it provides edge to edge protection.
And thanks to its 99% transparency, you won't need to strain to access widgets, apps or read the text. If you want to preserve your iPad's original HD quality, then this is the screen protector for you.
0.13mm thickness.
High sensitive surface.
Easy to install
Second, on the list is the paper-like screen protector. It is ideal for the iPad Pro 2018 and 2020 versions. Although not a glass-tempered model, it features a highly sensitive surface that allows seamless drawing, sketching, and writing, not to mention the 0.13mm thickness. Installation is relatively easy thanks to the provided installation kit and instructions.

Of course, it offers protection from scratches, dust, and everyday wear and tear. The raised microphone and camera cutouts ensure the two components are protected from impact. Besides, you'll have access to face recognition and quality audio. Thanks to the matte finish, you are well protected from glare and fingerprints.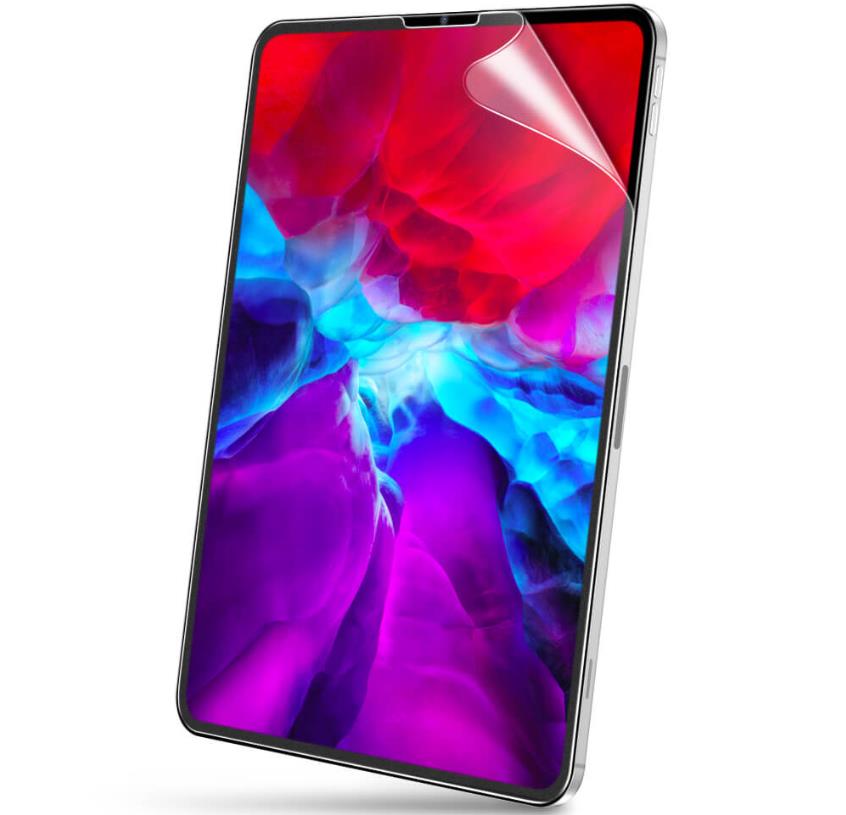 0.13mm thickness.
Apple pencil compatible.
Glare reduction
This matte screen protector offers full-screen protection from edge to edge while ensuring no impact to the microphone and camera thanks to the precise cutouts. It is relatively thin measuring 0.13mm ensuring seamless note-taking or drawing using a compatible Apple pencil. It is designed to line up with the screen hence is barely visible.

It protects the screen from the annoying scratches and drops keeping your phone intact. The smooth edges of the protector ensure that the iPad look is still maintained. The matte finish not only reduces natural/artificial light glare but also keeps off annoying fingerprints.
This screen protector is poised to provide full protection, responsiveness, and clarity. It is also case-friendly hence does not crack or shatter when you apply a phone case. The installation kit and instructions make the installation process hassle-free. If you are looking for a brilliant premium quality protector, then this is your perfect choice.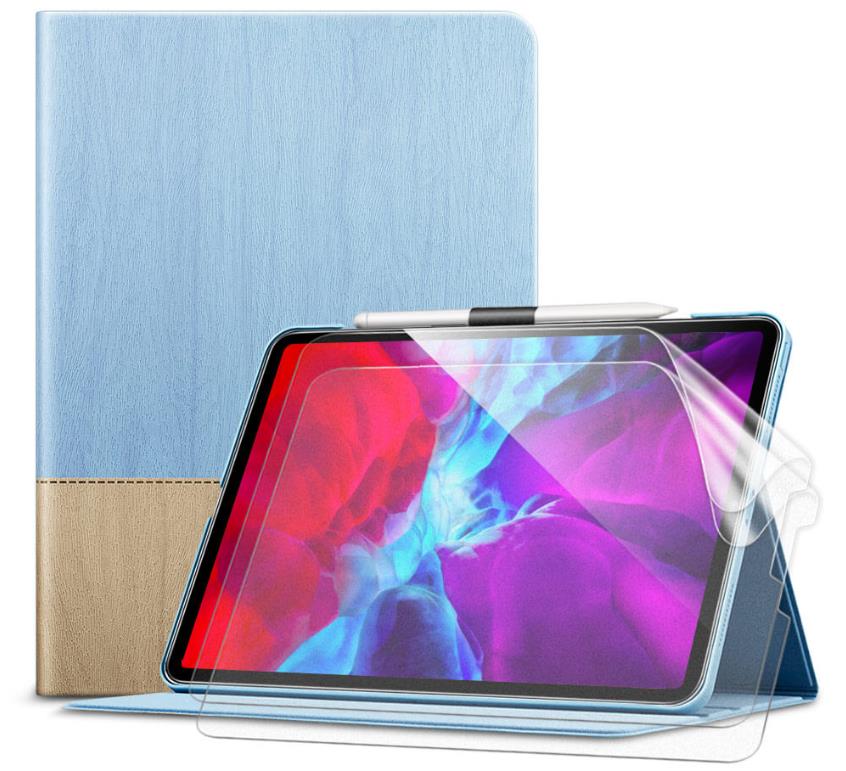 0.13mm thickness.
Two paper-like screen protectors.
Quality iPad case.
Apple pencil compatible.
For extra screen protection, you can opt for the ESR range of screen protector bundles. One of these bundles is the Sketchbook bundle. It features two paper-like screen protectors and a Folio pencil case. The case comprises of robust magnets that precisely initiate auto sleep/wake feature. With a 1mm edge width, the case protects your iPad from impact in the event of accidental drops.

The screen protector is 0.13mm thick helping preserve the screen's responsiveness and touch sensitivity. With it, you'll enjoy natural writing and drawing feel. The Folio case is compatible with the Apple Pencil 2 and comes with a magnetic pencil holder and a wireless charging feature. Thanks to the premium quality make, it looks good on you regardless of the occasion.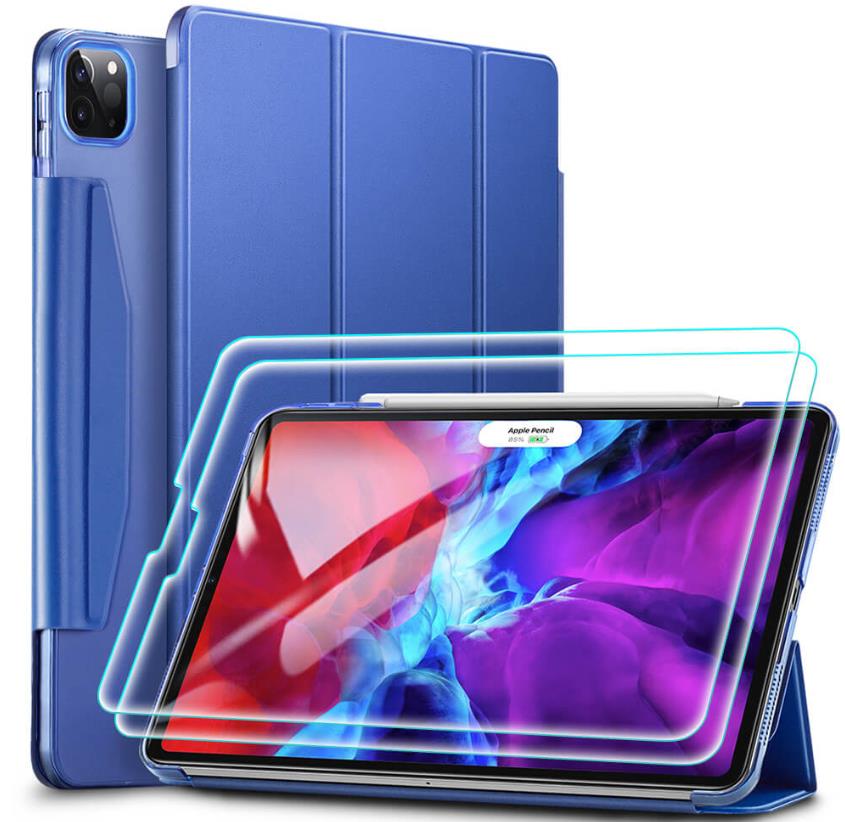 0.3mm thickness
iPad case and two tempered-glass screen protectors
Apple pencil compatible.
Wireless charging.
If you are looking for a robust yet stylish protector bundle, this is the right fit for you. It features a hard case and two tempered glass screen protectors. The hard case protects the iPad from drops, dust, scratches and other elements. It also has powerful magnets that ensure quick auto sleep/wake initiation. More to that, you can fold it into numerous reading, writing, and watching angles.

It is compatible with the Apple Pencil 2 and comprises a wireless charging feature. The precise side cutout with a magnetic attachment securely holds the pencil in place.  The 0.3mm thickness of the tempered-glass protector ensures high sensitivity when using an Apple pencil.
It does not cover the camera and microphone thanks to the large precise cutout. As such, you have uninterrupted access to face recognition and stellar audio quality. It is easy to install owing to its installation kit. Designed to fit the screen, it provides an imperfection-free edge to edge protection.
What to look out for in a screen protector
In this section, we will look at what you need to consider before purchasing a screen protector.
Clarity: What's the need for a screen protector if you can't see through it? You need a protector that is at least 99% transparent.
Look: Whether you are purchasing a tempered-glass or paper-like protector, it ought to have smooth edges and line up to match the iPad's screen.
Ease of installation: Go for an iPad screen protector that is easy to install. A boon is when it comes with an installation kit.
Thickness: Remember the thickness affects fluid sensitivity when using a pencil. A 0.3mm or 0.13mm is a perfect thickness.
Final say
ESR designed the above screen protectors with clarity, thickness, ease of installation, and look in mind. Regardless of your choice, you'll get a protector that offers full protection and unmatched responsiveness and clarity.
You May Also Like to Read: