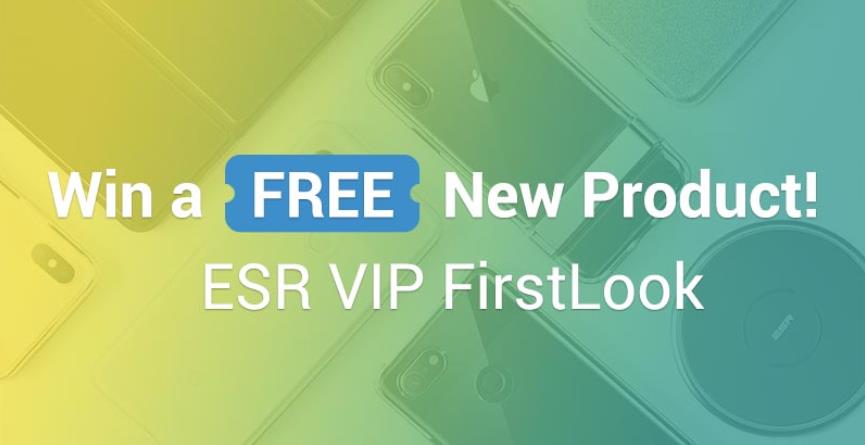 Hey ESR fans!
Summer is finally over, but here at ESR, we're still keeping things hot. Now that we're a little more than halfway through September, Round 3 of ESR FirstLook has officially begun! Last round, 10 lucky fans were selected to receive a free product. Check out the official FirstLook page or the comments section of our last FirstLook blog post to see a list of the winners.
A new round means another chance to win a FREE ESR product! To enter, simply click here and fill out the form (submitting the form will also sign you up for the free ESR VIP program if you haven't already). The whole process is completely FREE! Follow our official Facebook, Instagram, or Twitter account if you like. Once you're selected, we'll send you the product, you'll test it out, and then you'll get to keep it. Feel free to review it on social media, too; we'd love to hear your feedback. If you don't get selected, don't worry! The next round will begin on October 18th, so you'll be able to try again.
Below are the five awesome products that we've chosen this month for ESR FirstLook. Apply now if you're interested in receiving one of them for free!
iPhone 11 Pro Essential Zero Case
Before: $10.99  Now: FREE
Designed specifically for the 5.8" iPhone 11 Pro (2019 Release).
Crystal-clear protection
Flexible TPU with Air-Guard corners
Prevents watermarking
Screen and camera protection
6ft/1.8m USB-C to USB-C 2.0 Cable
Before: $13.99   Now: FREE
Compatible with all USB-C Devices
Ultra-fast charging/data transfer
Soft, flexible, and strong
6 feet (1.8 meters) long
iPad mini 5 2019 Yippee Trifold Smart Case
Before: $13.99   Now: FREE
Designed for the Apple for iPad mini 5 2019
Scratch protection
Reliable auto sleep/wake
Stable and sturdy stand
High-quality materials
Galaxy Note 10 Liquid Skin Full-Coverage Screen Protector
Before: $10.99   Now: FREE
Designed for the Samsung Galaxy Note 10
Self-heals minor scratches
Maximum coverage
High touch sensitivity
Supports Face Recognition
Comes with a free practice protector
Running Belt Waist Pack – Green
Before: $14.99   Now: FREE
Large zippered pocket with headphone port
Adjustable and long-lasting Velcro strap
Soft and comfortable
Bounce-free
Carries all the essentials
CLICK HERE TO APPLY
FirstLook Rules
To qualify for the VIP FirstLook program, you MUST be enrolled in our VIP Program (submitting the FirstLook form will also sign you up for the VIP program).
Each customer can only apply to test 1 product per round.
Unsubscribing from the VIP program will result in disqualification from the FirstLook program until you have resubscribed.
You MUST REPLY to our email confirming your address and information. Failure to do so will result in you being unable to receive your free product.
 Announcing Testers
Selected announced within the first week of each month via email. Around 10-15 applicants will be chosen per round. Selected testers will also be contacted by us directly, in order to confirm their participation, desired product, and shipping information. Testers who do not reply to this email will be disqualified.
Sample Delivery
Samples will be sent out to selected testers as soon as they REPLY to our email confirming their participation and shipping address. We will try in all cases to ship product samples in a timely manner, no more than two weeks after the testers are announced. If your product does not arrive due to logistical reasons, we will not be able to send you another.
Only for residents of the United States, United Kingdom, Australia, Canada, France, Germany, Singapore, Spain, Italy, Japan, South Korea, and Hong Kong. ESR reserves the right of final explanation.