The tiny dots on your face, called blackheads, must be annoying to look at every day. You must have tried numerous ways to get rid of your blackheads but failed, right? Sometimes, you want to pinch or plug out the blackheads out of your nose or chin but that is only going to damage your skin even more. Certainly, you are not alone in this as we consulted experts and did hours of research to bring the best solution to the table. Different methods work for different people. For some people who have less number of blackheads on their face, strips are effective for them. It can only take 5 to 10 minutes. On the other hand, people having a high number of blackheads might find this method non-effective as the strips do not cover large areas. For them, blackhead remover vacuums are highly cost-effective. After spending days on research, we have brought the best blackhead remover recommendations for you, especially if your skin is sensitive. These blackhead removers for sensitive skin will solve your problem without scarring or harming your skin. So let's clean out the clogged pores and stubborn blackheads together with these products:
AEVO Blackhead Remover: USD

$

32.99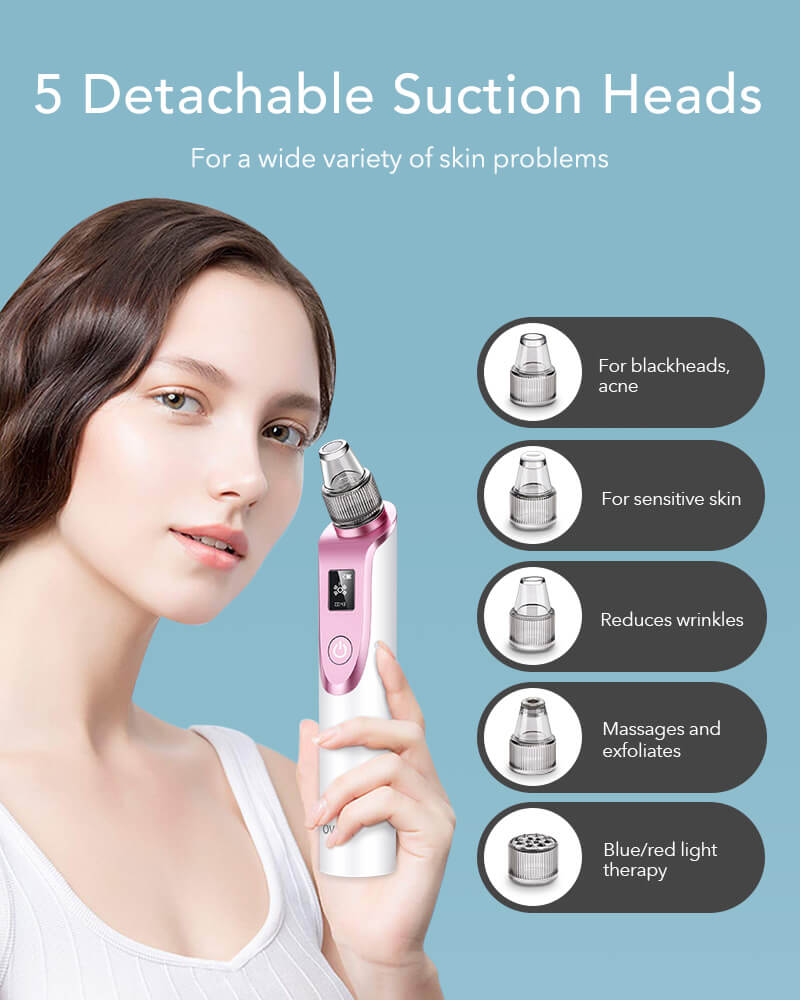 This incredible product made to our top list of best blackhead removers for its high quality and multiple features. Moreover, AEVO Blackhead Remover is great for sensitive skin and does not cause any pain. This device safely sucks out all the dirt, blackheads, and whiteheads from your skin without leaving any scars. For the best results, it is recommended to soak a clean towel in hot water. After that, apple the hot towel to your skin and keep it for almost 5 minutes until your skin gets soft. This process will allow the pores to open making it easy for you to remove blackheads, grease, and whiteheads with your AEVO blackhead remover. It is cost-effective if compared with nose strips and masks as this device is a one-time purchase, available at $32.99 only. It comes with 3 effective and adjustable suction modes along with other 2 additional light therapy modes, helping you to remove blackheads and soothe your skin. Get your skin revitalized with this powerful tool without losing elasticity of pores. It only takes one hour to charge this device and then you can take it around anywhere you want as it is compact to carry your skincare routine.
FREDI Electric Blackhead Remover | 5.0MP 20X WiFi Intelligent Visual Electric Pore Vacuum: USD$37.99
The amazing feature that this FREDI Electric Blackhead Remover comes with is its built-in WIFI. It is an advanced and high-quality device that has a visual performance LED light micro camera that allows you to locate blackheads on your face. With the HD micro camera, you cannot miss any blind spots and this powerful vacuum will do all the tough work. Clean your face safely without any pain with the FREDI Electric Blackhead Remover if you want a high-grade device. It is equipped with 6 replaceable probe heads for different shapes, allowing you to get rid of the stubborn blackheads from unobtrusive areas. The cleansing mode helps you reduce wrinkles and takes out even the deepest impurities. It is the best blackhead remover for sensitive skin and is available at $37.99 only. It also allows you to adjust the suction force from level 1 to level 3 i.e. gentle mode, standard mode, and powerful mode. The suctions heads are built up with the high-grade silicone material that does not cause irritation or toxic reaction. In short, this powerful device is safe and effective for getting rid of the blackheads without harming your skin.
Ushining Blackhead Remover Vacuum: USD
The Ushining Blackhead Remover Vacuum is one of our top choices for many reasons. First of all, it comes with 5 adjustable suction modes for you to choose the suitable mode according to your skin type. The Ushining blackhead remover vacuum will also allow you to put on the head according to the area on your face as it comes with 4 replaceable probe heads. This incredible device is not just for the blackheads but also for your other face problems including zit, acne, pimple, whiteheads, etc. The LED display allows you to read the levels of suction easily. Now coming to the best feature about this blackhead remover is that it has upgraded hot & cold sense care technology. The heating and the cooling feature will allow you to accelerate pore opening and contraction respectively. The Ushining device is one of the best blackhead removers for sensitive skin and has a compact design that you can easily put in your bag. It is available at $39.98 only. The high-grade built-in lithium battery can last over 12 minutes on just a single charge.
Manfiter Blackhead Remover Vacuum:
Now you won't find any excuses for missing your skincare routine as high-quality blackhead remover will provide a deep cleaning facial. Manfiter Blackhead Remover Vacuum will gently exfoliate your skin and remove blackheads, dead skin, dirt, whiteheads, etc. It comes with 5 adjustable nozzles that will help you remove blackheads from even the unnoticed areas. Furthermore, there are 5 different gear for different purposes such as removing blackheads and even massaging and shrinking pores. Manfiter blackhead remover device is made for all types of skin, so if you have oily skin or a sensitive one, you do not have to worry. It will remove blackheads from your skin, reduce wrinkles, tighten skin, and give you an extra glow. It is made up of high-grade material and has a built-in rechargeable battery that can last over 150 minutes of just a single charge. In addition to that, the LED display will allow you to keep track of the modes and levels easily. This blackhead remover vacuum rings professional skincare procedures at home, available at $36.99 only.
MNOPQ Blackhead Remover Vacuum:
Last but not least, MNOPQ Blackhead Remover Vacuum is a lifesaver as it is upgraded and has multiple features. Forget about the old and traditional ways of removing blackheads as this latest and painless technology will solve your problem. The MNOPQ blackhead remover has 5 adjustable modes and is designed for all skin types especially if you have sensitive skin. The level 1 & 2 is suitable for dry skin, level 3 is for the natural skin type, and level 4 & 5 are for the oily skin. It also has 3 color massage that helps you fix your skin and reduce wrinkles and acne. There are 6 replaceable suction heads, suitable for different purposes, promoting blood circulation and revitalizing your skin. It does not cause any allergic reaction or irritation on your skin. This device has a stylish design that makes it a must-have fashion item you want to carry around on a trip or to a slumber party. It is one of the best blackhead removers for sensitive skin that you can get for yourself or gift it to your friends or family. It is available at $37.99.
Final Verdict:
While choosing the best blackhead remover for yourself, make sure it is worth buying and has high quality. Everyone wants a fresh and glowing skin for which you need to put some time and effort as deep cleansing is important for healthy skin. We spent hours of research and consulted with experts to find out the best blackhead removers for sensitive skin. As a result, we created this guide to bring important information to the table and help you choose the best blackhead remover.