We've all got that random buddy who wouldn't stop talking about his favorite sports or her favorite fashion items.
Ever been in a situation where all you just wanted to do is shut out every external voice and listen or connect with your inner self?
Or you just want to avoid speaking to your lousy friend but you've got no idea how to go about it? Well, say the word and your tech-savvy is right at your beck and call.
I'm not speaking just out of the blues because I can relate to every pain of wanting to keep silent in the midst of chatters and uninteresting conversations.
You know that awkward silence that follows after the usual meet and greets, yeah? I mean, it's quite appalling to want to keep up with a conversation you are less interested in.
I'm taking a wild guess to what goes through your mind in such times and I can bet it's something like "Isn't it obvious I do not want to keep up with this conversation? Leave me alone!"
Well, I've been there before so, I can relate to your frustrations. Now, would you believe me if I tell you I have a solution to these hitches?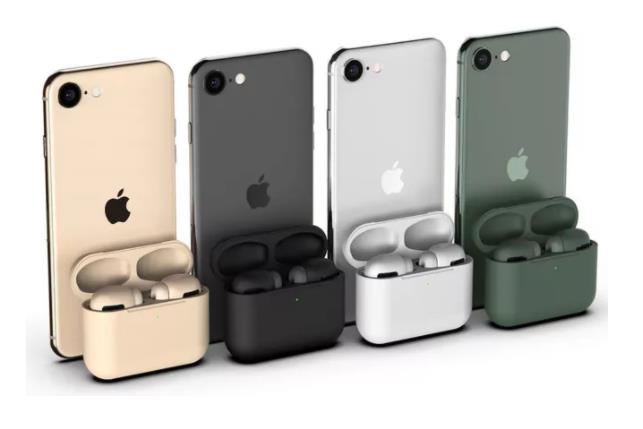 The solution is quite simple – Earbuds. Yeah, you read that right! To avoid all of these problems, you need a noise cancellation device.
As you know, Apple has always been on top of their games, giving their customers ultimate satisfaction hence there have been rumors flying around that following the previous release of the Airpods 2, Apple is said to release a subsequent headphone – Airpods 3.
From our leaks; a South Korean site, the Elec, compared to the previous sets of Airpods like the Airpods 2, the Airpods Pro and the last release, Airpods Max, the Airpods 3 which is apparently going to be the 3rd generation Airpods, some features which look like an upgrade from the other headphones are seen. Thus, making it a budget-friendly version.
Spatial audios and ANC are some of the cues (although, there are several others) the Airpods 3 could lend from its predecessors.
More interesting, we can take a wide guess that Apple's next product (Airpods 3) could be the Airpods Pro-Lite – Apple took on the current Airpods Pro looks to develop a budget-friendly model.
Although there is no certainty in the release date unless Apple makes such an announcement but we've been able to garner some information for you – at least, this would help.
Included in this article are the specs, release date, price and leaks of the Airpods 3.
Apple Airpods 3 specs & leaks
Leaks from the Elec, show that the active noise cancellation (as in the Airpods Pro) won't accompany the Airpods 3. So, we expect the main features to take on the iOS 14 updates.
As mentioned earlier, most of the features seen in the Airpods pro, like the spatial audio and Dolby Atmos support, are being replicated in the Airpods 3 to build a greater cinematic aura.
Also, it would come with an automatic switch which enables an automatic change in audio input depending on the Apple device you are using and it does this through your iCloud account.
Some other features that will be accompanying this Airpods 3 are Headphones accommodation which is solely for enhancing frequency adjustments and soft sounds.
In addition, the Airpods 3 comes with Hearing Health which has been updated to enable you to get a notification when you are listening to music at a high volume.
However, rumors have it that Apple may likely engage bone conduction technology for 'Multipath audio stimulation via audio compressors.' Okay, that sounds a little boring but in simpler terms, it means this feature would be able to send signals via the bones in your skull and received by your eardrums even without having the pods in-ear.
Some time ago, Rossignol tweeted that the Airpods3 might have the exact sound quality as the Airpods Pro, what this means is that the buds will have adaptive EQ support even though they have no ANC.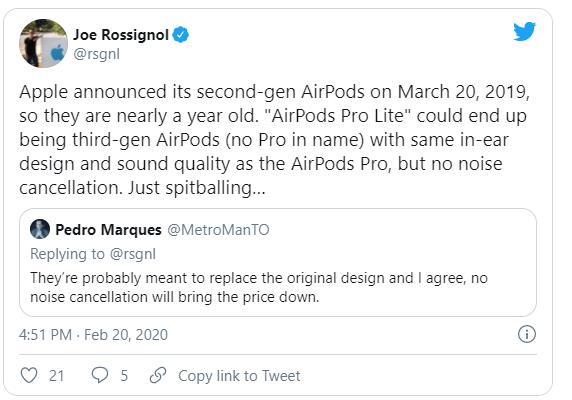 Further, an intriguing feature to anticipate in Airpods 3 is the Apple AirTags. How do we know this? Well, Jon Prosser made mention of tile-like AirTags in one of his tweets on Twitter that was supposed to be revealed sometime in November last year.
Considering the rate at which Airpods are easily misplaced, I think the AirTags device is just right to help locate it.
A bonus tip here: February Bloomberg report stated that Apple may grant their users permission to use 3rd party apps as a default option on iPhone.
Release date
Although the Apple Airpods 3 was listed to be released late last year (2020) from the hints on Jon Prosser's Twitter page but due to the pandemic, it was postponed.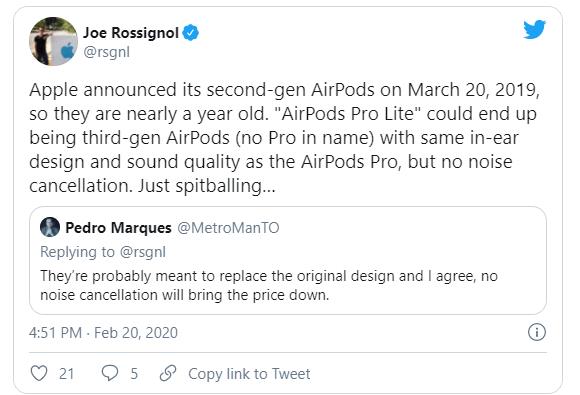 However, with the latest launch of the Airpods Max, we were certain the wireless earbuds would be released sometime in the 1st half of 2021 as claimed by Elec.
Apple Airpods 3 Price
Claims from the Elec states that the Airpods 3 will be about 20% lesser in price than the Airpods pro. And based on the current price of Airpods Pro, we can estimate the Airpods 3 to cost about $199.
Although 20% less, this is quite above the price of the AirPods 2 pro which costs $159. Looking for a way to get it at a cheaper price? Then you'd have to purchase a new iPhone, entirely.
Recall that Apple announced the iPhone 12 won't come with free pair of Airpods, well, there is an exception to this and it is seen only in sales that happens in France. With this, we have a conviction that Apple will launch Airpods promotion alongside launching any iPhone or iPad in the nearest future.
Also, according to Bloomberg, we hear claims that Apple is planning to allow a payment plan service for their Airpods and other future products in order to enable customers to get the AirPods 3 by paying install mentally (every month, without interest) using an Apple card credit card.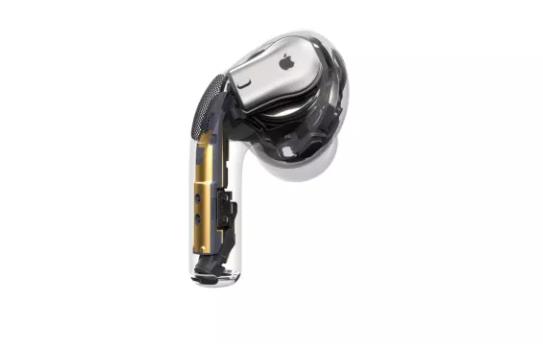 Although stale rumors claimed the Airpods 3 will be an entirely new design, the latest rumor has ditched this previous claim by hinting that the Airpods 3 will be built based on the Airpods Pro. Hence, interchangeable silicone tips and shorter stalks should be expected.
On the whole, let's keep our fingers crossed as we anticipate this new product from Apple.
Till then, fingers crossed!
If you are already an AirPods user, you can choose a suitable protective case to protect it:
AirPods Pro Cases: www.esrgear.com/categories/protective-cases/airpods-pro/
AirPods 1/2 Cases: www.esrgear.com/categories/protective-cases/airpods/airpods-1-2/
AirPods 3 Cases: www.esrgear.com/categories/airpods-3-cases/