The iPad Air 4 is a premium iPad from Apple that is awash with state-of-the-art features outshining tablets from other tech companies. It is lightweight, comes in a sleek design, and features a robust durable construction.
That said, some accessories can significantly improve its performance and lifespan. In this article, we look at 10 iPad Air 4 accessories ranging from covers, screen protectors, chargers, and more for 2020. Want to know what you should buy? Let's jump in!
10 Must Have iPad Air 4 Accessories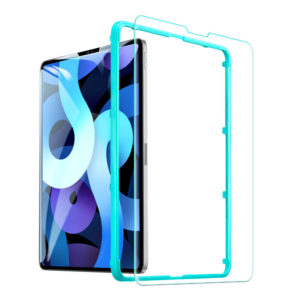 This tempered glass protector is exclusively designed for the iPad Air 4 and the iPad Pro 11-inch. It is crystal clear and thin hence does not impact the clarity of the screen and responsiveness. As such you can watch videos and sketch notes without a fuss. Besides, its thinness ensures you can seamlessly write using the Apple pencil.
It comes with a cutout that has zero impact on the front camera. That means you can use the Face ID features anytime anywhere. And when it comes to installation, you are provided an installation kit that ensures easy and precise installation. With it, your iPad screen is safe from shattering in case of accidental drops.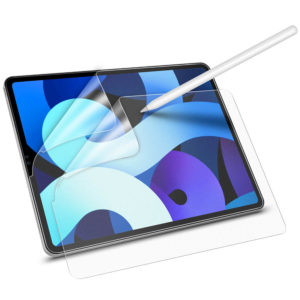 Next off is this paper-feel protector that offers edge to edge screen protection. Exclusively intended for the iPad Air 4, it features a cutout that ensures the Face ID feature remains functional. The smooth and high-responsive surface lets you sketch and take notes quickly.
Installation is straightforward thanks to the provided installation kit. And thanks to the matte finish, it is resistant to fingerprints and significantly reduces glare to a minimum. This means the screen will be clear for strain-free iPad use. It fits precisely with the screen dimension, even a total strange won't note it's on.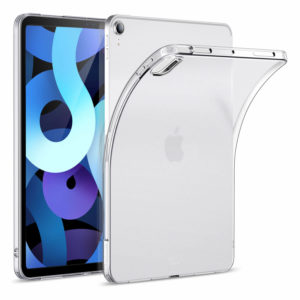 To protect your iPad against shock, impact, and weather elements, you need a premium case. With this slim matte case, you assured of full protection. It is resistant to scratches, dirt, and dust maintaining the neat construction of your iPad. Also, with air-guard corners, it can withstand quick drops preventing any damage to your iPad.
With it, you can go about charging, taking clear photos, and making calls, thanks to the precise cutouts. It also features high-response tactile buttons that will ensure you can adjust volume with ease. The flexible concept allows it to fit precisely with the dimensions of your iPad hence offering much-needed full protection.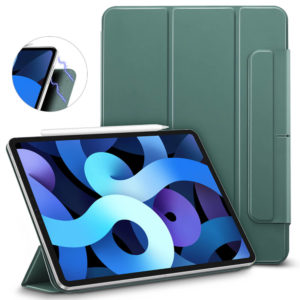 Want a case you can attach to your fridge when cooking? Well, this rebound case is what you need. It comes with strong magnets that ensure the front flap attaches firmly to the iPad. Besides, the magnets allow for high-response auto sleep/wake feature. This means that while the screen is protected from impact, you can easily respond to notifications.
The trifold cover presents you two stand positions that are ideal for typing and viewing. As such you can watch movies and chat with friends hands-free. It is also compatible with the Apple Pencil allowing you to charge and pair it as needed. The soft flexible inner material ensures it fits like a glove for added protection.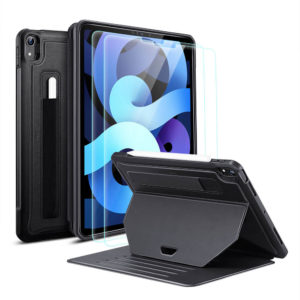 This is yet another iPad Air 4 accessory that you need to have. The case features seven stand angles so you can find the one that meets your viewing and typing needs. And with robust magnets, the iPad will stay stable regardless of the angle you choose. The screen protector prevents shattering in case of quick drops while the hardcover absorbs shock keeping your phone intact.
The installation kit provides a hassle-free and bubble-free installation. This means the screen will remain clear and neat having zero impact on its responsiveness. Also, the inner lining of the case is flexible precisely fitting the dimensions of the iPad. And as expected, it comes with precise cutouts and tactile buttons for everyday iPad use.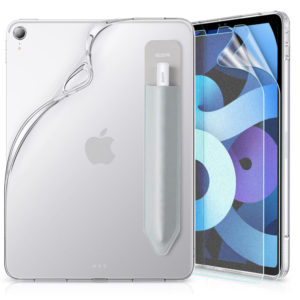 This cover comes in an ultra-clear design that shows off the premium make of your iPad. It features a matte finish that keeps off fingerprints and leaves the iPad looking as good as new. With precise cutouts, you'll have an easy time charging it, making calls, and taking photos.
Plus, the raised lips protect the screen and camera from scratches when placed on a flat surface. The screen protector has zero impact on the screen responsiveness meaning that you can take notes on the go. The pocket pouch ensures that the pencil stays safe as you go about your business.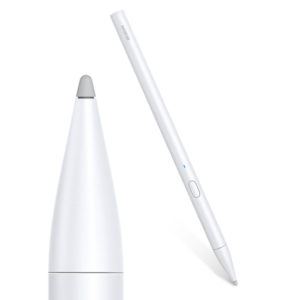 Want an efficient yet easy to use digital pencil? Why not purchase this ESR pencil. With it, you don't require to pair via Bluetooth. Just remove it from the pouch, switch it on, and you are good to go. And, you are assured of much-needed fluidity and precision thanks to industry-standard technology.
What's more? A 5-minute charge will offer an hour runtime while a one-hour charge will afford you 12 hours of use. Regardless of whether you need a quick charge or need battery power that will last for a business trip, this pencil got you covered. Besides, you only need a USB cable meaning you can charge on the go.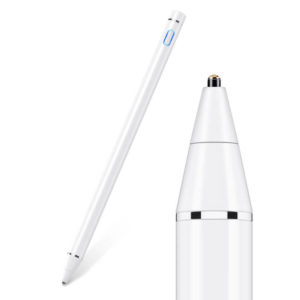 This digital stylus pencil enables seamless drawing and writing on the go. So if you are a designer, blogger, or journalist, it will allow you to note down ideas easily. And thanks to the 1.4mm tip, you are assured of high-responsiveness. Not only can use it on the iPad Air 4 but also other touch screen devices.
Like other premium pencils, you don't need to pair it just switch it on and start writing. When fully charged, you can use it for up to 10 hours and the same battery power can last for 30 days in the idle mode. So, if you searching for a universal digital stylus, get yourself this model.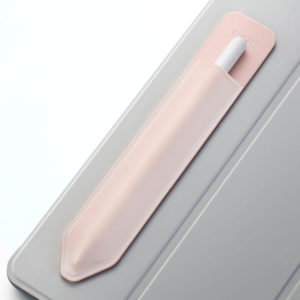 This pencil holder design allows for flexible attachment to any iPad cover. Whether you want to place it on the front flap or back cover, it will allow you to do so thanks to the robust adhesive. It is however compatible with the 1st and 2nd Apple Pencil generations.
It features a minimalistic design that comprises PU leather and a soft lining. This significantly bolsters the aesthetic element of your iPad. The elastic concept ensures it holds the pencil securely preventing it to get lost when commuting.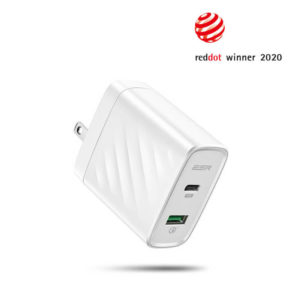 In need of fast charging? Get yourself this USB-C charger that powers 50% of your iPad battery in just 30 minutes. And thanks to intelligent in-built technology, it will provide the most ideal power supply eliminating chances of battery damage. As such, you'll not need to worry about the battery overcharging.
You can even charge your iPad and another device simultaneously. The engineering behind this charger ensures that you can achieve continuous charging as needed making it an ideal option for people on the go. And, it consists of crucial safety features ranging from overheating, overvoltage, to overcurrent protection.
Wrap up!
Well, there you have it, the much-needed accessories for your iPad Air 4. These accessories will not only protect your iPad from impacts but also extended the lifespan of the battery while offering a boost to its aesthetic touch.