The iPad Air line of Apple's tablets is one of the high-end products you'll get in the market. Currently, we have the iPad Air 3 which was released in 2019. And in 2020, the iPad Air 4 is rumored to be released anytime this year or 2021 according to rumors.
As expected, it will be an upgrade of the iPad Air 3 and we can expect numerous top-tier features. While buying one, installing some apps, and making sure all Apple subscription services are running might seem enough, it is far from the truth. Turns out, you need a protective cover to protect your worthy tablet from impacts, drops, and dirt.
In this article, we look at seven of the best protective cases for iPad Air 4 that you can buy in 2020. But first, what do you need to consider before purchasing one? Well, let's find out!
What you need to consider before buying the best protective case for iPad Air 4
First, you need to consider the make of the case. Is it hard to withstand drops? Is it flexible? Such are the aspects you need to consider when considering the material. Of course, it needs to be hard but also flexible to fit your tablet with ease.
Next off is the size of the cover. It needs to align precisely with the dimensions of your tablet. And since you are buying for the iPad Air 4, it needs to be compatible with an 11-inch display.
You can get plain covers, wallet covers, or covers with a kickstand. The most ideal depends on your preferences. That said, we'd recommend one with a kickstand and front flap.
Most people overlook this aspect, paying extra attention to the look and feel. Well, you need to have functionality in mind since you need to use your tablet without removing it. That is, it allows you to charge, listen to music, and make calls without a fuss.
You need to purchase a case that will not succumb to impact after a few drops. Also, it should have the new look even after use for a few months. So, the next time you opt to buy a case, consider its durability.
Now that you know what you need to consider, let's look at the covers you should buy for the iPad Air 4.
The best protective cases for iPad Air 4
This slim case is a product of ESR, a company that does not disappoint when it comes to phone accessories. It is only compatible with the iPad Air 4 2020. It features a flexible construction precisely fitting the dimension of your tablet. Besides, it enables straightforward installation and removal.
And to protect the screen from damage, it has a magnetic front cover that has robust magnets that attach to the back of the case. The best part? You can use the front flap as a stand for hands-free tablet use. The magnets ensure high-response sleep and wake so you can respond to notifications, read text, and more promptly.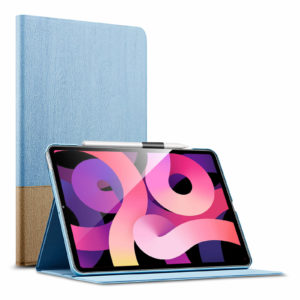 Want a case that can hold a tablet pencil? Well, this is the perfect choice for you. It comes with a cutout that securely holds the pencil as you go about your business. Furthermore, it facilitates wireless pencil charging. As such, you'll always be armed to do sketches, write notes, and more. And, it is exclusively compatible with the iPad Air 4.
Like any other premium case, it has robust magnets that enable the front flap to attach to the back of the cover, while enabling prompt auto sleep and wake feature. Also, it does not affect every day functionality of the tablet. That means you can charge, access buttons, ports, the speaker, and microphone without a fuss, thanks to the precise cutouts.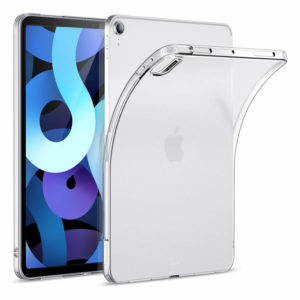 We all want a case that lets us flaunt the premium look and logo of an Apple device. And this case affords you this luxury as it features a clear design that is ultra-clear. And it is only compatible with the Air 4 tablet. With a microdot pattern, it eliminates the formation of watermarking that makes your phone look messy.
Thanks to the large precise cutouts, you can adjust volume, charge your iPad, take photos, and more. In short, it does not impact everyday use of tablet use. With it, your iPad is protected from dust, penetration by water, impacts from drops, and more. And thanks to its flexible make, it fits like a glove offering 360-degree protection.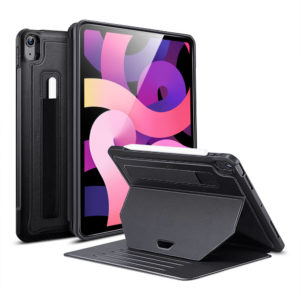 If you are looking for a case with a robust multi-angle stand, then consider buying this ESR cover. It allows for several angles so you can watch movies, chat, or surf the web at an ideal angle. Besides, the magnetic back allows you to mount the iPad on any metallic object be it your fridge or metallic wall.
The hard polymer provides much-needed protection from pesky scratches and everyday tear and wear. It can also withstand quick drops protecting your iPad from shock. The pencil cutout ensures it stays secure even as you commute. This is an all-inclusive cover that you ought to get for your iPad.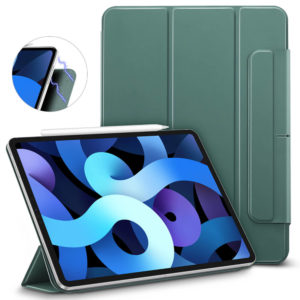 This is yet another robust cover from ESR. Its slim design maintains the premium construction of the iPad Air 4 and does not add any bulk so you can carry the iPad around without strain. It features strong magnets that attach itself to the back of the iPad keeping the screen safe from impacts.
What's more? The front cover acts as a stand. You can fold it for hands-free viewing and use. The case also supports wireless pencil charging and pairing. This means you don't need cords to charge it and pairing becomes seamless and easy. And as expected, the auto sleep/wake feature is automatic and high-responsive.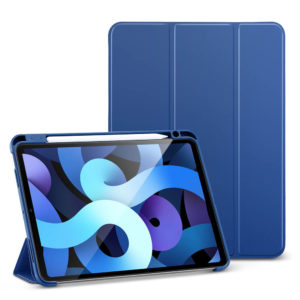 This premium case from ESR comes with precise cutouts that let you access buttons, charge, take cameras, and make crystal-clear calls. And with tactile buttons, you can seamlessly adjust volume and switch the iPad on/off. It comes with an in-built pencil holder that holds it securely so you don't have to worry about losing it.
With the magnetic trifold, typing and watching is hands-free. As such, you can enjoy your favorite movies as you relax without much hassle. And thanks to the smooth rubber exterior, it affords you a comfortable ergonomic grip that is soft to your hands.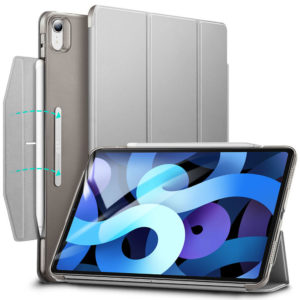 Finally, we have this industry stand case that is only compatible with the iPad Air 4. Like others on this list, it supports wireless pencil charging allowing you to use it on-demand. Also thanks to the precise cutouts, you can access everyday phone functionality.
With it, you are guaranteed that the iPad is safe from impacts, quick drops, shock, dust, dirt, and more. The magnetic flap allows you to have hands-free conversations as well as watch your favorite movies without much hassle.
Wrap up!
There you have it folks, the best protective cases for iPad Air 4 that you can purchase now. So, whether you want a case with a stand, pencil holder, or front cover, ESR got you covered. And the best part? They come at a pocket-friendly price.