Screen protectors have become a must-have accessory for most tablet and smartphone users. They not only protect the screen from damage but also improve the performance of your iPad. For example, they prevent glare when using your iPad in open areas.
It is for this reason that you need to install one on your iPad Pro 12.9 2021. It will offer edge-to-edge protection keeping pesky scratches and impact at bay. Admittedly, they come in different models such as paper-like, tempered glass, and more.
In this article, we will look at some of the best paper-like screen protectors from ESR. But first, let's highlight what you need to consider before buying one.
Factors to consider before buying a screen protector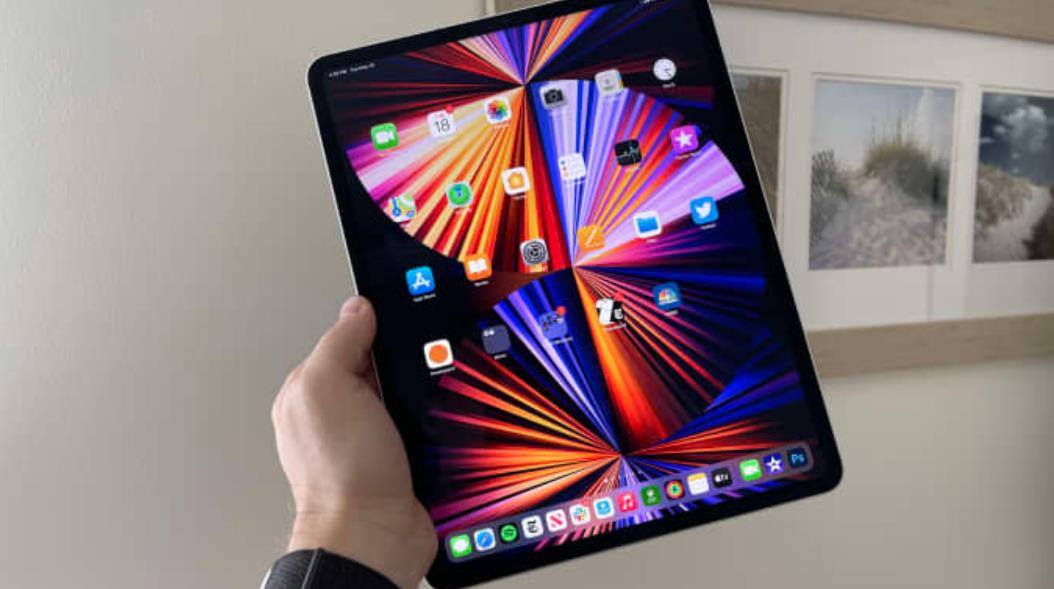 Anti-scratch feature
One of the things you need to consider before buying a paper-like screen protector is its property to withstand scratches. We often put our iPads in bags that have car keys and other metallic objects. as such, you need a screen cover that can handle scraping.
Durability
You don't want to buy a screen protector that will succumb to scratches and dirt within a few weeks. This means you should keep in mind the quality and durability of the protector. The best part, ESR screen protectors are of high quality and tend to last for long.
Smoothness
The screen protector ought to feel as smooth as the screen itself. This is to ensure comfortable and safe use. You don't want to use a protector that will hurt your fingers or impair your iPad use. Besides, the smoother it feels the more it bolsters the aesthetic aspect of your iPad.
Size
Another aspect you need to keep in mind is the size of the protector. In this case, you should ensure that it perfectly fits on the iPad Pro 12.9 inch. A meticulously cut screen protector ensures it protects the screen from edge to edge. Anti-fingerprints feature
Finally, the protector ought to keep fingerprints at bay. Fingerprints not only impact the look of the iPad but also impair visibility.
Best iPad Pro 12.9 2021 Paper-Like Screen Protectors from ESR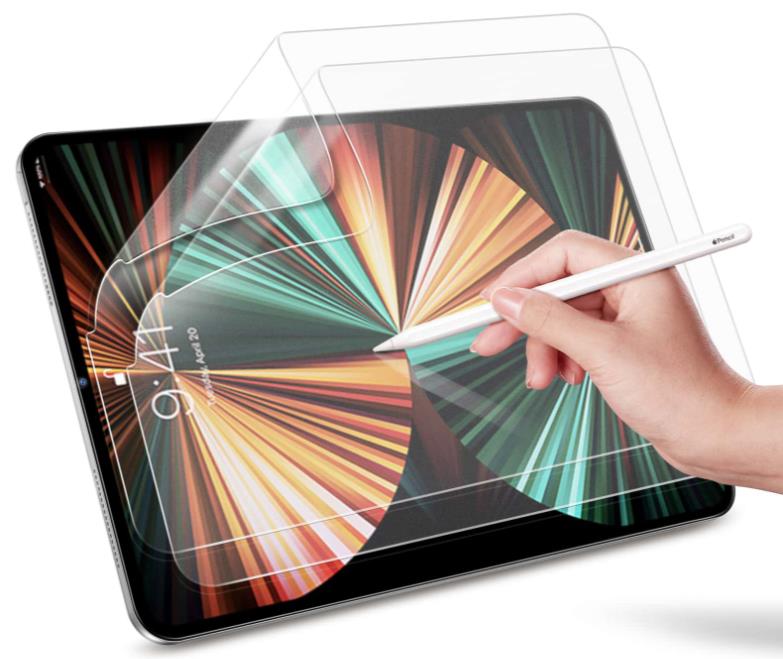 first on the list is this protector that is compatible with 2018, 2020, and 2021 models. This means if you own either the 2020 or 2018 version, you can easily transfer it to the 2021 model. Further, the screen-protector offers you a smooth feel allowing you to use the iPad Pro hassle-free.
To ensure you install it as needed, it comes with an installation kit and guidelines. No more will you have to deal with air bubbles after installation thanks to this kit. With the matte finish, fingerprints and oil will not show on it. this significantly improves the visibility of the screen.
Furthermore, the matte finish also reduces glare to a minimum so you can use your iPad Pro in the open with ease. Another thing you'll like about it is how slim it is. You'll have an easy time using the Apple Pencil as it has zero impact on screen responsiveness. And with a cutout on the front camera, you'll find it easy to use the Face ID feature.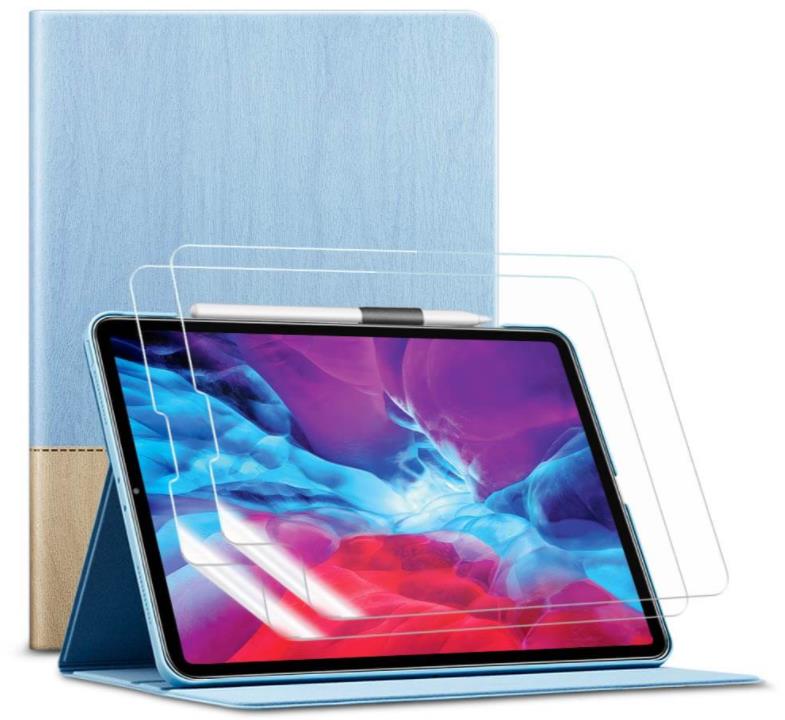 Next off is this comprehensive iPad Pro 12.9 bundle that comes with a case and screen protector. This means that you get full iPad protection when you buy this bundle. The case comes with an Apple Pencil slot that allows you to store it securely thanks to the integrated magnets.
With the wide front flap, it ensures that the screen is free from damage and weather elements as you go about your business. Besides, it allows for both viewing and writing modes.
For the screen protector, it has a matte finish that feels smooth on your fingers and allows for seamless Apple Pencil use. With it, you'll find it easy to sketch, draw, and take notes. Besides, it is resistant to scratches, fingerprints, and other annoying substances.
The case and the screen protector are lightweight and slim adding np bulk while protecting your iPad Pro. You can get this bundle in gray, blue, and sky-blue colors.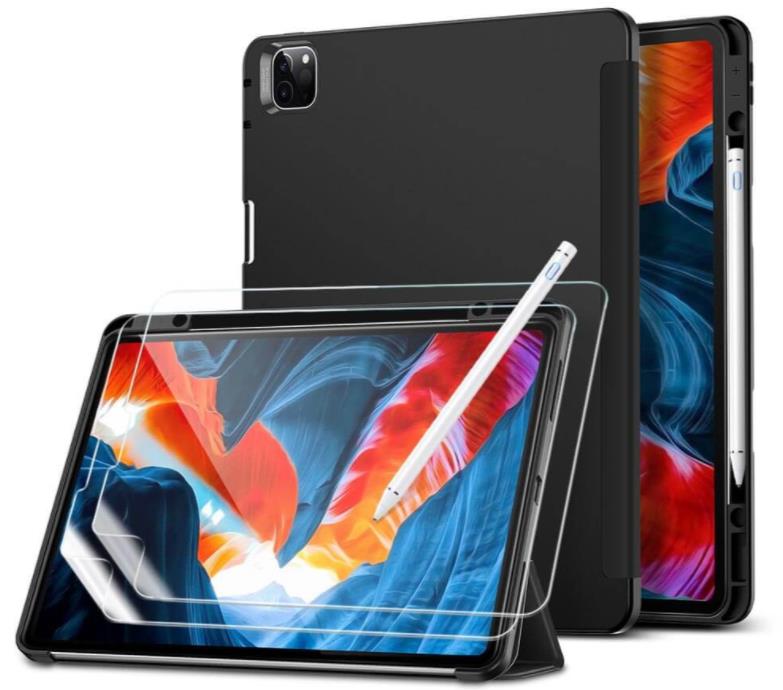 finally, we have this bundle that offers military-grade protection. It features a paper-like screen protector, a pencil case, and a stylus pen. In short, you not only get full protection but improved productivity thanks to the integrated pen. Further, the hard plastic of the case ensures it does not shatter in case of quick drops and bumps.
The case comes with precise cutouts so you can charge, listen to music, and make clear calls. With the responsive tactile buttons, you can easily adjust the volume and switch it on or off. Another benefit is that it is resistant to fingerprints, dirt, and pesky scratches ensuring your iPad Pro stays neat.
The paper-like screen protector on the other hand is ultra-clear ensuring you can read the text without eye strain. Also, thanks to its slim design, you'll have an easy time using the stylus pen. With the matte finish, it keeps glare at bay. This means you can use your iPad in open places comfortably.
The stylus pen has an ultra-thin tip for added precision. As such, your drawings and sketches will be pixel-perfect. And when it comes to writing, you'll experience zero lag. You can get the bundle in black, gray, and cactus colors.
Final verdict
Well, to ensure your iPad Pro stays free from damage, you can buy either of the above screen protectors or bundles. That said, ensure that they are of high quality, can keep glare at bay, ultra-thin, and ultra-clear. You don't want to trade performance for protection. Instead, you should aim for a balance.
And this is what these products from ESR afford you. So, the next time you want to protect your iPad Pro 12.9, get either of the above ESR products.