The 12.9 inch iPad Pro is a must-have gadget for tech enthusiasts. It features 5G connectivity, runs of Apple's M1 chip, and boasts of a super-responsive touchscreen.
For this, you need to protect it from damage and scratches. As such, you should buy a cover. But not any cover but one that is compatible with an Apple Pencil for more convenience. In this article, we look at 7 of the best cases with a pencil holder.
Let's get into it!
Quick links: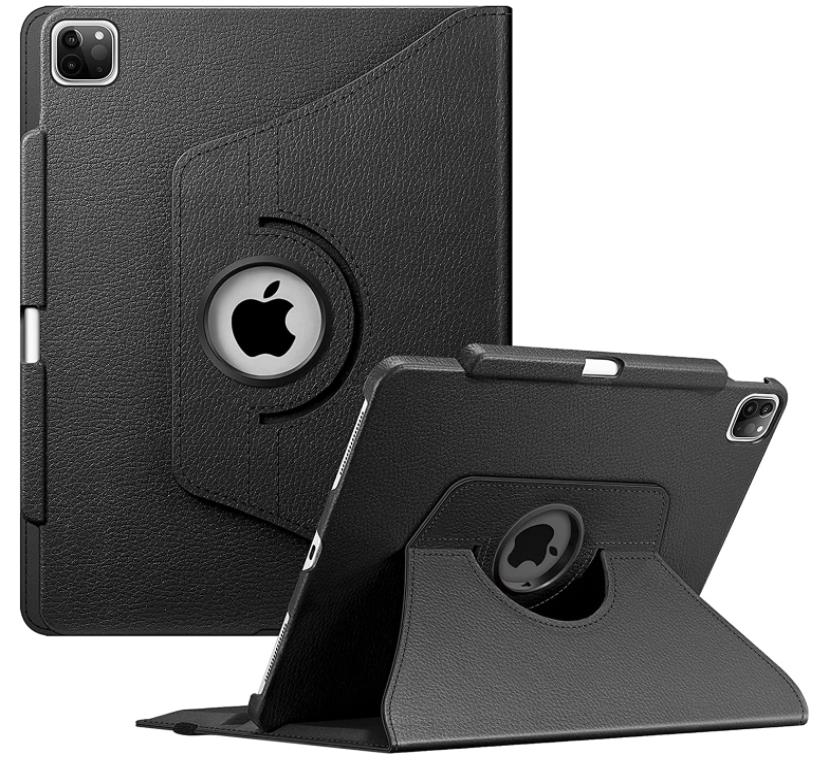 First on the list is this case from Fintie that features a rotatable design so you can use landscape and portrait viewing and writing modes. The case is designed to be used with an Apple Pencil and comes with a magnetic attachment.
This ensures it is securely attached to your iPad. Besides, you can charge the pencil wirelessly making it ideal for on-the-go writing or sketching.
This case also puts your iPad to sleep or wakes it up automatically. This is thanks to the high-responsive magnets. Its anti-slip grooves ensure that it doesn't change position as you work on your documents.
What's more, the cutouts allow you to charge and use the camera uninterrupted. The inner flexible elastic finish absorbs shock and also fits like a glove.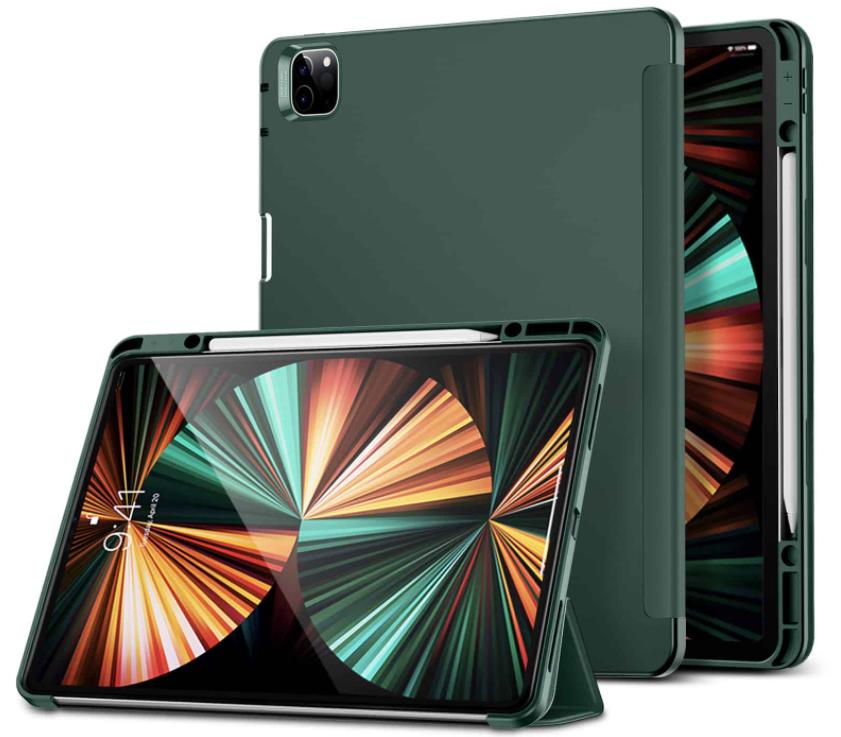 This case from ESR is explicitly designed for the iPad Pro 12.9. this ensures that it fits perfectly protecting it from damage. With an Apple Pencil slot, you can store the pencil while on the go. And thanks to the magnetic attachment, your pencil won't get lost.
Like other premium cases, it enables an auto sleep and wakes feature for prompt usage. The magnetic trifold allows for both viewing and writing modes. This enables you to enjoy working with your iPad Pro. And thanks to the anti-slip polymer, it won't slip from your hands as you commute.
Another thing you'll love is how lightweight and portable it is. It adds no bulk to your iPad and does not take up much space in your bag or pouch. The back is strong and flexible. As such, the iPad will fit perfectly and it will protect it from damage, dirt, and scratches.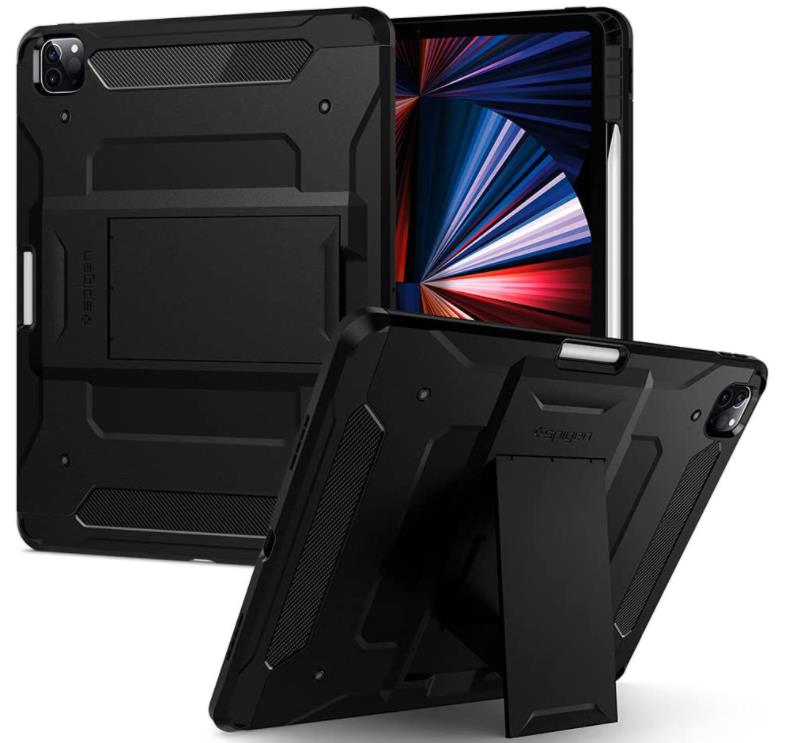 If you want a military-grade case, this is the perfect bet for you. Its tough armor construction ensures that the iPad is free from damage from impacts and drops. Besides, the air guard corners absorb shock from quick drops. As expected, it is compatible with an Apple Pencil Coming with a Built-In Slot.
Also, it comprises raised lips around the camera and screen. This protects them from scratches and dirt when placed on rugged surfaces. With the integrated kickstand, you can use your iPad hands-free. Whether you want to watch or write, you don't have to place it on your hands.
And thanks to the precise cutouts, you can charge, listen to music without a fuss. The tactile buttons are responsive allowing for quick on/off switching and volume adjustment. Overall, this is a slick-looking case that you'll enjoy using.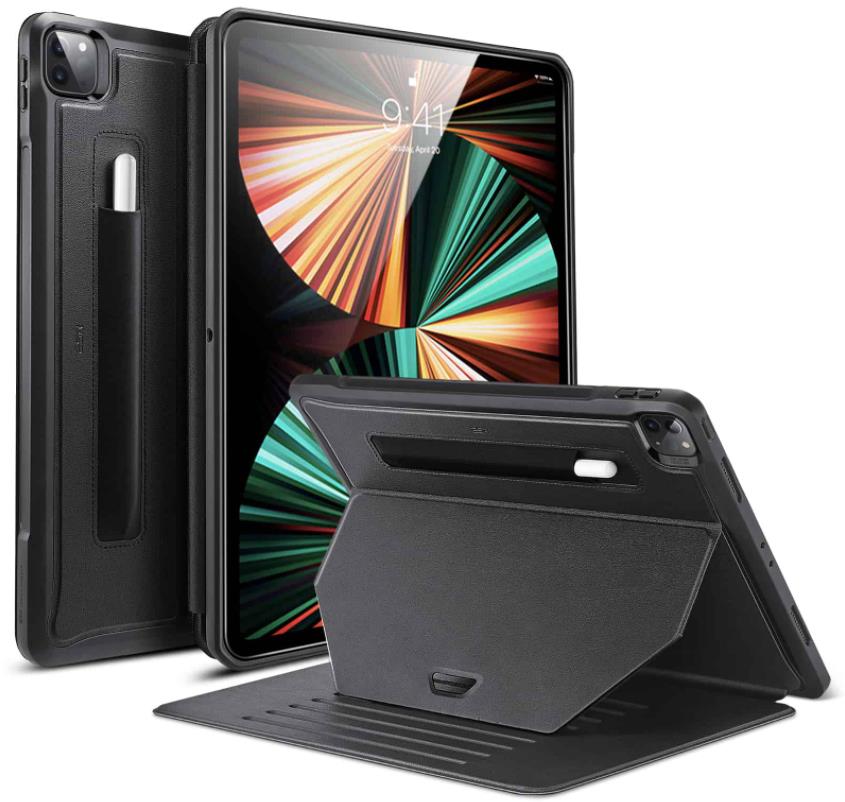 ESR is known for the production of some of the best phone accessories in the market. From cases, to screen protectors, the company has gone on to be a household name in the industry. And this case is no exception. It is designed to hold an Apple Pencil so you can write or sketch on the go.
With it, you can use nine standing angles besides, the magnets are strong enough to maintain your desired position. It is made of a tough polymer that absorbs shock from drops and impacts. Furthermore, it is flexible to fit with your iPad.
You can even mount it on magnetic objects like your fridge so you can use it as you cook. It comes with cutouts around the camera, charging port, and headphone jack. This ensures you can still enjoy using the iPad without removing it.
This is yet another case that offers you military-grade protection. It also comes with a pencil holder for on-the-go use. Like most premium cases, it comes with a one-year warranty so you can use it with peace of mind. The pencil holder also features a wireless charging system meaning you'll rarely experience downtimes.
One unique feature that it comes with is a hand strap at the back. It enables you to catch it with one hand as you work with the other. Besides, you get a shoulder strap that securely holds your iPad as you commute. The rotatable kickstand allows for both portrait and landscape modes.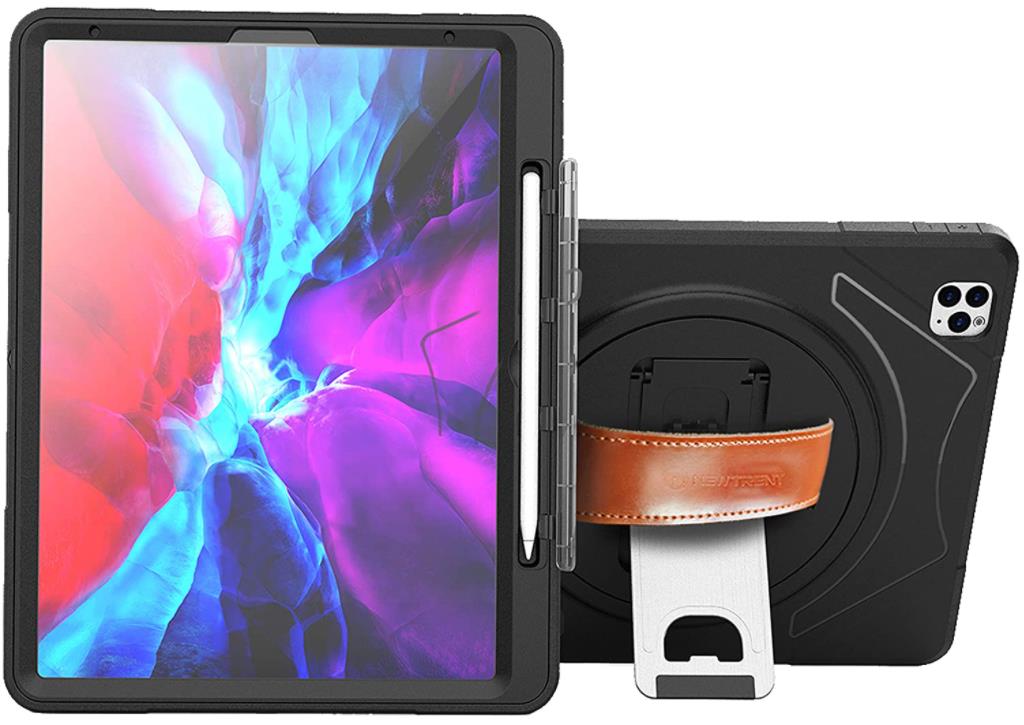 This case is compatible with the iPad Pro 12.9 2020 and iPad Pro 2021. It comes with a stylish hand strap at the back and a rotatable kickstand. In fact, the hand strap is made of premium leather for that classic look and feel. The kickstand allows for portrait and landscape modes.
And the kickstand is strong enough to hold a single position for long. It is made of a rugged material that absorbs impacts, shock, and keeps pesky scratches at bay. You'll also love the simple yet crucial pencil holder.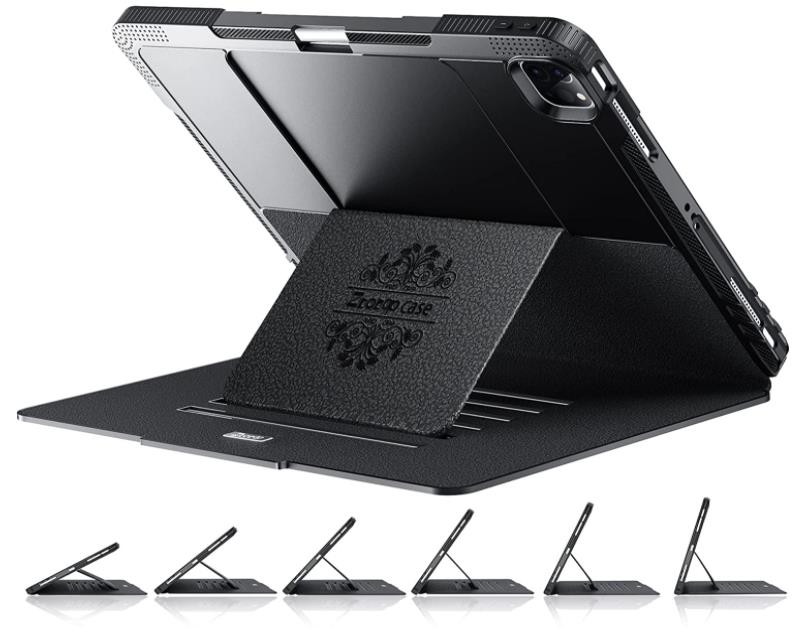 Finally, we have this stylish and military-grade full-body case with a pencil holder. It is only compatible with the iPad Pro 12.9. with premium leather and rugged TPU, you can rest assured that it will protect your iPad from dings, bumps, scratches, and shock.
It allows you to choose between 6 angles so you can use it in the most appropriate angle whether writing or viewing. And thanks to the robust magnets on the trifold, you get a prompt auto sleep/wake feature.
Conclusion
As you can see, the cases come with pencil holders that not only keep the pencil safe but also charge it on the go. Besides, they allow for different viewing and writing angles. So if you want a better experience using an Apple Pencil, get yourself either of the above cases.