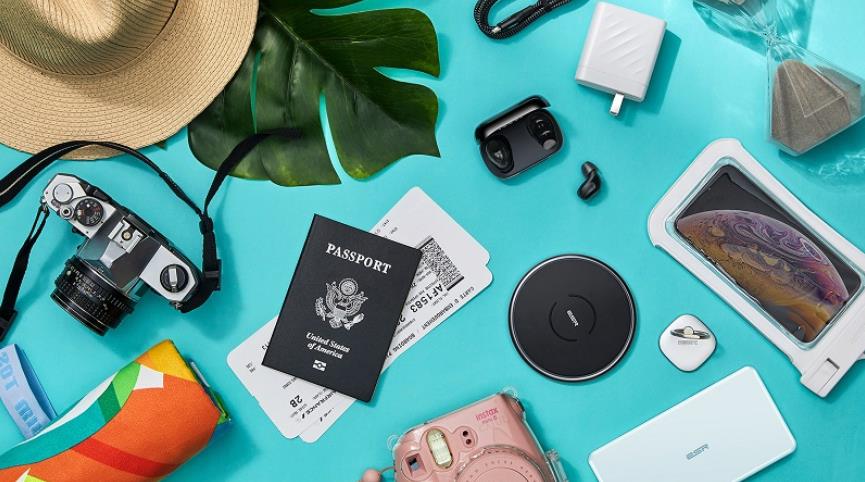 Summer has finally arrived, and as the days get longer and the nights get warmer, there's no better time to take that big trip you've been planning. To help you enjoy your hard-earned time off, we're giving away free Summer Vacation Travel Sets to 10 lucky ESR fans.
Each set includes 5 amazing items, with a total retail value of over $150:
1.ESR Mini Wireless Bluetooth Earphones
Whether you're on a plane or the beach, the ESR Mini Wireless Bluetooth Earphones provide high-definition stereo sound without the hassle of untangling bunched-up cables. With Bluetooth 5.0 technology and a portable charger, enjoy uninterrupted audio for over 9 hours of active use. Their compact, ergonomic design and 3 ear tip size options ensure all-day comfort that can easily be customized to fit your needs.
2.ESR Phone Ring Stand/Holder
Afraid of dropping your phone in the pool? The ESR Phone Ring Stand/Holder provides a sturdy, convenient place to hook your finger through, keeping your phone secure and allowing you to multitask on-the-go. The Ring Stand/Holder can be attached to your phone or case and is fully adjustable/rotatable.  
3.ESR Universal Waterproof Phone Pouch
If you do accidentally drop your phone in the pool, though, the ESR Universal Waterproof Phone Pouch will keep it safe and dry. Despite being certified waterproof up to 98 feet, the Waterproof Pouch keeps your side buttons easily accessible, ensuring you never miss the perfect shot, even underwater. The built-in card pocket keeps valuables like credit cards, ID, and cash dry. Works for all smartphones up to 6.0", including iPhone XS Max/XS/XR/X/8/8 Plus/7/7 Plus, Samsung Galaxy S10/S10+/S10e/S9+/S9/Note 9, and the Google Pixel 3.
4.ESR Tidal Metal-Frame Wireless Charging Pad or Lift Wireless Charging Stand
Both the ESR Tidal Metal-Frame Wireless Charging Pad and the ESR Lift Wireless Charging Stand charge over 30 minutes faster than standard wireless chargers, with 7.5W fast-charging for iPhone and 10W fast-charging for Samsung devices. Using them is as easy as placing your device on top.
5.ESR MFi-Certified USB-C to Lightning Cable or 6ft/1.8m USB-C to USB-C 3.1 Cable
If you're looking for PD fast charging, you'll love both the ESR MFi-Certified USB-C to Lightning Cable and the ESR USB-C to USB-C 3.1 Cable. Both cables are designed to be highly durable and ultra-fast, with the USB-C to Lightning Cable being able to charge newer iPhone models 50% in just 30 minutes. 
Don't miss out on your chance to win these amazing prizes! To enter, simply click the link below and log in with one of your social media accounts. You'll be given a number of actions you can take to enter. The more you do, the higher your chance of winning!
Enter the giveaway here:
Terms & Conditions
Open to residents of the US, UK, Canada, Germany, France, and Italy.
Giveaway will run from 6/24/2019 to 7/4/2019 PST.
Depending on their method of joining the competition, it is possible for a single participant to have multiple eligible entries.
Please do not enter more than one email address. All winners will be verified. If we detect that a participant has used multiple email addresses for the competition, they will be disqualified.
Winners will be announced on July 5th. Our team will contact all winners within 5 business days.
Winners who do not reply within 5 business days will be disqualified.
ESR is not responsible for lost shipments.
ESR reserves the right of final decision in any matter of dispute.