In need of the best Screen Protectors for Pixel 4a? Look no further. This Google device, with all its leaked features, promises to be amazing. However, when it eventually comes out, and you get yours, the last thing you would want to do is to leave it physically unprotected. The Pixel 4a will only be available in one size, making it definite to find the best screen protector size for it.
Getting the best screen protector for your phone should be a priority, and for the Pixel 4a, we will help you make an informed choice by offering you the best options that will work perfectly well to give you the best, optimum performance.
Why is it Important to Use a Screen Protector?
Although modern phones tend to come with strong screens, the risk of breakage has not reduced. Different lifestyles may also affect how long a phone's screen will last. And for Pixel 4a, the screen is one of the expensive parts. See below the pros and cons of using a screen protector on your phone.
Pros:
Protection for your phone screen from all kinds of wear and tear
It improves the aesthetics of the phone
It does not allow for fingerprints sticking to the screen
Disallows dirt from adhering to the screen
It is heat resistant
It protects your eyes from excess light emanating from the phone
Keeps your phone in an excellent physical condition
Cons:
There may be bubbles on the screen if the screen protector is not firmly and well-fixed
It may offer a new, less aesthetic or sleek view of your screen
The screen protector may discolor after some time
It may limit the experience of using your touch screen such as on-screen fingerprint sensor
The scratches, though better than having it on your phone screen, might not make your phone look good
Choosing the Best Screen Protector for Your Pixel 4a
With the importance of having a screen protector highlighted above, you know why you need to get one. Getting the best fit for your phone may look tedious, which is why we will offer you the best you can get. Things to look out for when getting one include thickness of the screen protector, oleophobic coating, which is the feature that ensures that fingerprints do not adhere to the surface of the phone screen because it repels the oil on the skin pad. Wear and tear resistance, the transparency of the glass, scratch resistance, the glue, especially in avoiding bubbles of the screen.
The Best Pixel 4a Screen Protectors from ESR are: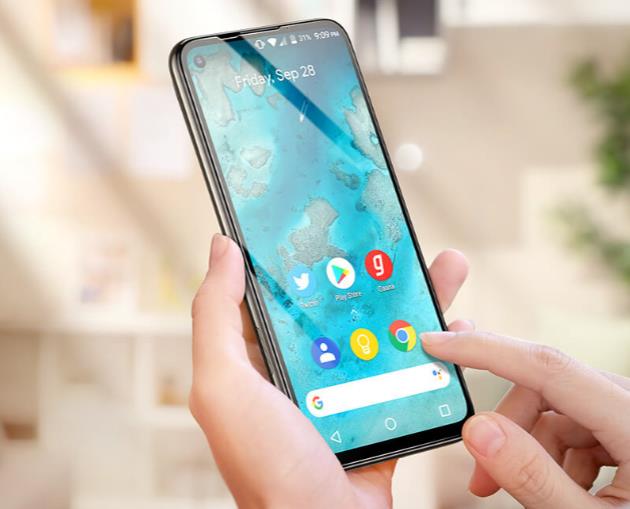 The Pixel 4a Tempered-Glass Full Coverage Screen Protector offers a total covering of your phone. It is easy to install and also comes with a cleaning kit to wipe your phone screen before installing it. It is designed even to cover the rounded edges of the phone, offering overall protection and with no possibility of little scruffy chippings on the sides of the phone while also making it comfortable to touch.
The screen protector has precise cutouts for the sensors, the camera, and the speaker, as well. It is also three times stronger than other regular screen protectors and can withstand as high as 11 pounds of force or pressure. It has an oleophobic property, which makes it to be fingerprint resistant, allowing you to wipe your fingerprints off easily while still offering a flawless experience.

Features
Full Covering
3X Stronger
Easy Installation
Fingerprint Resistant
Benefits:
Covers even the curved edges
Can withstand a force or pressure of up to 11 pounds
Fully covers the screen
Protects your phone from fingerprints and dust.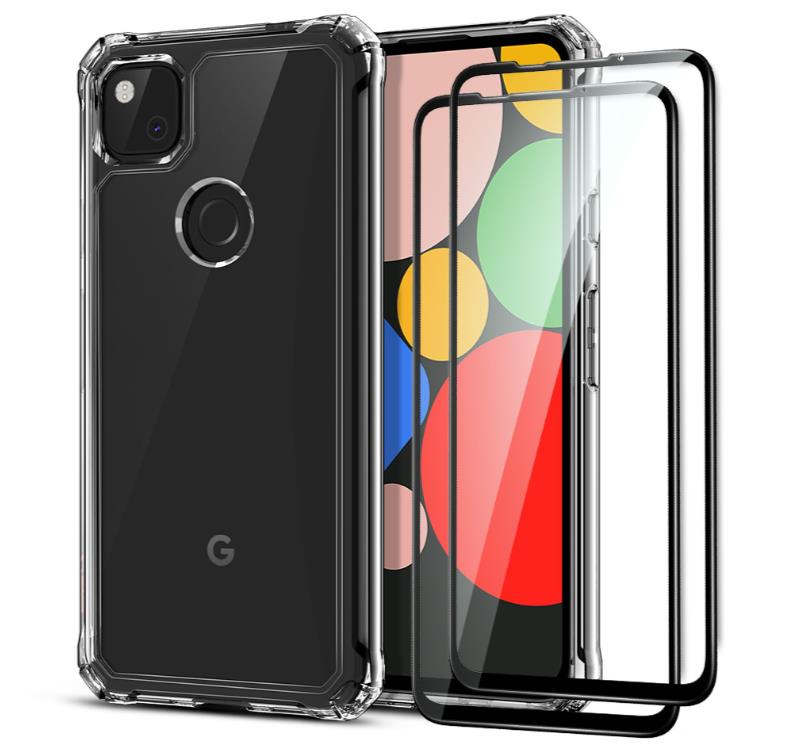 The pixel 4a Air Armor 360-Degree Protection Bundle is a crystal-clear screen protector that offers multi-protection to your phone through the hard-back cover, a flexible frame, and the full cover, which also covers the edge and is shock-absorbing. It provides military-grade protection for your device.  Because of its transparency and the case, which is yellowing-resistant, and helps to make your phone look sleek and new. The screen protector is also three times stronger than the usual, tempered screen guards to withstand a force up to 5 kg, and can protect your phone screen from damage, the case with its shock-absorbing corners, also enhance its protection of your device. With the oil-repelling coating, you can easily wipe away fingerprints from the surface of the phone.

Features
Hybrid Protection
Looks and Feels Great
3X Stronger
Fingerprint Resistant
Benefits
You have multi-protection for your phone.
You do not have to buy a phone case and a screen protector since they come hand-in-hand
It fully covers your phone including the edges and corners with shock-absorbing properties
The case is yellowing-resistant
Does not impede wireless charging
Can withstand a force up to 5kg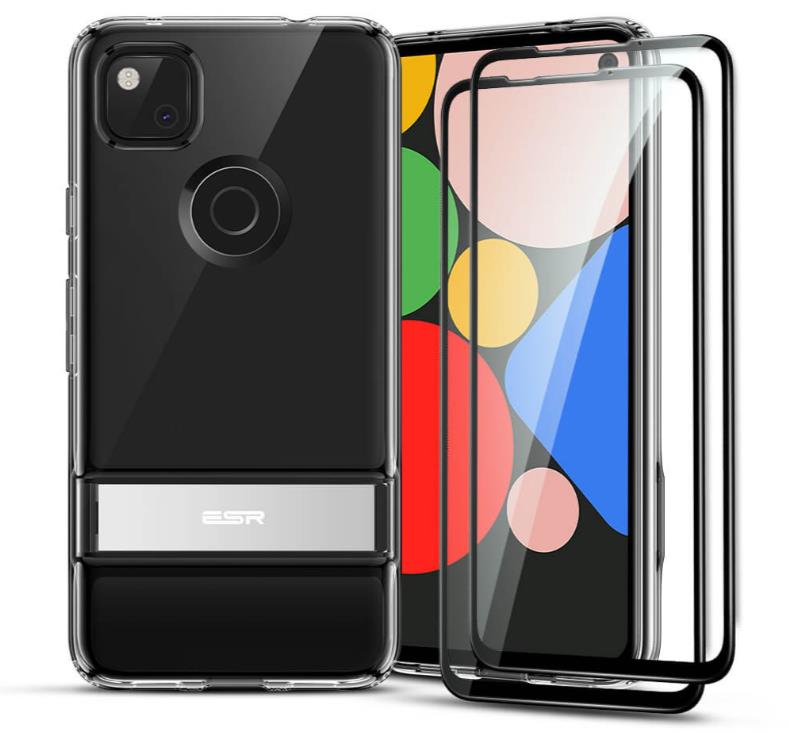 This pixel 4a metal kickstand phone case is a multi-function phone protector, which has a stable metal kickstand support for both vertical and horizontal viewing. This metal kickstand is also adjustable up to 60 degrees giving you the optimum experience and best angle for viewing your phone. You can now comfy use your phone at any of your best views with this phone case. Apart from the kickstand, the screen and camera edges are raised to protect your phone and its camera from scratches. The case is also flexible, offering shock absorption and better protection against bumps.

Features
Flexible and Strong
Stand it your way
3X Stronger
Fingerprint Resistant
Benefits
It is easy to wipe off fingerprint from the screen
It comes with a case that has a stand. You can stand it horizontally or vertically
The screen protector can withstand up to 5 kg force
Conclusion
Any of the above screen protectors will protect your phone screen effectively from scratch and keep your phone's aesthetic view intact. With each having its unique feature, explore, and enjoy.