On June 3, Apple released the new five major systems including iOS, iPad OS, macOS and Mac Pro at the 2019 WWDC Global Developer Conference. Among them, the most noteworthy is the iOS new operating system IOS 13 and the newly launched iPad dedicated system iPad OS.
Here's a look at the new features of iOS 13 and iPadOS.
IOS 13
Performance Upgrade
Apple is working hard to make iOS run even faster than before. Craig Federighi, Apple's SVP of Software Engineering, revealed that with iOS 13, downloading and updating apps should be much quicker and more efficient, with app size being reduced by 50% and update time is reduced by 60%. Additionally, apps now launch twice as fast as in iOS 12, and Face ID unlock speed has increased by 30%.
System-Wide Dark Mode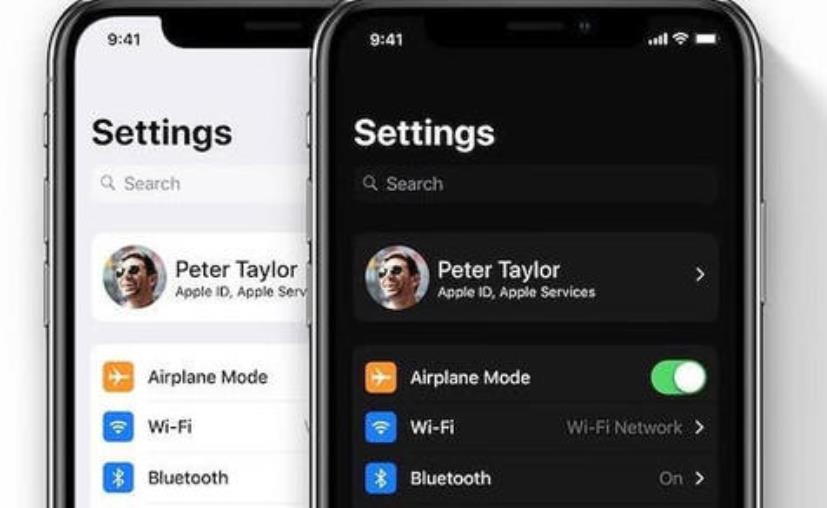 One of the most talked-about new features of iOS 13 has been the long-awaited Dark Mode. It is one of the biggest visual changes to iOS since iOS 7. This Dark Mode will provide users with the option to change to a fully-integrated darker color scheme, ideal for nighttime phone usage.
Dark Mode supports both manual and automatic switching. You can manually switch between light or dark backgrounds in Settings > Display & Brightness. You can also set it to automatically turn on at night, based on either your phone's automatically-detected sunrise/sunset times or on times you set manually.
In addition, iOS 13 comes with 4 wallpapers, provided by Apple, specifically designed to support Dark Mode. They will automatically switch between a light and dark aesthetic based on your phone's current model. Of course, the UI and system apps won't be the only ones getting duskier alternatives. All Apple apps, including keyboards and notifications, will be seamlessly integrated into Dark Mode.
However, as iOS 13 is still just a beta, third-party support of Dark Mode remains fragmentary at best, with most having yet to add Dark Mode alternatives. It's hard to imagine, however, that this will not be quickly rectified. Expect most major apps, and quite a few minor ones as well, to add Dark Mode support in the coming months.
New QuickPath Swipe Keyboard
With iOS 13's new QuickPath Swipe Keyboard, Apple has finally added gesture-based typing to its stock keyboard. Gesture-based typing, long-available on Android devices and third-party keyboards, allows the user to type by swiping their finger across the keyboard, creating a path between the letters of a word. QuickPath is fully integrated with Apple's predictive QuickType bar, allowing it to better recognize your gestures and to help auto-complete sentences.
Look Around: Street View for Apple Maps
In 2015, to overhaul its much-maligned Maps app, Apple began fitting hundreds of planes and cars with custom sensors, high-resolution cameras, and LIDAR. Since then, they've collected data on over 4 million miles of road around the world. The overhauled Maps app will completely reconstruct the basic map, with 3D modeling, greater road coverage, and more detailed and precise data. The most dramatic new addition, however, is the new Look Around feature, which much like Google's Street View allows users to get a 360°, street-level view of a place, only with much higher-resolution images.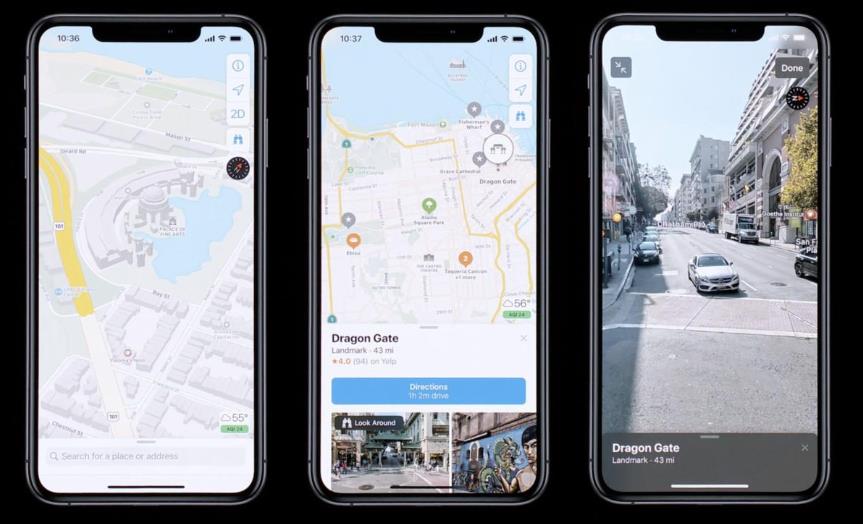 Greater Security and Privacy
A key focus for iOS 13 has been privacy and security, and with the new Sign in with Apple feature, Apple has introduced a much more secure way to sign into apps and websites. With this feature, users can sign into apps and websites with their Apple ID, using Face ID or Touch ID to authenticate. By signing in this way, the app and website developers will receive a unique, randomized ID instead of your personal information. If the developer requires an email address, the new iOS 13 feature can automatically generate a single-use email address to use in lieu of your own.
iOS 13 will also allow you to limit app location access to "just once," which will only allow apps to access your location once, and prevent them from tracking your location in the background. Of course, if you would like to allow an app to continue tracking your location, you can still manually set permissions.
More Details About Updated Apple Apps
iOS 13 also comes with significant updates to a number of Apple's own applications, with almost every Apple app getting new features.
1.New Photo Album/Editing Features
The photo album will automatically be archived by year, month, and day.
Your photo album will now automatically be archived by year, month, and day. In the photo editing UI, you can quickly adjust the brightness, shadow, white balance, and other settings. In addition, iOS 13 adds video editing, allowing you to edit a video's brightness, highlights, contrast, rotation, and more.
2.A New Look for Reminders
Reminders used to have a relatively minimalistic look. In iOS 13, a convenient toolbar has been added that makes it easy to add time, date, location, and tags to your reminders, allowing you to organize them more efficiently.
3. New HomePod Features
HomePod is getting multi-user support, meaning it is now able to identify different voices and provide a personalized response, including information, music, and more.
You'll also now be able to easily transfer songs from your iPhone by holding your phone close to the homepage speaker. Previously, you had to tell Siri to do this.
4. New Volume Indicator
In previous iOS versions, when adjusting the volume the volume indicator would appear in the middle of the screen, which could be visually obstructive. With iOS 13, it will now be displayed on the left side as a small, thin bar, keeping it from blocking your view.
5. New Memoji Functionality
With iOS 13, your custom Memoji will automatically be turned into a sticker pack, built into the iOS Keyboard. You'll be able to use these new stickers in Messages, Mail, and more. In addition, Apple has added a number of new hairstyles, headwear, accessories, and more, allowing you more freedom to express yourself.
6. Compatible Devices
iPhone X/XS/XR/XS Max,
iPhone 6s/6s plus,
iPhone 7/7 Plus,
iPhone 8/8 Plus,
iPhone SE,
iPod Touch (7th generation)
These changes not only make Apple's applications more powerful and versatile but also makes them much more intuitive, simplifying and streamlining many aspects of the UX. However, while iOS 13 will keep your iPhone safer than ever before from digital threats, you'll still need to protect it physically. Keep your new-and-improved device safe from wear-and-tear with a new iPhone protective case and screen protector.
iPadOS
The brand-new iPadOS is specifically designed to run on the iPad, which gives Apple the freedom to develop specifically for iPads and to take advantage of the unique opportunities presented by tablets. Just as Apple built watchOS for the Apple Watch, tvOS for the Apple TV, and macOS for Mac, iPadOS will be independent, allowing for new, iPad-specific functions.
Split View and Slide Over Display
iPadOS will support multi-window display with its new Split View and Slide Over features. With Split View, you can open up multiple windows of the same application, and freely adjust things like size and on-screen position. This means you could, for example, open up 2 Word documents and drag text from one to another.
Furthermore, the Slide Over feature allows for much quicker and more intuitive switching between apps, with a sidebar that you'll be able to easily "slide over" your favorite apps from. The virtual keyboard can now be unanchored and adjusted as well, allowing you to have it displayed as a floating window instead of being locked into a set position.
Optimized Gesture Interaction
You can now use the 3-finger pinch and release gestures to copy and paste, respectively, while 3-finger swiping now acts as "undo."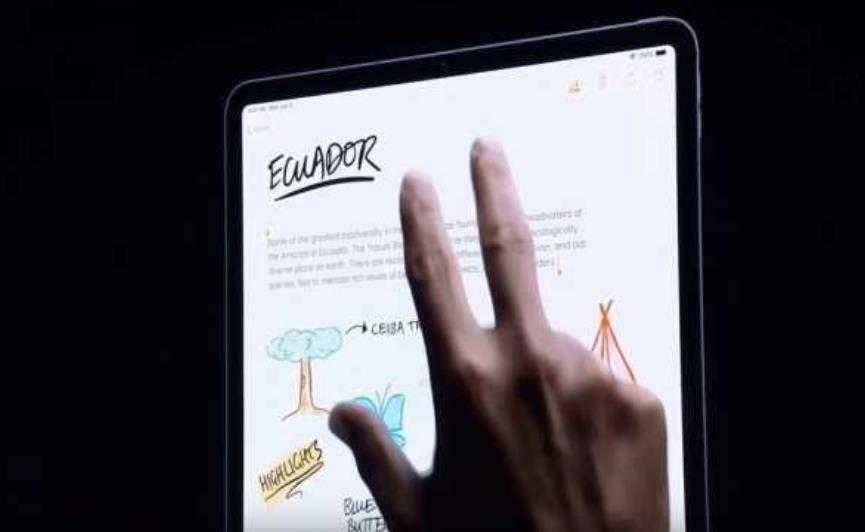 Support for External Storage
iPad OS supports external storage, so you can use your iPad to directly read data off a U Disc and directly import photos from a DSLR camera via a cable.
Greater Apple Pencil Support
With the new PencilKit API, the Apple Pencil's latency with iPads has been reduced from an already-impressive 20 milliseconds to just 9 milliseconds. iPadOS's new Notes mode also allows for far greater markup functionality when using a stylus.
In addition, iPadOS also supports mouse usage, which can be turned on in Settings > Accessibility.
Compatible Devices
12.9-inch iPad Pro
11-inch iPad Pro
10.5-inch iPad Pro
9.7-inch iPad Pro
iPad 6th generation
iPad 5th generation
iPad mini 5
iPad mini 4
iPad Air 3
iPad Air 2
With iPadOS, Apple has taken a massive step towards its ultimate goal of making tablets a viable option as a primary computer. However, all devices, even ones that transcend boundaries, are susceptible to physical damage. With the greater fragility and portability of the iPad compared to conventional computers, it's imperative that you not forget to keep it with new iPhone protective case and screen protector
What iOS 13 and iPadOS features are you looking forward to most? Feel free to let us know in the comments.