Digital devices have evolved over the years. With a focus on improved user experience, changes in design, size, display, and more have led to the production of newer and better devices. However, one lingering problem has been battery life. As a result, an increase in battery volume became inevitable. This solution came with a new challenge, charging time. This solution did not profer an end to battery problems as charging time became an issue. The need for shorter charging time led to the emergence of fast charging protocols. High-power fast charging has become the norm for digital devices.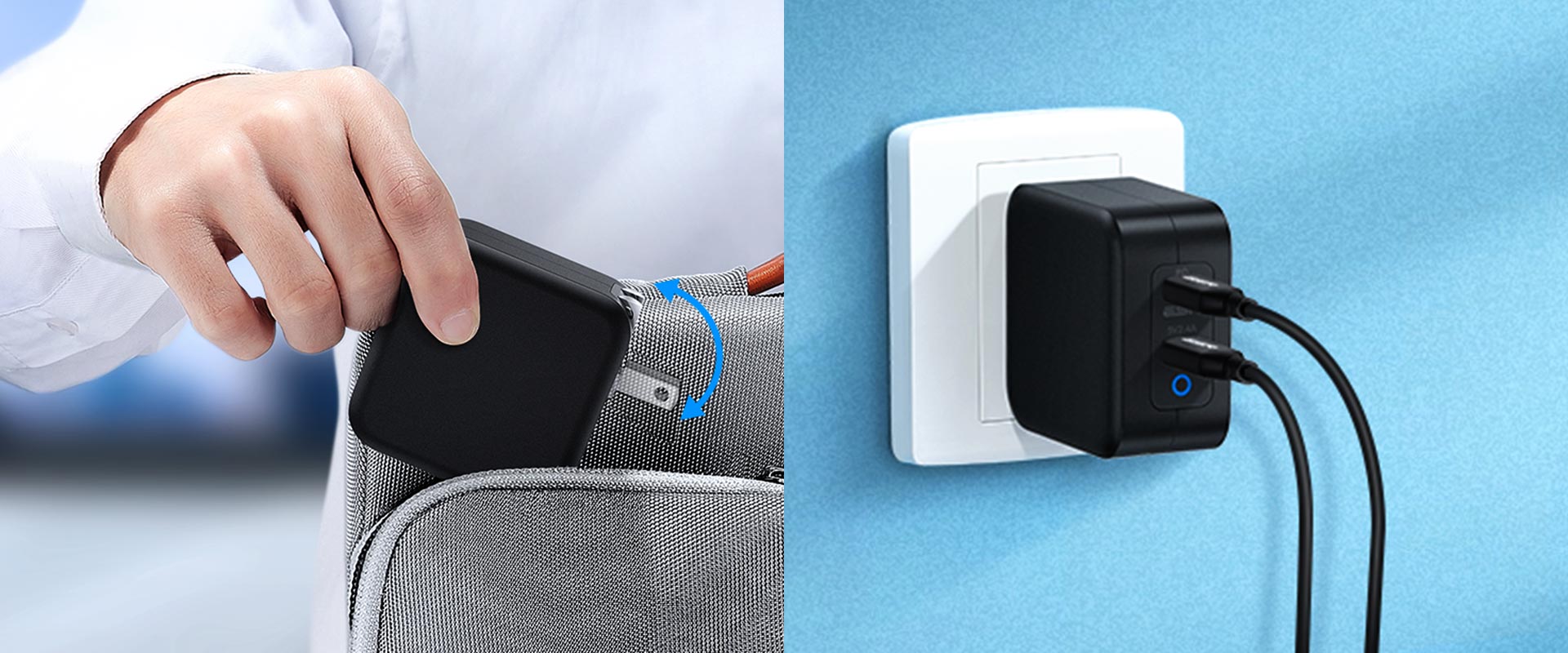 There is a wide range of fast charging protocols in the market today. Some of the more popular products include Qualcomm QC (Quick Charge), OPPO VOOC, SCP (SuperCharge), HUAWEI FCP (FastCharge) and the very popular PD (Power Delivery). Despite the extensive range of products, problems still persisted. They're all large sized due to the power density of components. The charger size appeared to be directly proportional to the charging power. Hence, the bigger the charger size, the larger the charging power. The charger sized posed another challenge, particularly in the area of production cost and carriage convenience.
The introduction of high-power and small size fast chargers was made possible by a breakthrough in GaN Tech.
What is GaN Tech?
GaN is a symbol representing the chemical compound Gallium Nitride. Extensive research on Gallium Nitride has been ongoing, primarily because of its semiconductor properties. GaN has been used in the manufacture of electronic components such as transistors, amplifiers, and diodes. GaN falls in the same class as silicon, which is the most common semiconductor material available. However, GaN has unique qualities which give it an edge over silicon-based electronics. One such quality is the wider band-gap which measures the rate at which energy passes through the material.
You can read more about GaN tech on the UGREEN BLOG SITE.
Why is gallium nitride important?
Silicon ranks among the top three materials used in the production of semiconductors. Despite its limitations, technology hasn't made the desired progression away from it. Gallium Nitride (GaN) offers that advancement in technology. GaN tech is the future when looking into the field of power conversion. Some of the GaN tech features are lower cost, smaller size, and higher efficiency amongst other great features. ANDROID AUTHORITY describes GaN as a superior semiconductor to silicon. GaN is made use of in the 5G antenna radio and power technologies.

Why is gallium nitride better than silicon?
The feature that makes GaN stand above silicon is power efficiency. GaN has a wider bandgap which enables it to sustain higher temperatures and higher voltages than silicon. A GaN manufacturer, Efficient Power Conversion Corporation, explained that GaN has the ability to conduct electrons more efficiently than silicon. Chips made of GaN will be smaller, faster, more efficient, and cheaper than chips made of silicon.
Silicon tech has made advancements over the years. However, in the area of power conversion, silicon tech has attained a saturation point. It has failed to break new grounds, giving room for GaN tech to claim a spot.
For a more detailed explanation about the bandgap concept, visit HOWTOGEEK.
What are the advantages of GaN chargers?
The features of Gallium Nitrate are inherent in GaN chargers resulting in GaN chargers offering advantages over silicon chargers. Compared with silicon chargers, GaN chargers require fewer components. GaN chargers are physically smaller and conduct higher voltages. GaN chargers are more efficient in transferring current and conserving energy. Conserved energy enables a better flow to the charging device, resulting in quicker charge times.
Semiconductors and chargers made with GaN tend to be smaller and more efficient, making them less vulnerable to heating up.
The production cost for GaN devices is lower than what's currently obtainable for silicon semiconductors. GaN devices are produced in the same factories as silicon semiconductors.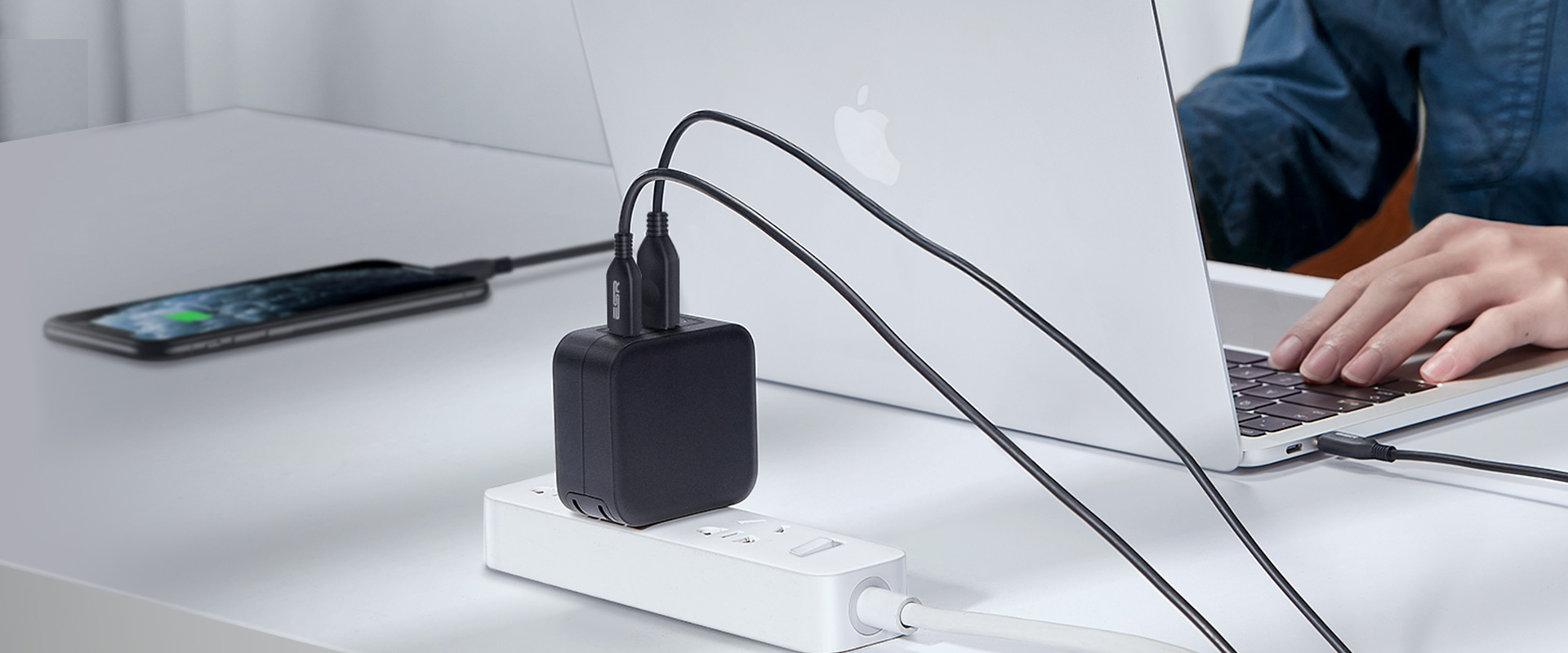 The advantages of GaN over Silicon are numerous but can be summarized as follows
Faster devices resulting in less switching losses
Lower power required to drive the circuit
Lower production cost
Smaller devices taking up less space on the printed circuit board
Lower on resistance giving lower conductance losses
Reduced capacitance leading to lower losses during charging and discharging
Where can you buy a GaN charger today?
GaN chargers are still growing in popularity and demand so aren't widely distributed yet. HOWTOGEEK reveals Anker and RAVPower are ideal places to shop for GaN tech chargers. They offer a range of chargers including USB-C chargers for laptops.
The Anker PowerPort Atom PD1 is designed for tablets, phones, and laptops. It's 40-percent smaller than the regular non-GaN chargers obtainable in the markets and it's rated at 30-watts.
Another GaN charger produced by Anker is the PowerPort Atom PD2 which has a 60-watt rating. It has two USB-C ports, enabling you to charge two devices at the same time.
RAVPower offers a similar range of GaN tech chargers.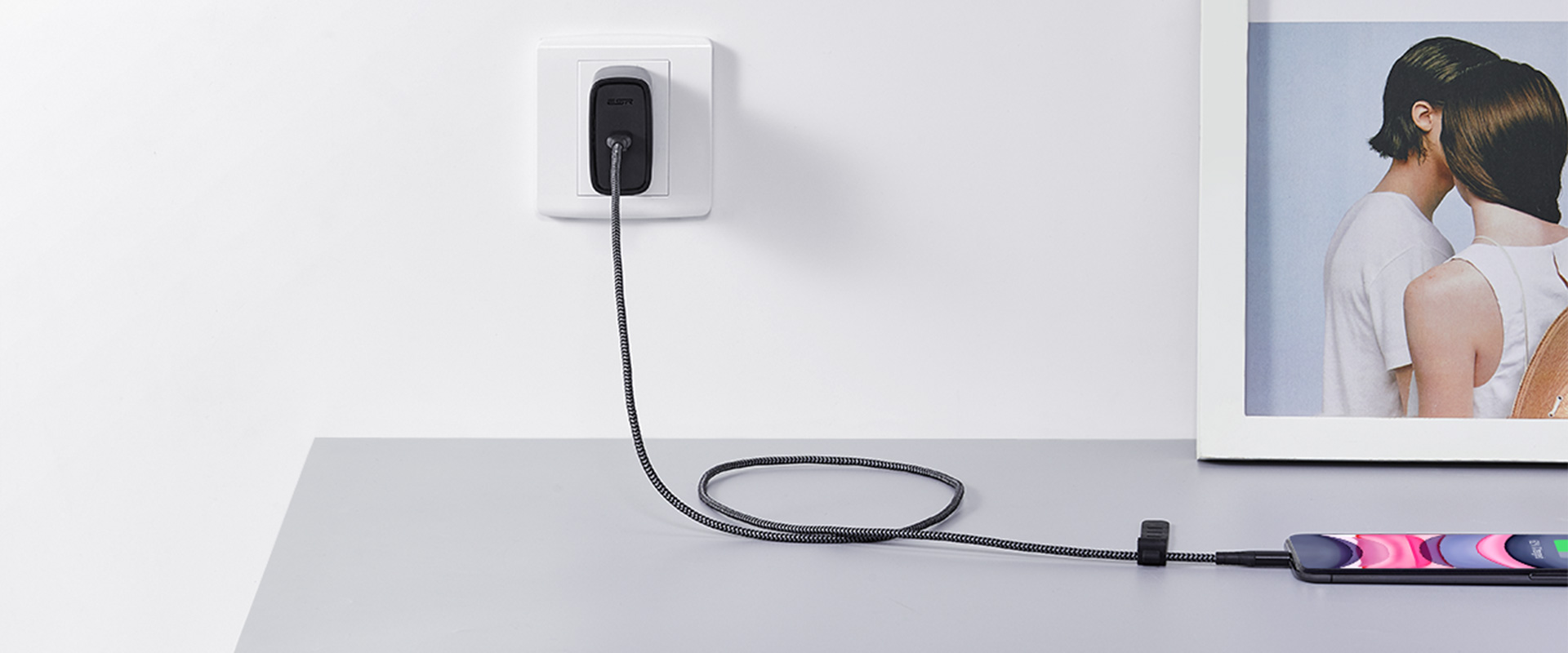 Perhaps the best option to purchase your GaN tech charger will be ESR. They offer a range of GaN tech chargers and have attached discounts if bundles are purchased. Seeing the detailed features of the chargers on offer could help you make your choice.
65W GaN USB-C PD Charger (US Plug)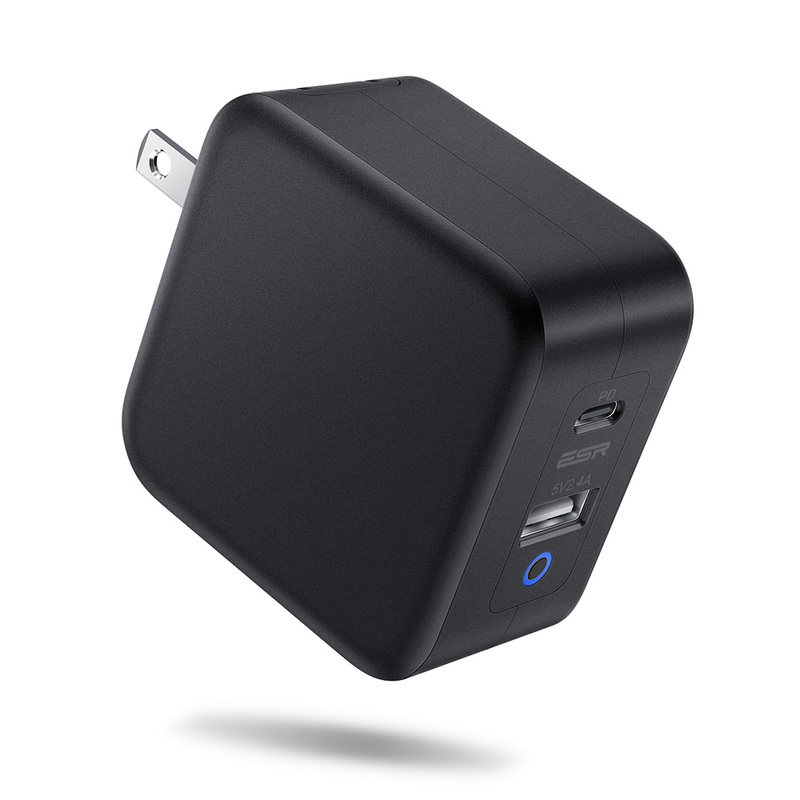 USD$36.54 SHOP NOW
Currently selling at less than $40, this charger is compatible with iPhone, iPad, Samsung Galaxy, and more. Features include:
PD Fast Charging: Charges the MacBook Pro 13" from 0% to 100% in less than 2 hours. With USB Power Delivery, your iPhone charges up to 50% in 30 minutes.
Smart Power Distribution: Delivers 65W in single-port mode and 45W in dual-port mode.
Portable and Compact: Good for charging on the go as it fits comfortably into your pocket. It's about half the size of Apple's stock 60W charger and is about 35% lighter.
GaN Technology: Takes up less space and generates less heat. Provides better efficiency than conventional chargers.
iPhone GaN Fast Charging Bundle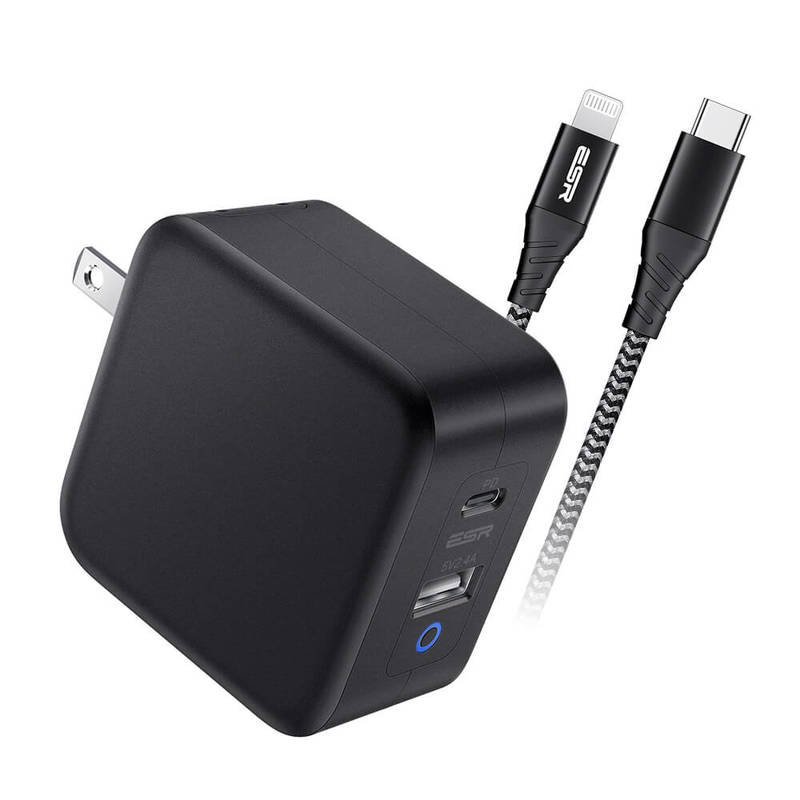 USD$53.53 SHOP NOW
Selling at a discounted price, this product comes with a charging bundle and has some enticing features.
Bundle Contents: 65W GaN USB-C PD Charger (US Plug) + 3.3ft/1m MFi USB-C to Lightening PD Charging Cable
Compatibility: iPhone SE/11/11 and more
GaN Technology: Enables faster charging and is more compact than conventional chargers. Generates less heat.
Smart Power Distribution: Delivers 65W in single-port mode and 45W in dual-port mode.
PD Fast Charging: USB Power Delivery charges your iPhone up to 50% in 30 minutes.
USB-C GaN Fast Charging Bundle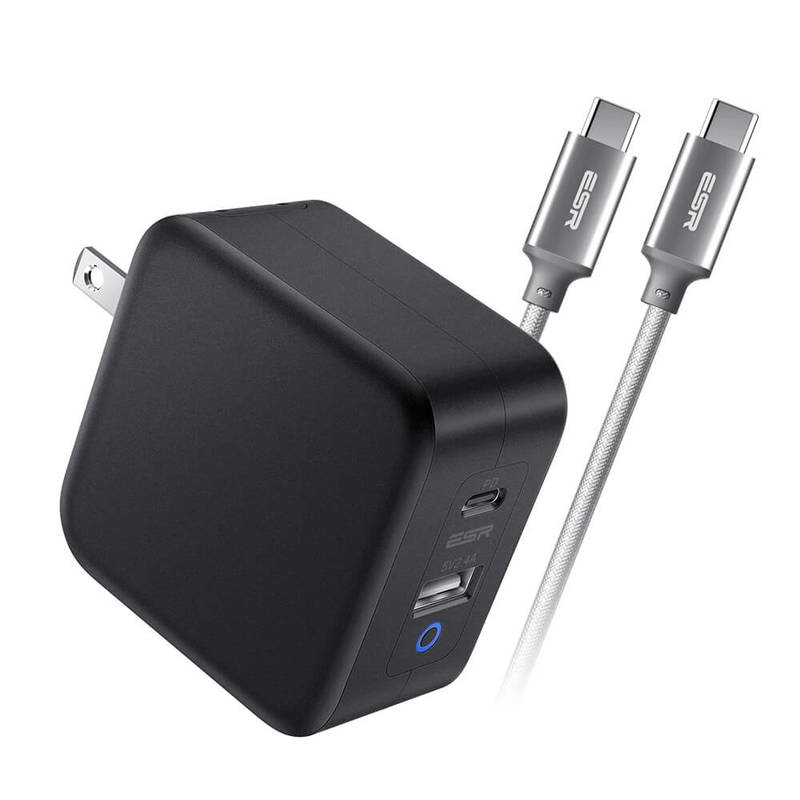 USD$50.98 SHOP NOW
This product comes at a discounted price of $50.98, its features include:
GaN Technology: More compact and delivers faster charge. Generates less heat.
Bundle Contents: 65W GaN USB-C PD Charger (US Plug)+6.6ft/2m USB-C to USB-C 2.0 Cable.
PD Fast Charging: Charges the MacBook Pro 13" from 0% to 100% in less than 2 hours.
Smart Power Distribution: Delivers 65W in single-port mode and 45W in dual-port mode.
Supports only PD standard quick charging.
The breakthrough in GaN technology has redefined the digital space. Referring to GaN chargers as smart products wouldn't be misplaced. It marks the advent of an era where one protocol charges all your devices. One good charger can replace several chargers. The GaN charger gives you the privilege to charge multiple devices with one charger, making it a priority appliance to have.