Every day, your face gets exposed to harmful rays, pollution, and dirt. If you consider the skyrocketing pollution level of today, a facial cleanser or washcloth is not enough to clean your face thoroughly. Also, you cannot use a scrub every day because it is harsh for the skin. What is another solution? Is it facial cleaning brushes to exfoliate your dead skin?
Yes, facial cleaning brushes stimulate the skin surface and offer gentle while thorough exfoliation. Also, it speeds up the cell renewal process. The best part of such brushes is you can find a one that suits all skin types. Here is the list of top facial cleaning brushes for any type of skin available in the market now.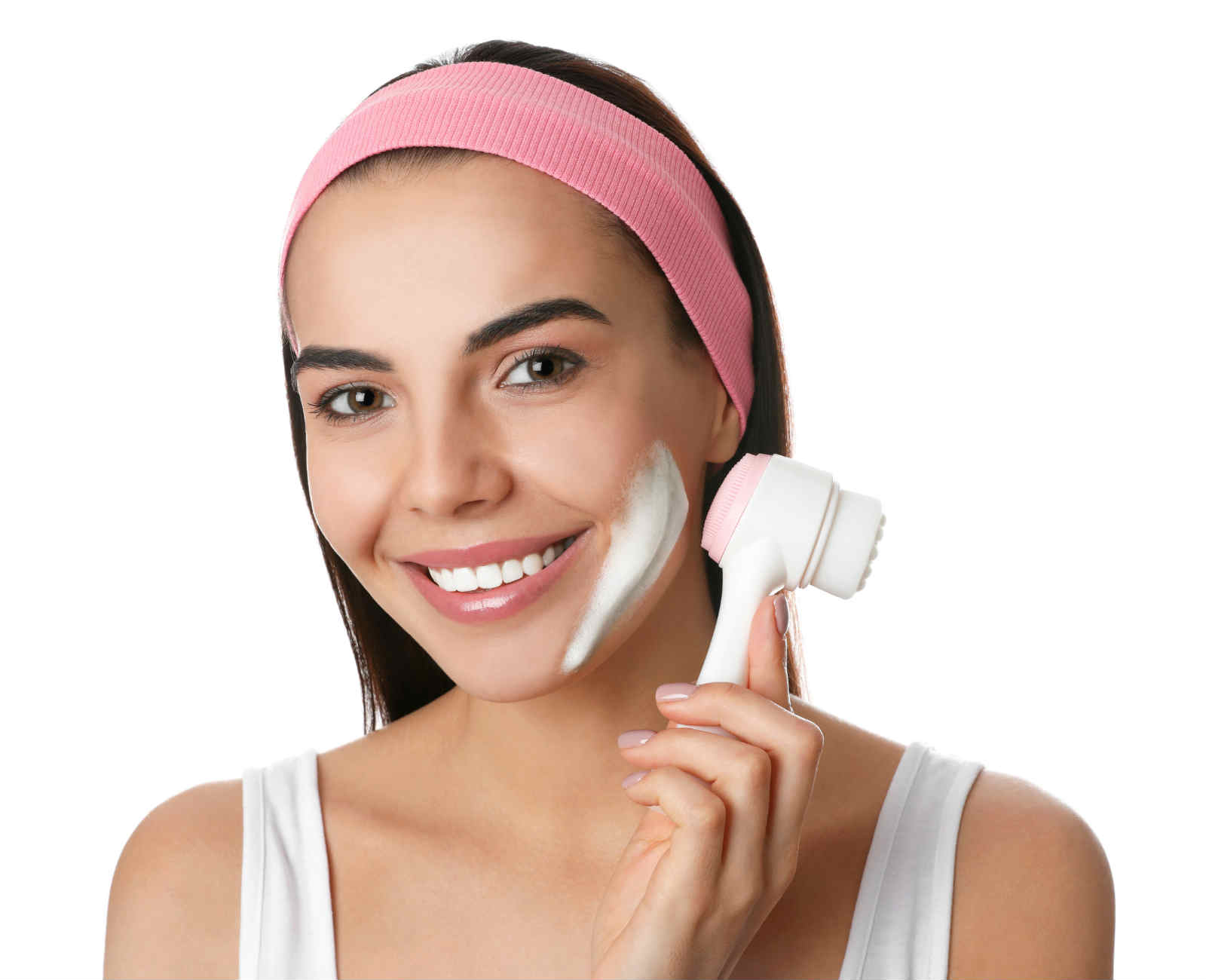 5 Best Facial Cleansing Brushes in 2020 – Only for You!
Deal 1: AEVO Facial Cleansing Brush to Clean Dead Skin by ESR Gear
Revo Facial cleaning brush by ESR Gear is one of the best choices for cleaning and massaging your skin. The brush comes with sonic vibration to remove all dead cells, dirt, oil and makeup residue from the pores. It gives you 6X deeper cleaning than any manual brush. The heat massage mode induces blood circulation and reduces wrinkles or fine lines. Your face becomes healthier and smoother than before.
This brush supports USB charging and lasts for a month with a single charging. The rubber plug helps to keep charging port dry.  It is water-resistant, so no issue with getting wet. However, you must make it dry before charging.
There are 3 vibration modes and 2 massage modes as you press the button. One of the best benefits of the Aevo facial cleaning brush is 100% satisfaction it guarantees. If you are not satisfied due to any reason, they are ready to provide a replacement or refund.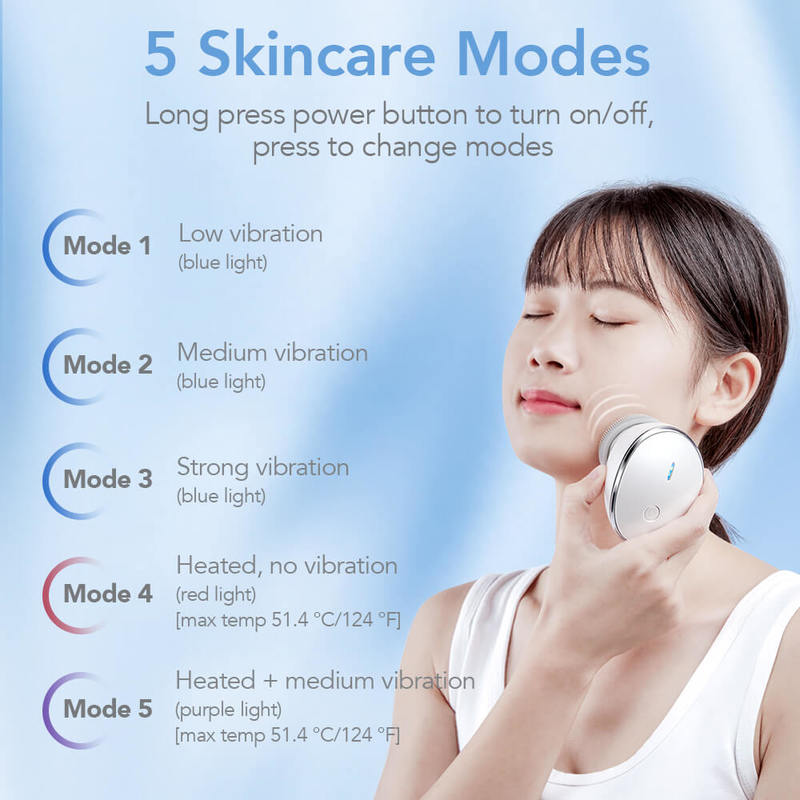 Price: $26.99 USD
Product Link: https://www.esrgear.com/products/aevo-facial-cleansing-brush/
Deal 2: LUXSIO Sonic 3-in-1 Facial Cleansing Brush for Exfoliating Skin
Do you want glowing skin? Luxo Sonic 3-in-1 facial cleaning brush is an electric face scrubber. Many advanced features they are offering like micro-firm vibration. They medically graded silicone helps to give you confidence with a beautiful and smooth complexion.
You can add cleaner on this brush to expense deep cleansing in 60sec. The 2000 ultra-soft touch points help to remove all dirt, blackheads, oil, and makeup from your face. This waterproof brush increases collagen and boosts blood circulation. It helps to reduce wrinkles and fine lines by restoring skin firmness.
Rechargeable Luxsio Sonic 3-in-1 brush delivers 9000 pulses each minute. You can apply any of your favorite cream or serum on your skin and use this cleansing brush. It gives you maximum absorption than manual applying. It gently exfoliates and diminishes acne and blemishes to achieve youthful skin.  The product comes with 2 years warranty and offers 100 % satisfaction.
Price: $39.00 USD
Product Link: https://www.amazon.com/dp/B07WF8H41S
Deal 3: CLARISONIC Facial Cleansing Brush for Skin with Enlarged Pores
CLARISONIC Facial Cleaning Brush is a brush head that visibly reduces the appearance of pores, debris, and dislodging oil. It reveals a softer, smoother and clear skin. Therefore, this is the best solution for dullness and uneven texture or skin tone.
This cleansing brush is highly recommended for skin with clogged or enlarged pores. This deep pore brush is specifically designed with a unique gradation bristle move 300 times per second. It offers dual-action movement and firmness to help dislodge and flush oil and debris. It is gentle and safe enough to use even two times a day. You must target using uneven and hard to reach areas of a face.
Clarisonic is the first cleaning device brand recommended by the U.S dermatologists. It helps to give a smoother and softer skin within two weeks of use. It cleans your skin six times better than your hands alone. For better results, replace the brush every three months.
Price: $27.00 USD
Product Link: https://www.amazon.com/dp/B00LA5NHXQ
Deal 4: PROX by OLAY Facial Cleaning Brush
Prox is formulated by the dermatologists of Olay. PROX Facial Cleaning Brush is a designer collection offered by OLAY. This advanced formula includes pro-retinol and amino peptides. They are proven skincare solutions for the root cause of getting aged and healthy-looking skin.
The Advanced Cleaning brush offers a two-speed setting that helps you to customize the skincare regimen. It delivers superior cleansing even on hard-to-remove heavy makeup. The speed limit controls the bush working on your skin. It is water-resistant and makes it perfect for using in the shower.
The kit includes 2-speed handles, 0.68oz tube to exfoliate renewal cleanser, 2 AA batteries, and cleaning brush head. You should not forget to replace the brush head every three months for better results. The 2-speed facial cleansing brush cleanses, prepares, treat and moisturize your skin perfectly. First, turn on the brush, gently move around your face for 60 seconds, avoid eye area and rinse your face. Cleanse the brush after use with water.
Price: $34.94 USD
Product Link: https://www.amazon.com/dp/B071DZG44Q
Deal 5: LIBEREX Sonic Facial Cleansing Vibrating Brush for Skin Exfoliation
Liberec Sonic Facial Cleansing brush puts a beautiful skin on your hand. This is a travel size vibrating cleansing device with a three-speed setting. It cleanses your delicate and soft skin by removing your make up 6 times better than manual. There are three size bristles useful for any type of skin. It helps to remove surface-level pigmentation and sebum to look the skin glowing naturally. It diminishes hyperpigmentation, and dullness of sun making is smoother, radiant and softer.
Liberec oscillates facial brush with multiple speeds by touching one button. It will keep on beeping every 20 seconds that reminds you to change the cleaning area. At 60 seconds, it will shut- down automatically. You will achieve clear skin by getting rid of blackheads, acne, pimples, scars, and clogged pores.
The fully waterproof with free-standing design makes Liberex Sonic's facial cleansing brush the best. It needs 1.5 hours to charge fully and use 2 minutes every day.
Price: $32.99 USD
Product Link: https://www.amazon.com/dp/B07DQDXX2C
Conclusion!
A facial cleansing brush is a major bonus for your skincare routine. Cleansing brushes create a perfect lather to remove all the dirt from your skin without overdoing it. But the hardest part is to find the right one for your skin. We here bring the top picks of the right facial cleansing brushes to choose from.