If there is one important lesson we have learned from the hyperactive use and prominent role of technology in our current lives, it is that our devices are quite vulnerable to treachery and damage. One quick fall and your phone can end up with several scratches or worse, a broken screen. Therefore, preventive measures need to be taken for their protection lest all the money you invested in your favorite tech-savvy device goes down the drain. Phone cases and screen protectors are an absolute necessity and investing in one should be your top priority after purchasing a new, flashy smartphone. Samsung has just released amazing Galaxy Note 20 Cases & Screen Protectors and Galaxy Note 20 Ultra Cases & Screen Protectors but before we give you a breakdown of some of these products, there a few factors to be considered before choosing the best phone case or screen protector for your Galaxy Note 20 and Galaxy Note 20 Ultra. Other than proper, impenetrable protection of the phone, you also need to assess which phone case provides a better grip, matches your personal aesthetic, or has all the features you desire. Most importantly, you need to keep your budget in mind. The screen protector you opt for must have all the required features to protect your phone screen. It should not affect the phone's touch sensitivity and the user's visual experience. The best screen protector is the one that allows you to enjoy the full prowess of your device. It is better to invest in a good screen protector once than buy cheap ones off your local market every few months. There are many options available in the market and it can get pretty daunting to choose from a plethora of options with their flashy names and gimmicks. To guide you efficiently, we have listed below three Galaxy Note 20 and Galaxy Note 20 Ultra Cases and Screen Protectors and have highlighted their key features to help you make the best choice.
Galaxy Note 20 Metal Kickstand Phone Case with Stand
SHOP NOW
This elegantly stylish phone case has been particularly designed for Galaxy Note 20 Ultra and comes in two colors: clear and clear black. It is the most appropriate choice for customers who intend to use their Galaxy Note 20 Ultra a lot and for different purposes. This durable and flexible TPU case is softer compared to inflexible plastic cases and protects the phone glass back more efficiently against impact or bumps. Unlike most cases, it is also pretty convenient and hassle-free to take it off and put it back on. Its characteristic two-way stand enables the user to use both vertical and horizontal view mode for various purposes. The most prominent feature of this phone case is the reinforced metal kickstand that allows the user a wider viewing and can be adjusted at any angle of your choice. In order to protect the most-prized asset of the phone aka the camera and the screen against scratches, the edges of the case are raised and have camera bezels, thus leaving you pretty much tension-free. It also allows you to wirelessly charge the phone without having to remove the case.
Galaxy Note 20 and Galaxy Note 20 Ultra Tempered-Glass Full-Coverage Screen Protector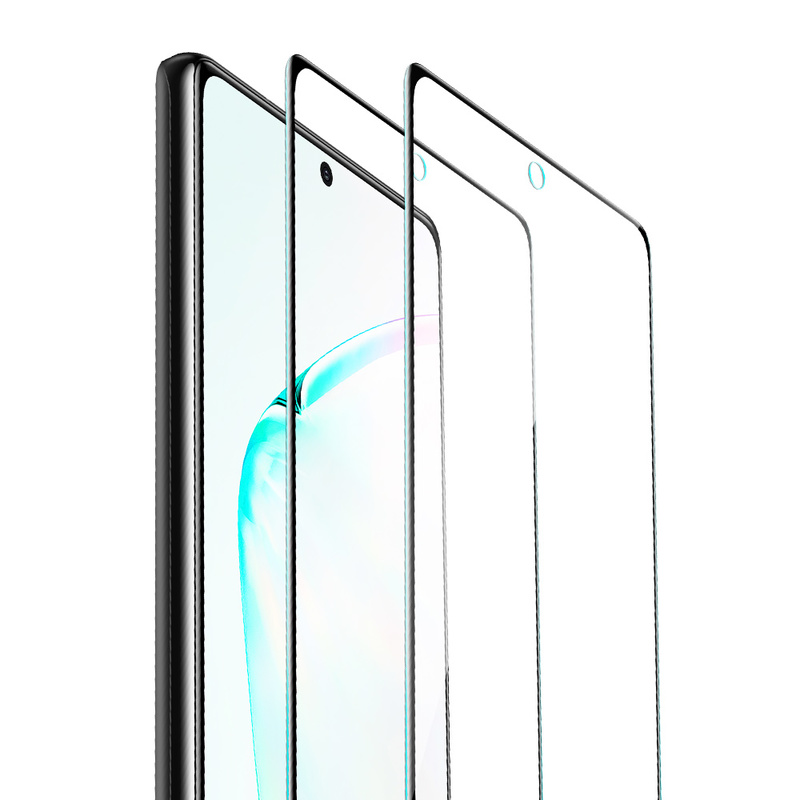 SHOP NOW
This full-coverage, case-friendly screen protector that comes in a pack of two is the best fit for Galaxy Note 20 and Galaxy Note 20 Ultra. The strictly anti-scratch, 9H tempered glass composition provides high-pressure resistance, thus allowing it to be completely impenetrable. It is fair to say that it provides the best protection against all kinds of impact or bumps. It is also fingerprint-friendly and has a specific addition in its model for the inbuilt fingerprint sensor. The coating of the screen is both hydrophobic and oleophobic, thus preventing the screen to suffer any damage from sweat and oil residues from your hands. The edges of the protector are curved, thus enabling it to work well with most of the cases currently available for Galaxy Note 20 and Galaxy Note 20 Ultra. You don't even feel the protector under your fingers due to ultra-thin (0.25mm) diameter and 99 percent transparency, thus you get to witness clear and perfect visuals and original, smoothest touch experience in the form of the seamless app launch, top-notch gaming, and video streaming. This screen protector provides full coverage as it is laser-cut to perfection and fits like a glove. Installing the screen is a hassle-free task and you don't need to worry about the bubbles or any dirt making its way under the protector. Just follow the instructions carefully and you are good to go. The package includes two pack tempered glass screen protectors, one exquisite package, and one toolkit. This is the most reliable screen protector for your Galaxy Note 20 or Galaxy Note 20 Ultra. Just make sure to turn on the phone's touch sensitivity switch before installing the screen protection, keep it at the highest level to avoid the problem of insensitive touch post-installation. You will also have to make a new fingerprint entry during the installation.
Galaxy Note 20 and Galaxy Note 20 Ultra Echo Tempered-Glass Hard Case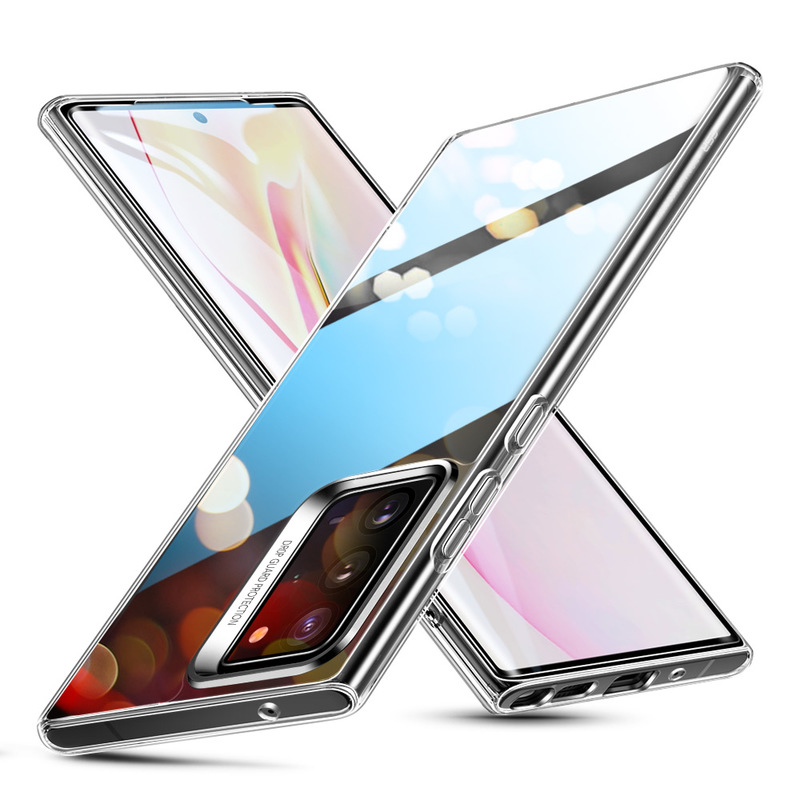 SHOP NOW
This particular phone case is a good choice for people who do not prefer protruding phone covers and would like to maintain the original, crystal-clear back appearance of their Galaxy Note 20 or Galaxy Note 20 Ultra. Grip wise, it's comfortable due to polymer frame but better suited to people who do not have the tendency to drop their phones often. Its slim design favors people who like a little less weight in their hands when holding their phones. The 9H tempered glass composition makes it completely anti-scratch, thus you can put your keys and phone in the same pocket without any worries. The best feature of this pretty glass case has to be the Air-Guard corners, basically air-cushioned edges, thus making your Galaxy Note 20 or Galaxy Note 20 Ultra absolutely shock-resistant. It also enables wireless charging, hence there is no need to take it off.
Conclusion
In today's highly fast-paced, technology-dependent world, it has kind of become a norm to own up-to-date technology while being smart about your purchases. Samsung's latest release Galaxy Note 20 and Galaxy Note 20 Ultra are extremely classy, top-notch and high-tech phones with flagship specifications and high demand in the market currently. On the looks front, it's beautiful, sleek glass body stands out the most. However, it is also its biggest enemy because the glass body is prone to scratches and heavy damage as a result of strong impact or fall. It is integral to take preemptive measures and choose the best option available from the Galaxy Note 20 Case & Screen Protectors and Galaxy Note 20 Ultra Cases & Screen Protectors so that your device gets the care it deserves. We featured the most popular choices in our article above to help you make a rational and wise decision that is in line with your needs and budget. Let us know which product is your favorite.