Nowadays, changes in weather come with no sign of notification or just a little notice. From hurricanes to tornadoes, from scorching weather to cyclones, a trustworthy weather app on your smartphone can simply be the difference. You will get notifications of when to expect a dangerous storm, whirlwinds, torrential downpour, and many other weather conditions.
Taking a quick scan on the Google Play or iOS Apple store will present to you several choices of different available weather apps. However, the ten most accurate weather apps you can rely on in 2020 for up-to-the-minute forecasts, weather patterns, radar-aided overviews, and many more functionalities are carefully selected below.
AccuWeather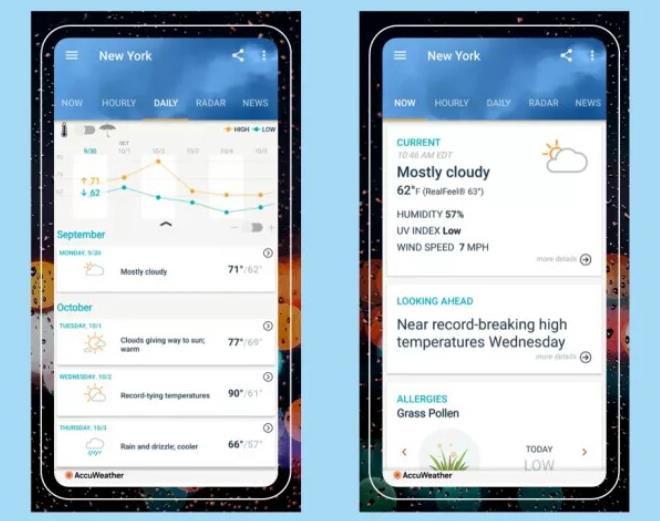 With AccuWeather, you can always get the most accurate weather forecasts with real-time alerts. Unsuitable alerts can also be disabled or hidden. Sun or rain or wind or whatever it may be, AccuWeather gives you the information right away. It is very much accurate, and hence information from AccuWeather can be trusted. It also offers daily temperature details, local weather information, as well as a global weather forecast. With it, you can know what the weather will look like 15 days in advance. So, whether you need the current weather forecast or for the next two weeks, for your locality or a traveled area, AccuWeather is there for you.
Compatible OS: Android and iOS and it is free
Radarscope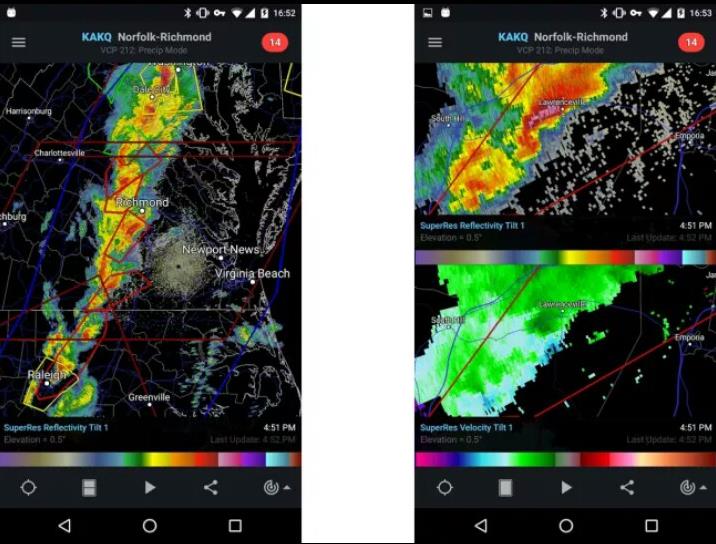 Radarscope is a delight for meteorologists and other weather enthusiasts. It has a NEXRAD Level 3 radar data with severe weather warnings included which gives information about the velocity, reflectivity, dual-polarization amidst others and with sites located in the United States, Guam, Puerto Rico, Korea, and Okinawa. It is also relatively cheap. It also gives information on natural disasters such as a thunderstorm, flash floods, tornados, and marine warnings regularly released by the National Weather Service of the US. While it might have a sophisticated outlook, it is easy to use and a fantastic tool for an enthusiast.
Compatible OS: Both Android and iOS but it costs $9.99
WeatherBug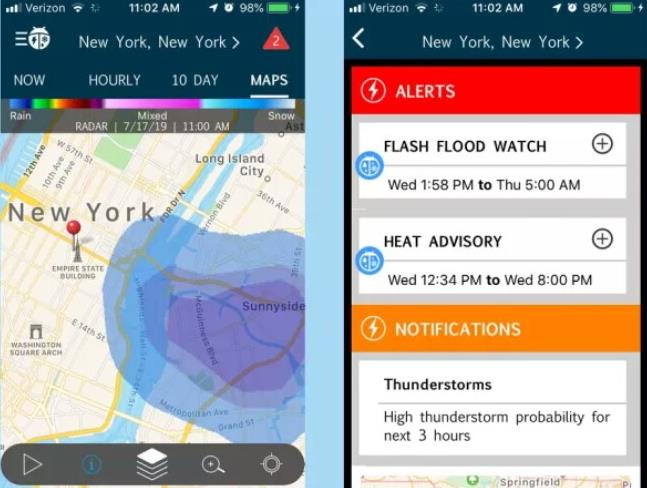 WeatherBug gives fast and real-time, accurate hourly and 10-day weather forecasts. WeatherBug also has 18 weather maps, which include the Doppler radar, satellite map, wind chill, temperature, wind chill, and more. It also, on the home screen, allows for alerts and news. News about weather details, pollen count, and data, both local and national, air quality, are also gotten on this app. The app is user friendly and beautifully designed.
Compatible OS: Android and iOS, and it's free.
Hello Weather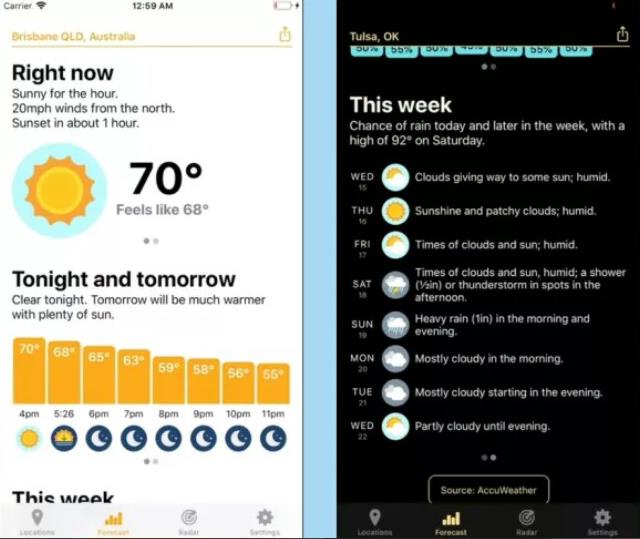 Hello Weather is a straightforward app deficient of ads popping in now and then. It is also very much accurate and easy to use. It adapts easily to the weather conditions as it changes frequently. You do not have to be a weather geek to understand the information seen as explained. It, however, gets its data from Dark Sky, AccuWeather, and The Weather Channel, which is also highly accurate. The app, while free, also have an annual subscription of $6.99, which accounts for radar, real-time precipitation estimates, and some other features. It is convenient and suitable for Apple's smartwatches.
Compatible OS: iOS and it's a free app
The Weather Channel (Android; iOS: Free)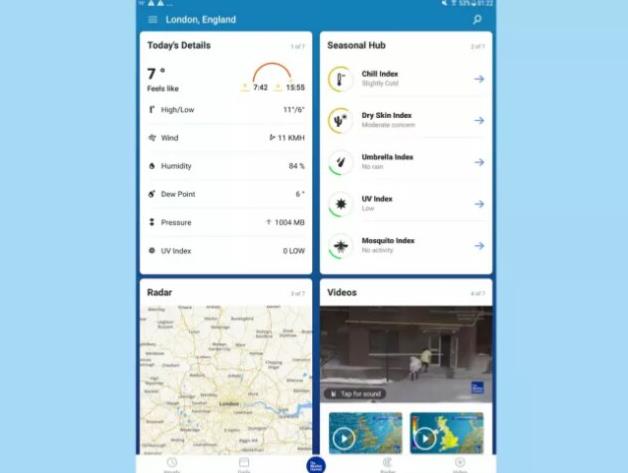 The Weather Channel gives live weather updates, news, radar maps, local temperature, and pollen forecasts, and it is available on Android and iOS. It gives up to 15 days forecast, equipped for NOAA alerts, as well as for severe weather recommendations. It also allows for tracking of weather conditions such as rain GPS with the storm radar. It helps to track the spread of flu with its Flu Insights with Watson. It also gives information on the best running conditions by examining the temperature and wind speed for your running route. The Weather Channel is just excellent with other social media features such as image uploads, video uploads, and tweets.
Compatible OS: iOS but it is free
Emergency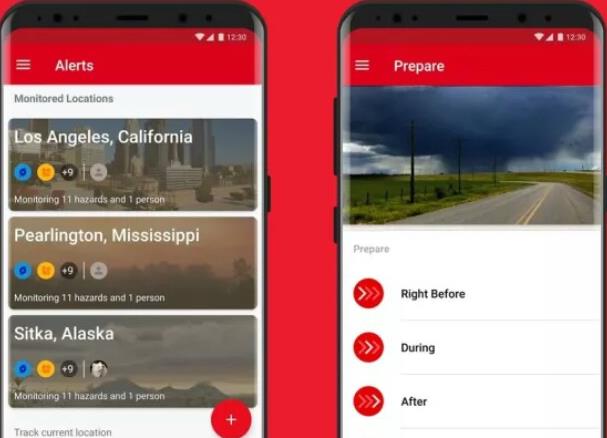 As rightly named, this app is suitable for emergencies. We never hope for it, but when there is a catastrophe such as floods, you will appreciate this app. This app is well designed for disasters and allows for timely alerts, warnings, information, and updates to the user whenever there is an emergency or an accident. The app is well suited to severe weather conditions and natural disasters. It gives information such as the location of the disaster, shelter information as well as a map to direct you to such shelter areas. You can also check other cities around you even if the disaster is far from you and receive updates about them as it allows you to input the name of towns and people who are important to you. It is an app worthy of keeping as it also helps you prepare for emergencies through its disaster preparedness info.
Compatible iOS: iOS and Android
Dark Sky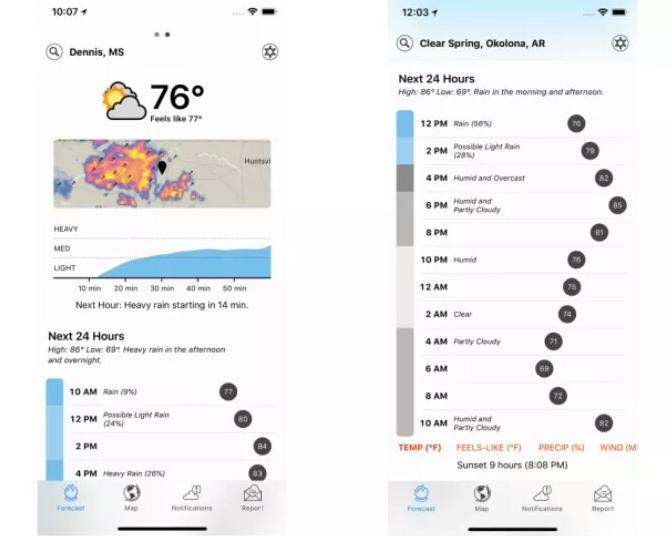 Dark Sky is so useful and accurate that Apple had to buy it. It features forecasting of local weather with hyper-accuracy. The interface undergone a major revamp recently, which therefore makes provisions for more weather data at the tip of your finger. Functionalities such as customizable notifications, lock screen weather digests, and extreme weather alerts are some of the unique features of Dark Sky. Likewise, it comes with a precipitation map, precipitation graph, and handy forecasts. The original timeline includes options for granular information, UV information, and many more. Dark Sky is no longer made available for android users. Therefore, it is no compatible with Google Play. Its service is only functional on the iOS platform, and the developers of Dark Sky are looking to integrate with the iPhone platform.
Compatible iOS: iOS but costs $3.99
NOAA Radar Pro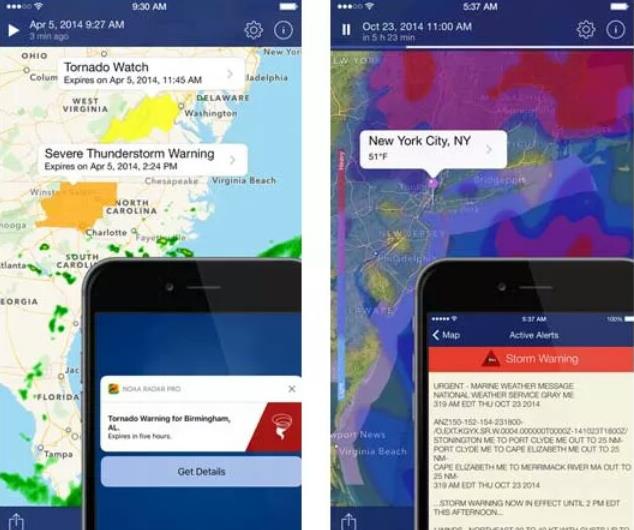 Weather is liable to change at any time; therefore, it is advisable and handy always to be alerted to get prepared for severe weather conditions that might be heading your way. NOAA Radar Pro app developed by Apalon promises a real-time dynamic radar description alongside much detailed information on weather changes or conditions. A very striking feature that is specific to this app is the ability to present to users weather alert notifications. With the information, you will always be on alert and never be caught unaware by flood, sand storm, snowstorms, and some other dangerous weather conditions. For both iOS and Android users, download NOAA Weather Radar and Alerts with no fee attached, however, you can pay a cost of $1.99 for in-app removing ads.
Compatible iOS: Android and iOS
Carrot Weather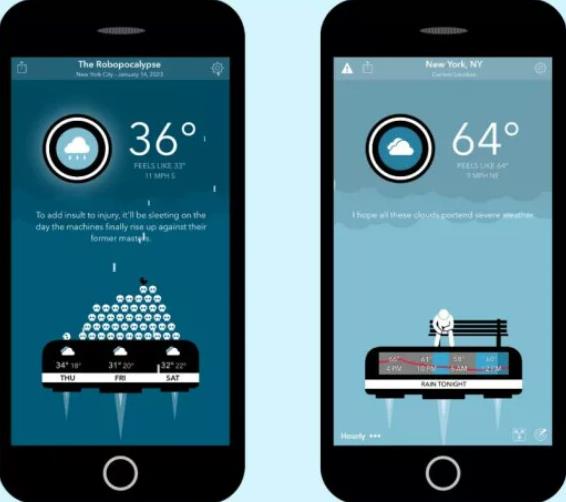 Initially developed for an iOS device, Carrot Weather now bridges the gap between the iOS and Android platforms. Thereby, the new interface of Carrot Weather on the Android platform. This app import data from one of the top accurate weather app, Dark Sky Weather App. The data pulled from Dark Sky provides a user of Carrot Weather with current information on the weather; the hourly forecast is another feature. Also, you will find a 7-day weather forecast report which is presented in a sarcastic humor form to calm a gloomy outlook. Found on Carrot Weather is Infographics, which is very useful in delivering useful information at a quick reach, always accompanied by more comprehensive meteorological data.
Offers of several subscription tiers are made available for users in other to enjoy this app to optimal satisfaction. Users with iOS version can opt for the Tier 3 subscription plan with a price of $24.99 per annum. It comes with notification of a report on weather conditions relating to storms, lightning strikes, snow, and rain. For the Tier 2 subscription, $9.99 per annum is all you need to keep enjoying this app. This tier allows users to create their custom reminders in which can be triggered by weather conditions. The last subscription plan, Tier 1, offers notification of very critical weather conditions. For Android users, the offer made available is a Premium subscription that consists of several widget features.
Yahoo Weather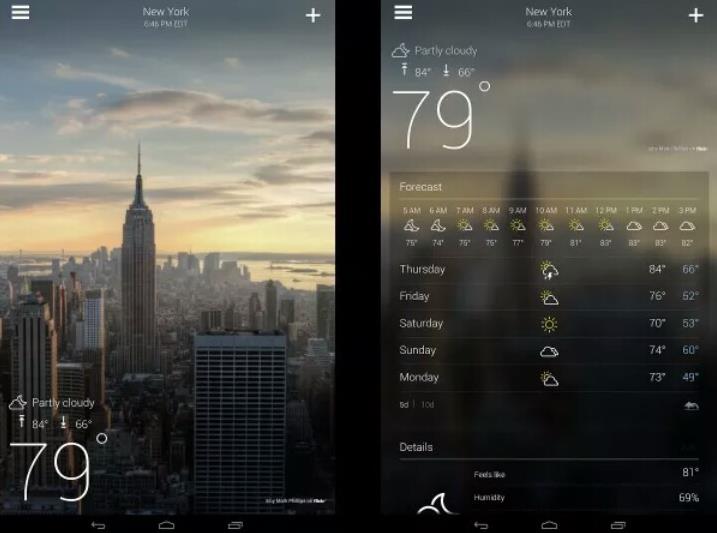 Yahoo Weather is another accurate weather app in which the interface is both striking and informative. Very excellent in terms of displaying images of any location you are with the weather conditions of such a present place plus the matching time at such a moment. You may decide to view detailed weather forecasts, satellite maps, or interactive radar with this app.
The attractive and informative interface is clean and always with a concise presentation, making it user-friendly and an everyday app. Download this lovely app without any cost attached to it on either Google Play or App Store. It is rated 4.0 out of 5.0 by most of its users.
Compatible iOS: Android and iOS
Conclusion
Don't be caught unawares again with any weather conditions. Be fully prepared by installing any of these accurate weather apps and continually get notifications and alerts of weather forecasts.