2021 has started on a high note in the smartphone industry with Samsung announcing the arrival of the Samsung Galaxy S21. The Galaxy S21 has stellar features and comes at a price that will undercut Apple's iPhone 12 Pro.
Further, the S21 is poised to outshine last year's S20 with additional specs such as a faster processor. However, the 6.2-inch screen, 5G connectivity, camera, and 4,000-mAh battery are pretty similar in the two phones.
In short, this is a smartphone that packs specifications that any phone enthusiast would like to try. Now, we all know that a broken screen can significantly impair the functionality of your phone. While a scratched and dusty camera will take poor pictures.
It is for this reason that you need a screen and camera protector that will keep dust and scratched at bay. In this article, we look at how you can go about it and protectors you can buy today. But first, let's look at factors to consider before buying a protector.
Factors to consider when buying a screen/camera protector
Ensure that the protector can serve you for a long time and that it can withstand pesky scratches.
The screen protector should be ultra-clear so you can use the phone screen without straining your eyes.
Bezels prevent the screen and camera from touching the surface. As such, your ideal protector should feature raised lips that will keep surface dust and scratch at bay.
You don't want to buy a camera protector that will block the lens. Therefore, choose one that has well-defined cutouts.
As always, go for a screen/camera protector that is within your budget.
How to protect the camera and screen from scratches
In this section, we look at practical ways you can protect the screen and camera from dust, damage, scratches, and other elements.
This is arguably the most straightforward way to protect the screen and camera of your phone from damage. Cases keep fingerprints, scratches, dirt, dust, and other impacts at bay keeping not only the screen and camera intact but also your entire phone. For added security, you can buy a wallet case.
Store it in a phone pouch
As old fashioned as it may sound, phone pouches ensure that the screen and camera of your Samsung Galaxy S21 stay intact. You can buy a bag with a separate phone pouch or buy one that you can hook on your belt.
Keep it away from the open
If you are not using your phone, avoid placing it on the table. It increases the risk of dust accumulation on the screen and camera. Instead, keep it in your pocket, drawer, or a place far from harm.
Store keys and other valuables in a different pocket
We always find ourselves placing the phone in the same pocket with our keys. The keys and coins can scratch the screen and camera of your phone, therefore, keep them in a different pocket. Better yet, buy a pouch dedicated to metal objects.
Use a camera/screen protector
Finally, you can use a protector if you don't fancy a protective case. This will allow you to flaunt the classic and detailed construction of the Samsung Galaxy S21. And if you don't know which to buy, below are options you can choose from.
Best Samsung Galaxy S21 Screen and Camera protectors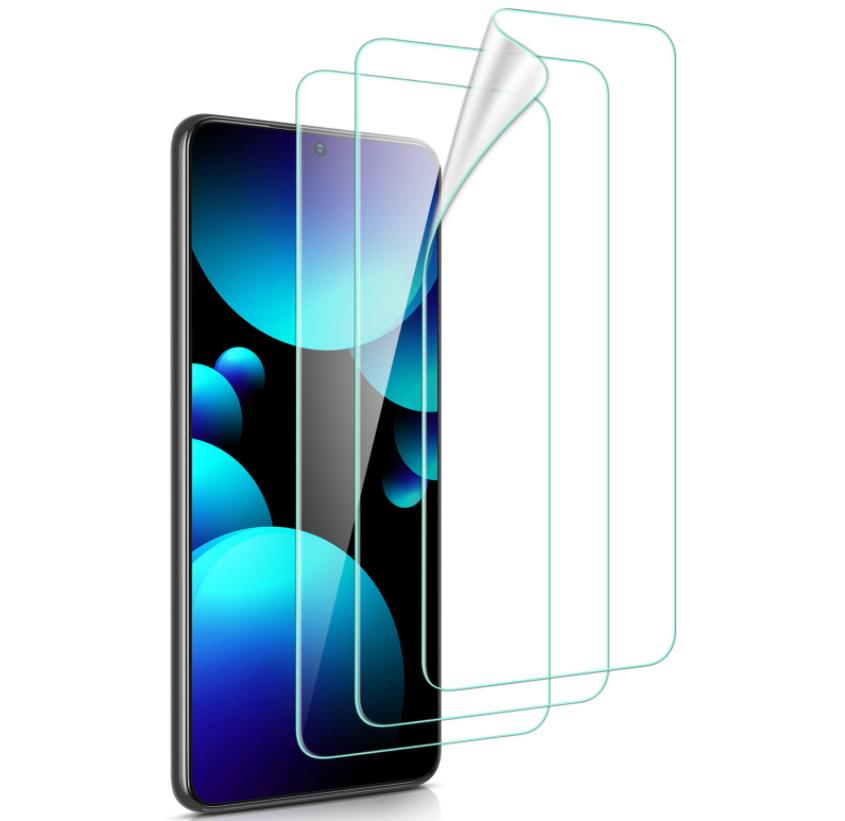 First off is this screen protector from ESR, a company renown for statement-making phone accessories. Explicitly designed for the Galaxy S21, it provides full-screen protection from edge to edge. It fits precisely, no one will realize you have a protector on.
Its edge-to-edge protection ensures no dust can collect on the edges hence maintaining the clarity that is the screen. It is also a protective case ready allowing you to install any case you want. And when it comes to installation, you'll enjoy the seamless process thanks to an installation kit.
It also boasts of a self-healing feature that enables it to heal gradually after light scratches. Want to unlock your phone with a fingerprint feature? Well, this case got you sorted since it is fingerprint ready.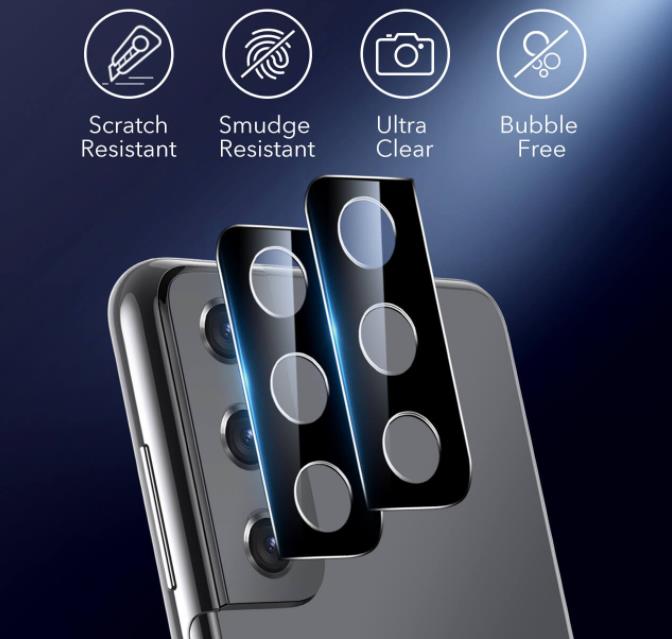 Next off is this camera lens protector that is only compatible with the Samsung Galaxy S21. It comes with precise cutouts with zero impact on the camera lens. As such, you can take breathtaking photos all you want. And thanks to its flexible nature, you can rest assured of optimum protection since it does not break when exposed to pressure.
Another thing you'll want with this protector is its clarity. It is ultra-clear allowing for HD quality photos. What's more:  it features raised edges protecting the camera lens from scratches when placed on a flat surface.
– $29.68-$40.47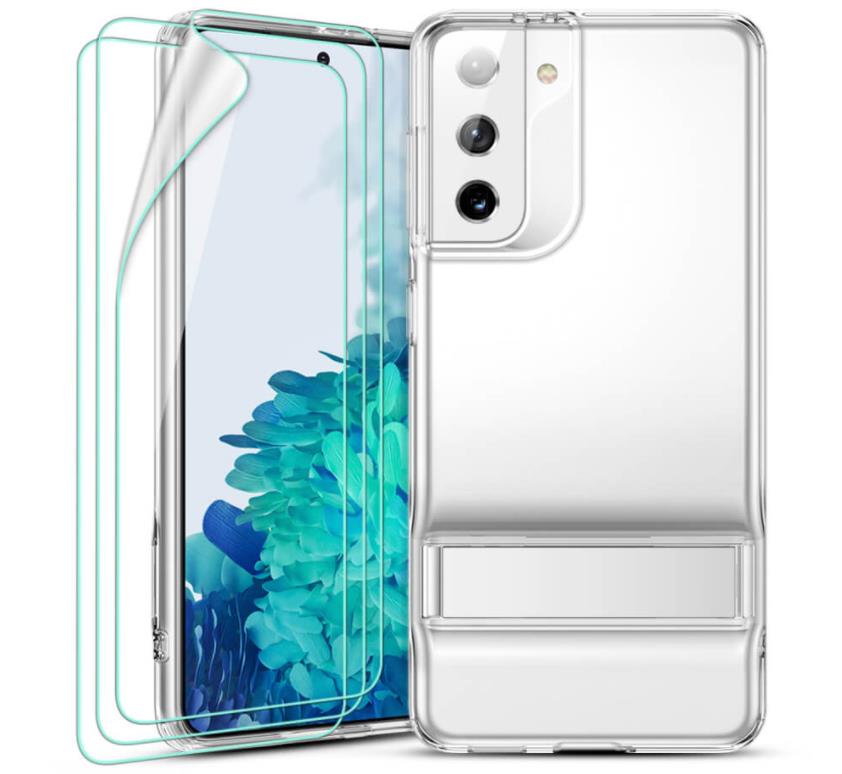 Finally, we have this bundle that will not only protect the camera and screen but also the phone. It rocks an integrated kickstand that allows for landscape and portrait viewing orientations. This means you can use your phone hands-free.
The screen protector which comes in a 3-pack is made of tempered glass which is touted for enhanced protection. This keeps scratches, dirt, dust, and tear and wear at bay. You'll be amazed at how elegant your Galaxy S21 will still look after months of use.
Further, you are provided with a camera protector which like other premium protectors, features raised bezels and is resistant to scratches and dust. This allows you to take clear and quality photos on the go. If you are looking for whole body protection, get yourself this protection bundle from ESR.
Wrap up!
As you can see, protecting the screen and camera from scratches and dust is as easy as placing the phone in a pouch, buying protectors for each, or going for a protective case. If you choose to buy protectors, you can buy either of the above.