The display on the iPhone 12 Pro Max is as fragile as beautiful it looks. While one may argue about the scratch-resistant properties of the ceramic glass, nothing can prevent it from dust and the wear that happens over time. No matter how tough the glass may be, it will give up under even tougher circumstances. But, fortunately, there's a solution-having a protective covering that comes in the form of tempered glass screen protectors from ESR.
In this article, we will introduce you to solutions that will help you protect your iPhone 12 Pro Max from dust and scratches. Also, we will discuss some ways you can avoid the screen from getting damaged.
Some tips to help you out
With the iPhone 12 Pro Max measuring 6.7 inches it may be difficult to grab it with a single hand and use it. These reasons make it more susceptible to damage by dropping. And if the device drops, the screen is likely to make the most impact. Also, given its larger surface area, the display attracts more dirt if left in the open.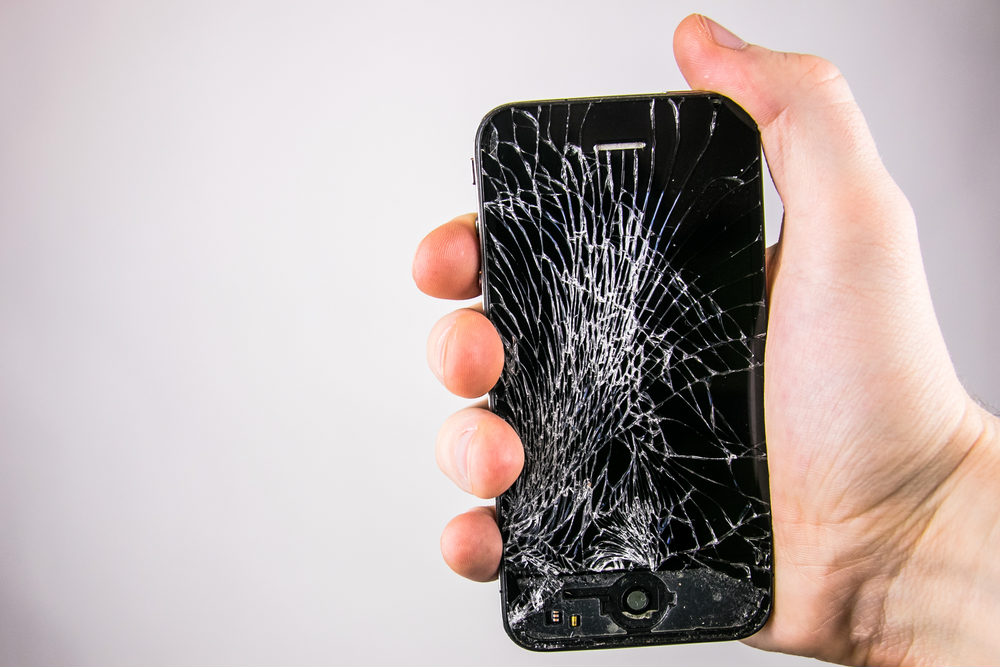 Here are some tips to help you protect your device's display from both dirt and scratches:
Using a screen protector
You might already be familiar with glass screen protectors for your smartphone, but did you know you can also get one for your iPhone 12 Pro Max. Yes, accessories manufacturers like us, produce screen protectors and protective cases that can be used on your iPhone.
There is a whole variety of screen protectors which you can choose from. These are either made of TPU plastic films or tempered hard glass.
Screen Protectors are helpful when it comes to protecting your iPhone screen from dust and scratches caused by foreign objects. They also come to your rescue during the events of you dropping the device and shattering the screen.
Using a protective case cover
Protective glass cases and full-body covers have proved to be quite useful lately. These cases house the complete device in them, thereby, providing protection against dust and scratches as well.
The inner walls of a majority of these cases and covers are made using a soft cloth so that it doesn't scratch the screen surface. In an event of you dropping the iPhone, the impact will be taken by the outer housing, thus protecting your device from damage.
Some other things to take care of
While you are taking every possible step to ensure that your device remains as good as new, make it a habit to carry it separately, and not along with any sharp-edged object like pins, cutter blades or keys, etc. Also, avoid using the screen with the help of a tipped object like a pen or a pencil and cleaning the screen with a dirty cloth. You can purchase a microfiber cloth and a soft brush for cleaning. Or better yet, take your device to the nearest Apple Store, if it needs cleaning.
Or better yet, use the equipment below!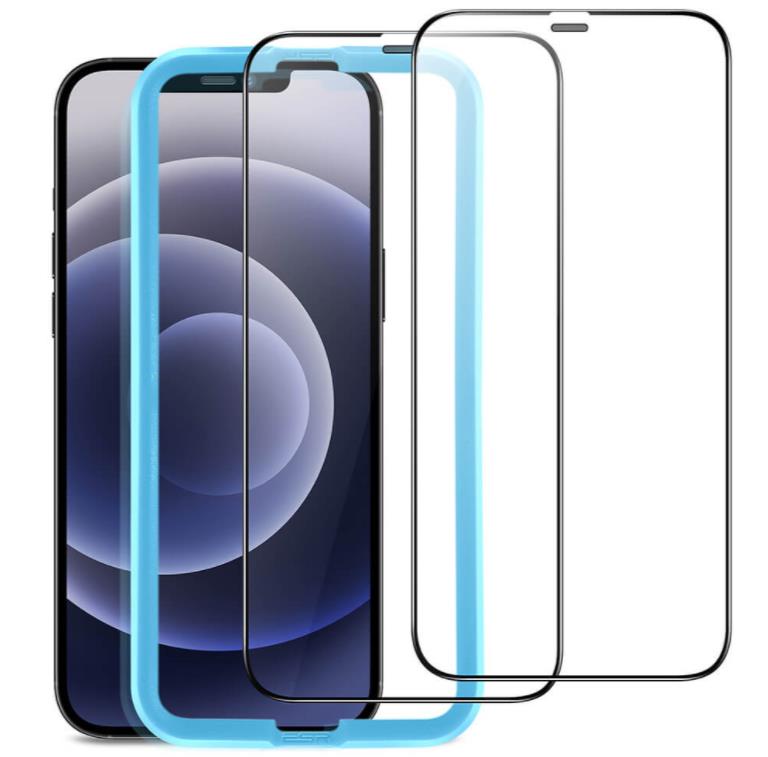 What works?
Designed exclusively for iPhone 12 Pro Max
Ultra Toughness
Speaker Shield
Compatibility with Face ID
Easy to install
Glass screen protectors are a hassle to put on your devices. This is why ESR has made sure to include a self-installation kit so users can easily install this tempered glass on their iPhone 12 Pro Max. The protective glass sits perfectly on top of your device screen, covering each corner with precision including the speaker grill. Unlike poor-quality glass protectors, this one has a transparency of up to 99%, thus avoiding any interference with the Retina display color, the Face ID and their efficiency. Being only 0.3mm in thickness, the glass protector doesn't even feel like it's there. However, this doesn't let it break easily, owing to its ultra-tough properties letting it withstand up to 110lbs of force. The product is thus capable enough of protecting your iPhone 12 Pro Max from scratches, dust, and damages from drops.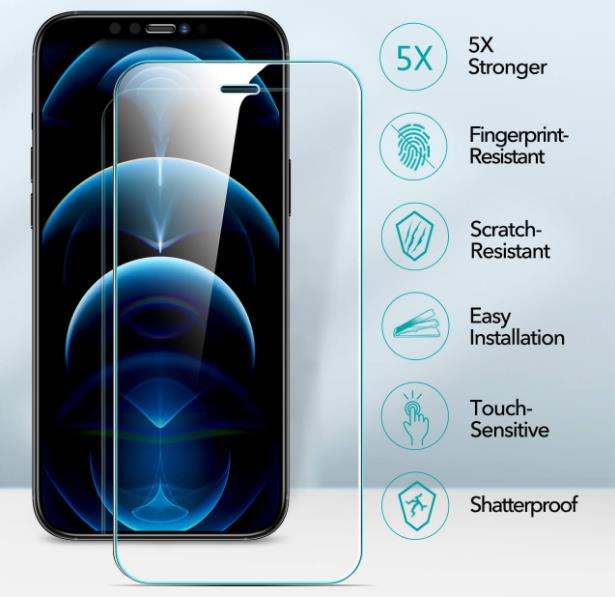 What works?
Dimensional Compatibility
Easy installation
Triple-strength
Compatibility with Face ID
Yet another product from the house of ESR features this tempered glass full coverage screen protector compatible with the iPhone 12 Pro Max. The product is easy to install and with a thickness of 0.13mm delivers a high touch-sensitivity with Apple Pencil. The protective glass has precise cutouts for the front camera and the microphone slot which avoids any interference with the essential device functions like the Face ID. The screen protector surface is fingerprint-resistant and the finish helps reduce the glare caused by light. The surface of the screen protector has been specially treated to allow for the feeling of writing and drawing on a sheet of paper to be precisely simulated. Furthermore, using an installation kit and a detailed instruction manual, the product can be self-installed without much hassle.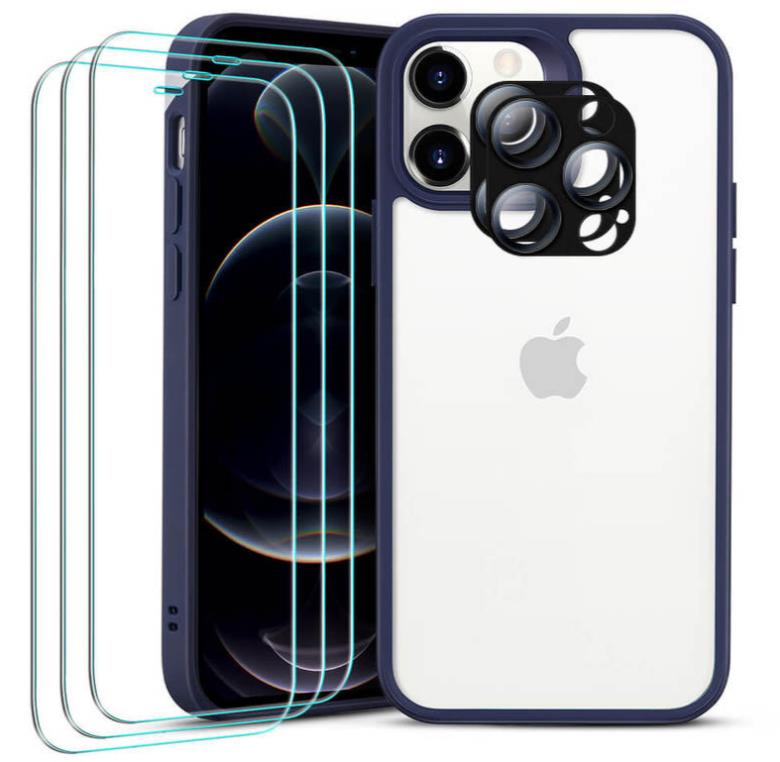 What works?
Complete protection to the device
Slim and lightweight
High Toughness Rating
Easy Installation
This package from ESR offers overall protection to the device with a flexible yet strong shock-absorbing phone case, a tempered glass screen protector, and a camera lens protector as well. The phone case has a hardback with a flexible frame with shock-absorbing corners and raised bezels that help provide a cushion to the phone in case of accidental drops. The crystal clear back lets you show off the original look and colors or you can also choose to have a frosted matte back. Being just 1mm thick, you won't feel the device like a bulk being held in your hands. The scratch-resistant glass for the phone's screen and camera protects them against scratches, scrapes, and dust. Furthermore, using an installation kit and a detailed instruction manual, the product can be self-installed without much hassle. You can also choose to build your own bundle at flexible prices.
The final word
Protecting the display of your favorite device needs not to be a hassle when you have solutions like tempered glass available. However, with an abundance of options to choose from, selecting the best can be a tedious task.
The tips shared in the article above will help you avoid dust and scratches to form on your device's screen, while the products recommended will help you protect the same with ease.