"…No, you're making things worse! And I'll tell you why below"
I wonder why some folks never listen despite the various cautions being put out there. why do we always invoke unnecessary expenses by being negligent?
As a tech-savvy, sometimes when I see folks go about without a screen protector, it irks me and I always feel a burden to stop and school them on the consequences of their actions.
We all know Samsung as a brand is one aesthetically attractive device with great input and output – such a beauty to behold.
One major issue in handling a Samsung device is seen in its screen. As beautiful as any Samsung phone may appear, do everything within your means to protect its screen.
Permit me to reiterate; do not put your Samsung screen in harms' way. Why do I say this?
As expensive as a Samsung device may be, getting a screen replacement can be equally to getting another Samsung device.
Yet, many go about bearing an unclad phone, taking selfies and showing off the aesthetics without caring to protect their devices – you're only making things worse!
Now, do you see a reason for my reiteration? I bet you do. Little wonder, those who know this important tip do everything possible to safeguard their screen.
As you make your purchase of the Galaxy S21, I hope after reading this article, you would make a screen protector top your purchase list.
However, I have chosen not to scold you (at least, not now) but to school you on ways to protect your galaxy S21 ultra screen and camera from dust and scratches.
Let's get to it.
One major means by which you can protect your galaxy S21 screen & camera from dust and scratches is by purchasing a screen protector.
But sometimes, we maybe confused on how to select the suitable screen or camera protector for your galaxy s21 ultra.
In the same vein, I would like to first share the factors and selection techniques to consider when choosing a screen/ camera protector for your new Samsung S21 ultra.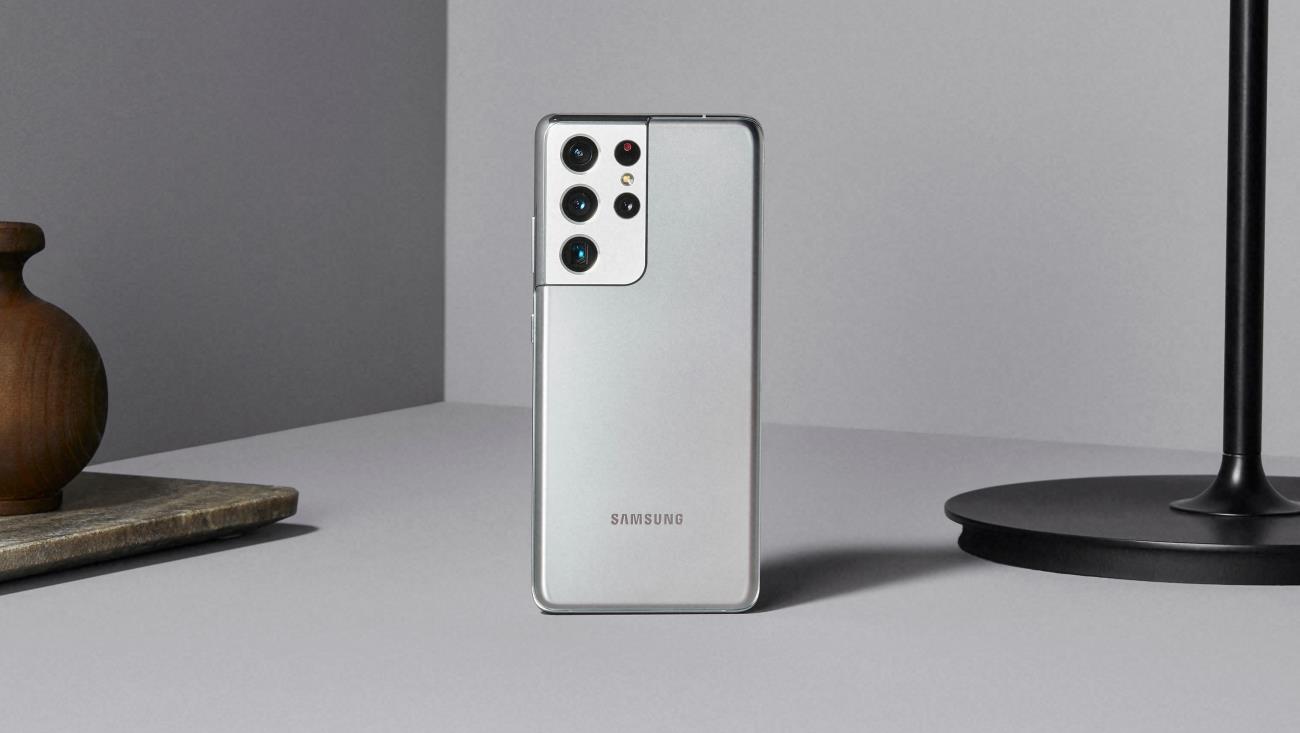 5 Factors to Consider when Choosing a Screen/camera Protector for Your Samsung S21.
Compatibility
The first thing to consider when choosing a screen protector is to check for its compatibility. Is it compatible with your new device? if it fits perfectly, you're good to proceed to the next factor and if no, find another one.
Screen protectors are made in ways to accurately fit your device. now, not screen alone but the notch area that houses face ID flash.
Type of materials used
When it comes to screen protectors, there are majorly two materials used; the plastic-type and the tempered glass type.
Although the plastic-type is way cheaper, it doesn't last long before it begins to fold at the edges. While the tempered glass is a bit pricey, it has a longer shelf life.
Toughness
In terms of toughness, 9H hardness happens to be the standard for the best screen protectors.
Glass layer
Also, the best screen protector gives a sort of invisible protector (a non-existent glass layer surface) making it look like it's the normal device screen.
Coating
The right coating is the oleophobic Nano-coating – it is the perfect coating for the best screen protectors.
Having considered these factors, here are 2 other ways by which you can protect your Samsung Galaxy S21;
Avoid placing devices on rough surfaces: the last place you want to think of keeping your device is any rough surface. Asides from causing damages to your rear camera, it causes scratches and tiny marks to your device making it aesthetically non-attractive.
Keep away from height: it's a wrong idea to keep your device in places like the top of your fridge because a little push can make your device fall and from such height, there is a high probability that your device's screen may not withstand the pressure.
Avoid keeping in the same area with sharp objects: Sometimes, when we are in a rush, we pack our bags and throw our phones into the same bag we keep our keys and other metallic objects. Constant shakes can make keys hit the surface of your phone and cause damage to your screen.
To this effect allow me to introduce to you the 3 types of screen/ camera protectors for your new Samsung Galaxy S21;
Key features
Responsive screen
Total screen coverage
Self-recovery liquid skin
Breezy installation
This screen protector protects your device and at the same time, it is responsive and has a responsive fingerprint reader.
Although this is not a screen protector, its polymer is flexible and renders a total screen coverage while it supports case compatibility.
The self-recovery liquid skin of this screen protector can heal from tiny scratches all by itself.
Installation is very simple if done correctly by watching the video before installing. Plus, it comes with a free installation kit.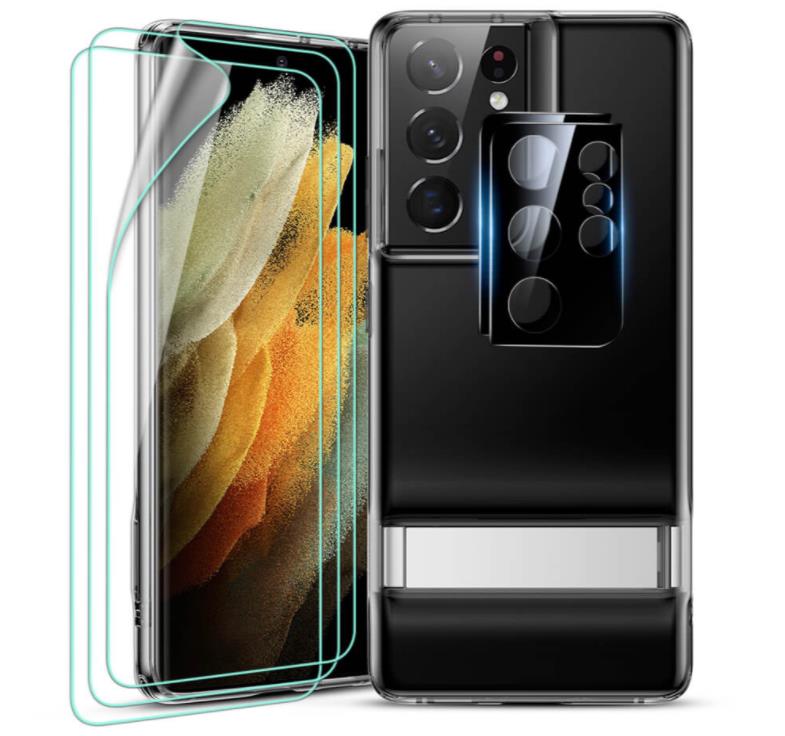 Key features
Adjustable metal kickstand
Strong flexible polymer & tempered glass
HD screen & camera lens protector
Original liquid skin
This home theatre protection bundle is compatible with only the Samsung Galaxy S21 ultra. No other device will fit.
It comes with a free metal kickstand which allows viewing in both horizontal and vertical modes. You can make calls in the vertical modes and binge watch movies in the horizontal modes.
Its strong polymer and tempered glass give embellished impact protection for your phone screen and camera.
The new liquid skin of this home theatre bundle totally supports the in-screen fingerprint sensor and it is capable of recovering from small scratches and bubbles over time all by itself.
Also, the HD screen and lens protector helps retain the picture quality of videos.
– $11.99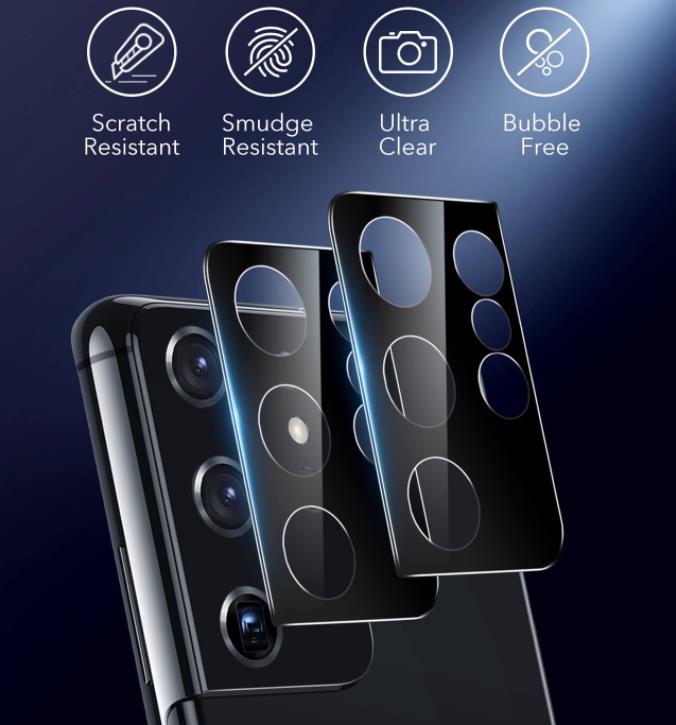 Key features
Strong flexible polymer
Supports dual stand
Raised bezels
This screen protector has a strong flexible polymer which helps provide exceeding impact protection than the strongest plastic.
It supports a dual stand; you can now make calls in the portrait mode and watch your favorite movie in the horizontal mode. Plus, it comes with an adjustable kickstand (up to 60 degrees) that allows viewing from any angle.
This screen protector has raised edges around the screen and camera of your device to prevent your devices from scratches, drop and tiny marks.
There you have it. Be sure to purchase a screen protector for your Samsung Galaxy S21 asap.