This year's Samsung Galaxy S21 Ultra will arrive with a host of improvements in terms of performance, display, design, and camera as well. Compared to its predecessor S20 Ultra, the newcomer has a dual-telescopic lens setup combined with a 70mm lens that takes care of the medium-range shots, while another 240mm eye equips the user with the ability to zoom at the farthest subjects.
Apart from these, the camera module also houses a Laser AF Sensor and an LED. But what actually entices users into buying this device is the overall design, the manner in which the camera module blends into the side frame, giving it a modern and stylish look. If you are planning to buy this smartphone or already have one, it becomes a priority to preserve the looks. And, one way you can do that is by having a camera lens protector.
Just like screen protectors, camera lens protectors work to safeguard the camera lens from damage caused by dust, scratches, and other factors. When you are looking to purchase one, it is important that you make a careful choice. How? We'll tell you here.
In this article, we will discuss what to look for when buying a camera lens protector for your Samsung Galaxy S21 Ultra smartphone. We'll also recommend some products which you can consider with a blind-eye.
What to look for in a camera/screen protector?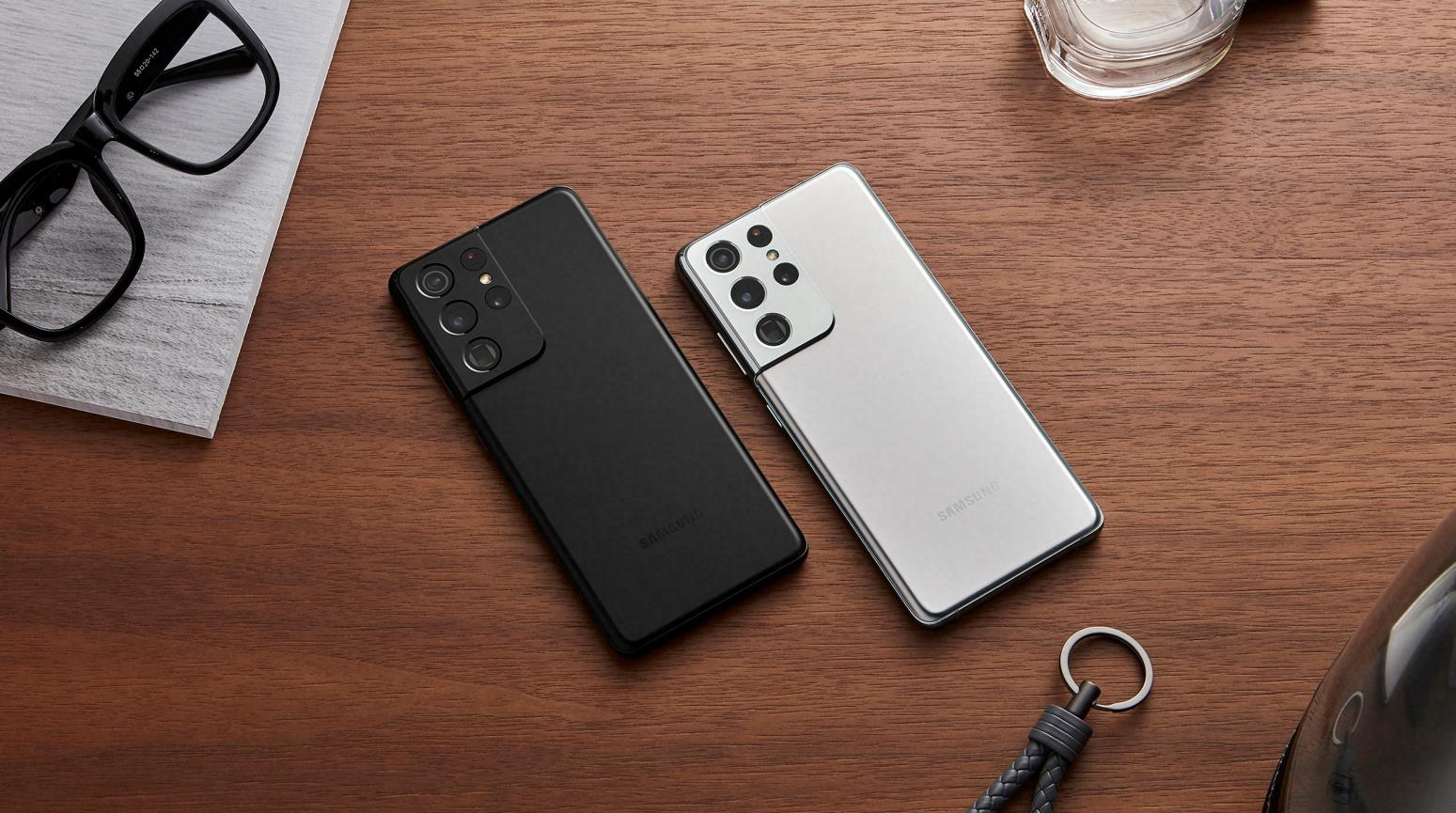 Material of the protector
We can't stress this point enough. If you have read our previous articles on how to choose the best screen protector, we had mentioned the importance of picking the right material type.
Available in two categories- plastic and glass, camera/screen protectors can both do the job for you. However, it is upon the user to pick the one which will suit his requirements. If you are someone, who is going to use the phone while hiking, or while working in an industry, or some tough job like these, where your phone can be exposed to damage by dropping, we suggest you pick the glass material. However, if you are someone who does the 9 to 5 on an office desk and shifts between meetings in a well-maintained office environment, go for the plastic material type.
Furthermore, making a choice between the glass and plastic material type can also depend upon how much you prioritize longevity. If you want something to last for a year, select a quality glass protector. Not to mean, plastic protectors, don't last that much, however, they are more prone to change in their appearance over time.
Hardness
If you are looking to purchase the glass material type screen/camera protector, this point may appeal to you. Glass camera protector material is classified on the basis of their number on the hardness scale. 3H, 5H and 9H are the three hardness values defined for implementation in the screen/glass protectors. It is always better to select the one with a higher hardness value, as it is likely going to be better at resisting abrasion and give you clear looking protector surface for long.
Dimensional Compatibility
You have found the right material type, with the maximum harness value, what next? Don't forget to check the compatibility in terms of dimensions. Yes, a majority of screen/camera protectors in the market are not dimensionally compatible with the camera module and the display. You'll find them lacking the width and sometimes an adequate provision for the front camera and the speaker grille.
Therefore, before you purchase a screen/glass protector make sure you check these things beforehand. If you are purchasing one online, you can go through user's opinions in the product reviews section and see if it's actually the product worth investing in.
Thickness
Not really a significant aspect, but an important one to consider. Different screen/camera protectors have different thicknesses. You'll find protectors with a thickness between 0.3mm-0.5mm in glass material types and up to 0.1mm in plastic material types.
As the best choice, you can choose a camera/screen protector with a 0.3mm thickness.
If you select an excessively thick protector film, it may interfere with the on-screen experience like lagged touch-response, lags in on-screen fingerprint scan, and more. You can check for the thickness information in the product manual before you make a purchase.
Some recommendations
While you are too entangled in making a choice between an abundance of camera/screen protectors out there, here are some recommendations to help narrow down your choice.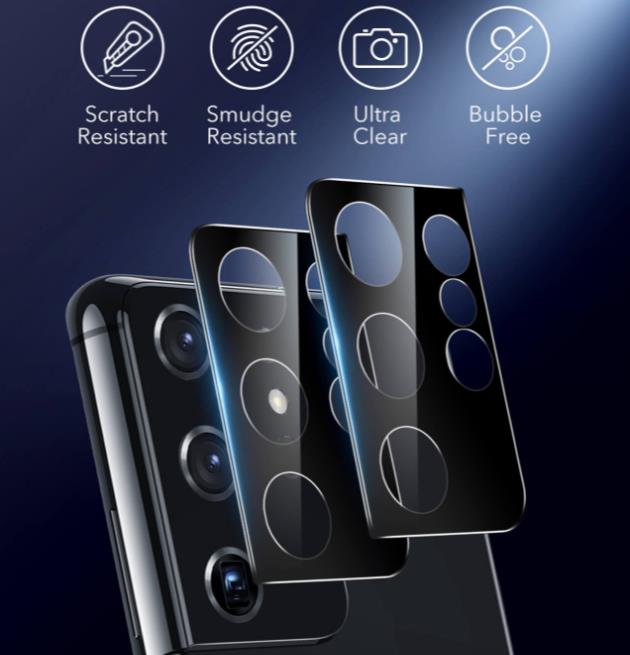 What works?
Compatibility
Easy Installation
HD Clarity
Greater Hardness Value
Designed keeping the camera module of Samsung Galaxy S21 Ultra in mind, this camera protector covers the module on all corners and makes sure not to disrupt the view. This one has been exclusively made for the S21 Ultra and won't work that well with other models. The capacity to withstand up to 5kgs of force is what makes this product really stand out. You can sit on it, drop it from a 6ft height and it will still breathe. Not to mention, the precise cutouts for the camera lenses allow for a restriction-free field of view, so you can capture astonishing photographs without any trouble. The product can be installed easily using an installation frame and cleaning kit for a bubble-free application. At a price of $11.99, you get 2 high-quality camera lens protectors and two cleaning kits with an instruction manual.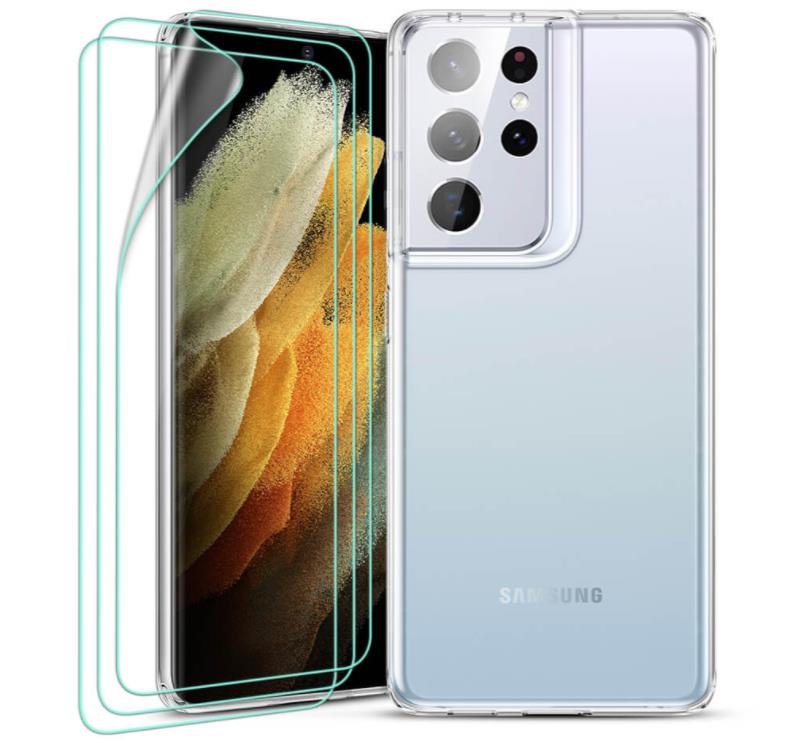 Though the price tag on this package is a bit on the higher note, you'll love the features and the benefits it has.
What works?
Compatibility
Toughness
Clear View Slim Case Cover
Bubble-free easy installation
This package will appeal more to users who prefer on-time investment in quality products. Designed keeping in mind the dimensions of the Galaxy S21 Ultra, this product won't work that well with other models. The product with its high hardness values and tough characteristics is able to resist scratches and dents effectively. The case which is being provided along is built on a flexible polymer frame that can help protect your phone from severe drops. You can ensure complete all-around protection of your smartphone while showing-off the looks.
Furthermore, the product can be installed easily using an installation frame and cleaning kit for a bubble-free application. This product is available in two variants- Screen Protector Only and the other with Screen+Lens Protector.
In the Screen protector-only variant, you'll get a slim case with 3 full-coverage screen protectors with an installation kit and an instruction book at $22.48, while in the Screen+Lens Protector package, you will get 2 camera lens protectors included with all the above at $33.27. All in all, we don't think there's anything else you can hope for.
The final word
While selecting the best camera lens protector for your Samsung Galaxy S21 Ultra might seem like a tedious task, we hope the tips and the product recommendations shared in this article will help you choose the best for yourself.