The iPhone 12 mini as beautiful as it looks, the more delicate it is. In fact, they've always been delicate. But with the full-screen display with a drop-notch design, speculations about the strength of the screen glass and the phone body are also being formed.
Screen protectors for phones have been a basic requirement since ever. And now that you've got your hands on another delicate device from Apple, you know the next thing you should consider purchasing. The thing is, among a multitude of options available in the market, it might become cumbersome to select the suitable one.
In this article, we'll discuss some ways to choose the best screen protector for your iPhone 12 mini and also, some of our best picks.
Things to consider before buying
Material
Screen protectors are available in two material types- glass and plastic. Glass screen protectors may be tempered or just thin glass film. Selecting the thin glass film is seldom suggested, as it does not protect your screen from damages as tempered ones do. If you are looking for strong resistance to scratches and protection against shattering, tempered glass screen protectors are a must. Some iPhones may come with Gorilla Glass tempered protection which can be selected as they are tough and provide resistance to damage effectively.
Whereas, the plastic ones are recommended for use only on the rear camera modules or camera lenses, as this area does not experience much rubbing or friction as do the phone screen itself.
Size
Hard to agree, but most screen protectors available in the market do not fit the complete screen. This may block the complete view of the screen underneath. Also, the notch cutouts and those for the front camera must exactly replicate the ones on the screen. Since there may be similar screen protectors for one or more devices, finding the one that fits your phone the best is to be taken care of. Make sure the dimensions of the screen protector are exactly the same so you don't have to compromise on the view.
Hardness
Screen Protectors are classified on the scale of their hardness numbers. There are many screen protectors in the market with different hardness values. You will find 3H, 5H and 9H to be the most common in the market. Know, the higher the Hardness number for the screen protector, the better will it be able to absorb shock and such forces. At present, the ones with 9H hardness are the most preferred among the common populace as they can easily withstand forces of up to 6-7kgs. Make sure when selecting a screen protector, you do not hesitate to invest a little extra to get a quality product.
Thickness
When selecting a screen protector, it is important to select the one with the minimum thickness. You will find a thickness of 0.3mm-0.5mm in glass protectors and 0.1mm in plastic ones. Now, being thick doesn't at all means the screen protector is well-suited. The compatibility of a screen protector is measure after over-all consideration of all the above factors. If a screen protector is too thick, it might interfere with the touch-screen responsiveness and you might not get the same feel and navigation experience which you get with a bare screen. Therefore, select the one which is thin, not too thin, and also tough and hard enough to withstand shock easily. If you want the best ones, you can go with 0.3mm thickness but good hardness scale ratings.
If you are sceptical about choosing a screen protector, go to the reviews section on the product page and read user experiences. Also, take into consideration the above-mentioned points. Collectively, you will be able to analyze which one is the best for you.
Some Honorary Mentions
While you may spend time online surfing e-commerce sites to look for the best screen protector you can have, here is a list of what we found the best for your use. We are sure you will love these.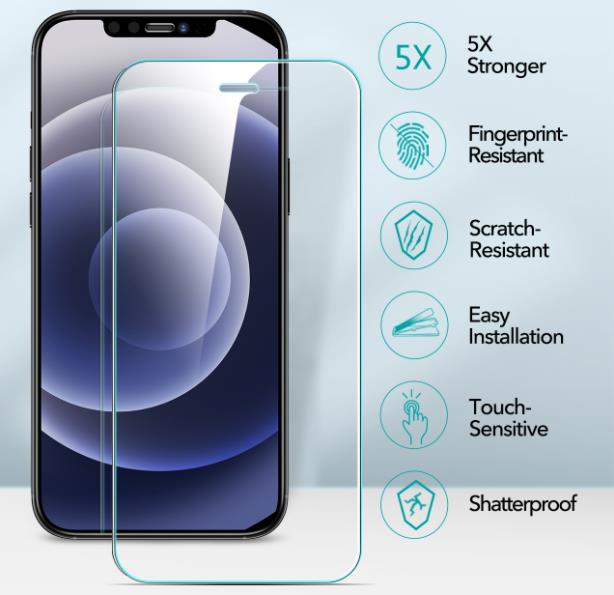 ESR has been ever known to produce quality mobile accessories. And among those quality things, we have shortlisted this one for you.
What works?
Compatibility
Easy Installation
Strength
Designed keeping the dimensions of iPhone12 Mini in mind, the screen protector covers the screen on all corners and makes sure not to disrupt the view. This one has been exclusively made for the iPhone 12 Mini and will not work that well with other models. The capacity to withstand up to 5kgs of force is what makes this product really stand out. You can sit on it, drop it from a 6ft height and it will survive. Not to mention, the precise cutouts for the front camera allow for non-interference with the Face ID feature, so you can lock and unlock your device without facing any trouble. The product can be installed easily using an installation frame and cleaning kit for a bubble-free application. At a price of $19.99, you get 3 high-quality screen protectors.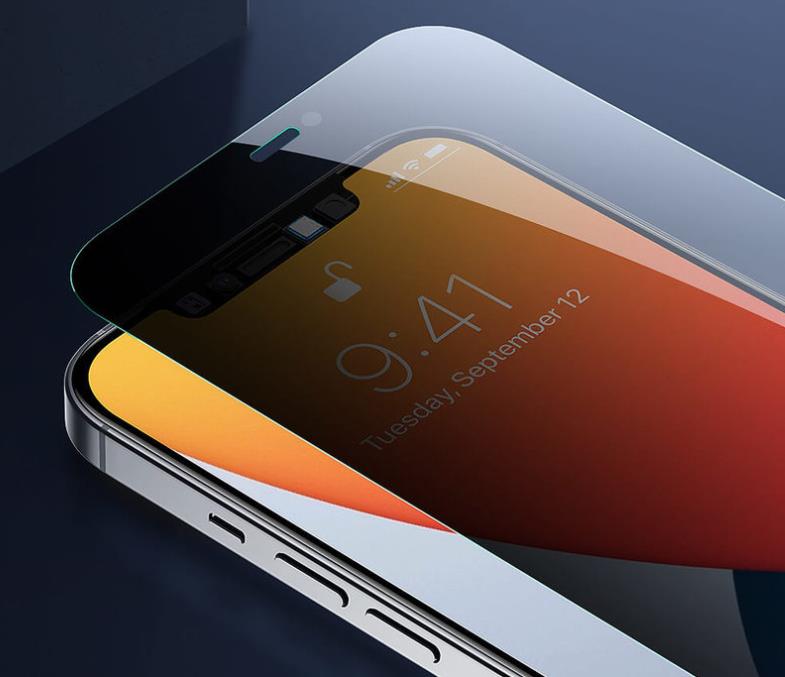 Now this product, as the name suggests, would definitely appeal to those who prioritize privacy above anything.
What works?
Privacy Filter
Triple Strength
Compatibility
Easy Installation
If you are someone who worries too much about the privacy of your phone and hates those eyes prying on to your phone screen in a tram or public places, this product is definitely made for you. The privacy filter makes your phone screen appear darker so the screen is visible and clear at a straight angle. You can adjust the brightness as per your convenience to allow for more visibility. The capacity to resist forces if up to 5kgs is what makes it a preferred choice for many. If we talk about compatibility, the screen protector leaves a little gap on the corners and the edges to allow for a case to be fitted comfortably. You won't have any complaints once you have this screen protector in place. At a price tag of $19.99, you get 2 high-quality privacy screen protectors.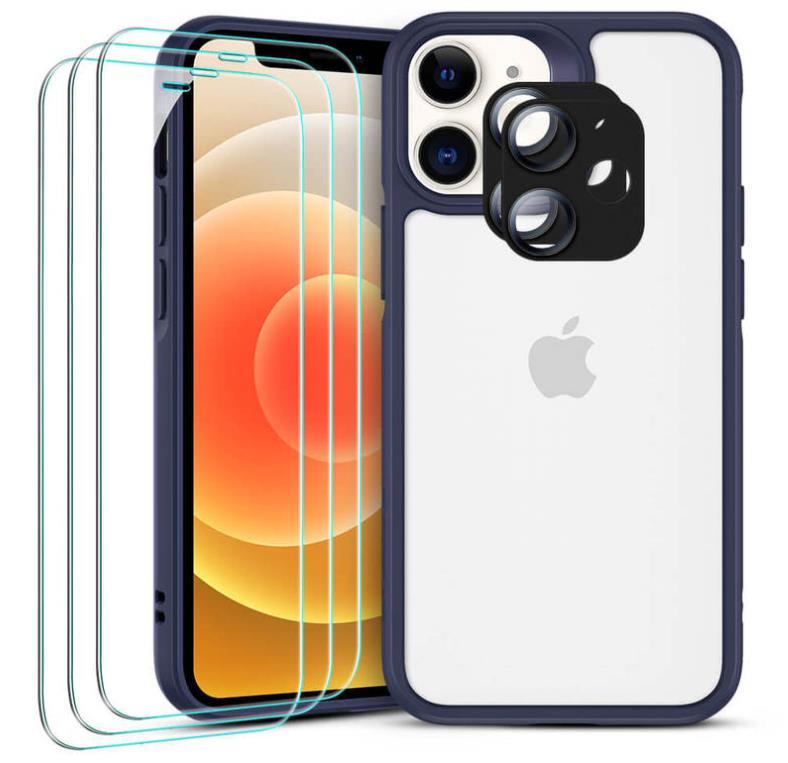 Though the price is on the higher side, you'll definitely love the bundle offer with the features and benefits it has.
What works?
Compatibility
Toughness
Air-Guarded Case Cover
Bubble-free easy installation
Those who prefer a one-time investment into quality products will definitely love this option open for them. Designed keeping in mind the dimensions of the iPhone 12 Mini, this product doesn't work that well with other models. The product with its high hardness values and tough characteristics resist scratches and dents effectively. The case which is being provided along has shock-absorbing air-cushioned corners on a flexible polymer frame that can protect your phone from severe drops. The product can be installed easily using an installation frame and cleaning kit for a bubble-free application. At a price of $40.77, you get 3 high-quality tempered glass screen protectors, an Echo-tempered glass hard case, and 2 camera lens protectors.
The final word
Finding the best screen protector for your iPhone 12 Mini can become cumbersome with a multitude of options available in the market. We hope the tips shared will prove helpful in forming your decision and the products presented will be of your reference.