Samsung took the tech world by storm this year by unveiling 5 spectacularly powerful devices at their 'Galaxy Unpacked 2020' event. Leaving no stone unturned when it comes to innovation, the most advanced phones released by Samsung till date are Galaxy Note 20 and Galaxy Note 20 Ultra. Equipped with insane high-end specs, these phones have redefined the future of the ever-evolving smartphone technology. However, these phones are monstrously expensive and are worth every penny only if you take utmost care of your device. The gorgeous AMOLED 6.7 inch display of Note 20, and 6.9 inch 120Hz display of Galaxy Note 20 Ultra, without a doubt, deserve the best protection there is. Therefore, we have put together an elaborate guide for you on how to choose the best screen protector for these phenomenal phones. Before we give you a product breakdown, there are a few things you need to keep in mind before investing in a screen protector.
Composition of the screen protector
There are 3 types of screen protectors in terms of material: hard plastic, thin plastic glass and tempered glass. In order of their protection prowess, these protectors can be ranked as: tempered glass > hard plastic > thin plastic glass. The best option for a device like Note 20 or Note 20 Ultra would be tempered glass.
Longevity of the screen protector
No screen protector lasts a lifetime and the lifespan of one depends greatly on how careful you are. A tempered glass screen protector is prone to damage on a heavy fall. Thin plastic protectors are only good for a while but cheap compared to others. In terms of longevity, the rank order would be: hard plastic > tempered glass > thin plastic.
A good screen protector covers 3 most important aspects:
Good design structure that insures safe and easy installation
Its size should cover the entirety of your display
It doesn't affect the phone's touch sensitivity or ultrasonic fingerprint sensor and enables the user to reap full visual benefits.
This non-technical factor is the foremost thing you need to consider before buying a screen protector. If you intend to take your phone to risky excursions or be outside a lot, you need maximum protection in the form of hard plastic. If you are extremely vigilant and don't drop your phone often, you can settle for thin plastic or tempered glass.
High price doesn't always ensure high quality but the reviews of a product can tell a lot about its reliability. A cheap screen protector will have you investing in one every few months. Therefore, it is better to buy a high end product once from a known brand than to keep spending money on a screen protector forever.
Below we have rounded up the best screen protectors currently available for Galaxy Note 20 and Galaxy Note Ultra: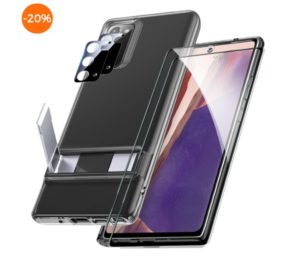 ESR is known for making high-quality screen protectors and this particular product is the best fit for your Samsung Galaxy Note 20. Compared to hard plastic, this screen protector offers improved safeguard against impact owing to its flexibility. The most prominent feature of this bundle is the freely adjustable metal kickstand that allows you to use any angle up to 60 degrees. This screen protector is also equipped with fingerprint sensor support and doesn't hinder any of the screen's functions. It maintains the lens' original clarity and provides perfect anti-scratch protection. Also, it's available for the price of $37.58 currently (20 % off).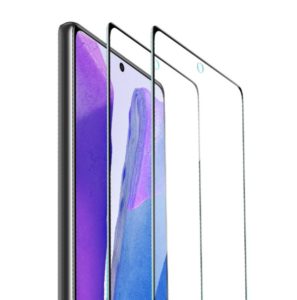 Covering every inch of your screen, this 2 Pack ESR product offers severe protection due to its triple-strength tempered-glass composition. It can tolerate up to 5kg of pressure and also supports in-display ultrasonic fingerprint sensor of the Note20. With its smudge-resistant ability and high touch sensitivity, this screen protector adds quality to your display experience. It comes with a cleaning kit and installation frame, thus making the whole process super easy and convenient.
  Price: $11.99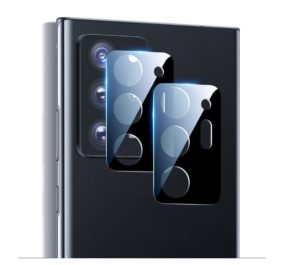 Galaxy Note 20 Ultra's fantastic camera specs deserve to be protected with a high quality product like ESR's Phone Camera Lens Protector. Made of tough-tempered glass, this protector keeps your camera essentially scratch-free. It offers crystal-clear transparency and HD clarity owing to its ultra-thinness, thus enabling the users to take perfect photos and videos. This 2 Pack product also includes two cleaning kits for convenient and bubble-free installation.
   Price: $15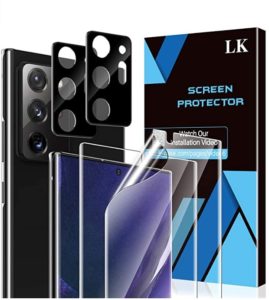 LK is another widely trusted name in the sea of brands dealing with smartphone technology. This case-friendly product is equipped with self-healing technology Smart Film Tech, thus keeping light scratches and bubbles totally at bay. The package includes 2 Pack screen protectors made of TPU and 2 Pack lens protector for rear camera. The lens protector ensure HD clarity and original pixel quality in photos and videos. The positioning tool makes the installation process super easy and convenient. The package also includes cleaning kit.
   Price: $69.99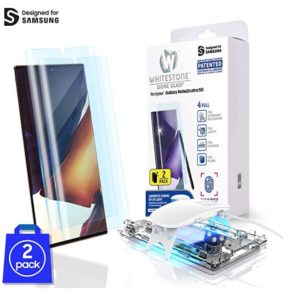 This 2 Pack screen protector is the epitome of perfection and is also recognized by Samsung Mobile Accessory Partnership Program (SMAPP). Loaded with amazing features, this product truly is the best fit for your Galaxy Note 20 Ultra. It provides a full 3D coverage to your phone display through its curved-edge, tempered glass shield. Equipped with Liquid Dispersion Technology, it enables ultra-high touch sensitivity and supports ultrasonic fingerprint sensor with 100 % sharpness. It keeps your phone screen free of dust and smidges for as long as it is installed. The installation is made super easy with the installation kit that comes in the package. The special 'blue light cut feature' keeps your eyes safe from blue light damage.
   Price: $19.99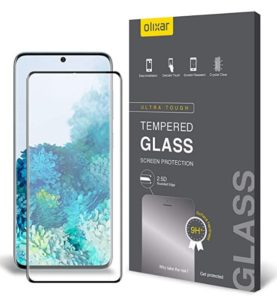 If you want most solid and impregnably tough protection for the gorgeous display of your Galaxy Note 20, this is an appropriate choice. It's enhanced 9H tempered glass composition makes it effectively resistant against shock and scratches. It provides 100 percent transparency and touch sensitivity, and is just 0.27 mm thick. The sharpness and clarity of your display remains completely unaffected, it's almost like having an 'invisible protection'. It is also Oleophobic with a dirt and grease resistant coating and comes with a Bubble-Free Installation Kit.
Final Thoughts:
We highly recommend you to invest in a good quality screen protector once than to pay extra dollars for screen repair. Choosing the most appropriate protection will help you in the long run and make your Galaxy Note 20/Note 20 Ultra experience worth every dollar you are going to spend on it. We understand that choosing one product from so many options can leave one pretty overwhelmed and confused. Hence, we gave you 6 best screen protectors for these power-packed devices currently making waves in the tech world. Let us know which product did you like the best.