The Samsung Galaxy A52 5G is the latest industry-standard smartphone from Samsung. And has it that it packs some of the best features. It features a 6.5" Super AMOLED display with an integrated fingerprint reader.
You can be sure of 8GB RAM and 128 GB internal memory that can be expanded to 1TB via a microSD card. Other stellar features include a 64MP rare camera and 32MP selfie camera. Not to mention a 4500 mAh battery.
To keep this phone in operation, you'll need to protect it, and this is where a screen protector comes into play. In this article, we look at the best screen protectors you can buy. But first, let's see what you should consider.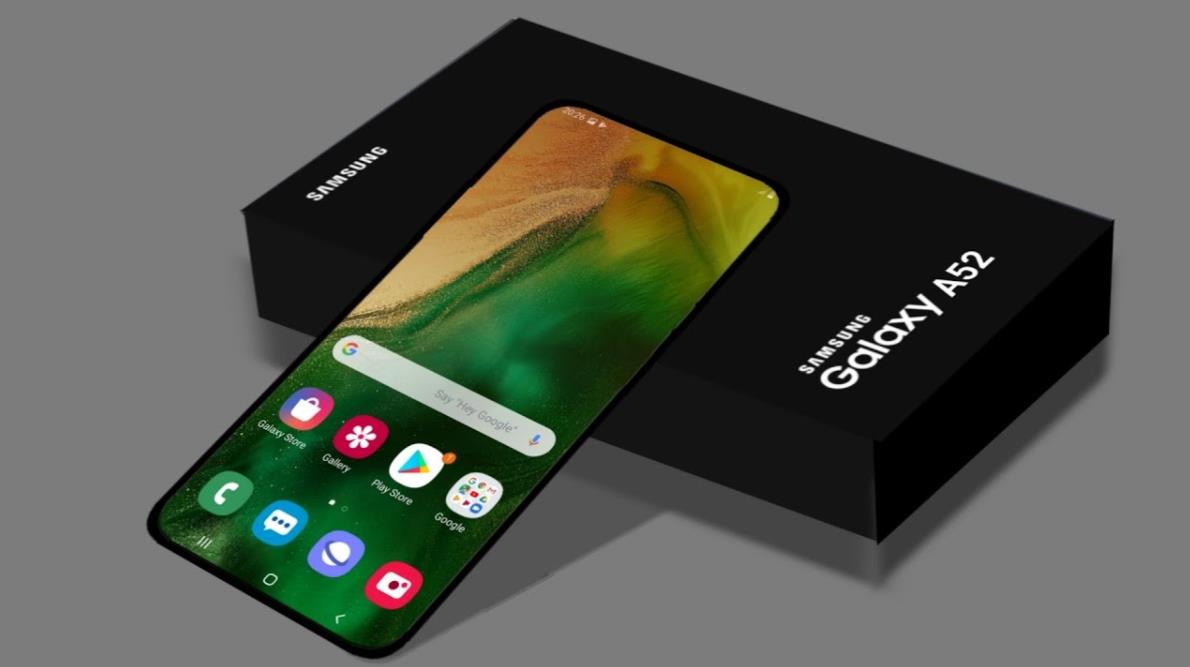 Factors to consider when choosing a screen protector
Material
Should you buy a plastic or tempered glass screen protector? A plastic screen protector is made of a plastic sheet that is flexible and easy to install. For precise installation, you'll need to use an installation kit since they roll up easily. While cheaper than tempered glass, they offer inferior protection and are less durable.
On the flip side, tempered glass protectors are made of a glass sheet that forms after heating the glass. These protectors are more durable and harder hence offering better protection. Besides, thanks to their rigid design, it becomes easier to install them.
Size
Consider the size of your Galaxy A52 and choose a screen protector that is explicitly designed for it. This ensures that it fits perfectly and aligns precisely on the edges.
Quality
You'll also need to keep in mind the quality of the protector. While tempered glass is of high quality, chances are, you'll somehow encounter knockoffs. As such, it is prudent that you consider its hardness, rigid design, matte display, and more.
For plastic protectors, ought to be resistant to scratches, clear, smooth, and easy to install. Choosing poor quality protectors can negatively impact the responsiveness and clarity of the touchscreen.
Brand
Another aspect worth keeping in mind is the brand of the protector. While the internet is awash with knockoffs, there are hundreds of premium brands such as ESR that manufacture quality protectors. Buy from such brands.
Reviews
Currently where most of our shopping is done online, it is advisable that you read reviews before making a purchasing decision. The same case applies to screen protectors. Most customers offer genuine reviews about products. And if a screen protector gets more positive reviews, then go for it, otherwise, purchase another one.
Best Screen Protector for Galaxy A52 5G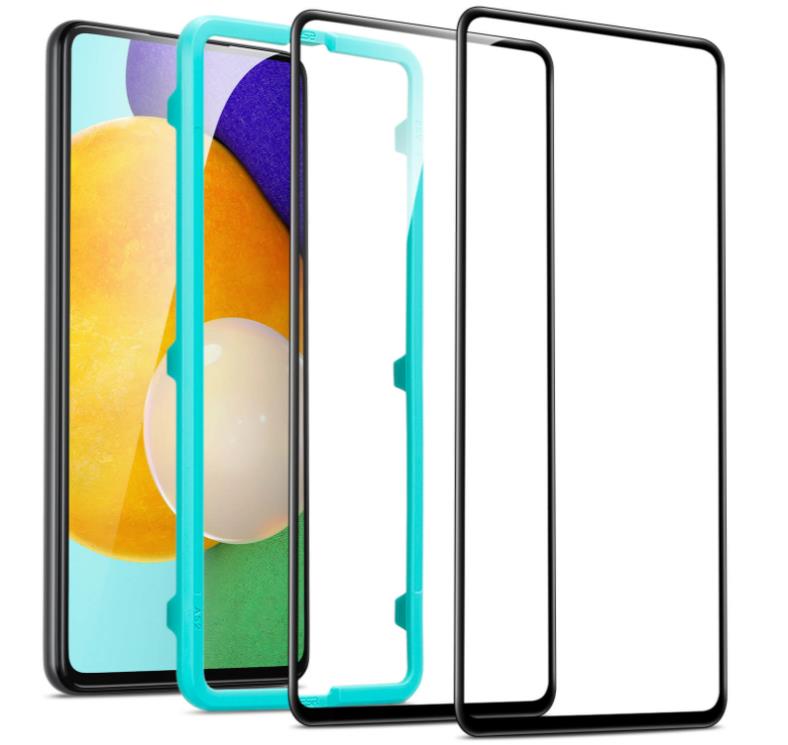 This is yet another premium screen protector from ESR. It is only compatible with the Galaxy A52 so you can expect nothing but unique features. It comes with an installation kit that mitigates the formation of bubbles during installation. This ensures the look and performance of the touchscreen are not negatively affected.
This tempered glass can withstand enormous pressure thanks to its triple-tempered design. This means it can also withstand accidentals dings, bumps, and drops. It provides full-screen protection from edge to edge leaving no room for dirt or dust entry. In addition, it has a raised bezel that protects the screen from scratches if you place your phone face down.
Are you fed up with annoying fingerprints on the screen? Well, this protector got you covered. The integrated coating keeps fingerprints at bay so you can enjoy a clear screen. As a premium screen protector, it is resistant to smudge, shattering, and pesky scratches.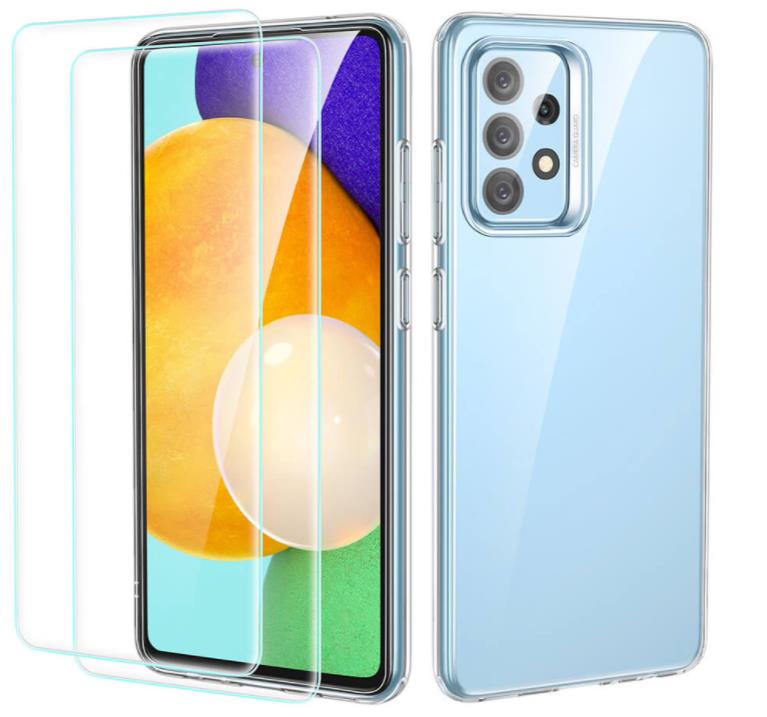 As mentioned, ESR is one of the top companies that sells premium phone accessories, and this slim case is no exception. It comes in a slim and lightweight design that feels and looks good on your phone without adding bulk. Further, it fits like a glove on-screen concealing its presence.
Likewise, the case is crystal clear showing off the stylish design of your Galaxy A52. As expected, it comes with cutouts allowing you to access the integrated ports, the speaker, and the camera. You'll also enjoy the tactile buttons that are easy to press.
The set comes with a tempered glass screen protector, and as mentioned, it offers superior protection. As such, you don't need to worry about accidental drops, dings, scratches, and other annoying elements. While it comes in a triple-strength design, you'll be amazed at how responsive it is.
To protect the screen and camera from scratches, the protective case features raised bezels. They prevent the screen or camera from touching the surface in case you place your phone face down. The integrated cleaning kit ensures both protectors remain neat regardless of long you use them. And for precise installation, you can use the installation kit.
Final verdict
Well, get yourself either of the above screen protectors and have your Galaxy A52 serve you for a long period. These protectors not only come at a pocket-friendly price but also offer superior protection. Besides, they also improve the functionality of the screen by keeping at bay ultraviolet rays, dirt, scratches, dirt, and others. Get yourself one today!