If you're an iPhone user you probably have, at least once, run into a problem which isn't exactly classified as uncommon; your iPhone won't Charge! Yes. Even when plugged into a charging cable that's connected to your power outlet, your iPhone isn't showing any notification that your phone is getting any juice. Well, there's no need to panic, yet.
Is your iPhone not charging when plugged in? Before you start getting anxious about what's wrong, there's a few things you can do which have a probability of working in your favor. And being fair, these steps are also fairly simple.
Before we get to the tips and tricks you can use to check why is your iPhone not charging when plugged in, it's equally important to understand why the problem is occurring in the first place to begin with. If your iPhone won't charge, it could be due to one or more of the following reasons:
Electricity Problems: There might be a problem with electricity because of which the current is not reaching your iPhone.
Compromised Charging Components: It's possible that the charging components of your phone are not performing optimally. This could be due to damage or poor maintenance of your iPhone.
Water Damage: It's possible that due to your iPhone's direct exposure to water has caused dampness which has led to corrosion of the circuitry. The charging port is one of the few places where the circuitry is completely exposed.
Software issues: Sometimes, an older software version of your iPhone can reflect on the physical performance of your iPhone.
Your phone is overheating: According to the iPhone manufacturer, Apple, the charging might get limited to 80% in case your phone is overheating. In this case, the charging will normalize when the phone cools down.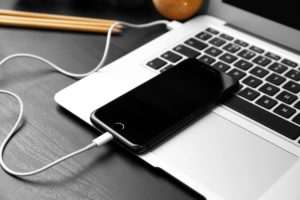 Now, moving onto the tips to fix the issue, there's a variety of things you can do if youriPhone won't charge:
1. Check the connections:
It's quite possible that the current isn't reaching the charging port. So, for starters, you can try a couple of different power outlets. Sometimes, it's difficult to detect if a power outlet is not firm enough. You can also check if the charging cable is properly plugged into the charger on one end and into the charging port of your iPhone on the second. Also try putting in the charging cable without the phone case if you have any on. That also interferes with the charging port sometimes. Placing your phone with the screen-side up will also help towards charging.
2. Equipment Quality:
It's important to realize that you should never engage in using products which are not certified by Apple. This doesn't mean that you can't charge your iPhone with any cable except the original Apple cables. Just make sure that they're certified. Same goes for the charger. We recommend using a Qi-certified charger. Any certified charger or cable will have a label on it which says "Made for iPhone". Those cheaper cables aren't worth it if you look at it for the longer run. Also make sure that the equipment you are using is not damaged in any way or form.
3. Resetting your Phone:
Try doing a hard reset on your phone if the above two tips check out but your iPhone is still not charging. Below are the protocols you can use to restart your iPhone:
iPhone
Protocol
6S, 6S Plus, SE, and older models
Press and hold the home button and the power button simultaneously for a few seconds. Ultimately, the Apple logo will appear on the screen. The you can release both buttons.
7 and 7 Plus
Press and hold the volume down button and the power button simultaneously for a few seconds. Ultimately, the Apple logo will appear on the screen. The you can release both buttons.
8, 8 Plus, X, XS, XS Max, and XR
This is a 3 step procedure:

1. Press and release the volume up button, promptly.

2. Press and release the volume down button, promptly.

3. Press and hold the power button (On the iPhone X, this is also called the side button). Ultimately, the Apple logo will appear on the screen. The you can release the button.

It's important to make sure that the first 2 steps are being performed very quickly and holding the power button for a sufficient amount of time when it comes to the iPhone 8 and iPhone X. This entire procedure can take up to 20 seconds sometimes or even more!
4. It's Warranty time:
Also, it's important to remember that the phone you bought came with a warranty along with all the accessories that came in the iPhone box. However, for this option to be valid, just make sure that your iPhone cable is in a good enough shape. If it is, Apple will replace your cable, for FREE! You can do this by setting up a return on the website for Apple support! Or just use the genius bar after calling your nearest Apple store. If your time is valuable and limited, a prior appointment will help!
5. Software update:
If you're using an older version of iOS, try updating the software. Sometimes, this can help as well. This would be healthy for overall performance of your iPhone as well.
6. Clean the charging port:
Let's move on to the more hardcore things. Grab a toothbrush (make sure that it is completely dry and doesn't have even the slightest dampness on it!) and clean the inside of the charging port. Sometimes dirt ends up accumulating at the charging port which doesn't allow electricity conduction. This tip will help clean the electric terminals and also applies to the terminals on the charging cable. You can invest in anti-static brushes as well since they're very cheap. But a toothbrush will work too.
7. DFU Mode:
Apart from repair, this is the last thing you can do. A DFU restore sometimes helps springing a non-functional iPhone back to being functional. This potential fix however, will erase everything in your phone and restore it to factory settings. So bear that consequence in mind. This restore will also fix any software issues in you iPhone if there are any.
iPhone not charging when plugged in, even after trying all the tips we've mentioned?
Perhaps it's time you let an expert deal with the problem. There's a chance that the charging components of your phone have been damaged beyond simple hacks or there is some other hardware issue. In this instance, if you don't have AppleCare+, it will take quite a heavy toll on your wallet.
Luckily, there is the option of giving your phone to other phone repair service agencies. These days they'll even give you the option to come over directly to your doorstep within the same hour. The best part? You can get your phone fixed at home, instantly, with full transparency and at a lower cost. Sounds like a good idea doesn't it? However, let's hope it never comes to that point.
We hope this article helped you gain some clarity on what to do for your charging troubles on your iPhone. We always recommend trying the basics before taking bigger steps to tackle with the problem.