A lot can be done with smartphones, aside from the purpose of communication. The smartphone has become an essential tool for most of us, and we use it for business and entertainment purposes. When it comes to entertainment, there is so much that smartphones can offer that other forms of offline entertainment cannot. Games are one such that we can enjoy with our smartphones.
Word games are popular on App Stores, played by many people, from the geeks to the fun lovers. Nowadays, you can find different types of word games on android and iOS platforms. However, players should note that not all games are compatible with all operating systems. Below a list of some of the top word games for smartphone users on Android and iOS platforms:
1. Wordscapes
This is a quick word game that can keep you busy while waiting or just to have a quick brain teaser. It is relatively easy at the initial stages but gets difficult as you progress through each round. The platform is user-friendly, easy for the least game enthusiasts to play, and each round does not take time to complete as you can learn new words from playing this game. For those who do not want a game that will take their time, this is the perfect word for a quick one.
Compatible OS: iOS, Android, and windows and comes with in-app ads.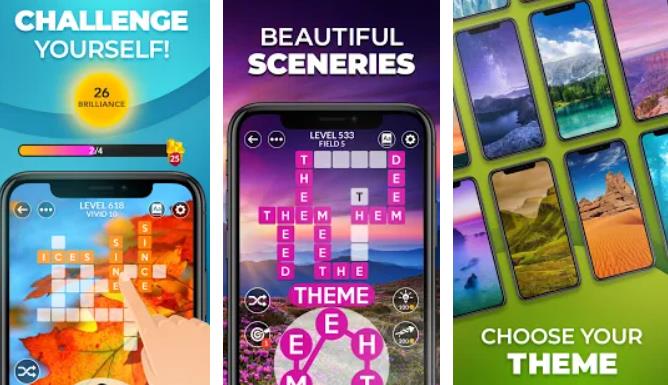 2. Alphabear
Get strategic with this strategy word game where you have to build your bear based on the accuracy of the words you create. This is the perfect word game for those that are looking for something more challenging. It allows you to build a dancing bear as you complete the tasks in the game. Amazing and interactive games that will sharpen your intellect and will keep you occupied for a while.
Compatible OS: iOS and Android, free with in-app purchase.
3. TypeShift
Get a more challenging word game with Typeshift. If you love playing crossword puzzles in the newspaper, then you will enjoy this game on your smartphone with its tough puzzle challenge. It helps sharpen your vocabulary, get to know new words, and entertains you as well. Smooth playing interface, and it is easy to understand, giving users a fantastic experience.
Compatible OS: iOS and Android free. It comes with in-app advertisements
4. Word Crush
Word Crush provides a challenging experience with connecting words. The game offers hidden themes that will open up as you finish each challenge. The themes make the game more enjoyable, and they vary from kitchen to beach theme. These themes change the atmosphere of the game as you successfully finish one round. It's a captivating game that will require your attention because you have to prevent the letters from falling off the board as you seek to complete the correct words.
Compatible OS: iOS and Android, free with in-app purchase available.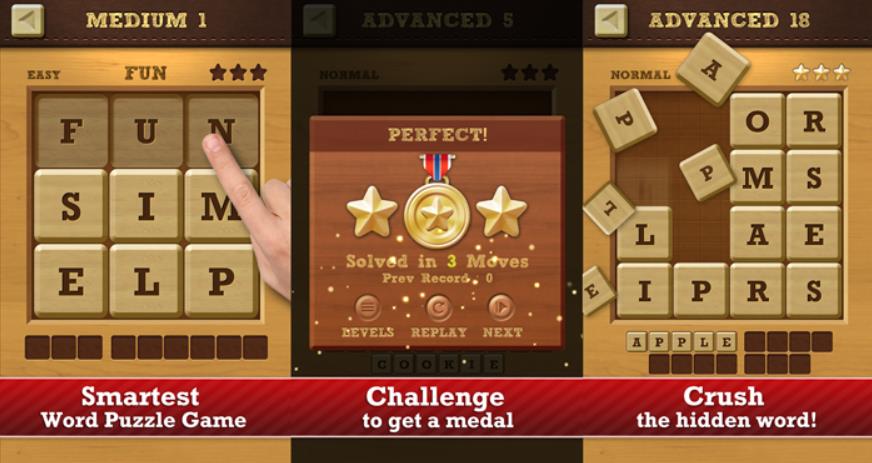 5. Pictoword
Pictoword offers a unique challenge for word game lovers. Players will need to use pictures along with the available letters to form words. The game allows players to accumulate coins that the players can use to skip challenges and carry out other game functions to enhance their experience. As players gather coins, they can take advantage of certain features such as hints to complete a task or skip a puzzle. It is a game for words and picture lovers, and it comes with a fantastic interface.
Compatible OS: iOS and Android free.
6. Word Cookies
Become a word chef as you cook up words in this word game challenge. The word cookie is challenging and exciting, with different words challenges popping up. The letters are displayed, and you will be given the number of words to create and the number of letters to use. It comes with amazing beats that keep you entertained and in a happy mood.
Use the hints available when it becomes challenging to create words out of the letters. Players do not have to worry about losing interest soon because the game has over 2000 fun levels to play that change the game experience. Players will start as novice chefs and move on as they advance at each level.
Compatible OS: iOS and Android free with in-app purchase.
7. Word whizzle search
For a tougher challenge, word game lovers should try the WordWhizzle search. This game offers more themes than Word Cookies, with over 2700 themes available for players. It is a tricky game that requires the players to form words in a straight line and fit into a spot from a theme provided above the letters. It requires reasoning and knowledge of words to complete each level and move to the next one.
Compatible OS: iOS and Android, free with in-app purchase available.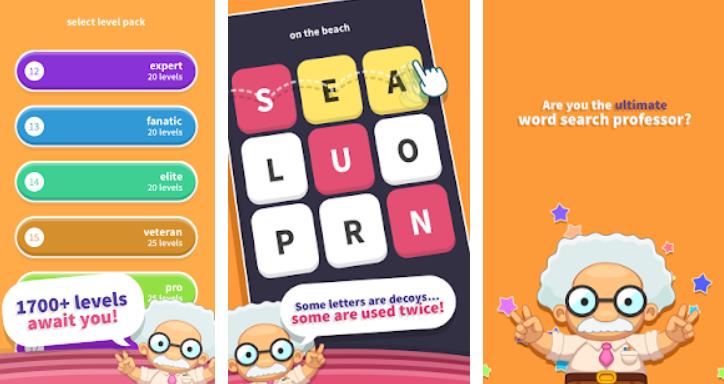 8. Languinis
The Languinis game includes wordplay with adventure in this storytelling game. The storyline involves matching tiles and using them to form words as you progress through the numerous levels available in the game. The game's objective is to free the Languinis, using the wordplay that goes along with the story. An exciting adventure that will keep you engaged. There are over 1000 levels and unique features that go with the game. The player's knowledge of longer words will help them achieve their objective faster.
Compatible OS: iOS and Android free, with in-app purchase available.
9. Alphabetty Saga
The Candy Crush creator produces the Alphabetty Saga, and this game tells a story that involves fun characters in Betty and professor Alpha. With over 100 levels available, players will have to complete each level with the highest score they can get to move to the next level. It offers an amazing interface, graphics, images, and story that keeps the players engaged in one of the best wordplay story games.
Compatible OS: iOS and Android free, in-app purchase available.
10. Infinite Word Search Puzzles
The Infinite Word Search Puzzles brings back the fun of playing paper puzzles and crossword puzzles in newspapers. Players can now enjoy the same format from the newspaper on their smartphones, playing at their pace and in different modes. Players have the opportunity to set the game and play against time, or they can complete the puzzle at their pace. Also, they can select from different categories, such as animals, books, movies, and so on. Other activities like watching videos and paying for ads can unlock some features of the game. Get the traditional crossword puzzle on your phone and enjoy yourself.
Compatible OS: iOS and Android free with in-app purchase available.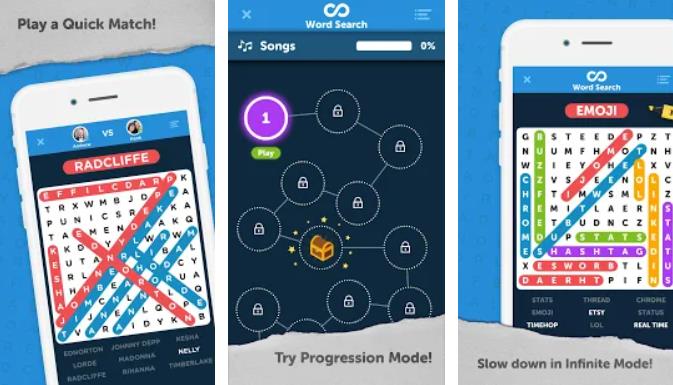 These word games are top of the list of the games word play lovers will find on the various operating systems. They are different types of games that will suit your need from having fun to expanding your knowledge. Players can search any of these games from the search tab of either the play store or Apple store to download and install these games on their smartphones.