Are all Bluetooth keyboards compatible with the iPad Pro? If you type frequently or can't get enough of the iPad's onscreen keyboard, you should consider purchasing a Bluetooth keyboard. The advantage of a Bluetooth keyboard is that it adds tactile feedback without impairing the iPad's touchscreen capabilities or portability. Although the iPad is compatible with any Bluetooth keyboard, several keyboards are designed specifically for the iPad. Which Bluetooth keyboards are the best for the iPad? Please take a look at them below.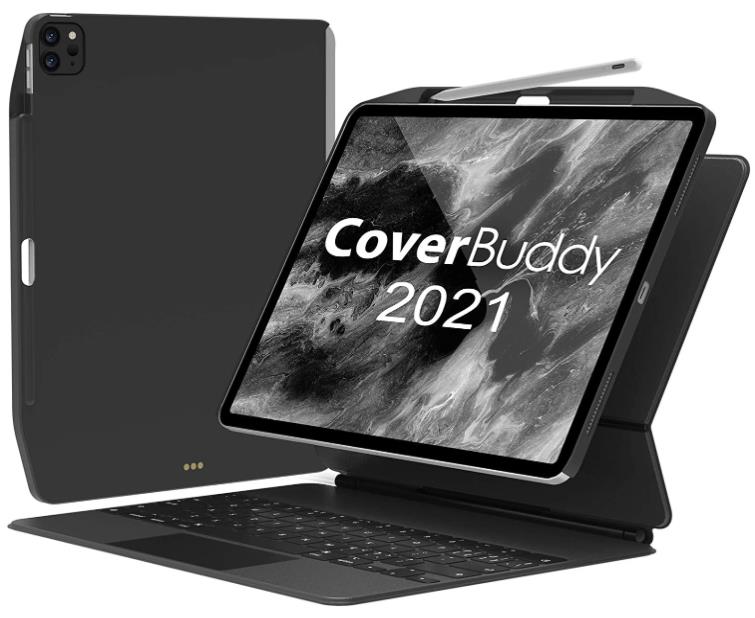 Pros
360° All-Around Protection & Smart Connector
Slim And Lightweight
High-Strength Magnets
Portable Storage Slot For Pens
SwitchEasy CoverBuddy is the only patented iPad Pro case compatible with the original Magic Keyboard/Smart Keyboard Folio and the Smart Folio with iPad Pencil Holder. It has storage and wireless charging support for the iPad Pencil.
It also includes a smart connector on the bottom of the case that enables a pass-through connection between the iPad Pro and the Magic Keyboard/Smart Keyboard Folio without the need for plugging or pairing.
It protects the iPad Pro's sides and back without adding bulk. The Switcheasy CoverBuddy is equipped with powerful suction magnets that secure it to the Magic Keyboard/Smart Keyboard Folio and prevent it from falling off.
The iPad Pencil and the EasyPencil can be protected and stored alongside the iPad without fear of loss or wear. The wireless charging capability of the Apple Pencil is retained.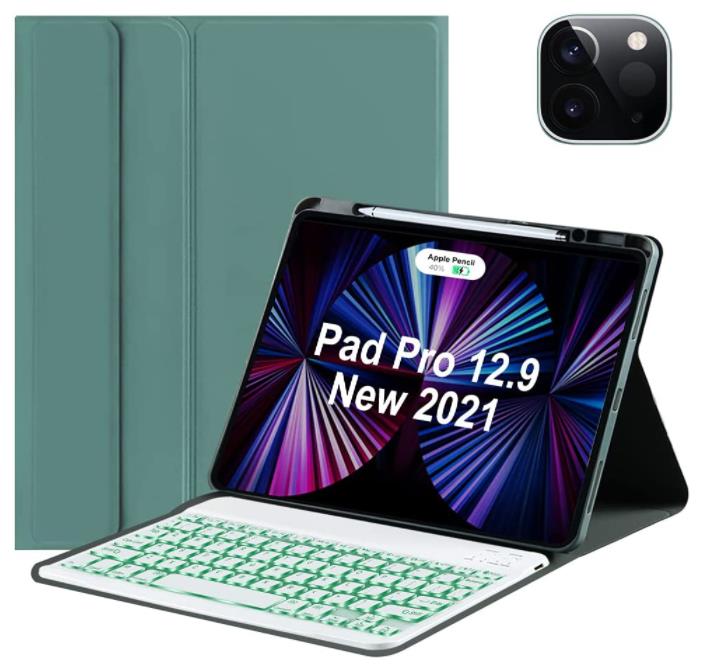 Pros
Magnetically Detachable Keyboard Case
Auto Sleep And Wake
Full Protection & Heat Dissipation
Pencil Holder & Warranty Support
The magnetically removable keyboard case enables the keyboard to be removed at any time. With a 650mAh battery, the keyboard can operate for up to 220 hours. It charges in 60 minutes and is effective up to 10 meters away. When charging, the charge indicator will be red and will turn off once fully charged (not turn green)
The magnetic auto sleep/wake feature works invisibly and smoothly to help extend the battery life of your iPad. When the lid is closed or opened, the iPad Pro 12.9 Inches tablet automatically wakes up or goes to sleep. simple operation and energy conservation
Made of soft rose gold PU leather and a flexible TPU inner shell, this slim folio is drop-proof and scratch-resistant. It also has excellent ventilation and heat dissipation and is not slippery or sticky when carrying around. Precise cutouts allow access to all features.
The package doesn't include an apple pencil. Built-in Apple Pencil holder, cap & adapter slots make it easy to grab and use your Apple Pencil.
Pros
Removable Keyboard Case
Has a Kickstand
This iPad Pro 12.9 2021 Smart Cover comes equipped with a magnetic keyboard and mouse, allowing you to use it in personal and professional settings easily. Includes a slot for holding your pencil, allowing you to reach for your pen effortlessly whenever you want to use the touch pen. You can remove the keyboard when you are not using it. You can easily convert your iPad to any viewing angle. Ideal for working, writing or watching videos in the office, classroom, road, or home.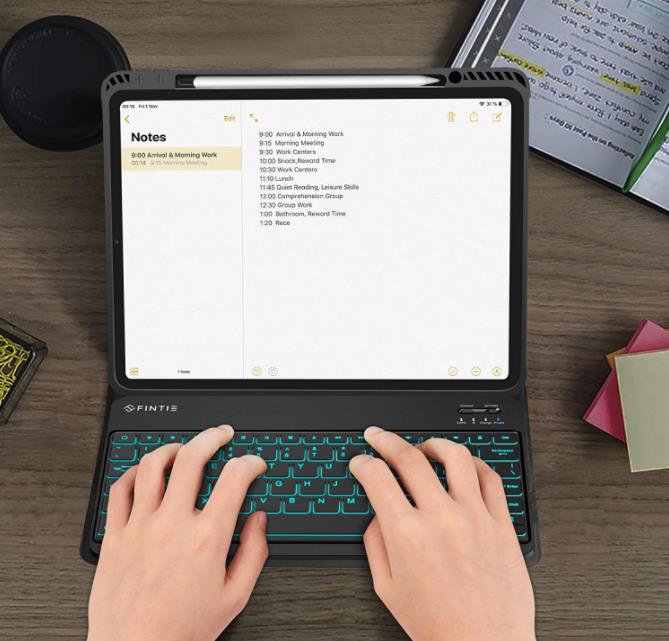 Pros
Auto sleep/wake function
bright backlight keyboard
Built-in Apple Pencil holder
It has a durable PU leather cover and an anti-slip rubber-lined interior that provide complete protection for your tablet. Soft, flexible TPU back shell protects your iPad from shocks, drops, and impacts. It also supports the auto sleep/wake function in Case Only mode.
With a bright backlight keyboard, two levels of brightness, and seven different types of backlighting, this keyboard is beautiful and unique, ensuring the keys are sharp, bright, and easy to read in low light for a more comfortable typing experience. The ultra-slim design adds maximum protection with the least amount of bulk (0.38 in).
Built-in Apple Pencil holder allows you to effortlessly grab your Apple Pencil whenever you want, making it simple to carry your Apple pencil along with your device. Seamlessly works with Apple Pencil 2nd Gen magnetic and wireless charging when the case is on.
It is a genuine "hard" laptop keyboard made of high-quality ABS material, not cheap silicone like other cases on the market. The spring mechanism beneath each key ensures a tactile response with each stroke, allowing you to type faster and with fewer errors than with a touchscreen.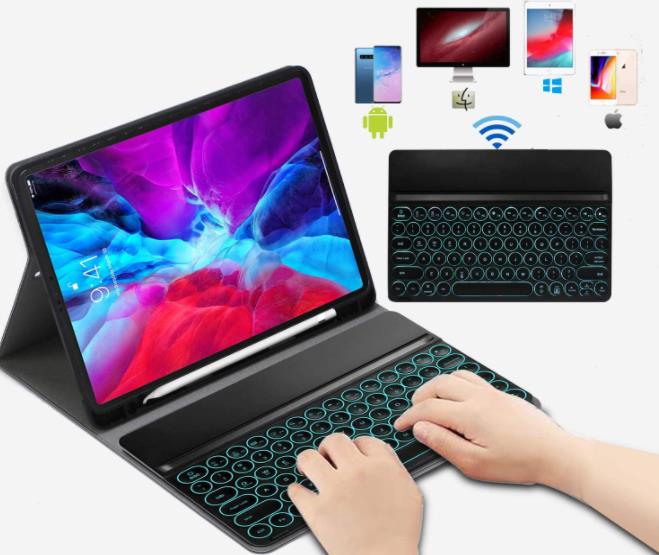 Pros
Wireless 3.0 Multifunction Bluetooth Keyboard
Four-in-one function
Magnetic adsorption
The Bluetooth keyboard is compatible with iOS, Windows XP, Windows 7, Windows 8, and later versions of Windows. It features an integrated Bluetooth module and a rechargeable lithium battery, making it simple to use while remaining stylish and attractive.
It is a wireless 3.0 Multifunction Bluetooth Keyboard, using a high-tech Bluetooth chip and stable performance. Its effective distance is less than 10 meters. The charging time is less than 3 hours, while its continuous work time is more than 100 hours. The key force is 50 to 80 grams, and typing is extremely comfortable.
Four-in-one function: Wireless V3.0 Bluetooth keyboard + bracket + advanced carrying case + pencil holder, making it extremely convenient to bring the tablet to the office or on the road. Advanced leather case 360-degree protection, scratch resistance, anti-fall, shock absorption, anti-fall, and impact resistance. The heat sink is made of imported materials and features a honeycomb design for safe and efficient heat dissipation.
Magnetic adsorption technology ensures that it is automatically absorbed when the keyboard is close to the protective cover and does not fall easily. The detachable clamshell housing is designed to meet your needs and is easier to use on its own.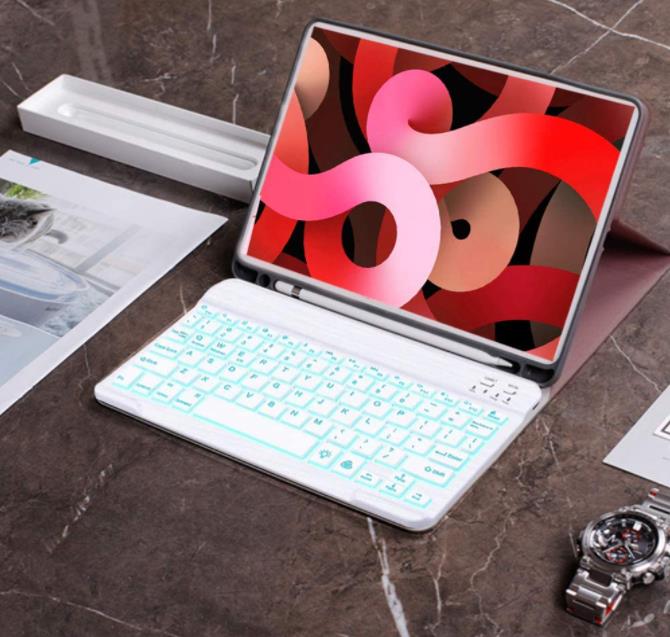 Pros
Precise Cutouts
Full Body Protection
Heat Dissipation
Auto Sleep/Wake
This keyboard is simple to attach to or remove from the magnetic cover case and instantly connects via Bluetooth to your iPad. You can take the keyboard case anywhere after being fully charged for 2-3 hours with the long-life rechargeable Lithium-ion battery.
Precise cutouts allow full access to all features and provide the optimal protection and convenience for daily use. Also, the iPad case is made of soft PU and a flexible TPU inner shell that is drop-proof and scratch-resistant, as well as non-slip and non-sticky when carrying it around, providing the ideal all-around protection for your precious iPad.
The magnetic auto sleep/wake feature works smoothly to help extend the battery life of your iPad. It automatically wakes or sleeps when the lid is opened or closed. It's simple to use and energy-efficient. The case supports wireless charging for the 2nd Gen Apple Pencil.