If you have bought a new phone, you're probably looking to live the experience fully. And that can be only done by purchasing the necessary and compatible gadgets. USB-C charging Cables are the first and most important gadgets you need to think about just after buying your phone, it doesn't matter if it's and iPhone or an Android phone. We have prepared a well-detailed and an easy-to-read guide to help you understand what is exactly USB Type-C charging cables? and what are the best C data cables?
We have also rounded up the best quality, and the most durable C data cables to guarantee you a flawless connectivity experience!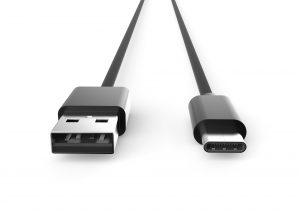 WHAT IS USB-C? And Why you should consider it?
The era of USB-A, USB-B and USB Mini-B is gone, now it's the new era of USB-C or Type-C. Thanks to the giant USB Implementers' forum, also known as USB-IF who launched the unbreakable USB-C on August 2014. This device has the same objective as the old USB collection. However, you may ask yourself: then why do I need to consider buying a Type-C charging cable? Well, the answer is easy.

Better user-experience, more durable, and lighter than ever before. If we compare it to buying a car it's the same. A car will satisfy you need which is moving from a place to another. However, buying a Mercedes is not like buying a middle-class or a low-class car. The aim is the same, but you're missing the whole experience at the end.
Before listing the best USB-C Cables here are some features that you need to keep in mind:
Super-Fast. It's 20 times faster than USB 2.0.
Powerful companion. With 100 watts, or 3 amps of power, USB-C cables can power your laptop, your large high-resolution monitors, even some printers.
Flawless 4K Ultra HD experience. USB-C cables can deliver Ultra-HD 4K video resolution to USB-C and HDMI displays.
Reversible Connector.The USB-C, or Type-C connector is a reversible connector, no more time waste to decide which way you need to plug it in. It works regardless of which way you plug it in.
Truly universal. USB-C Cables are universal. Smartphones, tablets, laptops, digital cameras, or anything that traditionally connects via USB, USB-C are just a part of the whole process. It is now able to connect to printers, and different systems like iOS, Android, Windows, Google and more. Despite its small and light weight and look it is impossible now to imagine a day without this device. We are digitally empowered and USB-C Cables are the fuel of our digital power!
Fortunately, buying USB Type-C Charging Cables is not as expensive as buying a Mercedes. We decided to make your decision process easier. That's why we rounded up the best USB Type-C Charging Cables to consider on 2020.
Whether you're an iPhone or an Android user, it won't matter for you as the 6.6ft/2m USB 3.0 to USB-C Cable is compatible with all USB devices. This gadget will pamper you with its uncountable features. From +40% charging power, +800% data syncing to perfect USB 2.0 devices support. This device will not only you help you save power, and energy but also money because there is no need to get rid of your USB 2.0 devices, you can still use them. To save you during your busy mornings, designers used high-quality items like Double-braided Nylon to keep your life away from mess by avoiding nodes. Alongside the prime quality, speed is another remarkable feature of this cable. Its Gold-plated 24-pin connectors bolster optimal transmission of both power and data. Last but not least, it is crucial to mention that this Cable is durable and long-lasting, so it won't give up on you easily like your ex did.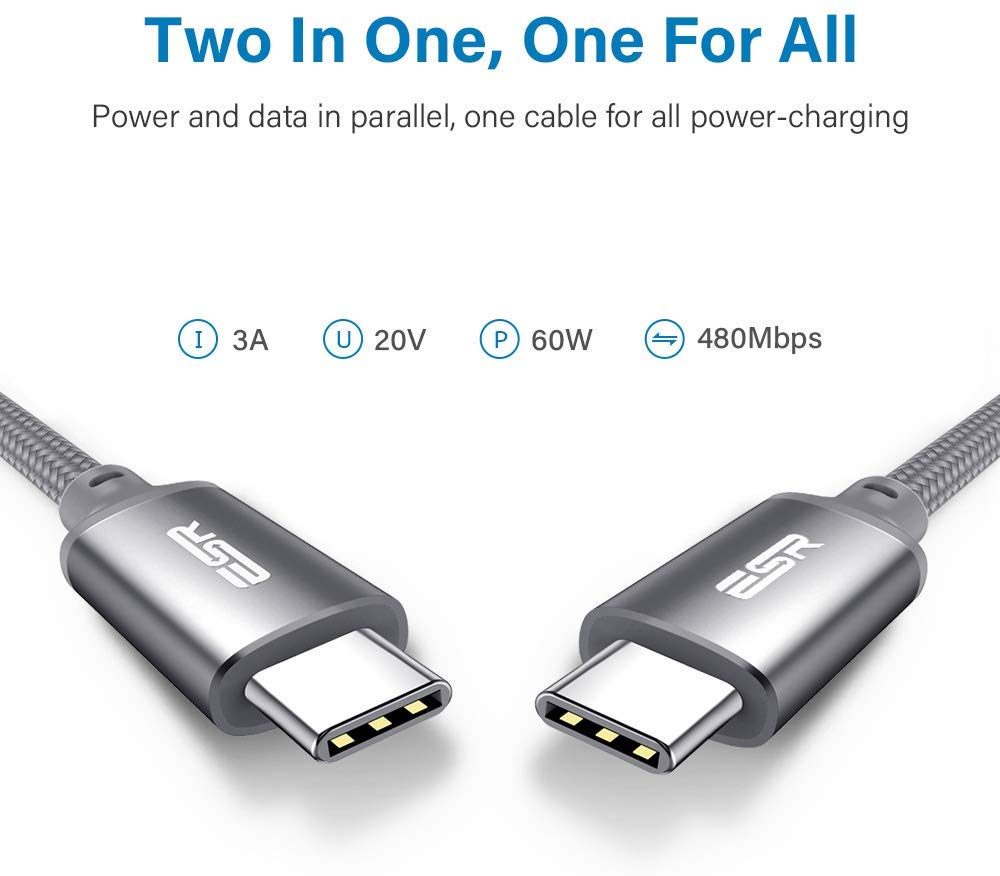 What makes the 6.6ft/2m USB-C to USB-C 2.0 Cable the right cable for you? Well, if you're looking for a two in one cable then this cable is the one you've been always looking for. It will give you the opportunity to charge and get full access to your data without overheating, boring tangles and splits. That's not all! We know that durability is what you're looking for, this case has high-tensile wires and double-braided nylon shielding outside to keep its durability promises. This is your must-have companion; it works on different devices that most of us use daily and most importantly at the same time. Probably it's the best C data cables considering its price and the advantages it is offering.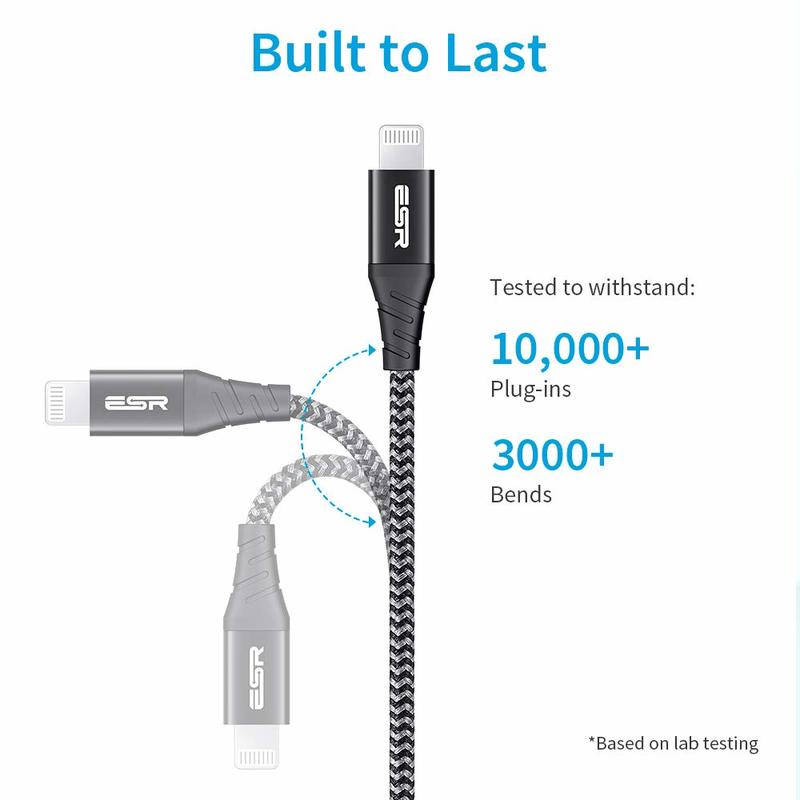 The lighting PD Charging Cable is a great choice if you're looking for an extremely fast charger. In comparison to Apple's lightning cable which reached 16% for an iPhone XS only after 30 Mins, ESR USB-C lightning PD charging cable reached 50% after 30 Mins. It is also compatible with different devices such as iPads, and iPhones. In addition, in a world where cyber security measures have become crucial, ESR USB-C Lightning PD charging cable strived hard to obtain the MFi Certification, which is a rigorous testing, enduring a safe charge with full fast-charging compatibility for your Apple devices. This cable is also popular among users, it got more than 159 positive reviews on ESR website. So It is maybe time to consider it!
4. AmazonBasics USB Type-C to USB Type-C 3.1 Gen 1 Adapter Charger Cable – 3 Feet (0.9 Meters) – White USD$20.99
From budget-friendly items, fast-delivery to reliable customer support service Amazon has never ceased to surprise us. Its private label brand AmazonBasics thought of adding USB Type-C to the list. This USB Type-C has many features. First, it has the ability to be used with a range of USB C and USB A connectors. Second, it has also the ability to charge and to sync data and pictures at the same time. Last but not least, the design is what makes this charging cable different, it comes with a reversible design allowing you to figure out which face to choose easily. However, with these basic features it may be considered as an expensive alternative.
5. Apple USB-C Charge Cable (2m) 

USD$19.00
As a premium choice, but also a premium price Apple is always on the top of the list. This USB-C Charging cable is not a typical one, it is a 2-meter charge cable with USB-C connectors on both ends. It ideal for charging and transferring data, pictures, or files between USB-C devices. For it's expensive price and limited options ( it is not compatible with USB – A devices). If you're willing to buy this cable you have to be an addicted iOS user who has only USB-C devices.
After reading this guide you have probably decided about the cable you want to get. Many of these cables are compatible with different USB series, but if you're willing to buy an Apple cable you have to make sure you own USB-C compatible devices. Taking into consideration the various features an USB-C cable delivers, we highly believe that it should be your favorite companion!