Since Samsung released the first Note in 2011, the phone lineup has been nothing but exceptional. With better features integrated each year, it's no brainer that the Galaxy Note 20/20 Ultra is bound to outshine the Note 10. And as always, the premium Samsung phone will fetch a higher price.
For this, protecting it from pesky scratches, impacts, and weather elements, is not an option. As such, buying a camera and screen protector should be your top priority for this trendsetter smartphone.
In this article, we highlight the best protectors from ESR that you can buy today! But first, why do you need a protector? Let's find out!

Why do you need a screen and a camera protector?
Let's face it, a quick fall can significantly shatter your phone's screen. On the other hand, placing your phone on rough surfaces can impact the clarity of your rear camera. To mitigate this, protectors come in handy. Here are other reasons to purchase one.
A screen protector will reduce glare from sunlight or artificial light to a minimum. This will enable you to continue surfing, texting, or gaming without eye strain.
Most premium camera protectors are ultra-thin. This reduces the impact they have on the camera lens. Also, they are easy to clean and are scratch-resistant which allows you to continue taking clear photos.
In public, it's hard to keep off prying eyes. With high screen brightness, it's easy for your immediate neighbor to track your phone activity. But thanks to a screen protector, you can conceal what you are doing.
On average you can touch your phone's screen at least 2,617 times. This leaves many fingerprints that affect the clarity and responsiveness of the screen. Fortunately, a screen protector comes with an anti-fingerprint feature that keeps fingerprints at bay.
Eliminates growth of harmful bacteria
With moisture, dirt, and heat on a phone's screen, it provides a rich breeding ground for bacteria, mold, and mildew. This can increase the risk of contracting diseases. A screen protector however comes with an anti-bacteria feature that kills bacteria and other infection-causing organisms.
With that in mind, let's look at the screen and camera protectors for Galaxy Note 20 and Galaxy Note 20 Ultra.
Best Screen & Camera Protectors for Galaxy Note 20 2020
This premium screen protector is only compatible with the Galaxy Note 20. With it, you have the benefit of using the fingerprint unlocking features without much hassle. Besides, it is ultra-thin and crystal clear hence does not affect the sensitivity and clarity of the screen. The protector offers edge to edge screen protection ensuring mold, mildew, or dust does not collect along the edges of the phone.
Another highlight is that it can withstand the immense pressure of up to 5kg. This means that it can protect against quick drops. While it offers full protection, it does not impact the front camera thanks to the precise cutout. And when it comes to installation, it is a piece of cake thanks to the easy-to-use installation kit.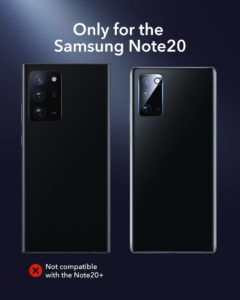 We all want to take clear, quality pictures. Unfortunately, a scratched lens can deny you this convenience. It is here that a camera lens protector comes in handy, and the ESR variant is all you need. Measuring 1.5mm in thickness, this crystal-clear protector allows you to take stunning pictures and videos.
It comes with a kit for easy bubble-free installation. It is specially designed for the Galaxy Note 20 rare camera. The protector is also scratch-resistant hence does not succumb to pesky impacts. And the large precision cutout around the flashlight enables you to take photos at night without affecting image brightness.
Best Screen & Camera Protectors for Galaxy Note 20 Ultra 2020
Again, ESR presents you with a quality Galaxy Note 20 Ultra tempered glass screen protector that is sure to keep your phone's screen safe from scratches, dust, impacts, and other elements. This type also allows you to unlock the phone using your fingerprint. Its ultra-thin design also bolsters the screen responsiveness while its ultra-clear feature allows you to browse, watch videos, and text without strain.
As an added security feature, it prevents nosy neighbors from prying on your phone activity by darkening the screen when in public places. All you have to do is slightly tilt the phone. Enjoy edge to edge protection. In fact, it precisely fits the size of the screen making it hard for anyone to identify it.
Keeping your phone's camera functioning should be a top priority. The ESR Company presents you with an industry-grade lens protector that will not only protect the camera but also enable you to take stellar photos and videos. It is explicitly designed for Note 20 Ultra rare camera. And thanks to its crystal clear feature, it has zero effect on the quality of the image.
As always, it is resistant to scratches from rugged surfaces, keys, and other elements. You are provided with an installation kit that makes installation a breeze. The cleaning kit will ensure that no dust or particles will affect its performance. There is a cutout around the flashlight so you can take photos in the dark hassle-free.
What to consider before buying a camera/screen protector
Thickness: The thickness of the protector should not affect the image quality or screen responsiveness. At least settle for a 0.15mm protector.
Quality: Go for high-quality material such as tempered glass. It is resistant to scratches, fingerprints, sticky fingers, and can withstand high pressure.
Installation kit: An installation kit mitigates bubbles during the installation process. Besides, it ensures that the protector assumes the position of the screen or camera.
Wrap up!
Well, keeping the screen and camera of your phone safe is as easy as buying a premium protector. Fortunately, your Galaxy Note 20 and Note 20 Ultra will serve you for long thanks to these protectors from ESR.