If you are a fan of Android phones, Galaxy S21 is one you would want to consider at this time. Its up-to-date and attractive features, coupled with Samsung's long history of making quality electronics, make it a dependable flagship you can put your money on. But as you may know, purchasing a brand-new device without making plans for its safety may mean you wouldn't enjoy it for long. As for S21, you need a case cover – preferably a clear one – to preserve your phone's new feel and look and shield it from impact damages. Here, we have seven recommendations in this wise that we are confident that you'd like. Let's check them out.
Key features
Crystal clear
Slim and lightweight
Durable and flexible
Screen and Camera protection
Perfect fit
Supports wireless charging
Watermark-free
Enhanced drop protection
Galaxy S21 project zero clear-view slim case, as mentioned in the name, is a transparent case cover specific to Galaxy S21. The original look is preserved because of the transparency of the back cover. It is slim, and with a net weight of 1.1 oz (27g), you can ascertain that it adds no extra weight to your phone. The case is strong, with enhanced drop protection, and with raised edges to protect both your phone's screen as well as the camera from scratches and drops. It is also shock-resistant, protecting your phone in the case of a fall, drop, bumps, day-to-day wear, and tear. It has microdots that will prevent a wet outlook and prevent the case from clinging to your phone. The bottom line? Your phone will continue to look sleek and new. The case is durable, flexible, and easy to fit.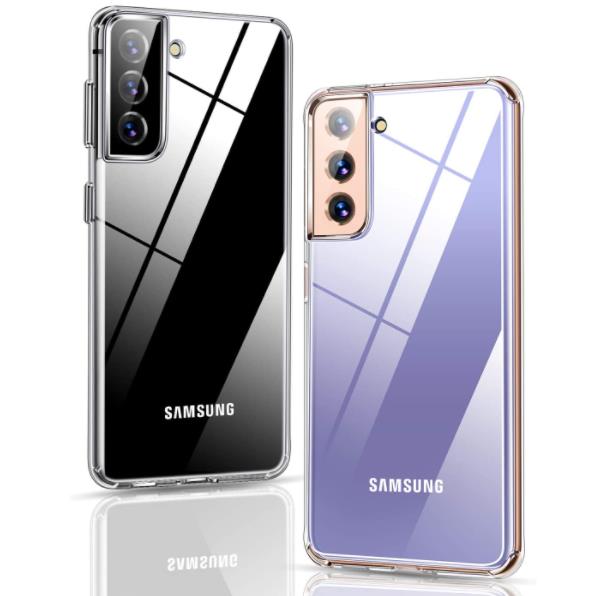 Key features
Soft and flexible
Crystal clear
Military-grade shockproof
Camera and Screen protection
Excellent grip
This Samsung Galaxy S21 case is a military-grade case, and hence strong. Even though it is strong, it weighs only 0.02kg and is thin, with 0.06 thickness. Thanks to two layers of transparent and supportive cushioning, three improved airbags on the corner, and a mix of versatile TPU and shockproof TPE base, this Samsung Galaxy S21 Case clear features the MIL-SPEC drop test ranking.
Equipped to military standard, it can withstand a fall of as high as 6ft and still keep your phone safe. The case's edges are raised 1mm for the screen bezel and 1.2mm for the camera lens lips. Not just that, it is also flexible. This case is transparent and with anti-yellowing properties, preserving your phone's original beauty. You have less worry about your screen or camera getting scratched with this. It has no watermarks, anti-scratch, and anti-fingerprint coating. It is also comfortable to hold and not slippery.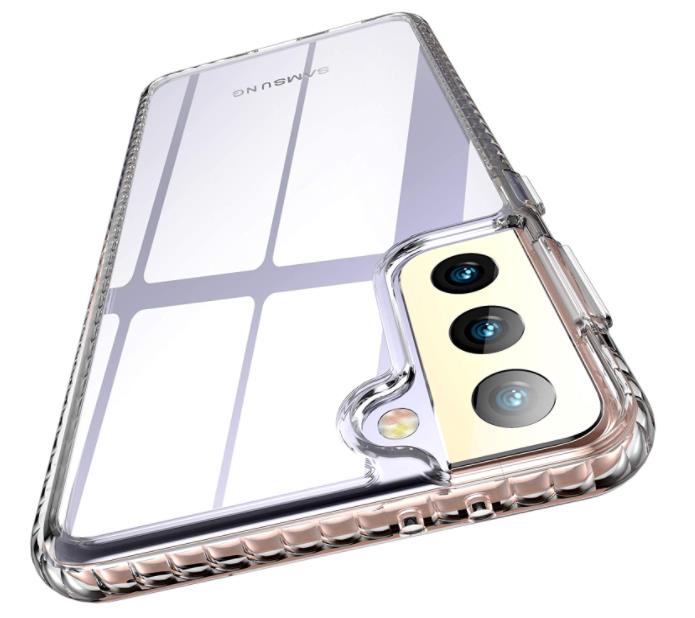 Key features
Durable hard PC back
Flexible soft TPU Bumper
Military-Grade drop protection
Crystal clear
Three-layered protection
Camera and Screen guard
AINOYA Case is a sturdy, slim phone case that offers long-lasting transparency and an anti-yellowing appearance made of imported TPU content from Germany and exclusive Blue-Ray technology. The shockproof case's interior adopts a sophisticated dot-matrix design to resists any ripple markings and smudges. In this way, the phone clean and new all the time.
With three-layered protection –  anti-scratch coating on the first layer, the anti-yellowing antioxidant second layer, and a non-slip soft TPU bumper – you are being offered adequate protection. Combining this protection with the military-grade protection, you're in for a good treat. The screen bezel is raised 1.0mm while the camera is 1.5mm, giving you less worry about scratches.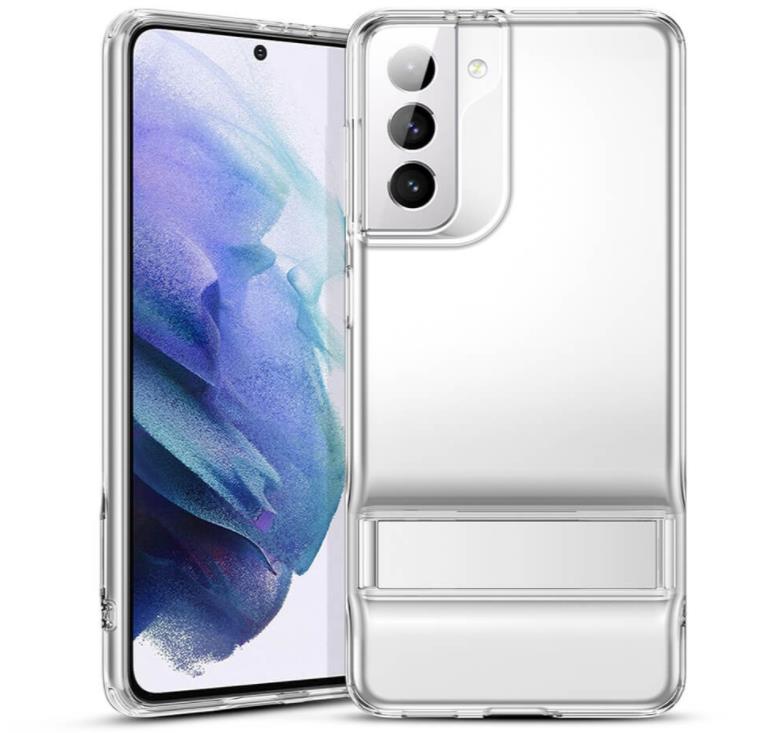 Key features
Screen and Camera protection
Vertical and horizontal stand
ESR patented kickstand
This metal kickstand case for the Galaxy S21 differs in that it has a kickstand. It has the other features of protecting the screen and camera against drops and scratches due to the raised screen bezel and camera lip. With the ESR patent kickstand, you can adjust your phone from 30 to 60 degrees, offering you both landscape and portrait views. The kickstand is durable and fits nicely into the phone case. It is flexible, easy to install and remove, shock-absorbing, and smudge resistant. It also has a microdot to prevent the wet outlook to the phone. It is compatible only with Samsung Galaxy S21.
Key features
Crystal clear
Anti-yellowing
Military-grade protection
Reliable screen and camera guard
Compatible with wireless charging
TORRAS Diamond Series Galaxy S21 case is a transparent, clear case, retaining your phone's original beauty and design. Designed with top industrial materials and built to military standard and with an X-shock patent for protection, which implies that it can withstand a fall of 6 feet. It is anti-yellowing, continually glowing, and screen protector friendly.
The screen bezel is raised to 1.2mm and 1.5mm for the camera lip, offering protection from scratches and drops. This case is precisely cut-out, slim (0.05 inches thick), weightless (0.95oz), and with a good grip. It also supports wireless charging,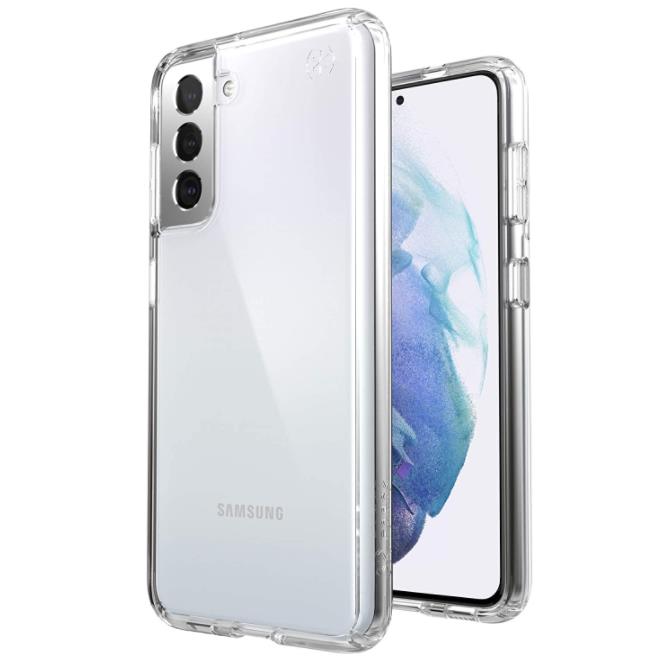 Key features
About 13 feet drop protection
Durable
Ultra-clear
Camera and screen protection
This Speck Products Presidio Perfect Clear Samsung Galaxy S21 5G Case precisely cut-out ultra-clear phone case is intended to keep your phone's original sleek outlook. Designed with invisible cleanliness with Microban, it resists discoloration and has anti-yellowing materials that keep it ultra-clear. It highly durable and offers protection from about 13 feet drop. The screen bezel is raised for extra protection from scratches and drops.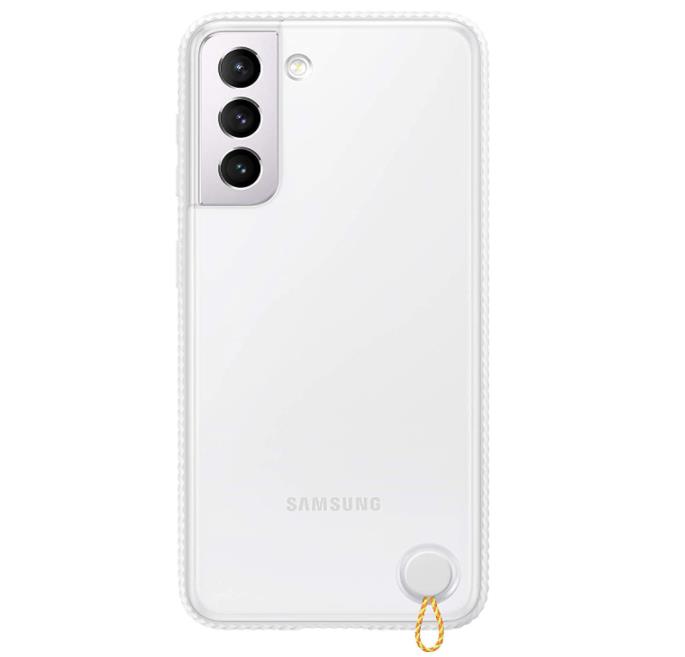 Key features
Edge-to-edge TPU protection
Transparent rear design
Simplicity is something you would appreciate this cover for. Though the sides are white, the back is transparent and super clear. It also offers edge-to-edge TPU protection and easy to install and remove.
Conclusion
Whenever you choose to purchase your Samsung Galaxy S21, remember to get a reliable, top-notch case, especially from the one listed, to fully and comfortably enjoy your phone.