The Samsung Galaxy S10 is one of the high-end smartphones in the market. Offering exceptional processing speed, high-definition camera, and more. For its price, you need to take good care of it.
This is where cases come in. in this article we look at seven of the best in the market that you can buy today. So, let's dive in!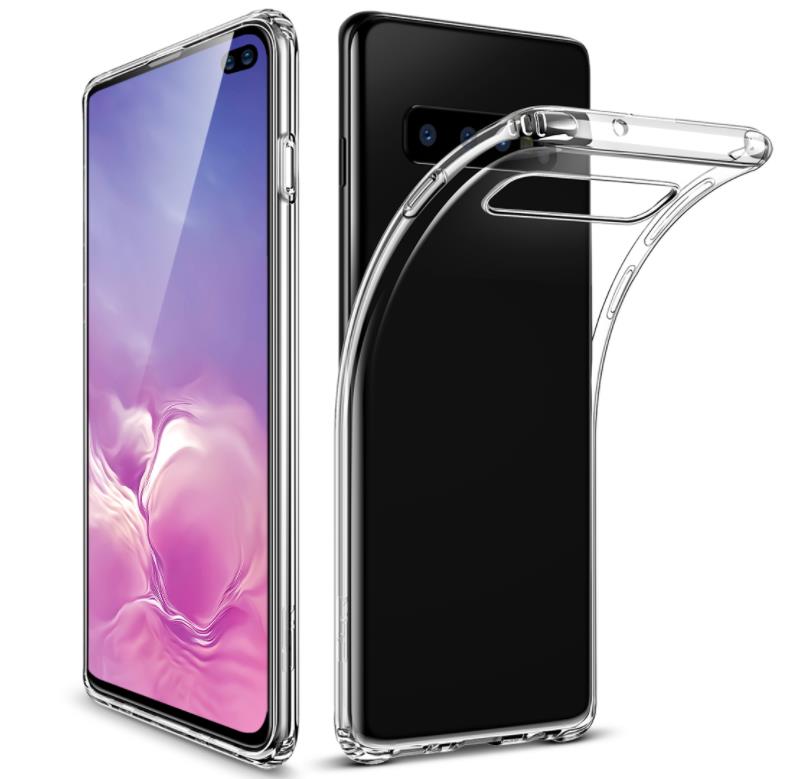 Looking for a simple and clear case? Well, why not get the ESR super clear and slim case that will have you flaunt the premium look of the Galaxy S10. This case is soft feeling smooth on your hands hence affording you comfortable phone use. It is also anti-slip hence you don't have to worry about losing your phone.
Its flexible design ensures that it doesn't crack in case of a drop. This means your phone is well-protected from quick drops. Besides, it comes with air pocket corners that absorb shock from impact. With it, you have access to the charging port, camera, and headphone jack, allowing you to enjoy everyday phone use. And with tactile buttons, you can use the function buttons without a hassle.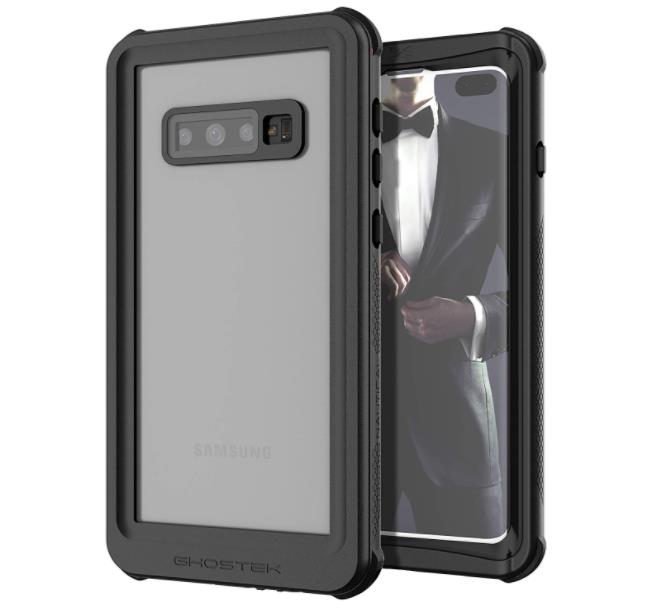 Let's face it, water can cause significant damage to your Galaxy S10. It is for this reason that you need a waterproof case. And this is what the GHOSTEK case affords. You can even go swimming or diving with your case thanks to this case. However, it can remain waterproof to a depth of 20 feet.
The case doesn't impact the sensitivity of the touchscreen. As such, you can chat, take pictures, or even surf while underwater. And to prevent water from penetrating via the ports, it comes with plugs which you can remove when you are done swimming – such as convenience. The air guard corners absorb shock in the event of quick drops.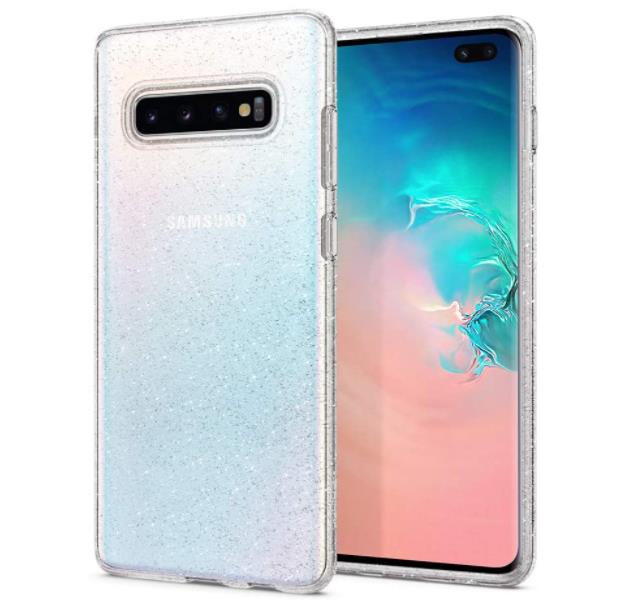 You don't have to settle for a conventional clear case when you can buy a crystal glitter case. This case is colorful, trendy, and improves the aesthetic aspect of your phone. And thanks to the dot pattern, your phone will be free from watermarks maintaining the neat look of the phone. It is lightweight adding no bulk to your phone so you can carry the phone with ease. You'll enjoy the anti-grip feature of this case.
As expected, it comes with large cutouts so you can access the speaker, camera, ports, and microphone. The camera and screen will remain clear and intact thanks to the raised bezels. You'll also charge the Galaxy S10 wirelessly since it is compatible with wireless charging.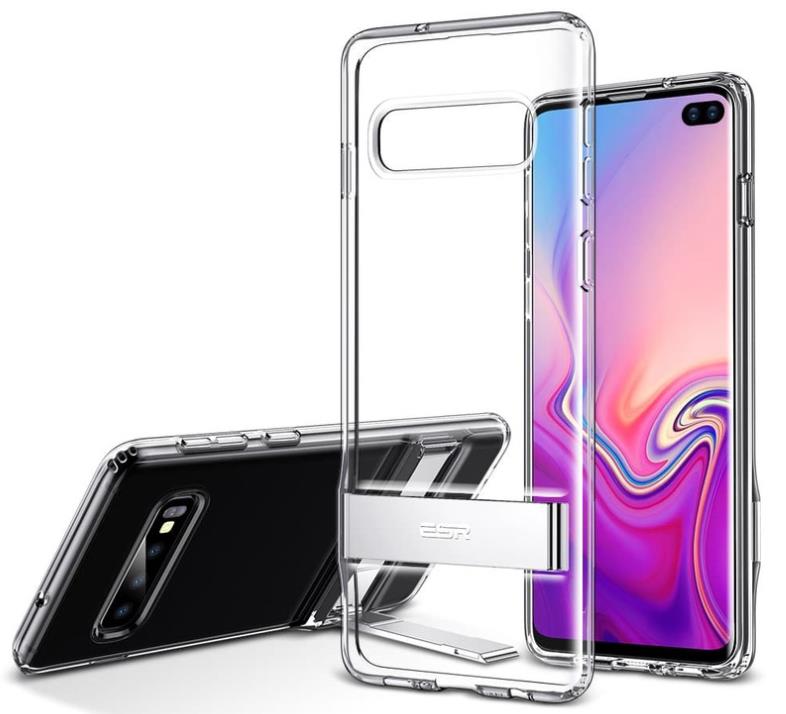 Sometimes, you want to stream Netflix with your phone while laying down. Unfortunately, you have to hold the phone all the way through. This is where a case with a kickstand comes in. it allows you to use your phone hands-free, and this is what this ESR case affords you. The kickstand allows for landscape and portrait viewing and typing orientations so you can watch movies and chat without a fuss.
The case is ultra-clear and thin adding no bulk to your phone. This means you can carry it in your pocket comfortably. The raised bezels protect the screen and camera from scratches when placed on rugged surfaces. The best part: it is compatible with wireless charging meaning you don't have to remove it. And with air guard corners your phone is protected against shock.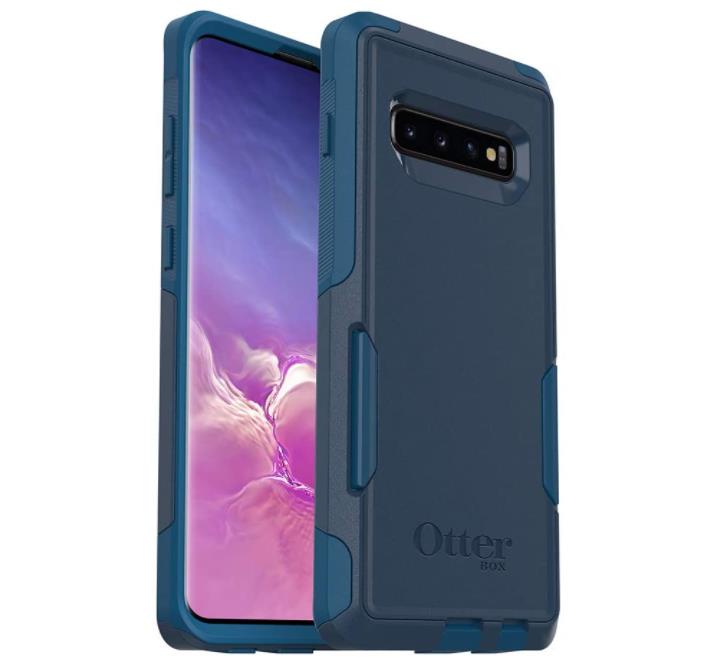 OtterBox is a company renowned in the production of quality phone accessories and this case is no different. You can get it in blazer blue, black, and a ballet way so you can complement your outfit any day. The case is only compatible with the Galaxy S10 Plus so you are assured of full compatibility. It is ultra-slim slipping easily in your pocket or bag. And thanks to its lightness, you won't feel like you have a case on your phone.
The flexible interior allows it to fit like a glove on your phone. No longer do you have to worry about the case looking saggy. Your phone is protected from drops, impacts, weather elements, and bumps owing to its double-layer construction. Like other premium cases, it comes with cutouts and tactile buttons so you can enjoy everyday phone use.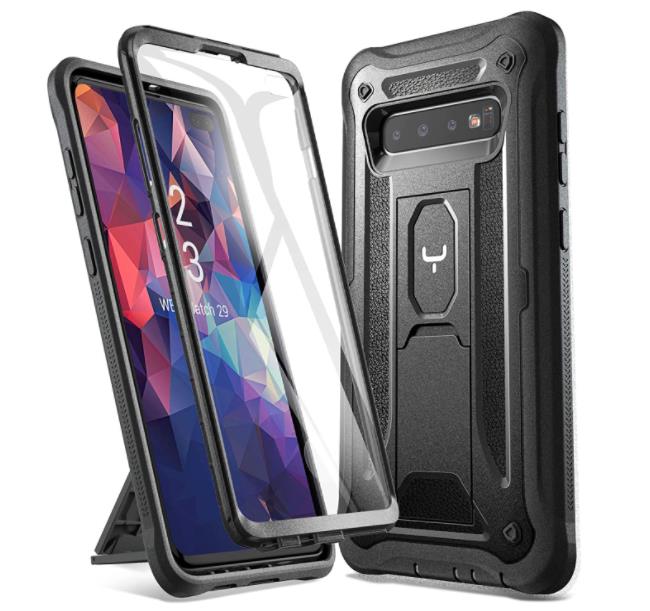 This is yet another case that features a stable kickstand so you can watch and type hands-free. You can use it in the landscape or portrait orientation. The case offers military-grade protection thanks to its hardback that is resistant to drops, scratches, and other pesky elements. It is also shockproof meaning your phone will stay intact regardless of the nature of the drop.
It comes with a screen protector ensuring that you enjoy full body protection. The screen protector is compatible with fingerprint ID and doesn't affect the sensitivity of the screen. This means you can use the phone conveniently as you would without a screen protector. Get it in black, blue, purple, white, and pink colors.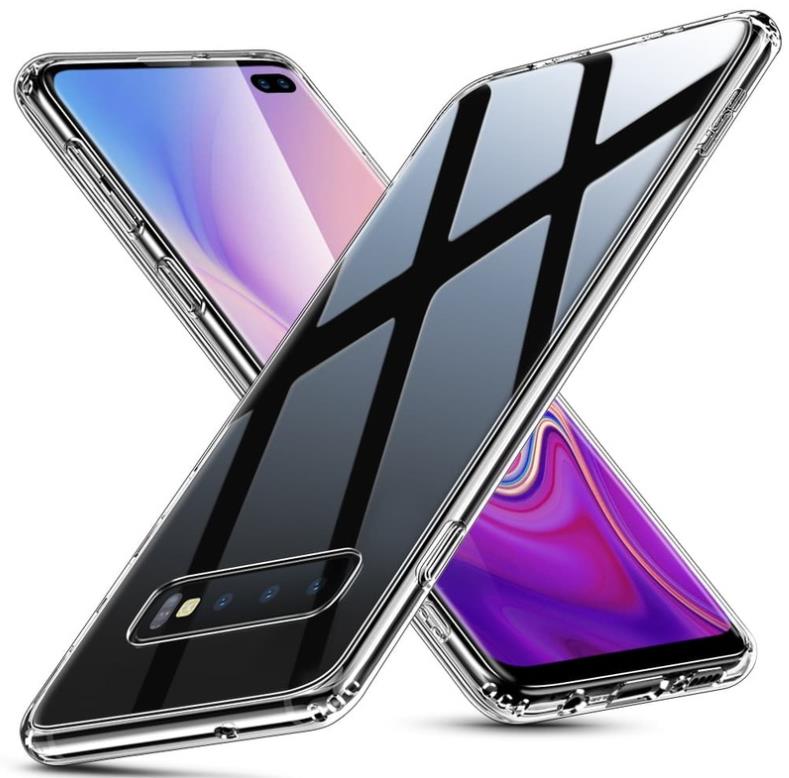 Finally, we have this case from ESR that is made of tempered glass that is renowned for offering stellar protection. Besides, it is ultra-clear allowing you to flaunt the look of your Galaxy S10. It is also ultra-slim that it almost feels you don't have a case on your phone. The soft TPU frame ensures exceptional absorption of shock from drops.
It is also resistant to pesky scratches and everyday tear and wears ensuring it maintains the premium look and feel of your phone. Besides, it allows you to use the camera, charging port, and headphone jack, thanks to the large precise cutouts.
Wrap up!
As you can see, you can protect your Samsung Galaxy S10 with any of the above cases. The cases are stylish, clear, and offer military-grade protection ideal for such a phone. With numerous options to choose from, what do you consider before buying a case? Let us know in the comment section.