The Samsung Galaxy Note 9 is an upgrade on the previous version (Note 8), with a wider screen and other new features. It is also glass-made, and with an increase in the prices of smartphones and their accessories recently, you may want to opt for protective gadgets like cases to keep your phone safe.
However, with many smartphone cases out there, each having its unique features and different degrees of protection, one may need help in finding a suitable case cover for the Samsung galaxy note 9. But that is no problem, as you can select from a list of the best cases from ESR as shown below.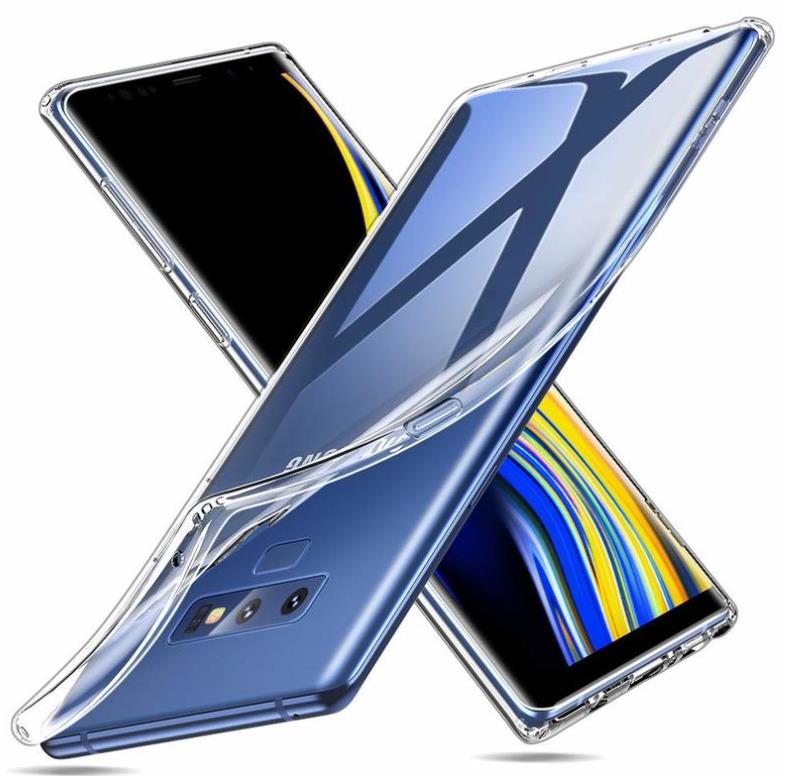 Features
Crystal clear
Thin and lightweight
Made of soft TPU materials
Offers screen and camera protection
This affordable crystal clear case offers protection for your Samsung galaxy note 9 without interfering with the originality of the Samsung smartphone. With the case, the smartphone maintains its original look, and it also protects the glass back, screen, and camera from flat surfaces, while also ensuring a comfortable and firm grip because of its soft TPU material.
With the case easily inserted on your Samsung galaxy note 9, you will feel no extra weight on it as it easily fits into your pocket. It comes readily available to give you the necessary protection for your rather expensive Samsung galaxy note 9. This phone cover is a suitable case for those on a budget. With proper use of the phone, this case is enough to keep your Samsung galaxy note 9 in good condition for a long time.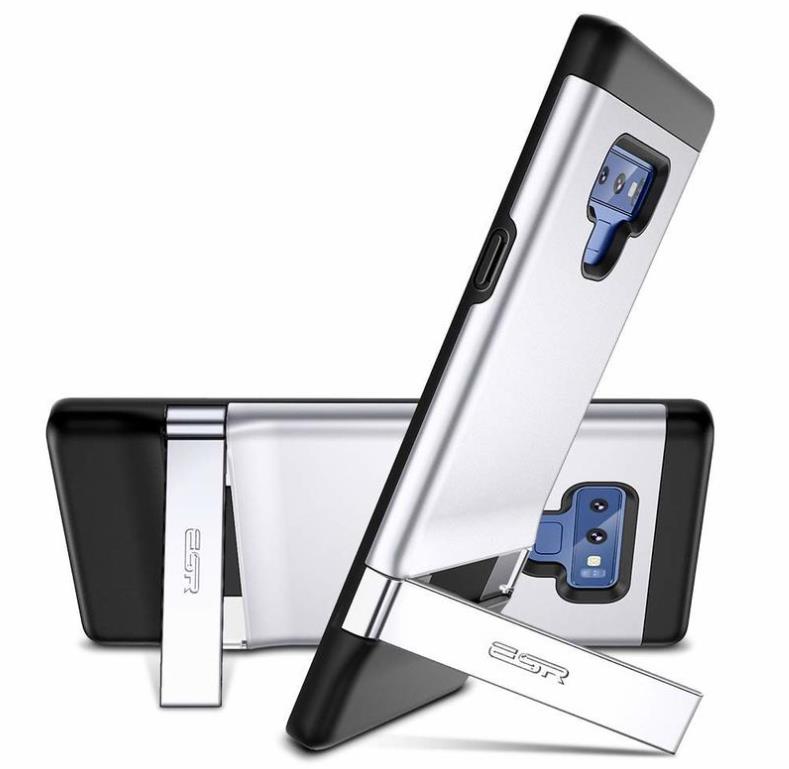 Features
SGS military certified
Two-way MetalKick
It comes in white and black.
Wireless charging possible in this case.
Screen and camera protection.
Black and silver colors
Get the maximum protection for your Samsung galaxy note 9 with this ESR SGS military certified case. Your smartphone is secure against falls from a great height, and the camera and screen are also safe from surfaces. It gives your Samsung galaxy note 9 a unique, enhanced, and beautiful look, as you choose from the silver or black color options.
With this case, you can enjoy the latest features embedded in the Samsung galaxy note 9 such as wireless charging, and a fantastic viewing experience with its two-way stand. You can enjoy vertical and horizontal viewing with this case as you provide maximum protection for your Samsung smartphone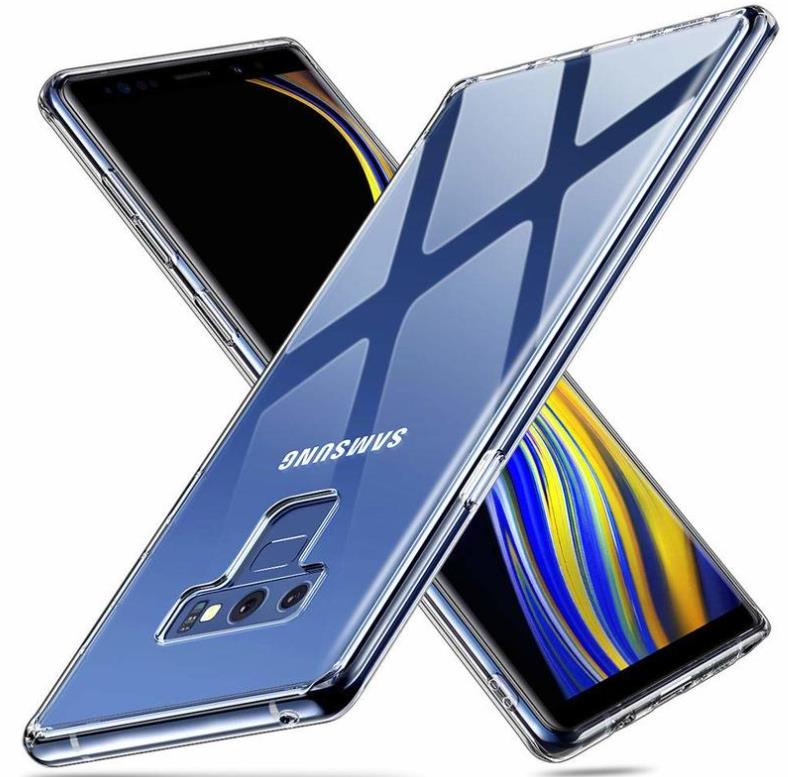 Features
Shock Resistant
9H Tempered Glass back
Scratch-resistant
Non-slippery features.
The Galaxy Note 9 Echo Tempered Glass Case does maintain the originality of the Samsung galaxy note 9 while offering protection to the smartphone with its crystal clear features. It consists of 9H Tempered glass which provides protection of the glass back of the Samsung phone and ensures a firm and comfortable grip on the phone. You can use the case for a long time as it maintains its looks for it is scratch resistant and it can absorb shocks further protecting your phone from falls with its soft edges.
While it has a firm grip, the material used also prevents the phone from slipping while remaining firm on surfaces, and prevents further damage to the phone. This case was designed to protect your phone for your daily use. While offering protection, it ensures a firm grip and prolongs the lifespan of your Samsung galaxy note 9 while maintaining its amazing features.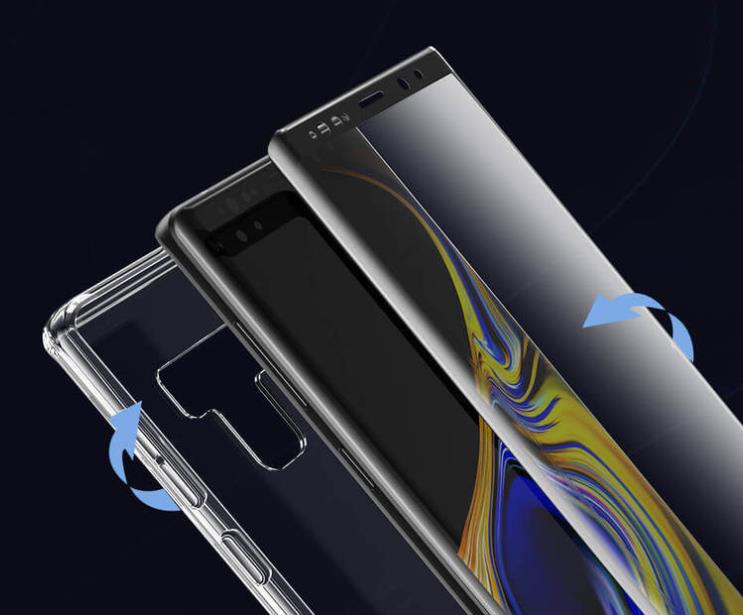 Features
Edge to edge phone protection.
Easy to install.
Crystal clear
9 Tempered Glass Case.
Screen protector X2
If you're itching to get the best protection for your money, the Galaxy Note 9 Full Coverage Protection Bundle is the best option. It gives you maximum protection and keeps your Samsung phone in good condition no matter how rough you use it.
The crystal clear case gives the smartphone a classy touch, and it is easy to fix and remove. Furthermore, it is made up of 9H Tempered glass which helps absorb shock and keep the phone in good condition. The case also comes with a Tempered glass screen protector X2 which guides your phone's screen from getting damaged. It comes more expensive than other cases for Samsung galaxy note 9, but it does get the job done and provides maximum protection for your expensive but fragile Samsung galaxy note 9.
The case is designed to maintain a classic look, giving the Samsung smartphone an edge in elegance over other cases. And it comes highly recommended from the quality it possesses through research and from the review of different customers.
Conclusion
Leaving your Samsung galaxy note 9 without extra protection is not advisable. And with the amount spent on the phone, you will be willing to pay extra on cases to provide the needed protection. We have highlighted some of the best cases that can protect your devices for your everyday use.
All the cases discussed above will provide adequate protection, and they have their unique properties. Their prices and the unique properties differ, which will be the deciding factors in making a decision. They are highly recommended, but you should go through their features and the prices which will enable you to make a decision.
Customers can always find a suitable case that meets their budget from the list discussed above. From the Galaxy Note 9 slim case cover which is the cheapest to the Galaxy Note 9 Full Coverage Protection Bundle, which is on the high side, you can make your decision. Take your time to go through the cases in this list and find the one which will suit your preference. But ensure that you protect the impressive Samsung galaxy note 9 with the right case to keep enjoying its unique features.