Samsung's galaxy note 20 ultra is currently one of the most advanced and popular smartphones among hot, fresh tech releases of the year 2020. Fully loaded with flagship specifications and cutting-edge technology, this classic luxury of a phone is pretty high maintenance and requires extra care and precautions than usual. Hence, buying a phone case/cover is undoubtedly your foremost responsibility after purchasing a precious and quiet sizable galaxy note 20 ultra. Before we launch into listing the Best Samsung Galaxy Note 20 Ultra Cases currently available, let's talk a bit about how to select the perfect phone case/cover for your Galaxy Note 20 Ultra.
Firstly, your attitude towards your devices and your lifestyle is to be taken into account. If you have slippery hands and you tend to drop your phone a lot, you need maximized protection against impact and scratches. If you are bit of an adventurous soul and intend to take your phone to risky excursions, you need armored protection. However, a simple, elegant case with necessary features like camera protection and air-cushioned corners for shock absorption would work well enough if you are careful with your phone use and don't want it to look bulky. Appearance (color or design), price and longevity of the case are other important factors you need to consider before you buy a phone case but for what its worth, the phone case you choose must compliment and bring out the beauty of your high-end, flashy Samsung Galaxy Note 20 Ultra. With myriad of options available, it can be pretty overwhelming to take make such a risky purchase. You can get easily confused but keep in mind your needs and lifestyle and you will be able to make a decision in no time. So, we have listed below 5 Best Samsung Galaxy Note 20 Ultra Cases in order to help you make the right choice.
Galaxy Note 20 Ultra Metal Kickstand Phone Case with Stand: USD$18.99

SHOP NOW
Purposefully designed for Galaxy Note 20 ultra, this ESR Metal Kickstand phone case is both suave and strong and provides foolproof protection to your Galaxy Note 20 Ultra against all kinds of impact and bumps in comparison to plastic covers. The most prominent feature of this case is the metal kickstand that lets you adjust it at any angle up to 60 degrees. This is a win-win for people who tend to watch videos and movies on their phones a lot. It can also come in handy if you are a photography or videography enthusiast. It is also strictly anti-scratch and has camera bezels, thus both your screen and camera are safe within this beautiful, stylish phone case that comes in two colors, clear and clear black. The TPU composition makes it quite flexible and easy to take it off or put it on. Also, it supports wireless charging, thus you don't have to take it off your phone to charge it.
Galaxy Note 20 Ultra Echo Tempered-Glass Hard Case: USD$18.99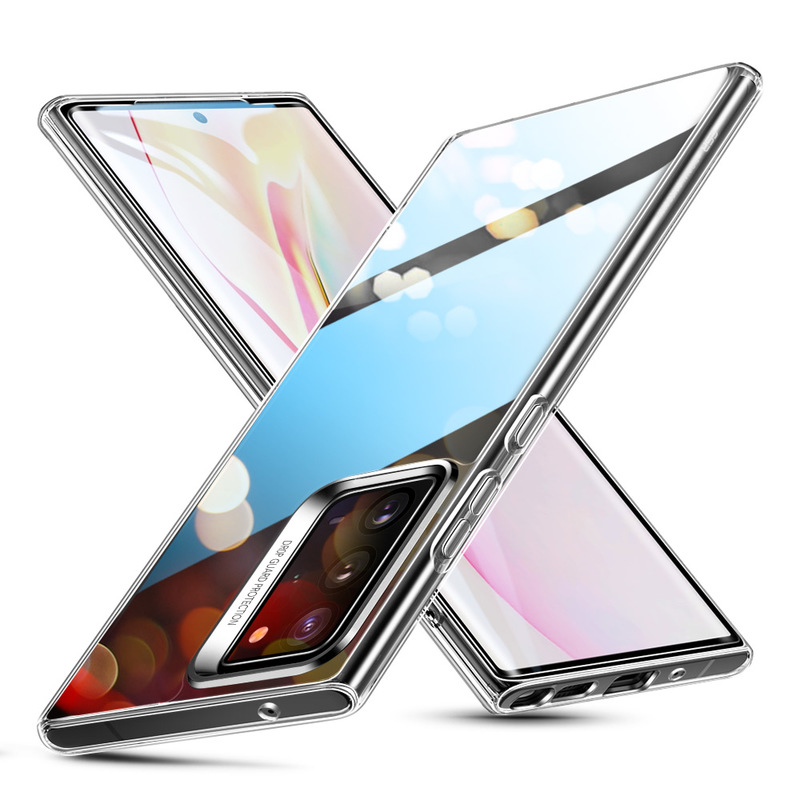 SHOP NOW
Apart from protecting your phone against all kinds of damage, this smooth phone case has a glass back, thus maintaining the original, glistening charm of your Galaxy Note 20 Ultra. The pure-as-water glass back of the case is specially designed to be ultra-thin and is effectively anti-scratch, making it the perfect choice for people whose style is more minimalist yet classy. The 9H tempered glass TPU composition gives it a secure, firm grip making it essentially non-slip. It also provides the best resistance against shock due to the characteristic air-cushioned corners. It also supports wireless charging.
UAG Pathfinder Phone case for Galaxy Note 20 Ultra: USD$39.95
SHOP NOW
This shock-proof, beautiful and military drop tested armor of a phone case provides the toughest drop and shock protection there is and is the most appropriate choice for people who are cruel and adventurous with their phone use. It provides a harsh but easy grip and has characteristic big buttons with increased functionality and highly sensitive touch, thus giving an easy-click feel. The back of the phone case has skid pads and raised rubber screen-lip features, thus providing ultra-protection. The design of the case is unique yet remarkable, giving it a very non-bulky appearance. The distinctive feather-light, honey comb design of hollow cells in its composition add rigidity and compression strength to the case, thus reducing the overall size and weight of the phone and making it easy to hold. The core is soft and strictly impact-resistant. It supports various important features such as Samsung Pay, wireless and reverse charging, hence, there is practically no need to take off the case. If you want to, it is pretty convenient and comes off easily. Surprisingly, it also makes your phone quiet convenient to slide in and out of your pocket.
Speck Presidio Grip Case for Galaxy Note 20 Ultra: USD$30.31
SHOP NOW
This pocket-friendly phone case has all the features any hyper vigilant, super-protective person could desire. This uniquely stylish, shock absorbing case is available in two colors: Cathedral Grey and Graphite Grey. The perfect no-slip grip can be attributed to the raised rubber ridges, thus enabling efficient texting, gaming, video viewing and selfie-clicking. It has two distinct protection features, the impactium rubber cushioning and the microban protection. The impactium rubber that holds the outer polycarbonate shell together provides a matchless two-layered ultra-shock resistance that guarantees no damage even on a 13 foot drop. The special microban protection keeps the surface of the case clean and free of stain and smell causing bacteria. With this case, you don't even need to lose your wits at a face-down drop, as its raised bezel feature will save your screen from breaking. It also supports wireless charging.
Snakehive Vintage Wallet Case for Galaxy Note 20 Ultra: USD$37.99
SHOP NOW
For leather enthusiasts, this wallet folio case is like a dream come true. This elite, 100 % genuine European Nubuck leather case feels as soft as a baby's skin and its seamless, suede-like finish ages wonderfully with time resulting in a distinctive patina. It provides effective protection against drop or scratches due to a classic leather exterior and a flexible plastic interior. Other important features include 3 card slots, access to buttons and cable ports, magnetic closure and a leather kickstand for convenient horizontal viewing. You can even have your initials engraved on the front corner of the case.
Conclusion
 In a nutshell, there are many companies avidly trying to keep up with the advancing technology and producing multiple phone cases/covers to cater to the customers' increasing needs. Choosing one case from a plethora of options can prove to be a daunting task but each product atleast ensures two basic requirements of a phone case:  protection and coverage. We dug out 5 distinctive, Best Samsung Galaxy Note 20 Ultra Cases by acknowledged brands to help you select the best choice for yourself. No matter what you opt for, your first and foremost priority should always be ensuring proper protection of your new purchase. I mean would you want to spend a few extra dollars on a broken screen after spending practically a fortune on an excellent, top-notch phone like Galaxy Note 20 Ultra? Of course not.