Using our mobile phones to capture images and record videos keep getting better by the day. With each associated challenge comes a technology to counteract it. Ring lights are one fantastic phone accessory you cannot afford to neglect, especially if you are a social media influencer. Rather than going to the studio to take that "perfect photo" or record some video sessions, you can use your phone in conjunction with an excellent ring light to take your best selfie ever or even record your videos.
Ring lights are precisely what their name says. They ensure a consistent supply of light to your phone's lens so that whether you are using it for a picture or video, the output is clear and sharp. Here are the best ring lights for phones you can get anywhere.
Tripod is Adjustable
Powered by USB
Uniform Light & Three Colors
Phone Holder is Rotatable
Everyone that had bought and used this ring light gave it a five-star rating. Of course, that tells a lot about its efficiency. It brightens everywhere with its three different colors giving you a distinctive look as you live stream, perfect your makeup or vlog. This ring light has a tripod stand that you can adjust from 17 inches to 53 inches for the perfect positioning whether on the floor or a desk
You don't experience much stress getting the appropriate angle for your phone because this ring light has a phone holder that is rotatable to any degree. The holder is also compatible with virtually all phones. Power it easily with any of your USB devices, and get down to the recording or photo session without much troubles with its setup.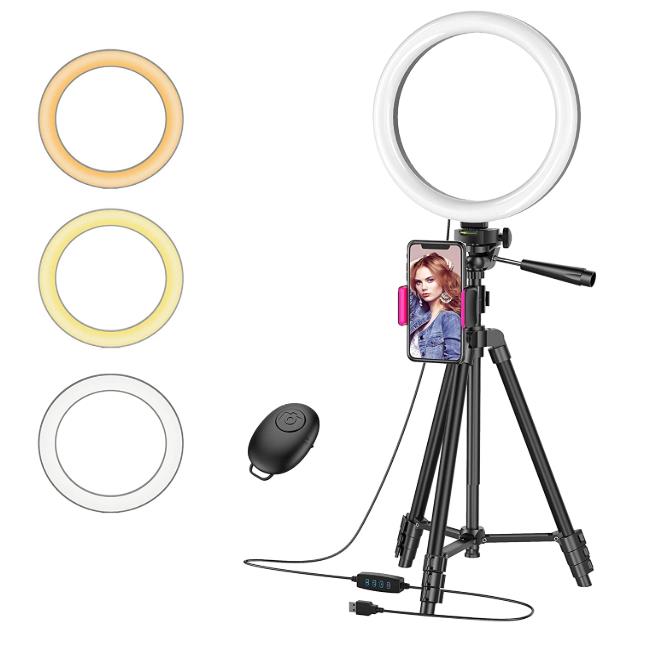 Pan Head can Rotate 3600
Perfectly Flexible Phone Holder
LED Light Dimmable
Widely Compatible
Powered by USB
Another excellent ring light with phones is the one produced by Aptoyu. There are over 110 LED Lamp Beads that ensure longevity, brightness, and variations. You can make your choice from any of its three Daylight, Cool White, or warm light colors, and it works with many Android and iPhones seamlessly. The phone holder contains an additional rubber to ensure that not scratches your phone while you are using it.
Since this Selfie TikTok ring light is USB-Powered, you can operate it with any of your device that has a USB port. Adjust its tripod stand to your preferred angle and length. Whether night or day, this ring light gives you the perfect lighting you need to come out with ideal work.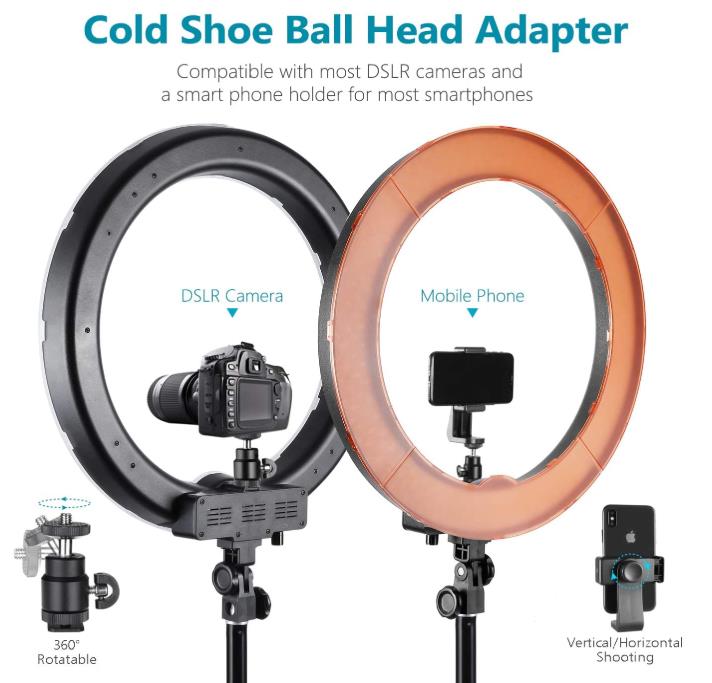 Comprehensive Kit
Dimmable LED Ring Light
Bluetooth Remote
Robust Stand for Support
Color Filter
Phone Holder is Flexible
Perhaps you are wondering why this ring light for phones is a bit expensive than others? It's because of the comprehensive kit it has that others don't. These kits include a power adapter, an orange filter, and Hot Shoe Adapter. With these, its SMD LED light is also dimmable between the range of 1 to 100%, and it is not heavy. You can enhance your skin's tone by manipulating the color filter feature that comes with this ring light.
How about its height? You can extend it up to 92cm, and it ha screw thread that is ¼ inches at the top. Apart from the Aluminum makeup of its leg, this ring light for phones is 3-legged, thereby ensuring that it stands firmly on the floor. Never worry about your smartphone's orientation because its phone holder can rotate 360 degrees.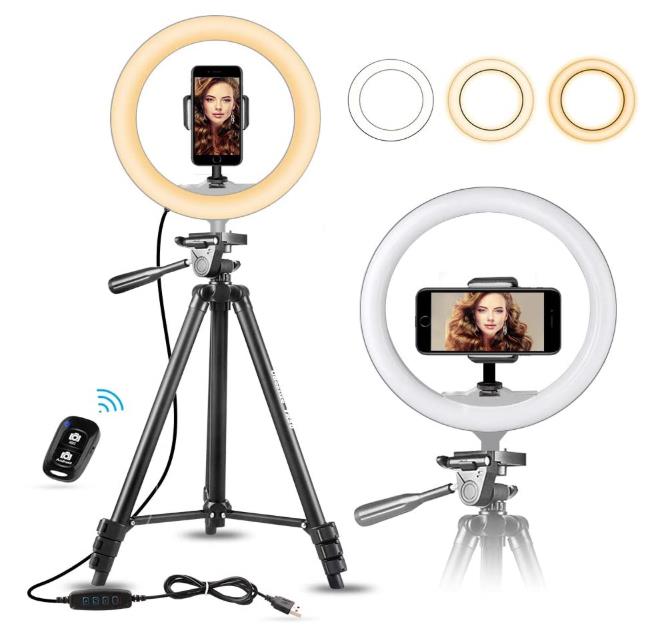 Multiple Lighting Angles
Tripod is Adjustable & Stable
Ring Light Dimmable
Phone Holder is Flexible
Bluetooth Remote
With any of its three dimmable light colors – Cool White, Warm, and Daylight, you can tweak the final outlook of your image the way you like. In fact, with other settings, you can stay in-between the over 30 options in each color. Using a ring light with phones has got better with this type because of the remote control that allows you to tune the phone holder to whatever angle you like.
Similarly, the tripod stand has three legs with which it stays firm to the ground. From 16 inches, the stand can extend up to 50 inches, while it can unfold as wide as 30 inches. Furthermore, the pan head, which comes in a three-way, is not only convenient to handle but also swiving and tilting smooth. All of these make your video calling, selfies, and lifestreaming effortless.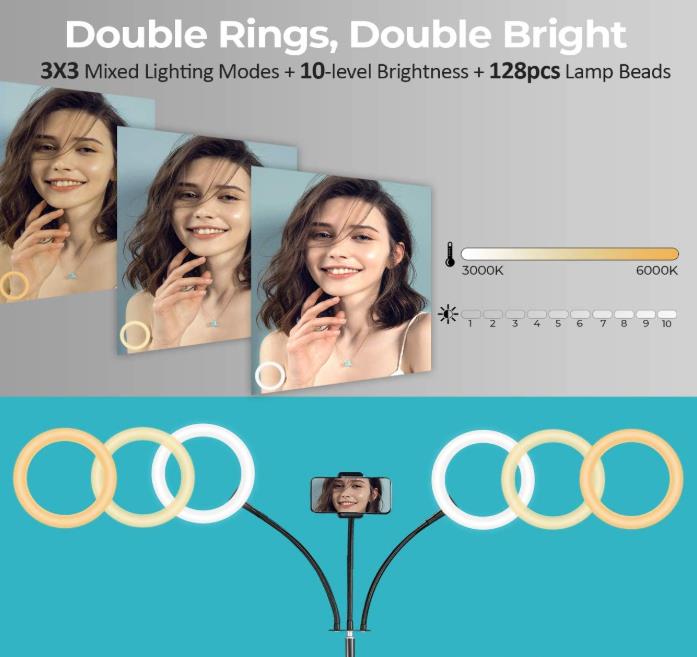 Multiple Lighting Choices
Rotatable Goose Neck
Uniform Brightness with Double Rings
Portable and Foldable
No more shadows in your videos or photos with this dual 8-inch ring that this ring light parades. For each of these two rings, there are sixty-four lamp beads, making a hundred and twenty-eight in all. The implication is that your color temperature options have increased, and you can access better light with other fantastic features.
More still on the LED rings, each one has three light modes: warm white, cold white, and warm yellow. Combining the two rings means that you can get many colors mixtures, an enhanced selfie. Although the tripod stand is a bit wide, you can fold easily whenever you want to pack it. This advantage makes it a good option for travelers.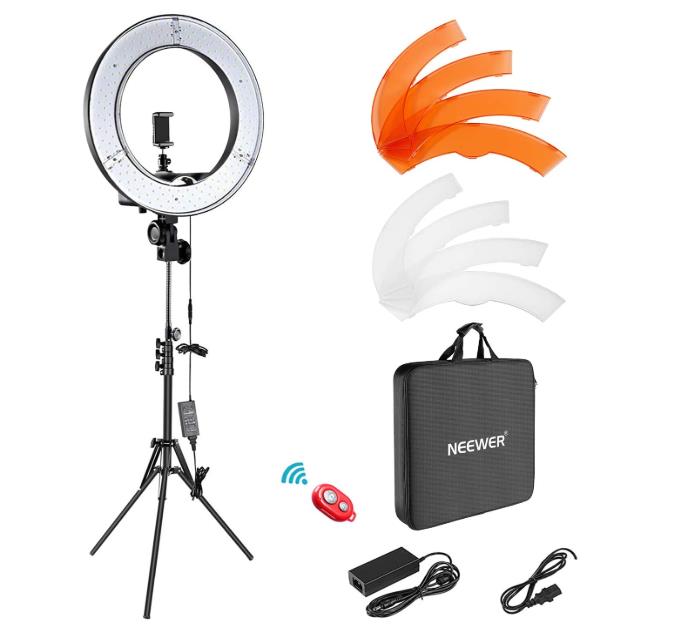 Fully Kitted
Dimmable Ring Lights
Durable Aluminum Composition
Wide Compatibility
The highlight of this TikTok ring light is the full kit that comes with it. These accessories include a carrying bag, a Hot Shoe adapter, Power Adapter (universal), Color filters, among others. The light variants of the rings are dimmable from one to a hundred percent. The tripod stand is long and stable on the ground while its phone holder is also very flexible.
Bottom Line
A choice from any of the six options above is no doubt the right choice. We have carefully selected them based on their rich features, and using ring light with phones gets more comfortable when you hit the "buy now" button. For anyone who doesn't have a big budget, the ESR ring light for phones is appropriate.