It is common for users to damage gadgets and other accessories inadvertently, but this can come at an (expensive) cost. The screen/display is arguably the most expensive part of a smartphone, even though it comprises many different parts. The cost of replacing a device's screen can be up to one-third of the normal price you buy the phone.
However, all that's left is to add a screen protector to help protect the screen. However, it is not easy to select the best screen protector as there are thousands to choose from. We will discuss the best screen protectors for the iPad Pro 11 and 12.9 in 2021 in this post. Let's start with why you'd want to use a screen protector in the first place.
What Do You Need a Screen Protector?
It is undeniable that a screen protector, whether paperlike or tempered glass, provides more than just physical protection. Some of the advantages of using it are listed below.
Given the iPad's massive screen, it's difficult to keep prying eyes from reading text in public. You can easily conceal your electronic data with a screen protector. Tilt the screen at an angle, and your nosy neighbor won't be able to read your WhatsApp or email threads.
Reduces The Effect of Glare
Regardless of whether the light is natural or artificial, a screen protector will reduce glare and improve clarity. Most protectors have a matte finish that reduces image reflection, reducing eye strain. Consider purchasing an iPad screen protector if you want to watch, text, or play games in public.
Helps to Get Rid of Sticky Fingers
After using your iPad for a long time, you may notice some stickiness. This is partly due to the sweaty fingers and the screen. Ultra-thin protectors reduce finger stickiness significantly, allowing you to text or surf without interruption.
Prevents Bacterial Growth
The screen is an ideal breeding ground for bacteria, mildew, and mold because of favorable conditions such as dirt, moisture, and heat. On the other hand, screen protectors have an antibacterial feature to help kill most of the bacteria. This is especially beneficial if you have a toddler who enjoys licking electronic devices.
As you can see, a screen protector not only protects your screen from cracking but also improves your health by reducing glare and preventing harmful bacteria from growing on it.
Best Paperlike Screen Protectors for iPad Pro 11 & 12.9 inch in 2021
Deal #1: iPad Pro 2021 Paperlike Screen Protector – Price: $29.99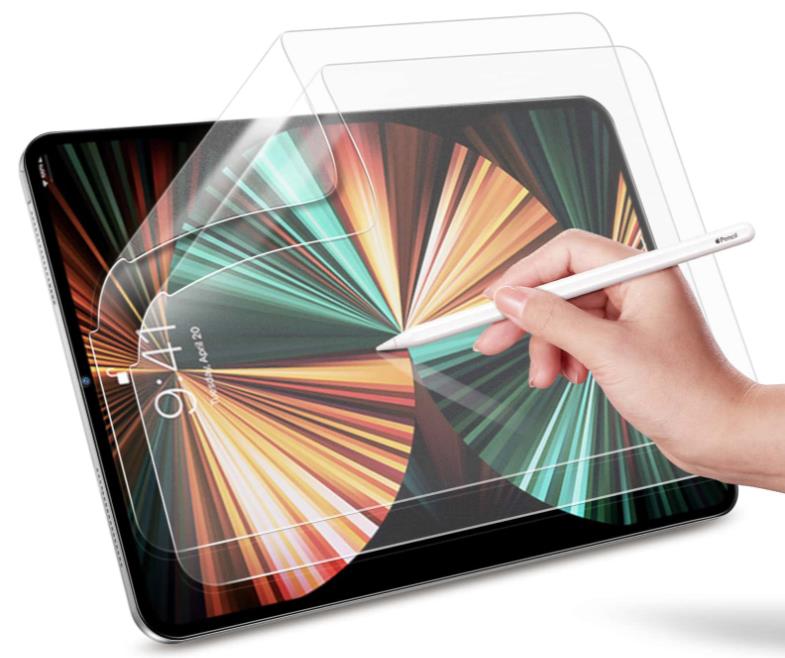 Key features
Apple Pencil Compatibility
Glare reduction
Fingerprints reduction
The matte surface feature makes writing feel like using a pen directly on paper. The application is simple, thanks to detailed instructions and a complete installation kit. The matte texture repels glare and fingerprints and thereby ensures that your smartphone screen keeps looking great. It has a feature of ultra-thin for precise Apple Pencil control. Also, its precise cutout feature keeps the front camera and Face ID in perfect working order.
Product link:
11 inch: https://www.esrgear.com/products/ipad-pro-11-2021-paper-feel-screen-protector/
12.9 inch: https://www.esrgear.com/products/ipad-pro-12-9-2021-paper-feel-screen-protector/
Deal #2: iPad Pro 2021 Sketchbook Bundle – Price: $39.19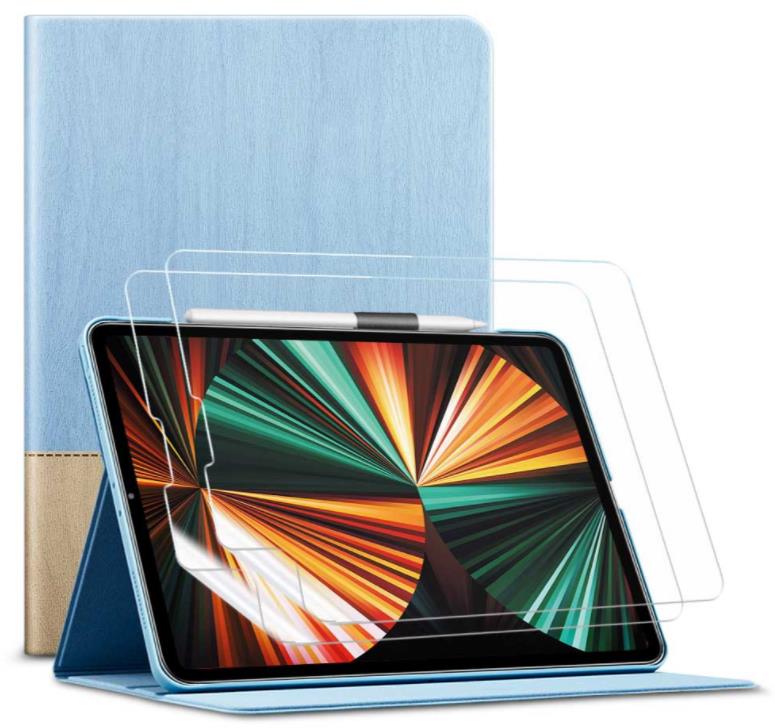 Key features
Precise Cutout
Ultra-thin Protector
With its side cutout and built-in holder, this screen protector safeguards your Apple Pencil 2 while allowing you to attach it to your iPad magnetically. Its front cover extends past the edges of your iPad for complete protection against daily wear and tear. The matte finish gives the impression of writing on paper when using the screen protector. Precision cutout keeps the front camera and Face ID working perfectly. This ultra-thin screen protector ensures responsive Apple Pencil control.
Product link:
11 inch: https://www.esrgear.com/products/ipad-pro-11-2021-sketchbook-bundle/
12.9 inch: https://www.esrgear.com/products/ipad-pro-12-9-2021-sketchbook-bundle/
Deal #3: iPad Pro 2021 Tempered-Glass Screen Protector – Price: $14.99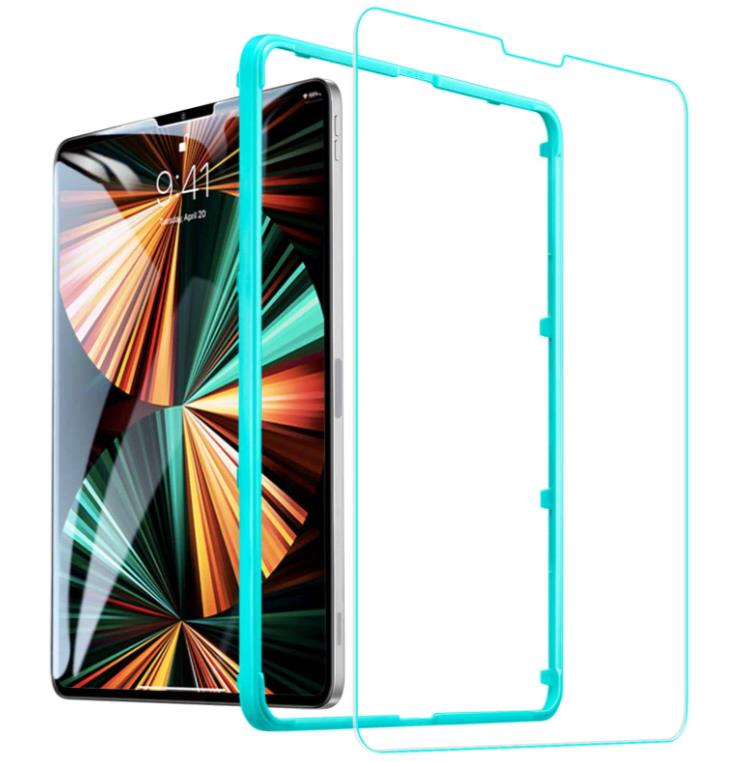 Key features
Precise camera cutout
Ultra-thin design
Tempered glass
It is a tempered glass screen protector that provides crystal-clear viewing of HD media while keeping your screen clean and scratch-free. It also comes with an easy-to-use alignment frame for bubble-free installation. Using face ID and your Pencil is simple and seamless, thanks to a precise camera cutout and ultra-thin design. Two tempered glass screen protectors, an alignment frame, two cleaning kits, and instructions are included in this screen protector's features.
Product link:
11 inch: https://www.esrgear.com/products/ipad-pro-11-2021-tempered-glass-screen-protector/
12.9 inch: https://www.esrgear.com/products/ipad-pro-12-9-2021-tempered-glass-screen-protector/
Aspects to Think About When Buying a Screen Protector
Mode of Adhesion
When you buy a curved (or regular) screen protector, check the adhesion mode. The way the screen protector is mounted on the display of your device is called adhesion.
Full adhesion: the whole surface of your phone's display is adhered to a full adhesion screen, leaving little or no room for air or bubbles. These screen guards, also referred to as "full-cover guards," provide further impact cushioning during accidents.
Bezel-Adhesion: These are designed solely for smartphone display edges (bezels). This only partially protects your smartphone's screen and reduces sensitivity to touch. They are also less expensive than full-screen protectors in most cases. The type of bezel adhesive is when the screen protector is removed from its packaging, and only its edges are sticky.
Clear or Anti-Glare
You will also have to make this decision when choosing a screen protector. Clear screen protectors are, as their name implies, made of thin layers of transparent materials. They have a smooth texture and offer a crystal clear view of your device's display, and can be almost undetected when used.
On the other hand, anti-gloss screen protectors are transparent and seem to be black. This is because they are made of thin layers of special films that reduce the intense, blinding light emitted by phones to reduce the eye's stress. These protectors, which have a matte (not smooth) surface, also provide scratch protection and fingerprint smearing.
Clear protective devices are suitable for indoor and outdoor use but do not block UV rays or reduce glare. Anti-blind shields, on the other hand, are ideal for outdoor use and vision problems. You should choose the type of screen protection based on how often you use your smartphone and how sensitive your eyes are to light.
The Display Nature
Many smartphone manufacturers are curving their screens on the edges to make their products more comfortable and aesthetically pleasing. Curved displays are amazing and help you to choose the right protector for your device.
Screen protective devices with 'D' attached to their names (i.e., protector 2D/2.5D/3D/5D/7D) provide full and reliable display coverage, depending on the curved edges of your phone.
You do not protect your phone display effectively if you attach a regular flat-edged protector to a curved-edged display. There are open spaces (the Halo Effect) that trap the dust, debris, and rocks that may damage the screen of your telephone.
Coverage
Before you go out and buy that screen protector, make sure you know what kind of protection it will provide for your device. And there are two types you need to know.
Full coverage: A screen protector provides full coverage when it covers the entire frontal surface of your device in an edge-to-edge style, making it difficult to tell whether or not the device has a screen protector on it.
Partial coverage: In this case, the screen protector only covers the main display area (the screen itself), leaving the edges and bezels unprotected. Not only does this type of protection only provide partial protection (the edges of your phone could easily crack if it falls), but it also detracts from the aesthetic appeal of your device.
Conclusion
Now you can protect your iPad Pro 11 or 12.9 with one of the screen protectors listed above. As previously stated, a screen protector not only protects your screen but also improves your privacy and eye health.