iPhone SE 2020 is a reasonable investment as it will cost you a lot less than the iPhone 11 series. The new iPhone SE 2020 will cost you around $400 but it is important to invest a little more in a protective cover. If you are a fan of red cases, then you will find a perfect iPhone SE red case for you in this article. The best thing about these cases is that these can be used for iPhone 7 and 8 too. Everyone wants their phone to be safe against pesky scratches. If you are one of those clumsy people who have a habit of dropping their phones, then you must need a good quality iPhone SE case. The old case won't be able to provide the level of protection that these upgraded cases will offer. We have gathered the best iPhone red cases for iPhone SE in this article. These cases have some incredible and improved features such as water-resistance, perfect cutouts, wireless charging, strong grip, and much more. So let's get started:
USD$15.99 SHOP NOW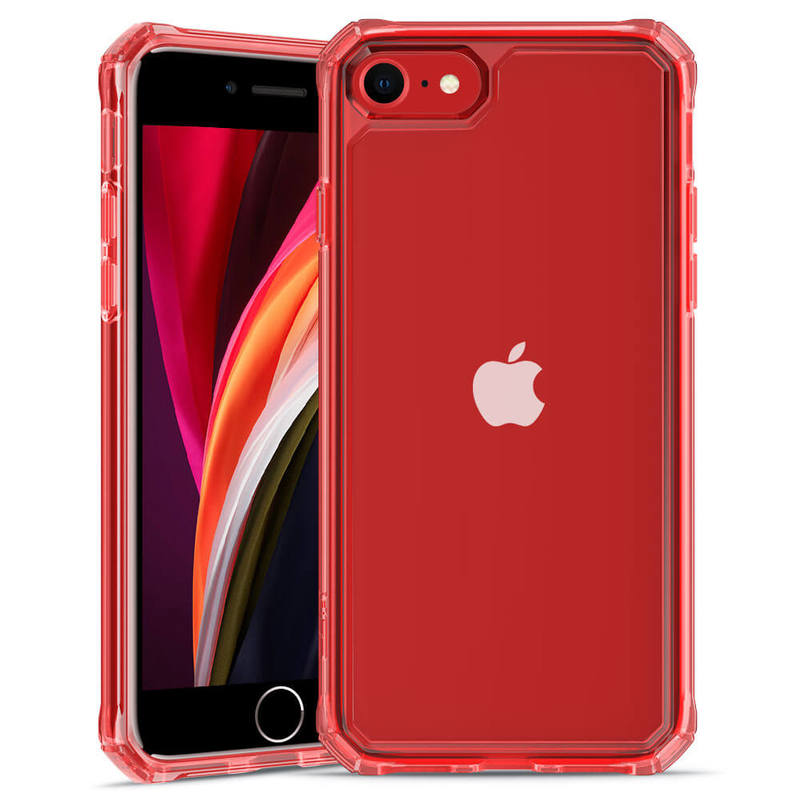 The iPhone SE Air Armor Case is clear than the most transparent cases and comes with air guard corners. The sock resistant material provides extra protection against drops and tumbles. It is compatible with iPhone SE 2020, iPhone 7, and iPhone 8. The natural beauty of your new iPhone SE 2020 can shine through the red polycarbonate transparent back. This military-guard case is available in various styles including clear, translucent, and red. The upgraded and improved air armor clear case offers hybrid protection, available at $14.39 only. If you want a simple clear red case with military-grade protection, then this is one of the best red cases for iPhone SE 2020. The raised bezels protect your phone's screen and camera against unwanted scratches. It is specially built up for daily wear-and-tear use as it has a strong grip and high-quality material. Your iPhone SE looks and feels great polycarbonate material with a comfortable grip.
USD SHOP NOW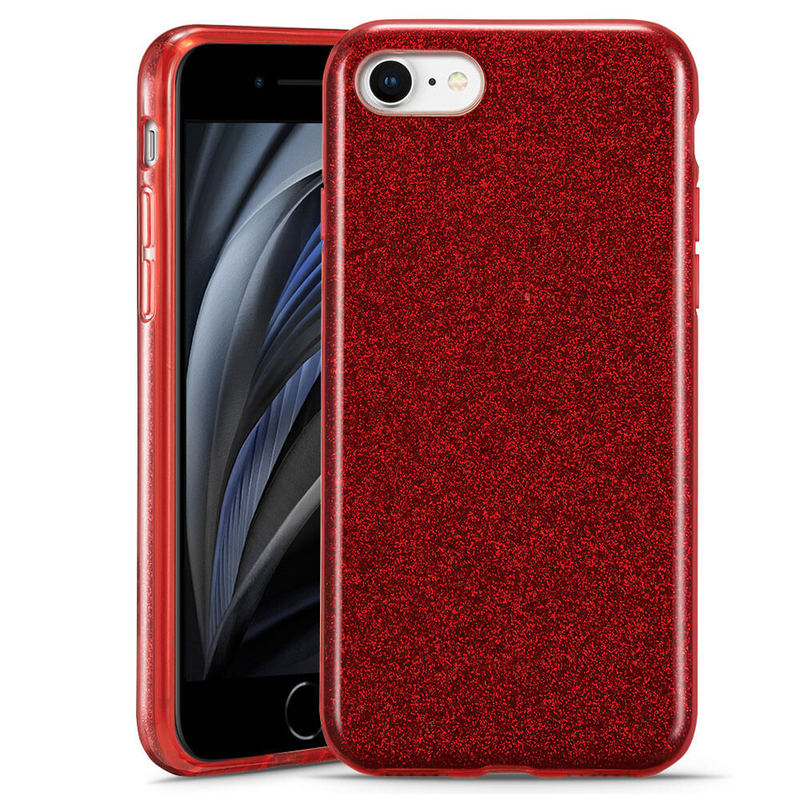 If you want to go for a lot fancier case, then this iPhone SE Makeup Glitter Case is for you. It comes with different glamorous colors including rose gold, silver, red, and black. You can make a shimmering statement with your iPhone SE red case, sparkling in your hand. This makeup glitter case is available at $12.59 only and has compatibility with iPhone SE/8/7 (2020, 2017, 2016 Release). The bling bling glitter case does not only looks good but has 3 layer design. The soft TPU edge makes it easy for you to install and remove the case without any hassle. The PC layer provided strong protection against drops, shocks, and nicks. The raised bezels also protect the screen and lens against any scratches. This sparkling iPhone SE case adds glamour to your style and makes your phone stand out.
USD SHOP NOW
The new Spigen Neo Hybrid Designed Case is dust and water-resistant. If you want to go for a bold iPhone SE red case, then this slim and form-fitted case is for you. As it has lightweight, it won't add bulk to your phone, which will allow you to carry it without any hassle. The perfect cutouts, in this case, allows you easy access to the ports. Your investment can be fully protected with this shock-absorbing TPU case, having a polycarbonate bumper.  The Spigen upgraded and improved hybrid design has excellent durability and a snug fit. It is available in different colors including Dante red, burgundy, champagne gold, pale dogwood, and much more. If you want a bold red, then Dante red-colored case is for you, available at $15.99 only.
USD SHOP NOW
The Supcase Unicorn Beetle Series Case is perfect for you if you want to go for a minimalistic design in red. This case is compatible with not only iPhone Se 2020 but also with the 2nd generation iPhone 7 and 8. The beautifully designed unicorn beetle series case is built with high-grade TPU and PC materials that are shock absorbing and durable. This case is slim and form-fitting so it won't add extra bulk to your phone. The defined edges and smooth finish in red make it one of the best red cases for iPhone SE. The supcase cover is also available in other colors too i.e. blue, black, and clear. All phone features are easily accessible with the perfect cutouts, making installation easy. Get extra protection for your screen and camera with this amazing unicorn beetle series case.
USD SHOP NOW
DTTO iPhone SE Case 2020 has elegant looks with a comfortable grip. It is compatible with the new iPhone SE 2020, iPhone 7 (2016), and iPhone 8 (2017). The high-grade metal body does not only look stylish but also provides extra protection to your new iPhone SE. The slim fit design helps you carry your phone anywhere you want without adding bulk. Furthermore, the precise cutouts are perfect for easy access to all the ports without having to remove the case. Another upgraded raised lip feature protects the screen and camera of your phone against pesky scratches and drops. This super-classy red phone case is available at $12.99 only.
Final Thoughts:
After our extensive research, we have gathered a list of the best red cases for iPhone SE 2020. Everyone has his/her own style but one thing that we all prefer is high durability and plenty of protection. Our focus was to bring great options to the table for you to choose the best iPhone SE red case. Whether you want to go for a glamorous case, minimalistic design, or hybrid design, this article has got you covered. So which red case matches your style?