As you consider the best way to protect your 6.7-inch iPhone 12 Pro Max, which is by far Apple's most sophisticated phone to date, you cannot but consider leather cases. Besides the great feel that quality leather offers, leather cases confer a premium look to your phone and protect it in every way. Most can neutralize the effect of a 10ft fall without recording any damage to your fragile iPhone device.
But how do you choose the best amid the myriads of leather phone cases in the market? A quick search on Amazon alone brings many options, with all claiming to be the best. Well, this question is what we seek to answer in this article. See below the description and details of the best iPhone 12 Pro Max leather cases you can get in 2020.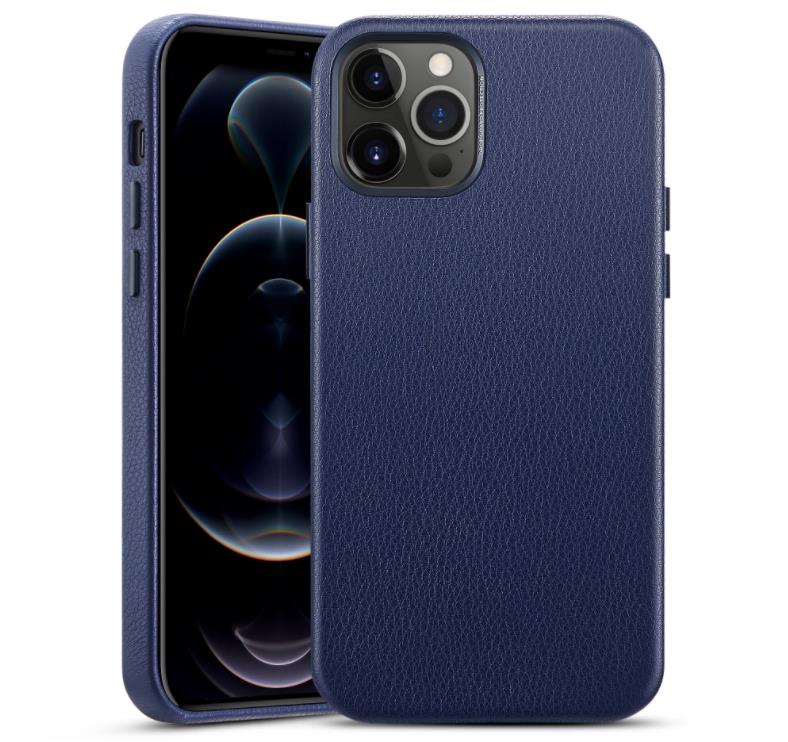 The first noticeable thing about this leather case is the unique pattern lavished all over it. Apart from making it more beautiful, it also aids the handling of it. That combines with the excellent and premium leather material that this case parades. It is soft to your hands and ultra-thin.
Much more, this case possesses a soft lining of microfiber inside to wade off scratching and preserve the pristine look of your iPhone. For protection, this case equally raises its bezels to ensure that sensitive phone parts such as the camera lenses and screen are safe.
Protects Camera Lenses and Scree
Premium Leather
Supports Wireless Charging
Very Light and Thin
Microfiber Lining Prevents Scratches
Attractive Pattern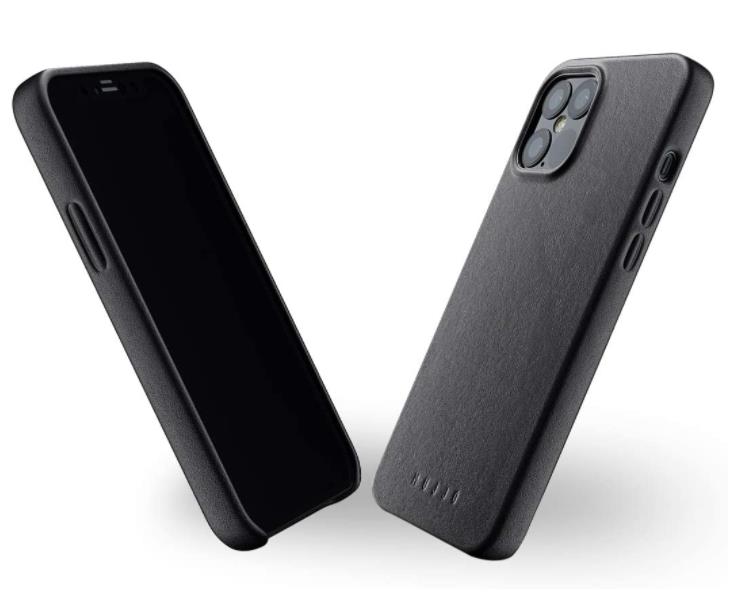 For a warmer, grippier feel to the hand, this case takes the lead among several others. The grain pattern on it is visibly supple and beautifully finished to aid your phone's overall beauty. The craftsmanship put into its make is irresistibly great as the button spaces are precise and compact.
Protection for your iPhone 12 Pro Max is also guaranteed by its raised bezels around the screen and lenses. You can choose whatever color or style you want as there are many options in this wise. This case may not be flashy, but its quality, depth of protection, and beauty are unmatched.
Pros
Vegetable-Tanned Leather
Lightweight & Soft
Premium Leather Material
Precise & Optimized Cutouts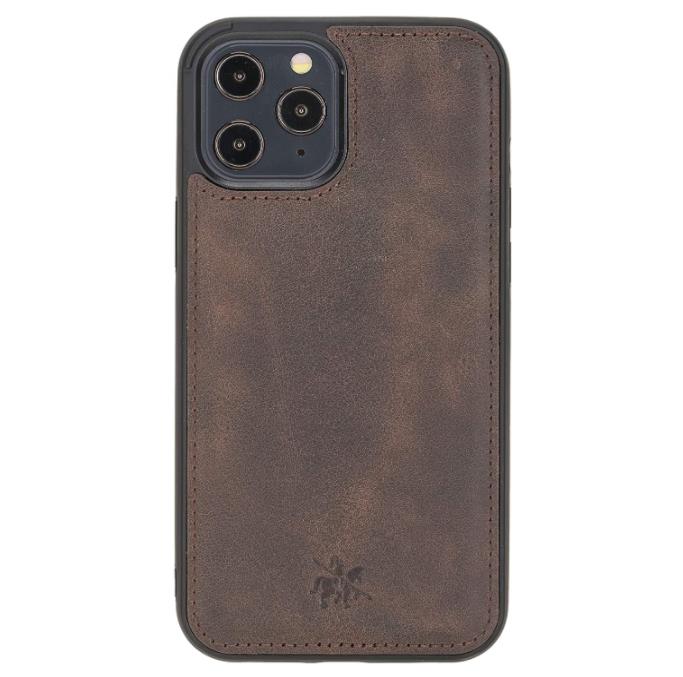 If you need a leather iPhone 12 Pro Max case that will allow you to charge wirelessly, here is one. The back contains paddings that help to absorb shock and also makes it soft. All the edges are raised, conferring protection on the sensitive parts of your phone.
Similarly, you can access all the ports of your iPhone 12 Pro Max conveniently because of its precise cutouts. Its interior parts are suede-lavished to shield from scratches. And how heavy do you think this phone case is? Absolutely lightweight!
Pros
Premium Full-Grain Leather
Unique Design
Supports Wireless Charging
Perfect Fit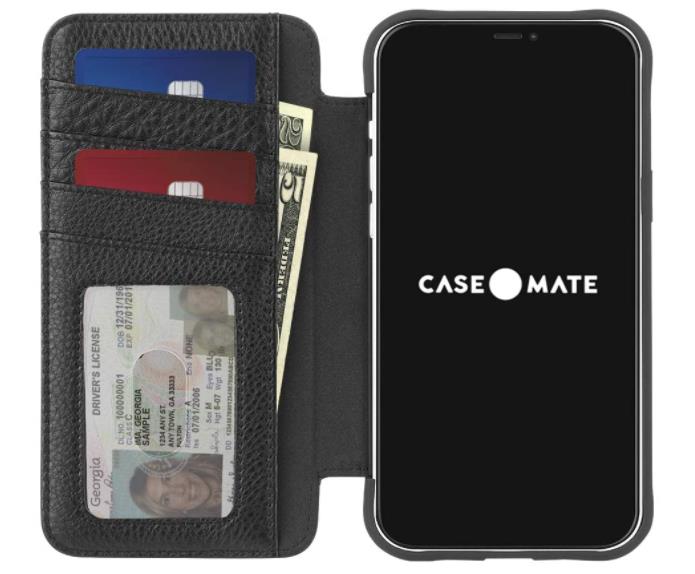 Apart from the protection and ease of handling, this case can also serve as a wallet to hold your ATM cards, ID cards, and some cash. Unlike other cases on our list, this one opens and closes, giving your Apple flagship the optimum protection ever.
But beyond covering the screen of your iPhone, you can also use the leather flip cover as a viewing stand, thanks to its strong magnetic component. That aside, you can also charge wirelessly with this case, although we advise that you remove your cards before charging.
Pros
Flip can serve as a viewing stand
Four slots for cash and cards
Premium leather material
Lifetime warranty
Optimum protection up to 10ft fall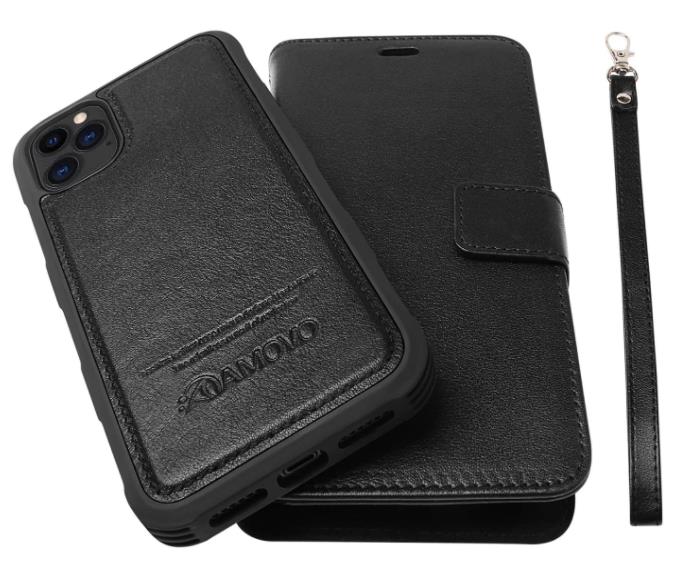 This leather case is designed to resist the damage that comes through falls. The leather material is handmade, combining PC and TPU to offer resistance against bumps and shocks. There are multiple cards and cash slots where you can keep your important Ids and cards.
Also, because the back is magnetic, you can detach it to have your wallet separately from the case. The cutouts are easy to access, thanks to the accurate cutouts. Additionally, you can charge your iPhone wirelessly with this leather case.
Pros
Supports Wireless Charging
Multiple Card and Cash Slots
Cover can form Viewing Stand
Premium Leather Material
Optimum Protection
Here's another detachable wallet case made of premium leather material. The frame is sturdy and helps keep your iPhone stable and safe. The sophistication and elegance of this case make it relevant for everyday use. Its strong magnetic flip cover can also serve as a kickstand, thereby improving your user experience of the iPhone.
Keep your cash, phone, and cards in a place and charge wirelessly with it as you want. We, however, advise that whenever you want to charge, you remove your cards. What's more? Everyone can use this case, whether male or female and the protection it assures is superb.
Pros
Supports Magnetic Charging & Apple Pay
The wallet is Detachable from Case
Optimum Security & Protection
Premium Handmade Leather
Conclusion
All the leather cases on our list are top-notch and offer superb protection for your new iPhone 12 Pro Max. However, you may want to root for ESR's iPhone 12 Pro Max Metro Premium Leather Case for a couple of reasons. First, it's the cheapest on the list. So, if you don't have much money for a phone case, it can make an excellent choice.
Second, it has everything your iPhone needs for beauty and protection. The sacrifice you make in getting an excellent leather case now can determine how long you would keep enjoying your new device. We hope this piece helps your decision-making process.