Maybe it's just me but it irks to have wires all around me. I detest seeing tangled wires too. I see you nodding your head in affirmation to the afore-said. Well then, I guess I'm not alone on this.
This may seem quite impossible because almost all gadgets and appliances come with wires but this can be avoided – thanks to the new age technology.
What do you think about charging your device without having to deal with its wires littered around the whole place or without tangled cables? I bet you would love that.
Following the new age technology, Apple has always been ahead of their game by taking pro-active steps and also being a step ahead of their counterpart in the phone world by adopting the wireless charging technique.
To this effect, Apple brought in a game-changer by introducing the wireless charging technology into their phone devices.
And this wireless technology is being used in Apple's MacBook with built-in reverse charging to power up iDevices.
Replicating this in their latest release (iPhone 12) is the MagSafe wireless chargers that with the iPhone 12 series – go cordless!
In this article, I have put together for you, the 6 best iPhone 12 MagSafe wireless chargers from ESR that you can purchase. So, stress no further about getting a recommendation – it's all in this article.
You know how we do it, right? grab some burgers and smoothies as we take a cruise!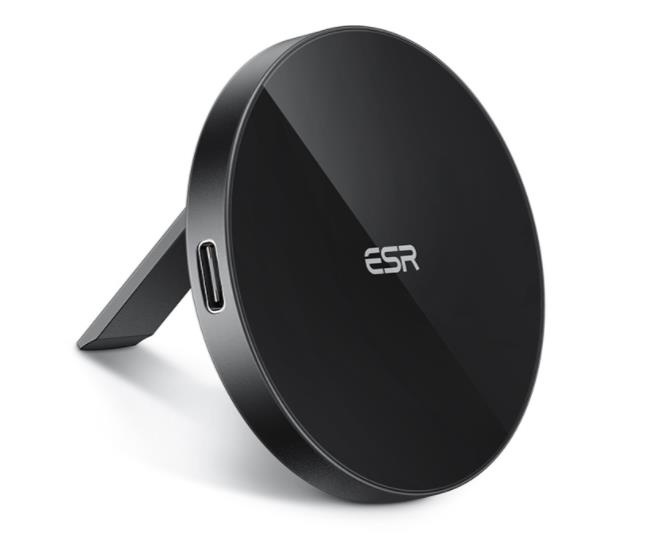 Key features
Built-in kickstand
Detachable 5ft (1.5m) USB-C cable
Ultrathin and lightweight
Sturdy tempered glass
The HaloLock™ kickstand MagSafe is compatible with the iPhone 12. It is also MagSafe compatible.
Feel free to video call your family and friends while charging your device as this HaloLock™ wireless charger has a built-in kickstand to help hold your phone in place when needed and it has cand up when you don't need it.

It comes with a 5ft (1.5m) USB-C cable that is detachable, making it easy to carry around your HaloLock™ kickstand. Also, you can trade your cable for this stand which is super light in weight.
This stand is ultrathin and light-weighted making it easier to change from nightstand to coffee shop.
The body of this HaloLock™ kickstand wireless charger is coated in aluminum alloy with a tempered glass surface to give you a sturdy look with an excellent texture.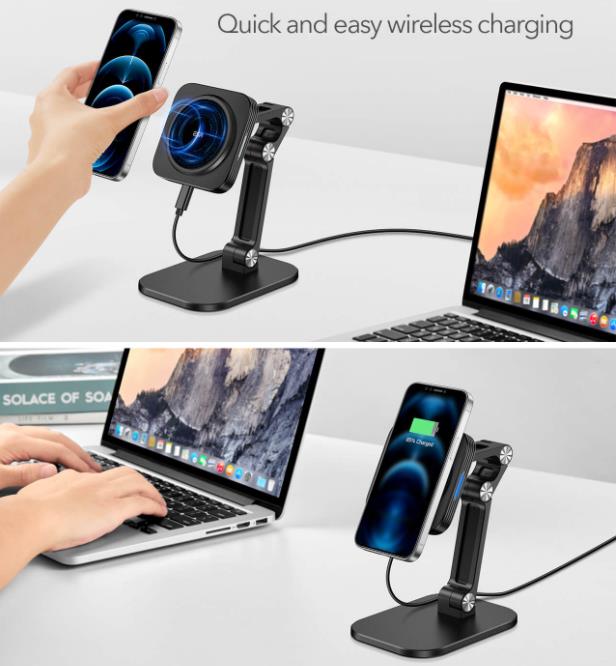 Key features
Secure clamp
Durable pivot joints
Elevated stands for comfort
Supports dual-mode
Specifically designed for the iPhone 12 series is the HaloLock™ adjustable MagSafe compatible wireless charging stand and it requires an iPhone 12 without a case or a HaloLock™ or MagSafe compatible case.

This wireless charging stand has a built-in magnet that helps to clamp your device and hold it in place. It also ensures your phone is unaffected by any vibration.
It has 4 durable pivot joints and it enables you to alter or change the position of the stand to your desired angle.
With this wireless charging stand, it is easier to swiftly change from vertical to the horizontal mode or any angle of choice within the 360-degree ring of magnets.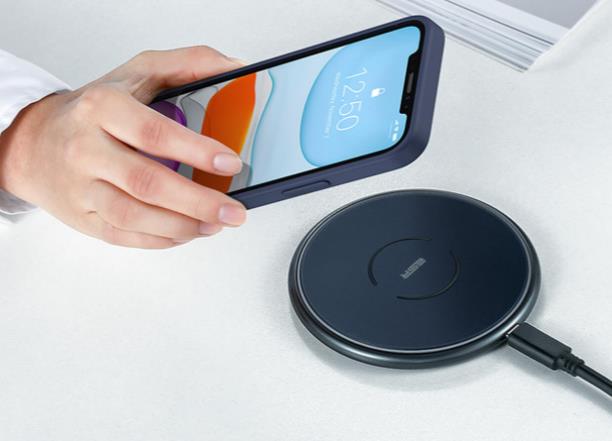 Key features
Fully regulated charging
Enhanced protective features
Undisturbed sleep
The HaloLock™ magnetic wireless charger is specially designed for the iPhone 12 series, HaloLock™ magnetic cases, and the official iPhone 12 MagSafe cases. Note that, it does not include a PD charger.

This wireless charger has an enhanced protective metal frame that expends heat. It also has an array of built-in safety measure that helps cool down your device while it is charging.
Also, the ring of this HaloLock™ magnetic wireless charger helps keep your device focused on the charging pad to allow for quicker and more uniform charging.
Also, the charger has a soft status light that goes off after 60 seconds to allow you to sleep without any disturbance with its ultrathin and lightweight making it a suitable bedside nightstand.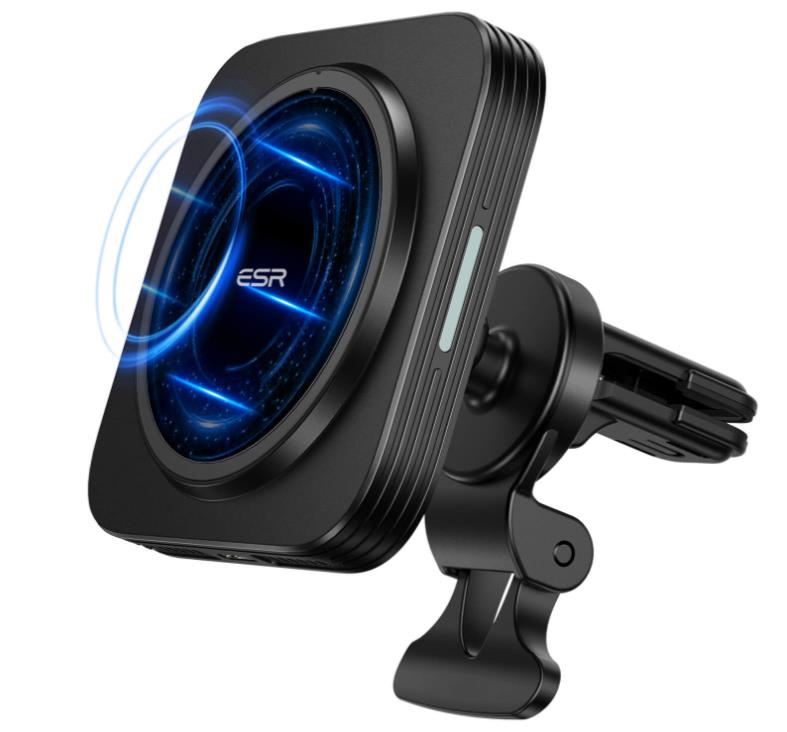 Key features
Durable and flexible
5w swift charging
Safe magnetic attachment
Specifically designed for the iPhone 12 series is the HaloLock™ magnetic wireless car charger mount. It is also compatible with HaloLock™ iPhone 12 cases and official MagSafe iPhone 12 cases. Please note that it is not compatible with any non-magnetic cases.

This car charger mount has a strong HaloLock™ magnet which clinches to the built-in magnet in your iPhone 12 device thus allowing for an iPhone 12 device thus allowing for a safe attachment even in rugged areas.
Do you wish to make those calls in the vertical mode or watch your favorite TV series in the horizontal mode? Or any angle within 360-degrees? Feel free to do so with the charger as it is flexible and it supports rotation in various modes while the secure hold prevents your phone from falling by keeping it in place.
Although quick wireless charging needs an adapter or USB port that supports 18w PD/DC fast charging, this car charger mount still supports 7.5w swift wireless charging for your iPhone 12.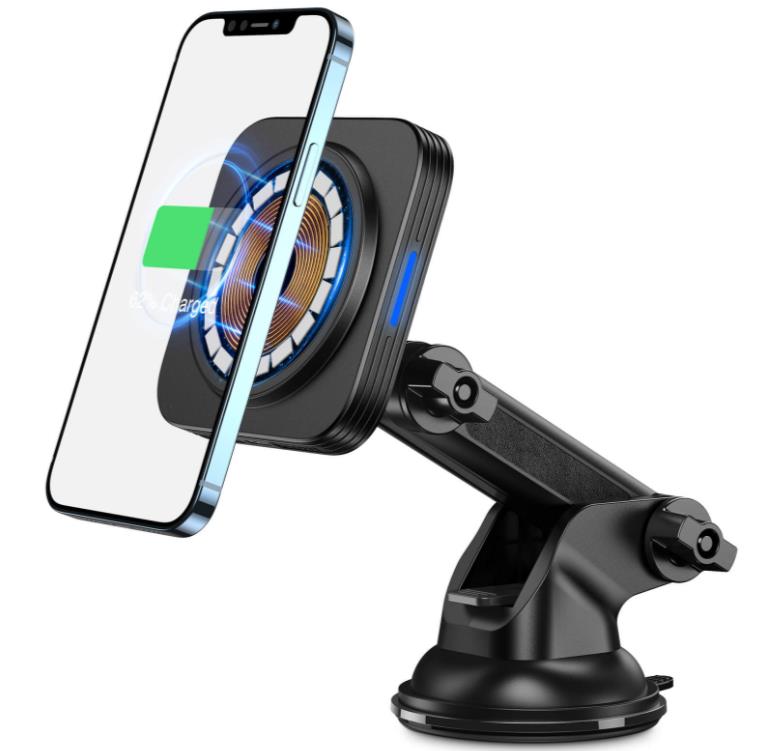 Key features
Safe mount
Strong and durable suction cup
Supports 7.5w quick wireless charging
No attachment required
This dashboard wireless car charger is compatible with only the iPhone 12 series, ESR HaloLock™ cases, and official MagSafe cases. Do not try to pair a non-magnetic case with this charger because it would not stay fixed on the dashboard.
It comes with a built-in HaloLock™ magnetic ring that holds your device. an official MagSafe case or ESR HaloLock™ is needed for a rugged area.

It supports 7.5w swift wireless charging compatible with your iPhone 12 plus, a car charger USB-A port that supports 18w QC swift charging is needed.
You can safely fasten to your windshield or dashboard with a strong and durable suction cup. Also, you can easily adjust to any angle of choice.
Albeit, it does not come with a car charging adapter but other kits include a HaloLock™ dashboard wireless charger, dashboard mount, cleaning wipe, 1m USB-A to USB-C cable, and manual.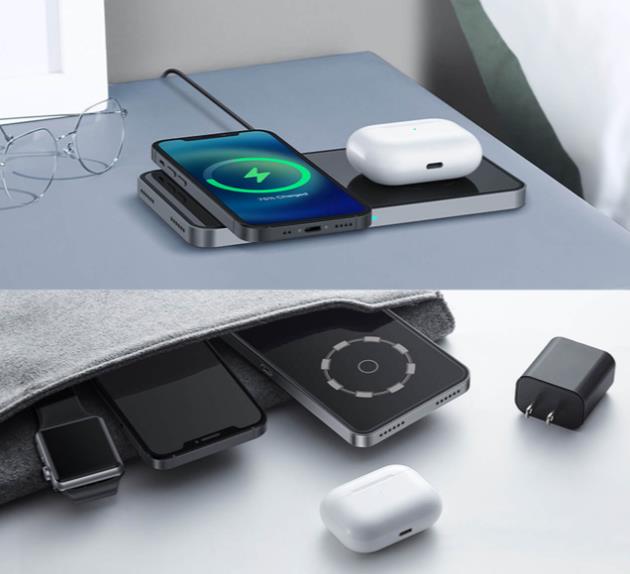 Key features
Simultaneous dual charge
Easier & swifter charging
Secure and stable
Case compatible
This 2-in-1 magnetic wireless charger integrates a HaloLock™ magnetic wireless charger for the iPhone 12 and a standard wireless charger for air pods, iPhone 11, and other phone types.
The HaloLock™ magnetic ring on the magnetic charging pad help keeps your device entirely fixed with the charging coil for swifter and smoother charging.

This charger supports cases with up to 5mm thickness. Please note that magnetic locking with a case on needs an iPhone 12 magnetic case or a HaloLock™ magnetic case.
This charger comes with a standard protective feature that helps prevent your device from overheating and overcharging hence, keeping your device safe.
It supports 7.5w quick wireless charging for the iPhone 12 and up to 10w wireless charging for some other Qi-enabled devices. Also, it comes with an 18w fast charging adapter and cable.
So, there you have it. Information packed article to help you make the right decision. Go make a purchase now.