As the weeks roll by, interests seemed to have laid low. I mean, for those who have made the purchase of either the iPhone 12/12 Pro. Although not entirely, but significantly.
You don't have to feel bad about it as it is just normal for the law of diminishing returns to set in. So, you have nothing to worry about in this case.
What if I told you I've got something to rouse your interest and awake your excitement from slumber? No, don't thank me yet (at least, not until you're done reading this article).
Something very interesting about the iPhone 12/12 Pro is seen in one of its amazing features. Although novel to the iPhone generally, on the other hand, it is well acquainted with its counterpart – MacBook.
Drum roll for no other feature but the MagSafe technology. If you are well versed with the MacBook (most especially, the older versions), you would notice the magnetic charging connectors were being used for them till they were replaced with the USB-C.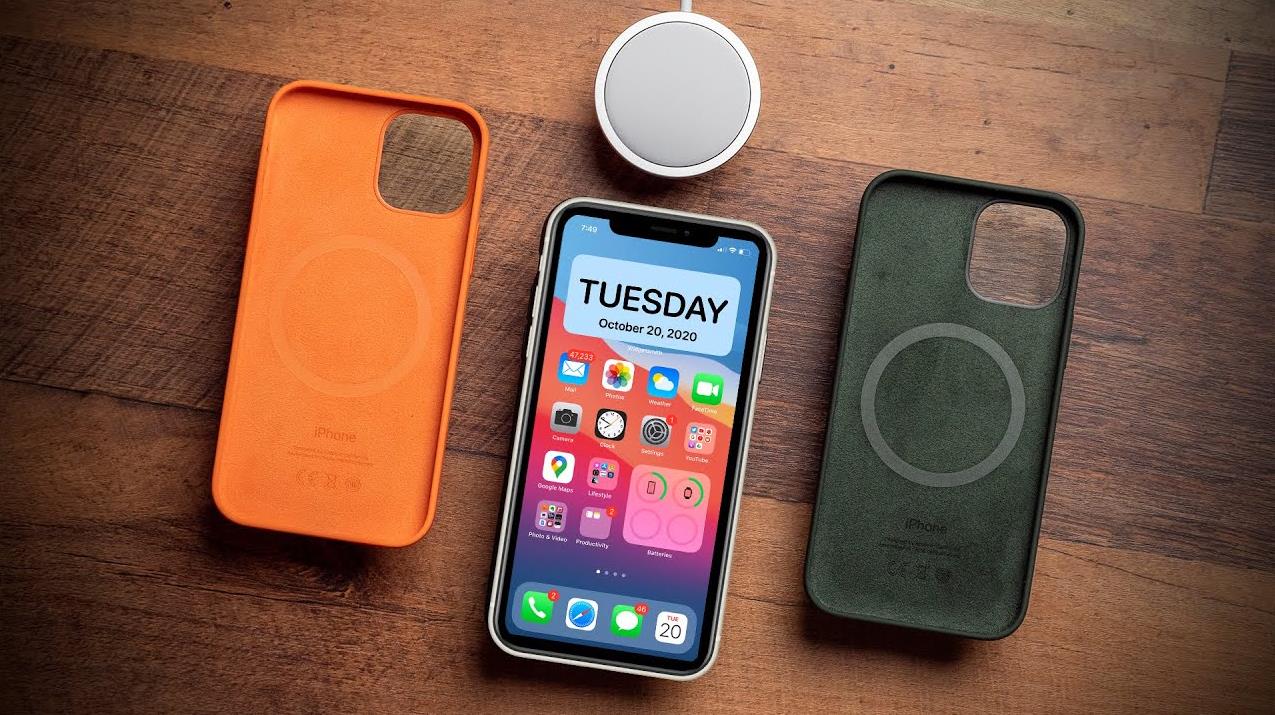 Perhaps, you do not yet know what the MagSafe technology is all about, I will not draw back from letting you in on what MagSafe is all about.
MagSafe is an array of magnets that can affix your smartphone to any accessories that prove to be compatible with the MagSafe technology.
Asides from clutching powerfully to your device, MagSafe technology also has the capability of delivering about 15 watts of power which means you will get to enjoy twice as much (wireless charge) power than you did while using the Qi-based chargers.
Although, there are not many MagSafe accessories available for purchase currently who cares, by the way, less is more! You could always maximize your use with the few available right now.
Not to worry, Apple is cooking up some more MagSafe accessories just for you. Maybe, some third-party manufacturers will follow suit.
Some of the MagSafe accessories include the Apple clear case with MagSafe, Apple silicone case with MagSafe, Apple leather wallet with MagSafe, Belkin MagSafe car vent mount pro, Outtabox figura series case with MagSafe, and the Apple MagSafe chargers to mention but a few.
Having known all these, I bring to you the best iPhone 12/12 Pro MagSafe accessories from ESR for your perusal.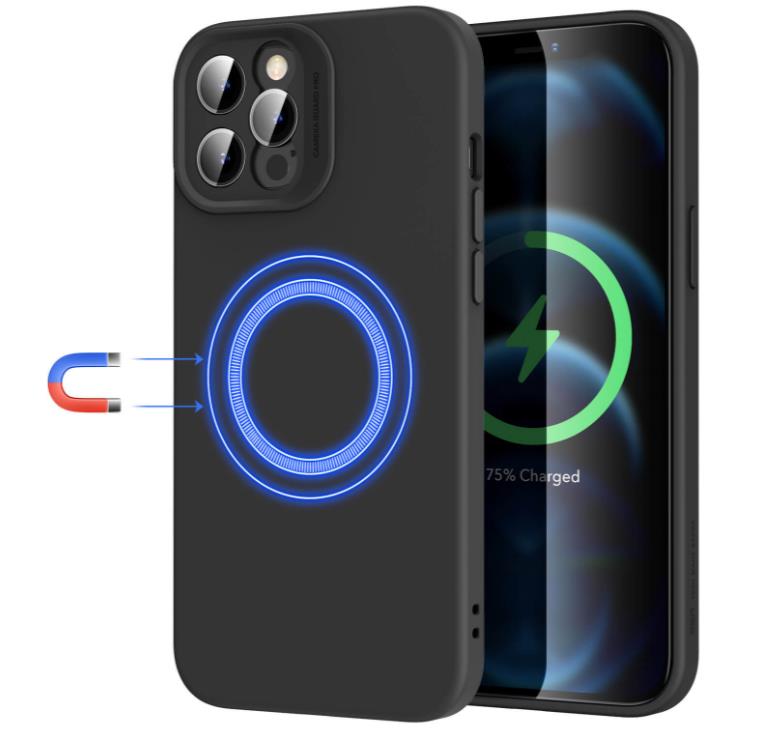 Key features
Silky texture
Magnetic wireless charging supported
Ultra-slim
Full protection
Precise cut-outs
One distinct feature of the HaloLock magnetic ring is that feature which is obvious in its name already as it supports MagSafe/wireless charging.
Its silky-smooth texture has a cincture of matte finishing that allows for a comfortable grip. This HaloLock magnetic ring absolutely attaches to a MagSafe or HaloLock magnetic wireless charger for a quick and simple charge always.
This case is ultra-slim and light weighted and will in no way give additional weight to your device.
The bezels of this HaloLock case are elevated to help guard your device screen and camera plus, it comes with a soft lining that helps prevent your device from scourging hands of scratches.
The extremely soft edges and precise cut-outs made on this HaloLock case just make it super easy to use and take- off this case at the same time fitting perfectly to your device.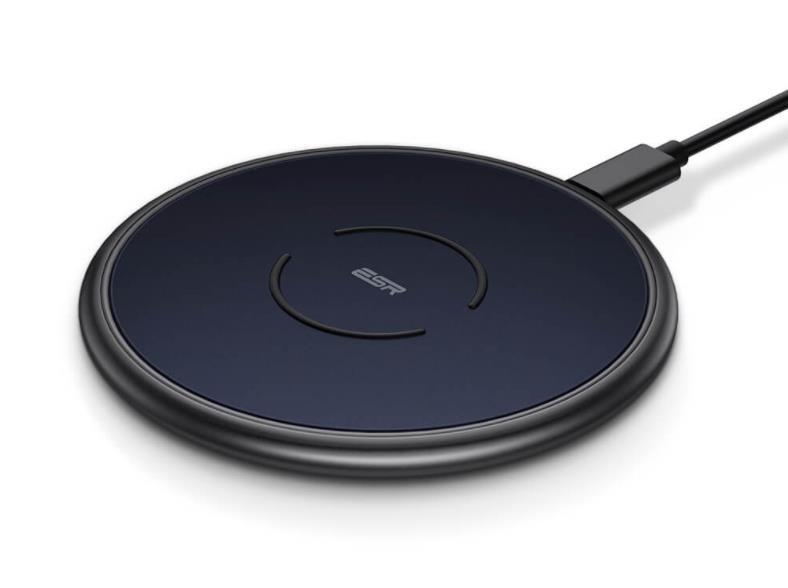 Key features
Superior safety features
Perfectly fixed charging
Compact design
In terms of compatibility, the HaloLock magnetic charger is specifically designed for the iPhone 12 series (iphone12/ 12 Pro), HaloLock magnetic cases and the official iPhone 12 MagSafe cases.
The HaloLock magnetic ring in this wireless charger helps keep your iPhone 12 accurately fixed to the center of the charging pad for rapid and more regular charging. However, it is pertinent to note that the PD wall charger is not included.
There exists in this wireless charger a metal frame that expends heat plus a set of built-in safety measures to help keep your device safe and cool it down while charging.
To help prevent disturbance while you sleep, this wireless charger has a soft status light that goes off after a minute.
In addition, the ultra-slim and sleek design of this HaloLock magnetic wireless charger make it a perfect plus to your bedside table.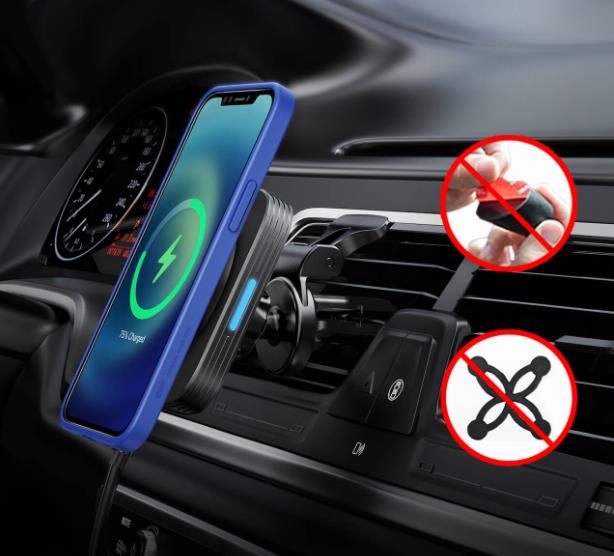 Key features
Safe magnetic connector
Swift and facile charging
Stable and adaptable
Rapid wireless charging
Specifically designed for the iPhone 12 series, HaloLock iPhone 12 cases and the official MagSafe iPhone 12 cases are the HaloLock magnetic wireless car charger mount which apparently supports MagSafe.
Strong HaloLock magnets perfectly align with the built-in magnets in your iPhone 12/12 Pro in order to keep your device safe in the case of an accidental trip-over or mishap of such sort.
The HaloLock magnetic ring also helps keep your device in accurate alignment with the charging pad for an easy and rapid charge.
What does it matter if you decide to place your device in the horizontal or vertical mode? Well, you don't have to worry your head about that as the lockable clamp of this HaloLock magnetic wireless charger helps secure your device strongly in place.
It supports fast wireless charging hence you'd be needing an adapter or USB port that supports 18W PD/QC fast charging.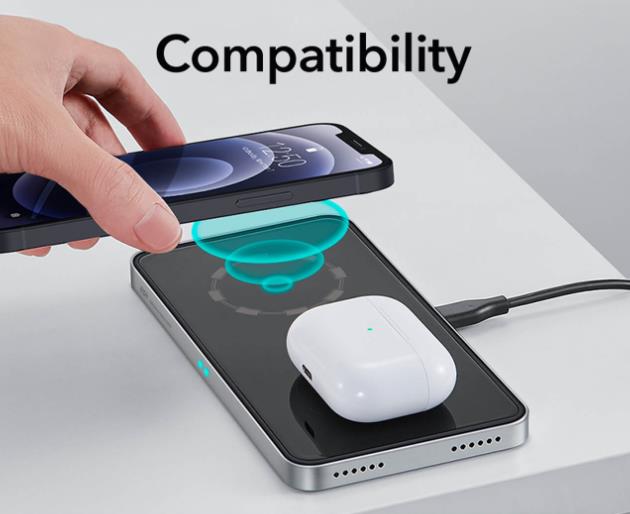 Key features
Dual & simultaneous charge
Simple & swift charging
Rapid wireless charging
You can go ahead to charge two devices at once as this charger combines the HaloLock magnetic wireless charger for your iPhone as well as a standard wireless charger for your air-pods or iPhone 11 and other devices.
Your device is completely in alignment with the charging coil with the help of the HaloLock magnetic ring on the magnetic charging pads for a swift charge.
With an 18W fast charging adapter and cable, this 2-in-1 magnetic charger also supports a 7.5W fast wireless charging for your device and also about 10W for Qi-enabled devices.
This charger is case-friendly and has a higher safety feature that helps protect your device against overheating, overcharging and short-circuiting.
What do you think of more accessories like the MagSafe-compatible camera lenses, portable wireless power banks, handheld stabilizers and bike mount systems? Cool right? …absolutely!
These and many more are some of the accessories you should expect from MagSafe in the nearest future. Apparently, MagSafe is here to stay forever. So, help yourself by making a purchase asap!