To protect your iPad Pro 11 2020 you need a durable, quality, and genuine case. What better way to go about this than purchasing some of the best cases from ESR? ESR is renowned for the production of top-tier smartphone accessories.
From cases and screen protectors to charging accessories, the company got you covered. In this article, we will highlight eight of the best iPad Pro 11 2020 cases. So, let's cut to the chase.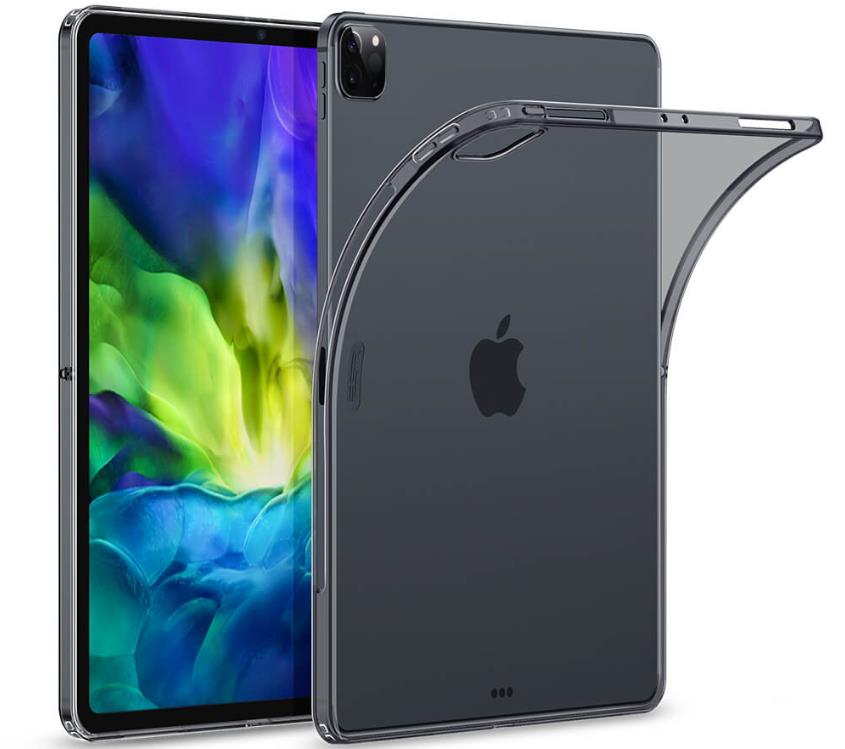 Key features (Price: $13.99)
Slim and lightweight.
Robust exterior.
Microdot pattern.
Precise cutouts.
Like to show off your premium gadgets? Well, if this is you, get this ultra-transparent iPad case which shows off the sleek look of your tablet. You'll enjoy the hassle-free installation since it is explicitly designed for the iPad Pro 11 2nd generation. No longer will you experience the annoying "water-like patterns" on the back of the tablet thanks to the Microdot pattern.

Although slim and soft, it comprises a robust TPU exterior that protects your tablet from scratches and drops. As a back-only cover, it adds no extra bulk, as such, you can carry it around conveniently. Besides, you can access ports, the speaker, and camera owing to its large cutouts.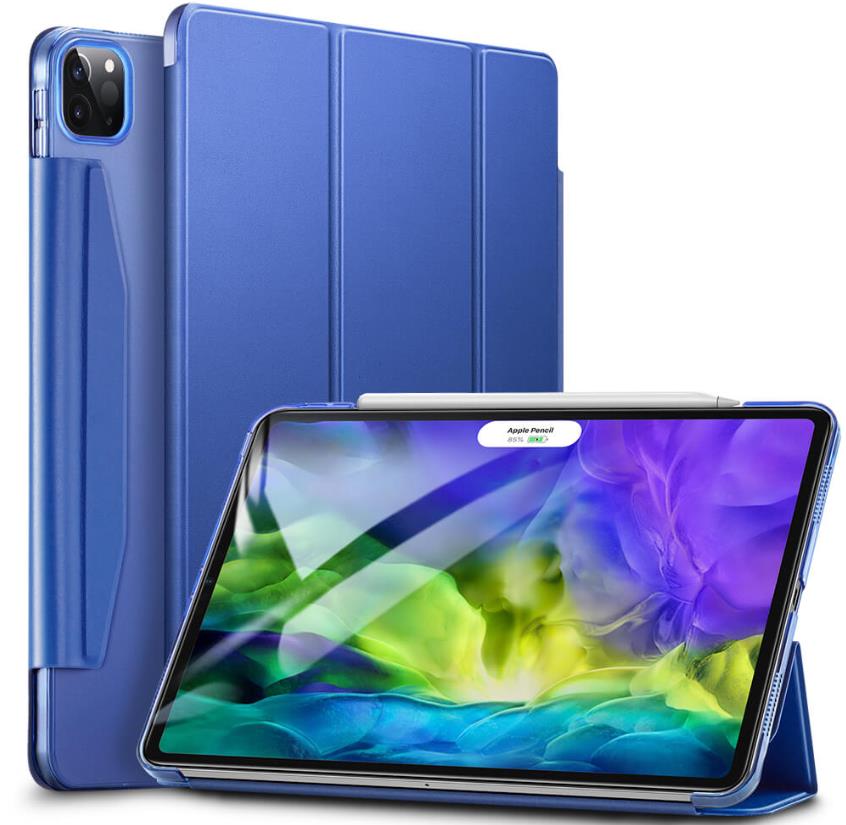 Key features (Price: $16.99)
Translucent design.
Quick to install.
Apple pencil compatible.
Slim and lightweight.
As one of the most popular smart case, this ESR cover offers 360 protection owing to the tough front flap and the translucent back cover. Relatively slim and lightweight, you can carry it around when commuting or at work without adding extra bulk.

With this, you don't need the Apple pencil for it to attach to the tablet. That said, the pencil slot comes with magnetic attachments that hold the pencil securely whether walking, running, or commuting. And thanks to its translucent feature, you can show off your iPad with ease.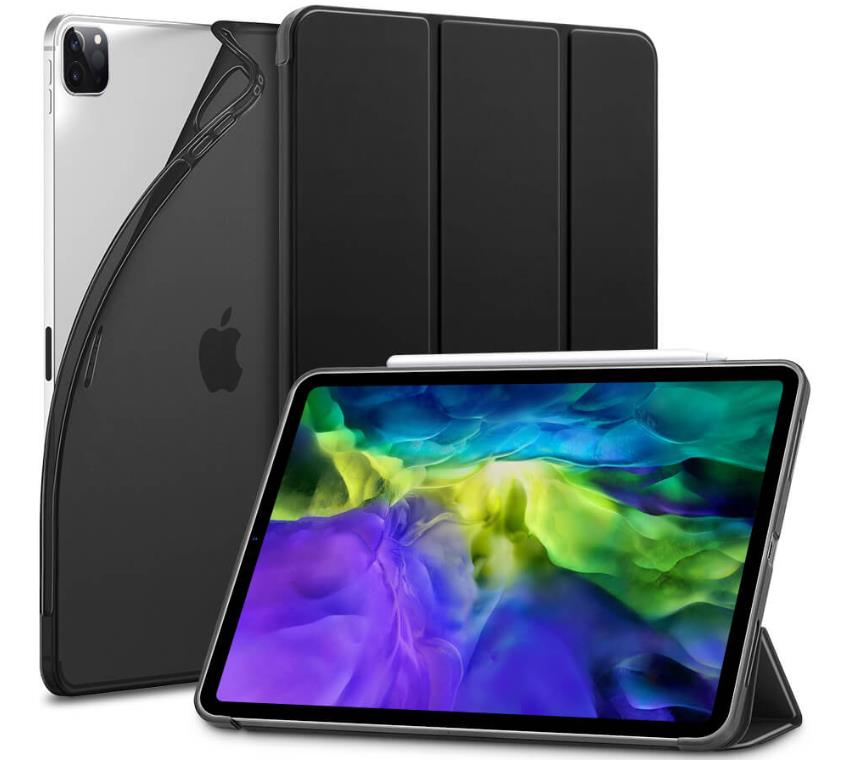 Key features (Price: $18.99)
Durable and robust.
Easy to press buttons.
Microdot pattern.
Apple pencil compatible.
This ultra-transparent case is a perfect choice if you like showing off the classic look of an iPad. The pink, green, blue, or rose gold color blends with the silverish back of the tablet to bolster its colorfulness. Note: it is only compatible with the iPad Pro 11 2020. The integrated Microdot pattern ensures your tablet is watermark-free.

The cutouts allow for seamless access to the speaker, camera, and ports while the easy-to-press buttons ensure you use functional tablet buttons without a fuss. It also features Apple pencil magnetic attachment and wireless charging for uninterrupted writing, drawing, or sketching. Bolster your personality by purchasing this slim, lightweight, and trendy case.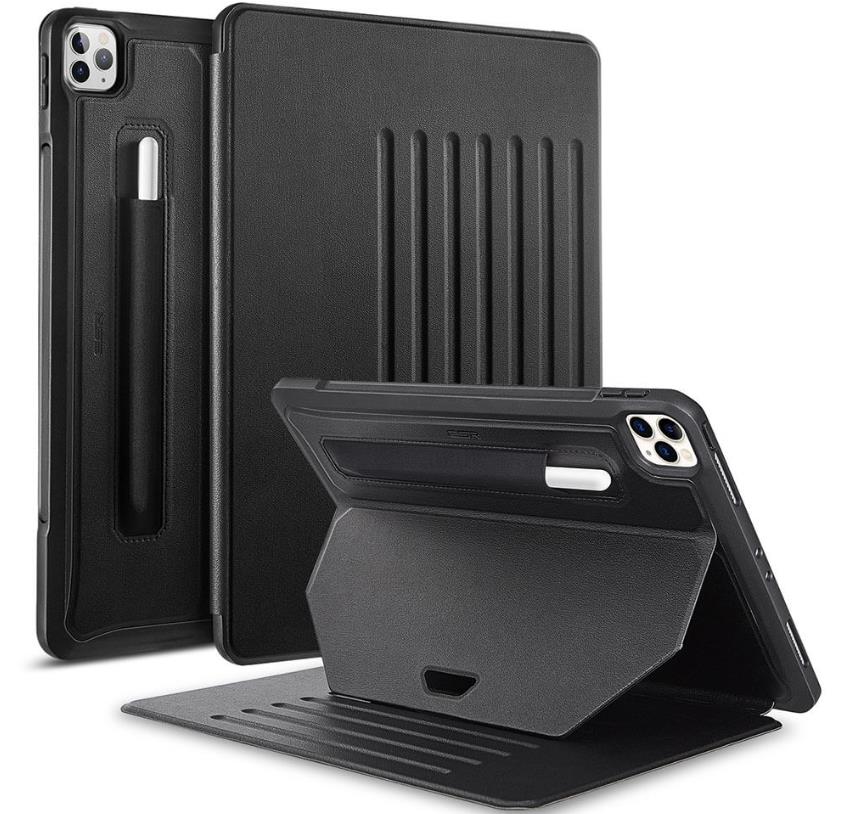 Key features (Price: $20.49)
Rugged and thick.
Slim and lightweight
Apple pencil compatible.
9 standing positions.
If you want a cover that comes with numerous standing positions, then this is the choice for you. With 9 standing positions, you can conveniently play games, surf, watch and write on your tablet. And thanks to the powerful magnets, it will remain in the desired angle without slipping off.

As an on-the-go person, it is necessary to carry the Apple pencil around securely. Thanks to the pencil holder, you'll conveniently take it wherever you go. And, the wireless charging system ensures it is always charged regardless of how long you use it. The rugged and thick back cover offers protection from accidental drops.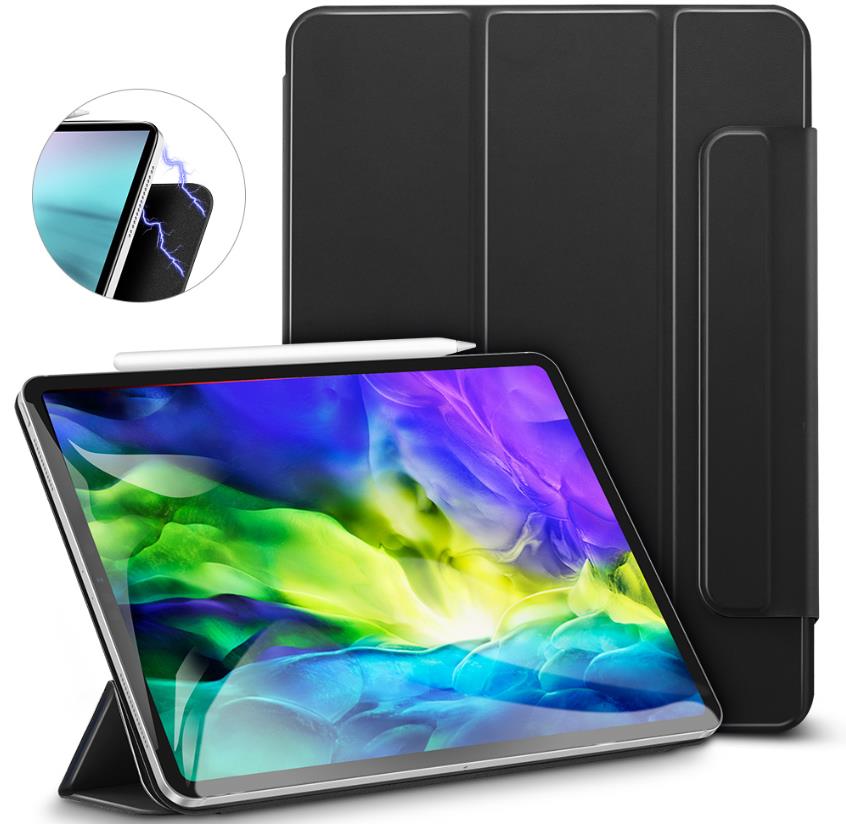 Key features (Price: $20.59)
Magnetic attachments.
Apple pencil attachments.
Dual standing positions
Coming with powerful magnetic attachments, it securely holds your tablet and ensures a tight lock between it and the iPad. Besides, you'll enjoy the prompt auto sleep/wake feature thanks to the front flap magnets. Adjust the standing mode either to watch or write using the trifold flap.

A slot dedicated for the Apple pencil not only has magnetic attachments but also wireless charging and pairing feature. As such, you can use the pencil anywhere and anyhow you want to. It fits precisely offering full protection from everyday wear and tear and annoying scratches.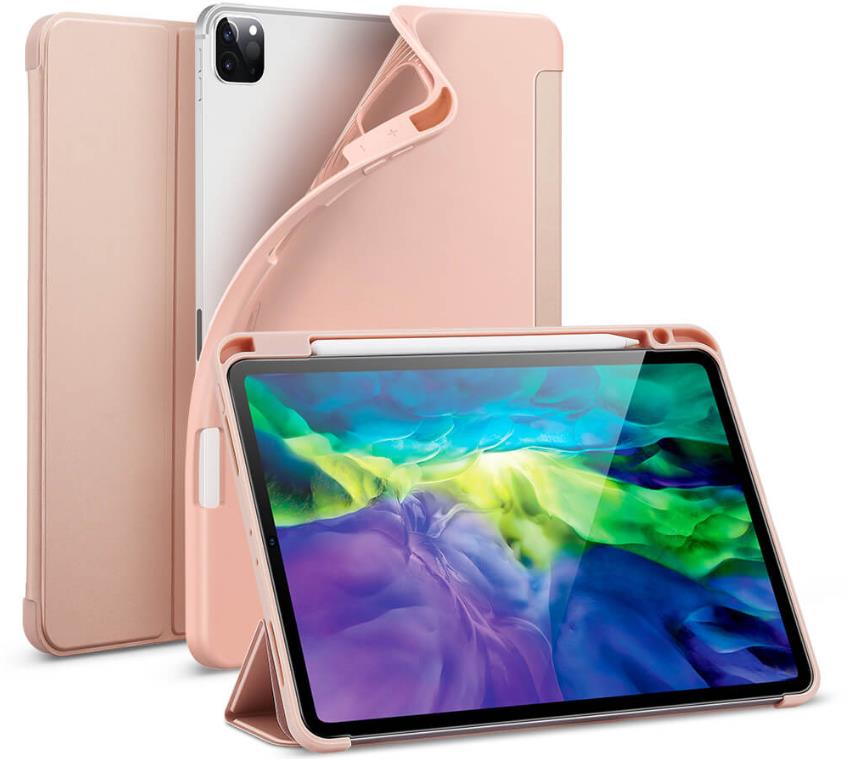 Key features (Price: $20.99)
Flexible polymer back.
Dual standing positions.
Apple pencil compatible.
This iPad Pro 11 2020 specific case comes with large precise cutouts that allow you to access camera, ports, buttons, and the speaker. The Apple pencil slot comes with wireless charging, pairing, and magnetic attachments that allow convenient use of the pencil. Coming with powerful magnets, it enables precise auto sleep/wake system. This significantly preserves your battery charge.

The soft flexible back cover is made of tough polymer that protects your iPad Pro from scratches without a fuss. Want to watch, surf, or write, this case got you covered thanks to the trifold stands that come with two standing positions. Get this ESR cover in black, blue, silver-gray, or rose gold color.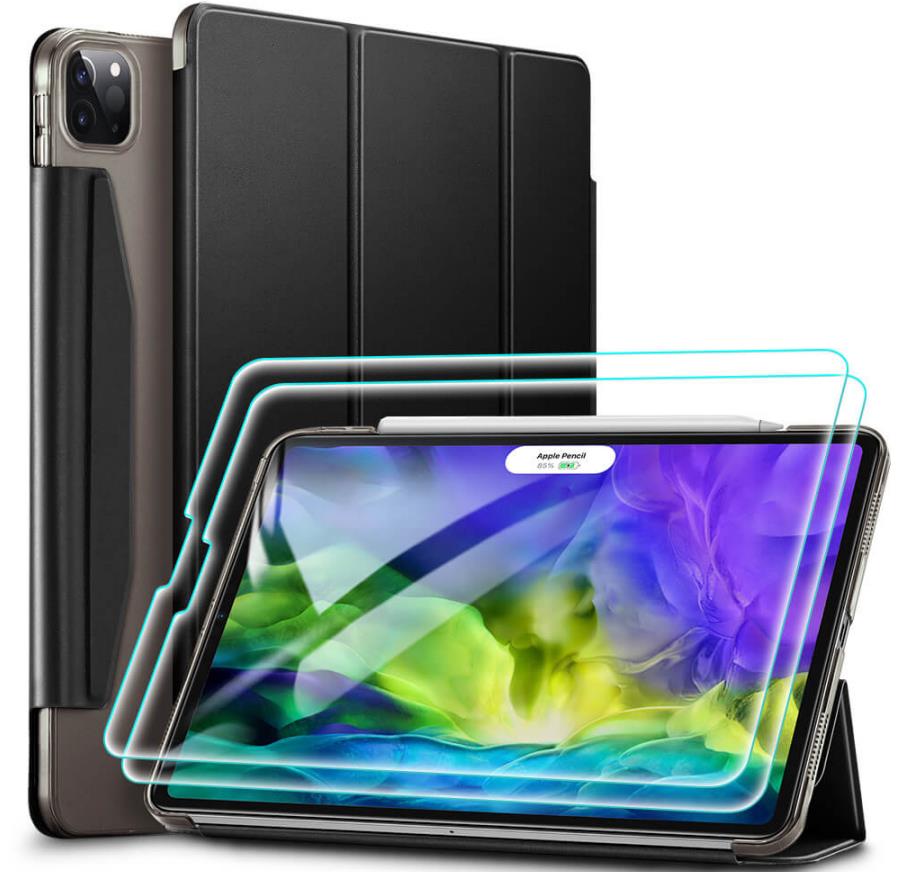 Key features (Price: $28.99)
Dual screen protector.
Tough case.
Fluid sensitivity.
Apple pencil compatible.
If purchasing a case is not enough, maybe you need to add a screen protector. Well, a protection bundle is an ideal option since it comes with both. This ESR bundle comes with 2 tempered glass screen protectors and a tough smart case. The case comes with all the necessities such as Apple pencil compatibility, precise cutouts, powerful magnets, and auto sleep/wake feature.

On the other hand, the dual tempered glass screen protector comes with large cutouts that have zero impact on the microphone and camera. As such, you can access Face ID and quality audio. And thanks to fluid sensitivity, you can write, surf, or draw conveniently using the Apple pencil.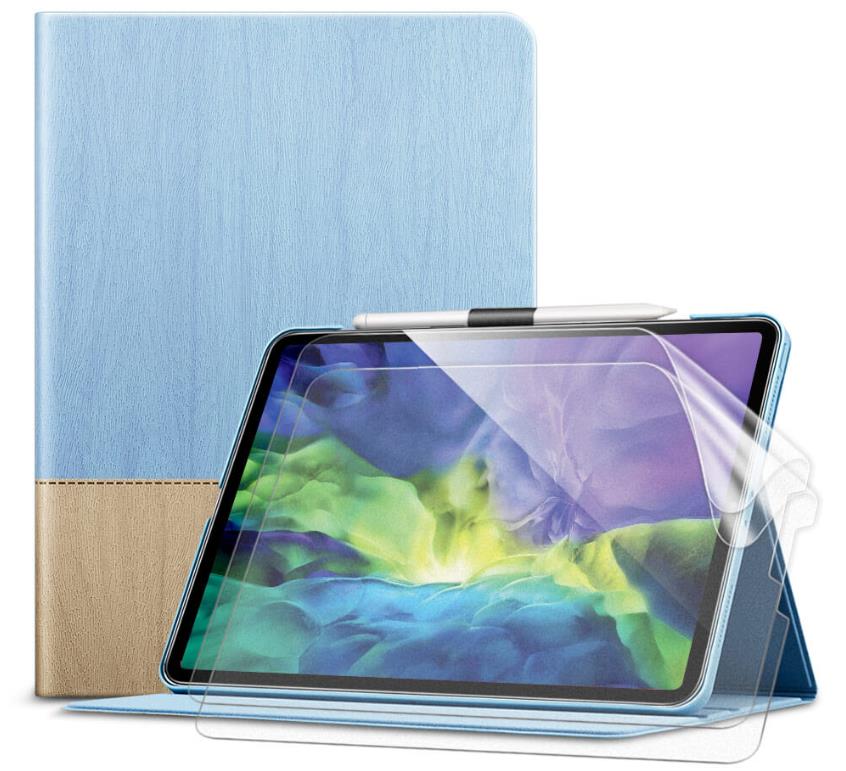 Key features (Price: $35.98)
Dual screen protector.
Tough cover.
Powerful magnets.
This bundle features a folio pencil case and two paper-like screen protectors. As such, you are assured of full protection from screen cracks, scratches, and accidental drops. The cover has magnets that not only hold the tablet onto the case but also enable auto sleep/wake feature instantly.

It is an Apple pencil compatible coming with wireless charging, pairing, and a slot to keep it safe. The screen protector offers full-screen protection and precisely fits its shape. As such, it is hard to recognize preserving the awesome look of the tablet.
Final verdict
ESR iPad Pro 11 2020 covers are some of the top-tier cases you'll ever find in the market. Robust, sleek, durable, and pocket-friendly, you are sorted regardless of your preferences or budget.