Most people often accidentally damage electronics and other accessories, and it can be costly to repair. Touch screen displays of excellent quality are the most expensive elements in current tablets. In their bigger size, in comparison to smartphones, they are more subject to cracks and scratches.
One of the best iPads you can get right now is the iPad Pro 11 2021 or iPad Pro 12 2021. That's because both of them boast of a beautiful, more compact Liquid Retina Display. But this lovely screen signifies that you will need to protect it from scratch or damage with one of the top 11-inch iPad Pro (2021) paper-like screen protectors.
The screen of your 11-inch iPad Pro 2021 can be used more with something like Apple Pencil. Therefore, excellent screen protection is necessary to keep your device safe, mainly because it is very pricey to repair it!
Fortunately, multiple products are available in the market at various price points, and paper-like screen protectors are among the best. Therefore, check our list of the top screen guards to get on the 11-inch iPad Pro 2021.
Reasons To Consider Purchasing Paper-Like Screen Protectors.
A screen protector is very paramount for many tablet owners nowadays. It is necessary to see why screen protection is vital because it promises additional security for the original screen and various new functions. Unfortunately, you are likely to find much misinformation about how these small parts of glass or plastic can genuinely work for your smartphone if you seek a screen protector.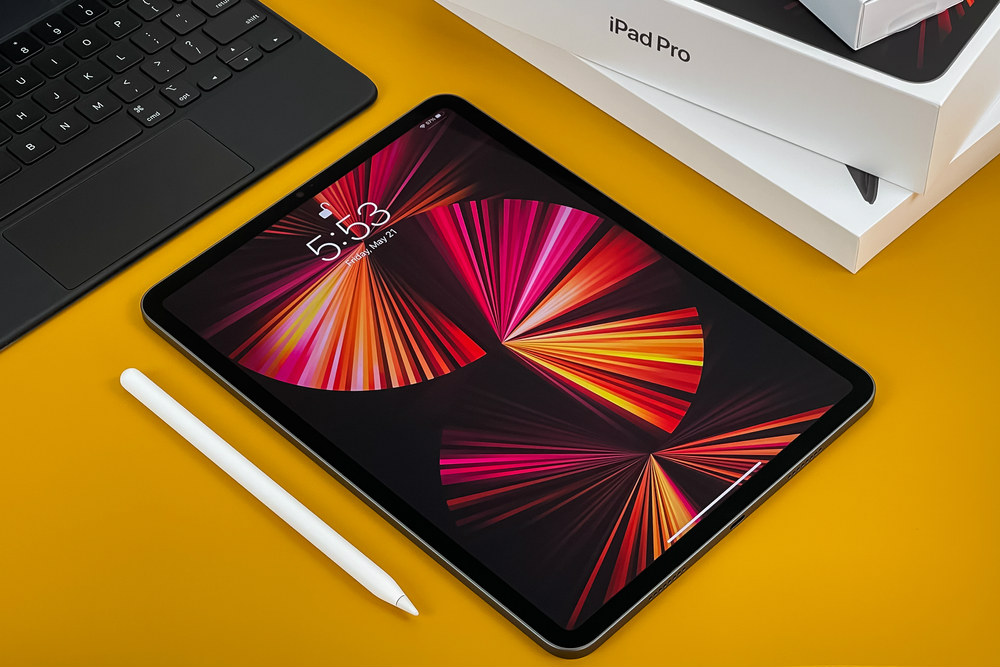 The paper-like iPad screen guard is more than what it portrays in its name. The fact remains that it protects the iPad screen. However, its matte quality makes it feel like you are writing/drawing on paper and not glass when using the Apple Pencil. Below are some notable reasons to invest in this screen protector
Improves Confidentiality
Given the enormous display of the iPad, reading texts onscreen in public is always at the risk of unwanted prying eyes. With a paper-like screen protector, you can effortlessly hide your electronic data. Turn your screen at an angle, and your curious neighbor will not be able to read your WhatsApp or e-mail threads.
Reduces the lightning effect
Whether natural or manufactured, a screen protector reduces glare and enhances clarity. Most guards have a matte texture, which lessens the reflections and strain of the eye. Take a look if you want to view, play text, or public games on your iPad screen protector.
Supports removing adhesive fingers
You may feel some stickiness after using your iPad for a long time. Partly the sweating fingertips and the screen are responsible. Ultra-thin shields dramatically reduce finger stickiness, allowing you to text or surf continuously.
Prevents bacterial development
Due to favorable microbial conditions such as dirt, moisture, and heat, the screen is an ideal breeding ground for germs, mildew, and mold. Screen protectors, on the other hand, contain an antibacterial characteristic to kill most microorganisms. This is particularly good if you have a kid who likes to lick electronics.
Best Paper-Like Screen Protectors from ESR
As you can see, a paper-like screen protector protects your screen not only from cracking but also enhances your health by lowering the glare and avoiding the development of hazardous bacteria there. That said, here are three options for your iPad Pro 11 2021 in this regard.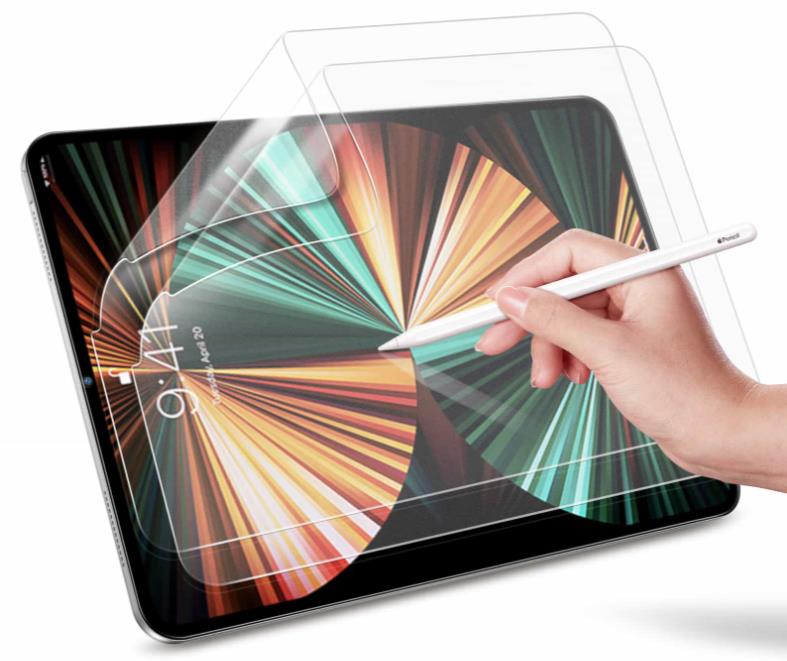 Key characteristics
Compatibility with Apple Pencil
Reduction of blindness
Reduction of fingerprints
Do you love to write or draw on your iPad? If yes, Paperlike is the best screen protector for you! It also a valuable protector for professionals and artists who seek paper precision in an atmosphere without paperwork. The Precision PaperLike Screen Protector is no ordinary tablet screen protector because it is specifically developed for the design and writing users of their iPad Pro 12.9 2021.
The matte surface characteristic creates the feeling of writing with a pen on paper. Detailed instructions and a comprehensive installation kit make the application simple. The matte texture prevents glare and fingerprints and protects the appearance of your smartphone screen. It includes an ultra-thin characteristic to control Apple pencil accurately. Its proper cutoff function also keeps the front camera and Face ID functioning perfectly.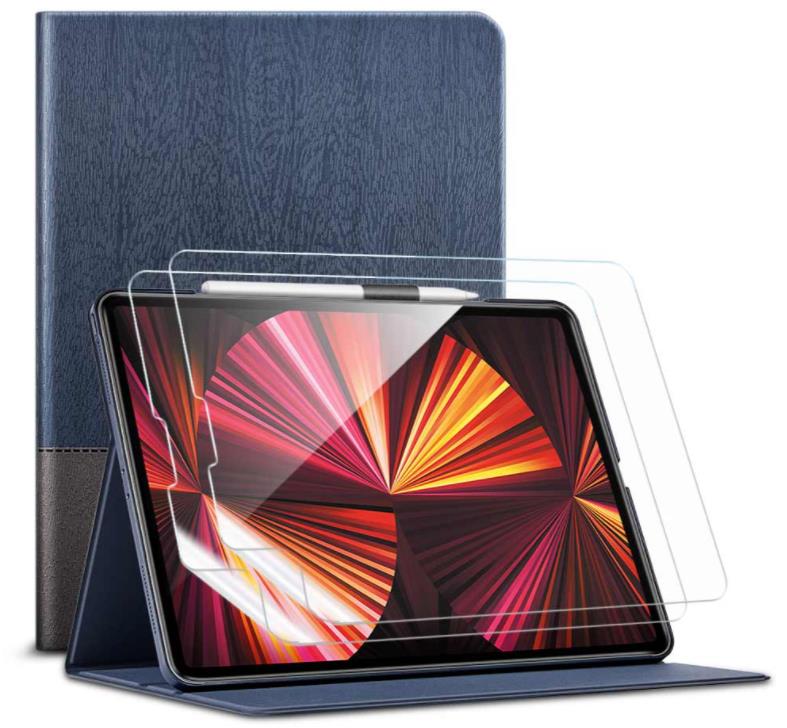 Key Characteristics
It has a built-in holder side cutout that protects your Apple pencil.
It enables your Apple pencil to magnetize your iPad
The front of the shield extends to the edges to protect against daily tear.
There is a matt surface that allows seamless, strip-free writing
This protector protects your Apple Pencil 2 with its sidecut and built-in holder and allows you to attach it to your iPad magnetically. Its front cover stretches around the corners of your iPad for total wear and tear protection. This screen guard works perfectly with the Apple Pencil and provides the appearance you draw or write on your drawing or notepad.
The matte surface gives the impression that the screen protectors are written on paper, while its precise cutout ensures the proper functioning of the front camera and Face ID. This ultra-thin cover guarantees responsive control of the Apple Pencil.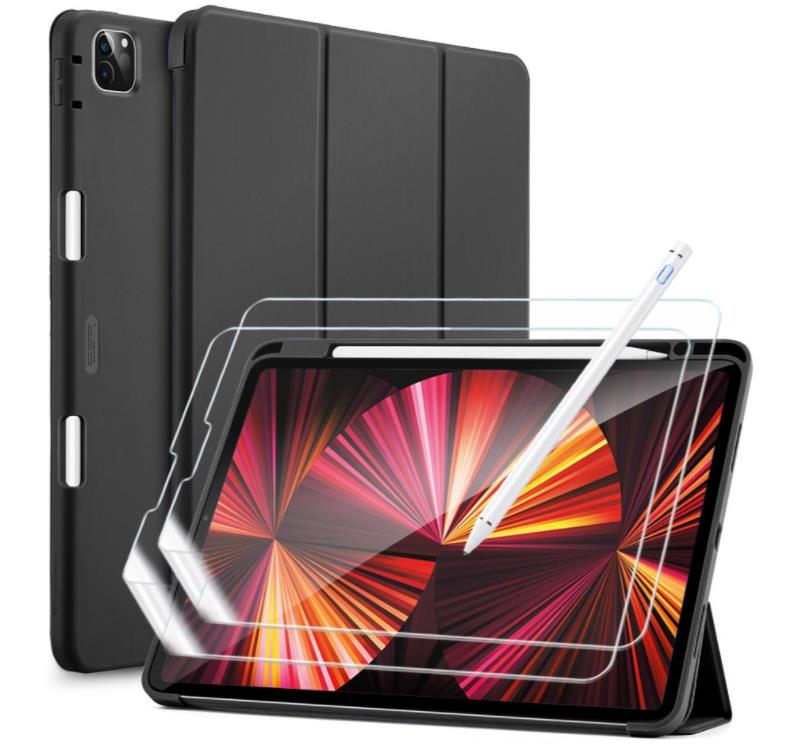 Key Characteristics
Ultra-thin protective screen
Face identification ID
Accurate cutting advantages
Practical to utilize
The built-in Apple Pencil slot is ideal for storing your Pencil 2. In viewing and writing mode, you can use the magnetic triple stand. It is as though you put a pen on paper with a 1.4 mm precise stylus tip and a specially treated screen protector. Ultra-thin screen protectors allow a responsive control over Apple Pencil; the precision cutout enables faultless operation of the front camera and the Face ID.
Conclusion
Each year, screen guards continue to develop, and the current range includes some of the best screen guards for iPad Pro (2021), which we have listed above. Whether you buy a guard from the above or you buy another one in the market, screen protectors make sure you use your iPad Pro for years. With one of the screen guards listed above, you can safeguard your iPad Pro 11 or 12.9 for years. The screen protector covers your screen and increases your privacy and eye health, as previously mentioned.