Folio cases are known to offer full-body iPad protection and this is the chief reason why you should buy one. With such a case, the chances of purchasing a screen protector are reduced since the front flap protects it.
Besides, they allow hands-free iPad use. In this article, we look at seven of the best iPad Air 4 folio cases you can buy today. Let's get into it!
Best iPad Air 4 Folio Case Covers in 2020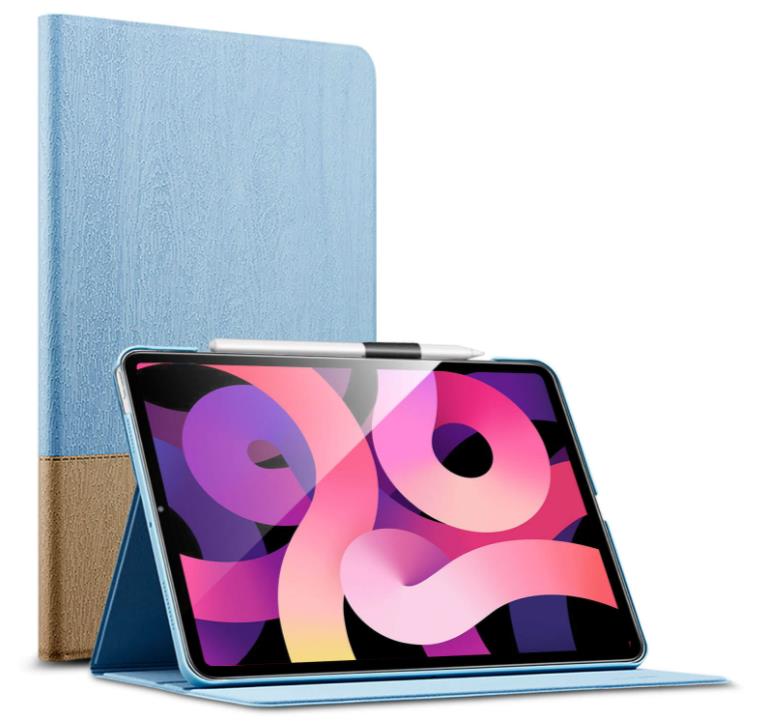 First off is this folio case from ESR. As expected, it rocks premium features such as a sleek design, pencil compatibility, and a sturdy kickstand. As such, not only does it look good on you, but also allows you to use your iPad Air 4 hands-free.
What's more: it comes with much-needed cutouts that enable access to the camera, volume buttons, speaker, and charging port. This means you'll enjoy everyday iPad use without a hassle. This case also protects the screen and body of the iPad from scratches, impacts, and other annoying elements.
And if you want to use the pencil on the go, it comes with a magnetic attachment that firmly attaches itself to the case. Besides, the case supports wireless pencil charging. It comes in a lightweight and portable design so you can carry it around with ease.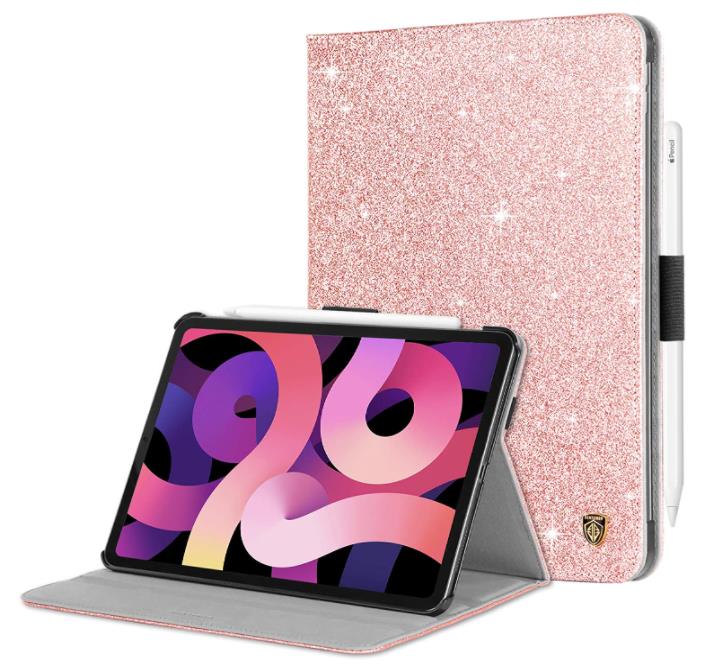 If you are after a colorful folio case, this is the most ideal option. The integrated glitter bolsters the aesthetics of your iPad making it easy on the eye. This is a perfect gift for your girlfriend, wife, mom, or sister. The best part: the glitter doesn't come off when you touch it.
It also feels smooth on your hand's thanks to the soft exterior finish. And with a handy strap, you are sure to carry it around without losing it. It also comes with a pencil holder that securely holds it when not in use.
The integrated kickstand allows for landscape typing and viewing orientation for hands-free use. You can choose between three angles when typing or watching movies. The soft interior TPU material absorbs shock in case of quick drops and also feels comfortable on your iPad.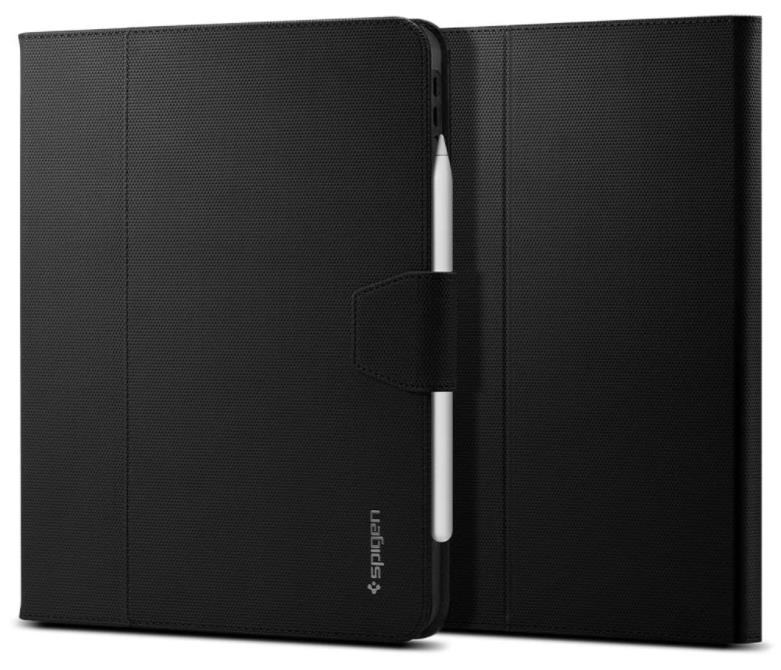 Spigen is a renowned company when it comes to the manufacture of premium iPad accessories, and this case is no different. The cover comes in an attractive black color that you can use on business and casual occasions. It features a soft finish feeling smooth on your hands.
With a pencil cutout with a holder, you can store the pencil on the go without the worry of losing it. And, it comes with a sturdy kickstand that affords you three viewing and typing angles. So if you prefer hands free iPad use, this is the case for you.
This case protects your iPad from pesky scratches and everyday wear and tear allowing it to serve you for a long time. You'll enjoy using your iPad Air 4 thanks to the integrated cutouts. They enable easy access to the camera, ports, and speaker.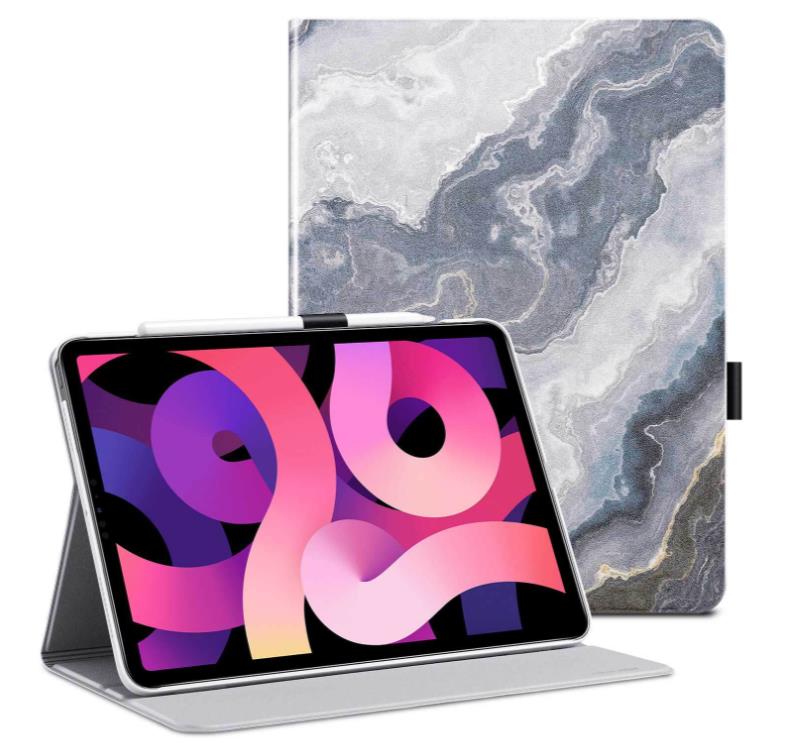 Next off is the ESR case that is explicitly designed for the iPad Air 4 2020. The polycarbonate build presents you with a lightweight case allowing you to carry your iPad without additional bulk. Its portability also allows you to slip it into your bag or pouch.
The vegan leather features a unique print pattern that improves the feel and looks of your iPad. And for comfortable movie watching and chatting, it comes with a sturdy kickstand. And you don't have to worry about the pencil since it comes with a pencil holder.
With precise cutouts, you can charge, take photos, and listen to music with ease. The front cover and the polycarbonate back ensure full-body protection from drops, scratches, and screen shattering.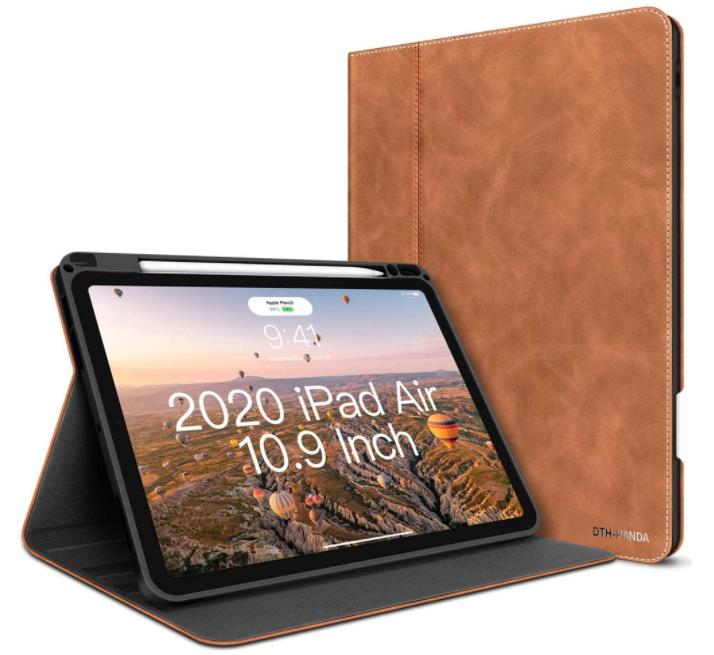 A leather case not only offers unmatched protection but also bolsters your fashion acumen and the aesthetics of your iPad. The case is made of premium leather that feels smooth on your hands as you go about your business.
This case is compatible with the auto sleep/wake feature that significantly reduces power wastage. By opening the front flap, you'll promptly access notifications with ease. The robust magnets also ensure the screen is well-protected from damage in the event of quick drops. The soft inner TPU material further absorbs shock protecting your iPad from shattering.
The large precise cutouts allow for seamless charging, photo-taking, and music listening. With a minimalistic design, it blends with any office outfit. Thanks to the flexible back, you can easily install or remove the case. Enjoy hands-free iPad use with this premium leather case.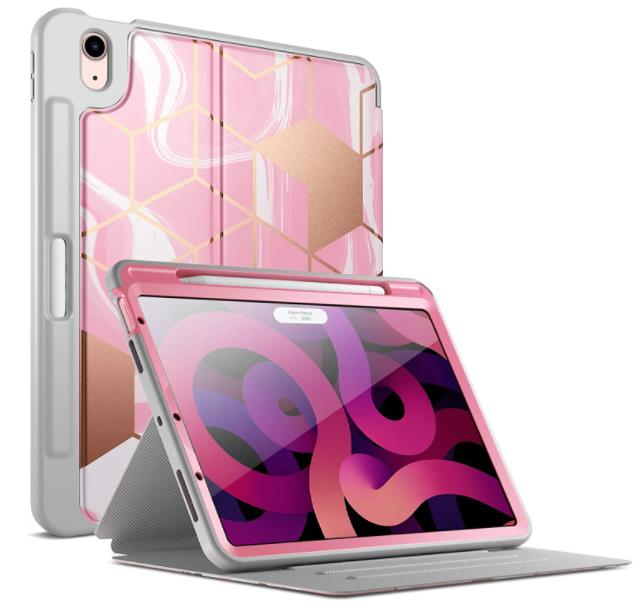 As its name suggests, it features a pop finish which is ideal for trendy youth. Unlike other cases on this list, it comes with an integrated screen protector. As such you don't have to worry about scratches, fingerprints, dirt, or dust. Besides, it wards off glare so you can comfortably use the iPad even in open spaces.
As expected, it features a pencil cutout where you can store it on the go. The interior TPU comes with air guard corners that absorb shock from drops and impacts keeping your iPad intact. With a sturdy kickstand, you'll enjoy the three viewing and typing angles. The cutouts allow you to access the camera, charging port, speaker, volume and power buttons.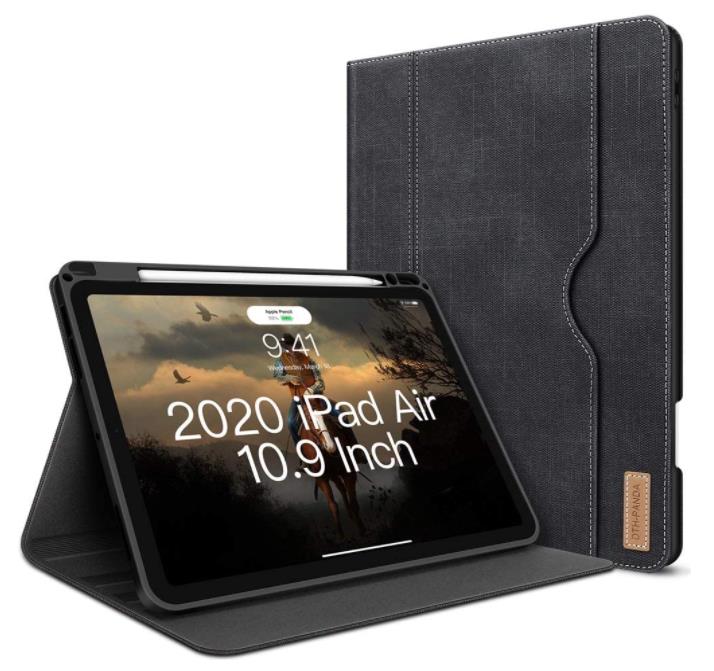 Finally, we have this leather case that comes with a pocket where you can store your documents. You can choose between rose red, crown black, and midnight blue colors. The sleek design of the case will not only look good on you but also improves the classic look of the iPad.
As expected, it comes with precise cutouts for seamless access to the camera, charging port, speaker, and buttons. That means you'll use your iPad as if it had no case on. The foldable front cover allows for hands-free typing and viewing. Besides, you can choose between two angles.
Wrap up!
iPad Air 4 is arguably a premium tablet that deserves care from damage. Fortunately, the above cases offer much-needed protection from damage. Whether you prefer a leather or TPU case, you are guaranteed unmatched protection. Get one today!