Sometimes ago, a friend wanted me to check out his newly purchased iPad Air 4. It was difficult to believe it was a new device because of the state his iPad was.
"Buddy, sure this is new?" I had asked while examining the iPad. "Of course, ordered it some weeks ago and it was delivered last two weeks."
He pulled out the receipt to back up what he just said. "hey buddy, that wasn't necessary, I just wanted to be sure this is a new iPad" I cooed.
Being the inquisitive type, he wanted to know why I asked such and I simply told him my observations. In my response, I made him understand how the iPad had become unattractive as a result of the several tiny marks scattered over the back of his iPad.
Also, I pointed out that there were colour stains, scratches and dings and how it had disfigured his newly purchased iPad.
Enough to escalate his anger was when I told him point-blank that no one would believe him if he ever said his iPad Air 4 is just 2 weeks old.
Did he get angry? Well, yeah. He did get angry and was fuming all through my stay at his place. But for the set-up I was helping out with on his iPad, perhaps he would have punched me real hard in the face.
He kept his cool till I was done and finally asked the most important question I was itching to hear – what do I do to correct this now?
Just like my buddy, you are certainly stuck in that position right now and confused on what to do or perhaps your friend or acquaintance or your parent or siblings are at this point with no clue as to what to do next.
Thus, I'd show you how by writing to you on how to protect your iPad from scratches and dings with the best iPad Air 4 clear case covers as you will see below.
Key features
Precise cut-outs
Ultra-slim & lightweight
Silky & powerful
Plain & colourless
If you have been trying to pair this case cover with any other iPad model sorry to burst your bubbles, it won't work as the project zero slim matte case is specifically designed to fit the iPad Air 4 (2020) only.
This case has precise cut-outs and soft button covers for easy usage of your device. the back-shell aesthetic helps protect your iPad without adding any extra weight to your device thereby making it easier to carry around.
The project zero case is plain and colourless which help showcase the Apple logo for everyone to see. At the same time, it wades off fingerprints.
This case has a rubber-like material which is stretchy and long-lasting while it also resists scratches and dings.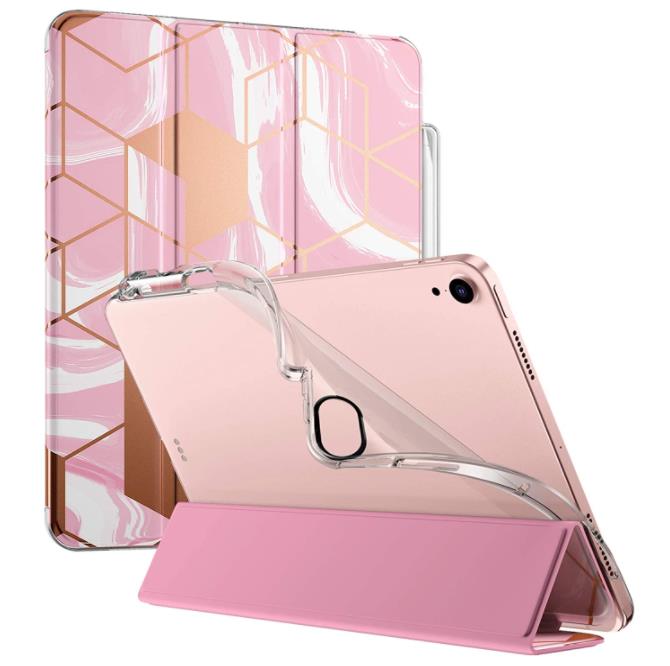 Key features
Smart cover
Shock-absorbing TPU back
Slim & light
Designed exclusively for the iPad Air 4 (2020) 10.9" is the popshine marble lite case. No other device is compatible.
Its ultra-slim, and light weight do not add bulk to your device and makes carriage easier than imagined. It is well fitted to your device and ultra-clear.
Its smart cover has a liquid marble design which helps portray the stylish nature of this case cover. Also, its front cover has a built-in magnet and it is foldable to enable viewing at any angle of choice.
The TPU back helps absorb shocks from falls. In addition, it has elevated bezels and air-guard corners which helps to protect your device.
Plus, this case serves a multi-purpose of protecting your device at the same time adding beauty to your device – it is stylish!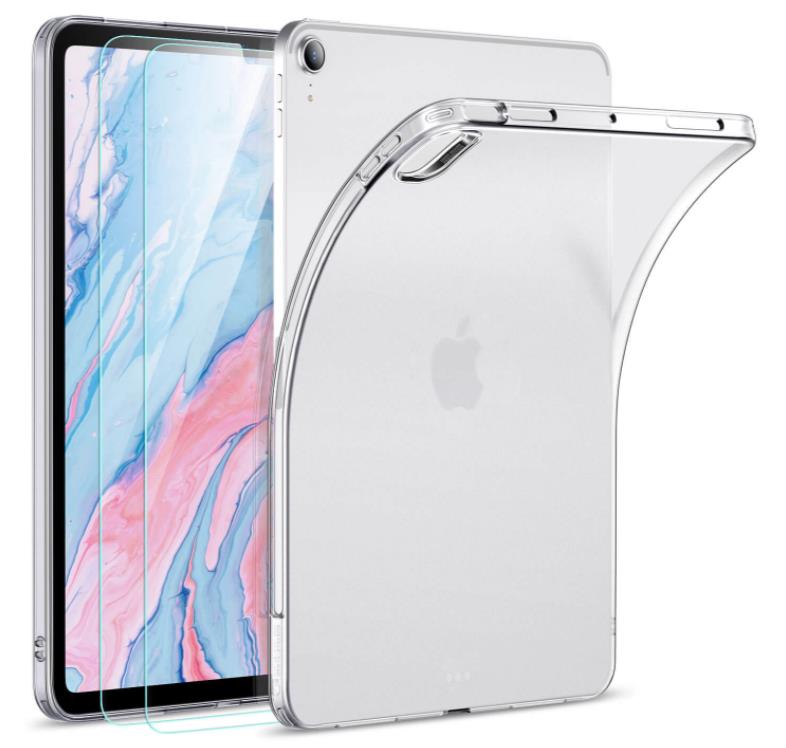 Key features
Ultra-thin & lightweight
Supple & powerful
Plain & matte
Smooth installation
In terms of compatibility, this matte protection bundle is specially designed for the iPad Air 4 (2020) and no other will fit.
This case is plain and without colour. More like a see-through case making the logo conspicuous to all while keeping off fingerprints.
Its ultra-thin and lightweight won't add bulk to your device. moreover, thus carriage of your iPad is much easier than before.
This case is made of a malleable rubber-like material making it long-lasting leaving no scratch or tiny marks at the back of your device.
It comes with an alignment frame and complete cleaning kits which allows for a smooth installation.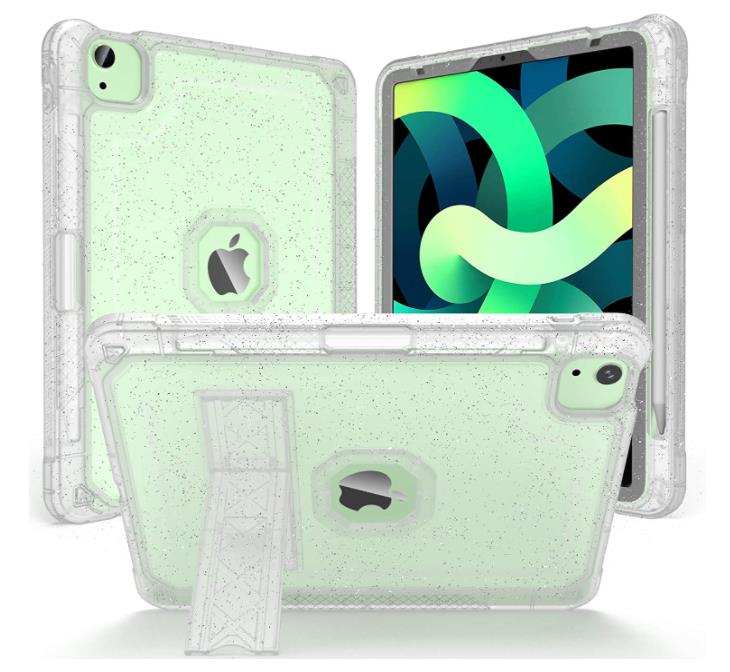 Key features
Built-in kickstand
Shock-resistant
Stylish clear glitter
User friendly
Designed exclusively for the iPad Air 4 (2020) is the zone poker iPad Air case. With its 2-in-1 hybrid TPU & PC cover having 4 air-guard corners, your device is guaranteed of premium protection against scratches and dings.
Henceforth, you do not have to hold your device while watching a movie or making calls as it has a built-in kickstand that allows for viewing or typing in different angles and modes (portrait and landscape).
The translucent frosted hard PC back shell has an infused silver glitter that makes it glow thereby adding style to your device.
In addition, this case is comfy to your grip and it is easy to carry around, it is suitable for students and artist.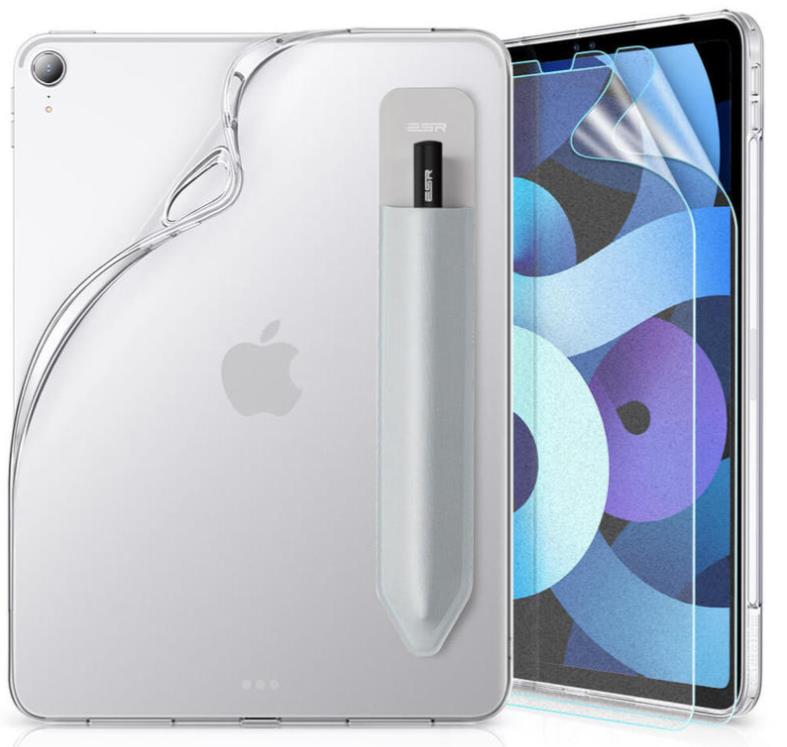 Key features
Pen to paper simulation
Flexible sleeve
Plain & matte
The digital artist protection bundle case is specially designed for the iPad Air 4 (2020). This case is clear and show off your iPad logo while keeping off fingerprints.
With its specially treated screen protector surface, you get to experience that feeling as to when writing or drawing on paper.
Also, you will enjoy the natural feel of putting pen to paper as the digital pencil's error prevention technology simulates this effect.
With the pencil holder's elastic pouch, safely store your stylus when not in use and easily access it when needed.
There you have it. 5 best case covers you can purchase for your iPad Air 4 (2020).
Ps: guess who smiles more often now? my buddy! You could smell the happiness from afar off! He bankrolled my little get-away trip and got my boxes of pizza for almost a week too.